It's not about history. It's not about religion. It's about the first principle of America's now 228-year experiment in ordered liberty—the acknowledgement of God.
We may not both abandon the foundation and expect the edifice to remain firm.
When Roy Moore placed his granite monument in the Alabama state courthouse, his intention was not, as Ted Haggard suggests ("Decalogue Debacle," April CT), to offer the nation a lesson in "religion's—and specifically, Judeo-Christian religions'—contributions to our history."
Nor was Moore endorsing a religion—as alleged by the ACLU and now Haggard in his attempt to draw lessons from the events in Montgomery. Moore's point, made clear from the start, was to acknowledge God and his sovereignty. Moore said so when he unveiled the monument. The trial judge said so in open court, and former Alabama Attorney General Bill Pryor said so during the trial to remove Moore from office.
Just minutes before the red draping was pulled from the polished granite cube bearing the Ten Commandments, Moore made his purpose clear. "May this day," he said on August 1, 2001, "mark the beginning of the restoration of the moral foundation of law to our people and a return to the knowledge of God in our land."
U.S. District Court Judge Myron H. Thompson said on the last day of Moore's 2002 trial, "I think I'll start my opinion, 'The issue here is: Can the state acknowledge God?'"
And then-Attorney General Pryor also addressed the heart of the matter. He asked Moore at trial whether, "If you resume your duties as chief justice after this proceeding, you will continue to acknowledge God …"
The issue raised by Roy Moore is not how best to memorialize America's religious past but whether we may still do as the Founders did in 1776, when they grounded the case for liberty in theology. The Declaration of Independence rests the claim to independence on "the Laws of Nature and of Nature's God." The Declaration rejects the tyranny of man (King George III) and acknowledges the sovereignty of God. "We have this day," Sam Adams said, "restored the Sovereign to whom alone all men ought to be obedient."
Moore installed his 2.5-ton challenge to prevailing First Amendment orthodoxy in order to join a battle to retain the only firm basis for freedom. Our nation will either recur to its first principle and restore the foundation on which it came into existence, or we will acquiesce to secular supremacy. We may not both abandon the foundation and expect the edifice to remain firm.
In another argument, Haggard writes that Moore favored one religion over another by permitting Coral Ridge Ministries alone to film the installation of the monument. Two points. First, the fact that Coral Ridge Ministries is a Christian broadcasting organization (not a "church" as Haggard incorrectly states) does not, we hope, disqualify us from covering news events. Second, public officials have the right to provide news to whomever they wish by providing opportunities for exclusive coverage. Government officials often turn to their favorite journalists to get their message out. It may be that Moore, eager to speak to a Christian audience, chose a Christian broadcaster. That makes good sense and is not a violation of the First Amendment, but rather free exercise.
It was also an exercise of our First Amendment freedom to collect funds nationwide for the legal defense of Roy Moore—something Haggard also takes issue with in an astonishing bow to the strict separationism espoused by the ACLU. Haggard says Moore "compounded this error [favoring one religion over another] and abused his office when he permitted the same church to prominently provide funds for his legal defense."
By this standard, any public official who allows a Christian public interest law firm to provide legal aid is abusing his office and violating the First Amendment. Here Haggard echoes both Moore's enemies and Judge Thompson, who said in his ruling that Moore may have violated the "entanglement prong of the Lemon test" by allowing a Christian organization to help fund his legal defense.
This, as Focus on the Family and Concerned Women for America stated in a "friend of the court" brief, is "extraordinary language [that] calls into question the right of America's religious organizations to participate in civic affairs."
Ted Haggard has done much to advance the kingdom of God, but he gets it mostly wrong on Roy Moore. Still, I could not agree more when he states, "We, as Christian citizens, have serious work to do in the public square." The only thing is, that work won't get done if we abandon the moral foundation laid by the Founders and undermine those who champion—at the cost of their careers—its return.
John Aman is director of communications for Coral Ridge Ministries. Views expressed in Speaking Out do not necessarily represent those of Christianity Today.
Related Elsewhere:
This Speaking Out column is in response to Ted Haggard's "Decalogue Debacle."
Article continues below
Christianity Today's previous coverage of Ten Commandment controversies includes:
The Tourist Attraction That Isn't There | Alabama's Ten Commandments monument still drawing visitors despite its absence from the state Supreme Court building. (Jan. 12, 2004)
How to Really Keep the Commandments in Alabama—and Elsewhere | Since when did the public display of the Ten Commandments become the eleventh commandment? (Sept. 03, 2003)
Ten Commandments Judge Praised and Panned | Roy Moore fulfills a campaign promise with a 5,280-pound granite monument. (Nov. 29, 2001)
Ten Commandments Case Turned Down | Denial means Indiana town's Decalogue display is unconstitutional. (July 9, 2001)
Ten-Commandments Judge Aims for High Post | After taking on the ACLU, Moore is now a nominee for the Alabama Supreme Court. (Aug. 1, 2000)
Hang Ten? | Thou shalt avoid Ten Commandments tokenism. (Mar. 3, 2000)
Ten Commandments Judge Cleared | Roy Moore's integrity confirmed regarding legal fund. (Oct. 25, 1999)
House Upholds Display of Ten Commandments | Spurred by recent fatal shootings in public schools, the House of Representatives voted to permit the display of the Ten Commandments. (April 9, 1999)
Ten Commandments Judge Looking for Federal Fight | Does Judge Roy Moore's courtroom display defy separation of church and state? (Dec. 12, 1997)
More coverage of the Alabama Ten Commandments controversy and similar debates are available from Christianity Today's Weblog.
Have something to add about this? See something we missed? Share your feedback here.
Our digital archives are a work in progress. Let us know if corrections need to be made.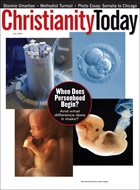 This article is from the July 2004 issue.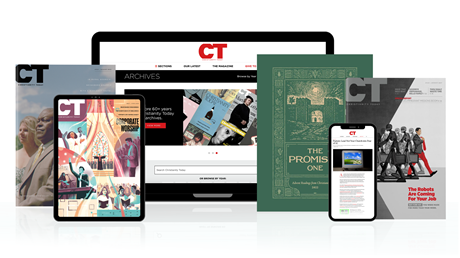 Annual & Monthly subscriptions available.
Print & Digital Issues of CT magazine
Complete access to every article on ChristianityToday.com
Unlimited access to 65+ years of CT's online archives
Member-only special issues
Subscribe
It's About God
It's About God