"Why are evangelicals so concerned about AIDS in Africa and sex trafficking and slavery in Sudan? I thought all you cared about was abortion and gay rights."
The reporter from a prestigious journal had been following the Bush administration's foreign policy initiatives and stumbled onto a curious fact: Evangelicals were behind most of them.
The reporter's question gave me a wonderful opportunity to explain that evangelicals believe in the sanctity and dignity of all human life—not just unborn children, but also Sudanese slaves, sex trafficking victims, and Africans with AIDS.
The reporter got it; her subsequent front-page story contained unusual praise for evangelicals. This experience offers an insight on how we can make a powerful witness.
Over the past few years, evangelicals have actively promoted a morally grounded foreign policy. Six years ago, when no one was talking about the horror of sex trafficking, conservative activist Bill Bennett and I—prodded by the indefatigable human rights champion Michael Horowitz—helped organize a coalition to fight this evil. We testified to Congress in opposition to the Clinton administration, which had caved in to radical feminists who argued that prostitution should be redefined as "sex work"—just another empowering career option, like nursing or teaching.
Because of the leadership of Christians like Frank Wolf, Chris Smith, Joe Pitts, and others in Congress, legislation passed in 2000 authorizing sanctions. When the Bush administration took over, it appointed an "abolitionist"—gutsy former Congressman John Miller—to lead the trafficking office.
During his speech to the United Nations last year, President Bush powerfully decried the "special evil" of sex trafficking. The reporter interviewing me said she was astonished by the President's speech—raising moral issues before the U.N.? "Was this informed by his faith?" she asked.
Evangelicals led by Franklin Graham aroused our consciences over Africans with AIDS. The President himself was passionate, but he faced much opposition—particularly because he supported the ABC program (abstinence first, being monogamous, condoms only if necessary). Several of us met with the President and helped mobilize the Christian community. The result: A $15 billion package that not only treats the sick but also prevents AIDS through abstinence.
Then there's slavery in Sudan—the first matter Bennett and I raised with White House political strategist Karl Rove after President Bush was elected. The administration got tough, appointing former Senator John Danforth as special envoy, and the evangelical community flexed its muscles to move Congress. The result: The Sudan Peace Act, which has given us the best chance ever to end the slavery and genocide being committed against fellow believers.
President Bush clearly has this moral agenda in mind. He made his first human-rights appeal in an eloquent but little-noted speech to the American Jewish Committee in May 2001. Then, in his Whitehall Palace speech in November 2003, he defended morally based foreign policy. The staid British audience was in awe as the President spoke of tracing our nation's spiritual roots to Britain's evangelical movement of the 18th and 19th centuries. He spoke of the "tireless compassion of Lord Shaftesbury, the righteous courage of Wilberforce," and of the Good News "translated by Tyndale, preached by Wesley, lived out in the example of William Booth."
"The deepest beliefs of our nations set the direction of our foreign policy," the President said. "We value our own civil rights, so we stand for the human rights of others. We affirm the God-given dignity of every person, so we are moved to action by poverty and oppression and famine and disease."
So it must be with today's evangelicals. Following in the steps of Wilberforce, we must confront the moral horrors of our day. And when we work for causes that people across the political spectrum understand as promoting human good, we break out of the stereotypical "Bible-thumping bigot" mold.
We don't do it for that reason, of course; we do it because it is our calling. But when the world sees us defending the poor, the enslaved, the persecuted, and the sex trafficking victim, our arguments about protecting the unborn and the dignity of all human life have credibility.
This credibility extends all the way to the pages of The New York Times, where columnist Nicholas Kristof recently wrote: "I've lost my cynicism about evangelical groups partly because I've seen them at work abroad."
To much of the watching world, our determined concern for "the least of these" in every land may be our most powerful witness.
Related Elsewhere:
Also posted today is an interview with a USAID official on preventing AIDS in Africa.
Other CT AIDS coverage includes:
Beyond Condoms | To alleviate AIDS, we must sharpen our moral vision. (June 10, 2003)
A Strategy for Progress | Unless prevention of HIV/AIDS becomes a clear priority, things are only going to get worse. (May 2, 2003)
Article continues below
Civics for Gay Activists | We may see more die from HIV/AIDS because gay activists are intolerant. (April 10, 2003)
ABC vs. HIV | Christians back abstinence-fidelity plan against deadly virus. (March 10, 2003)
Jerry Thacker: Politics Muddies Fight Against AIDS | The politics of homosexuality has made it easier to battle the disease in foreign countries than domestically, says a former nominee to the Presidential Advisory Council on HIV and AIDS. (Feb. 07, 2003)
Killing a Pandemic | The church may be best equipped to deal HIV/AIDS a crippling blow.
AIDS 'Apathy' Campaign Debuts | Yet Christian leaders say stigma, not neglect, is the bigger problem. (Aug. 28, 2002)
Bono Tells Christians: Don't Neglect Africa | He urges evangelicals to take a lead in fighting AIDS and poverty. (April 19, 2001)
U.S. Blacks Preach Abstinence Gospel | Mission workers testify that Christ helps control sexual urges. (March 27, 2002)
Health Workers Urge Indian Churches to Join Campaign Against AIDS | The Christian Medical Association of India fights the social stigma that accompanies the disease. (Nov. 21, 2001)
Mercy Impaired | Let's shock the world by reversing our apathy toward African sufferers. (September 27, 2001)
Indian Church Steps Up Education Programs To Deal With Threat Of AIDS | Ten percent of those living with AIDS live in India. (August 17, 2001)
Kenyan President Suggests Hanging for 'Knowingly' Infecting Others with AIDS | Church organizations criticize use of capital punishment as solution to epidemic. (July 19, 2001)
Dying Alone | Baptist women seek out and care for ashamed, abandoned AIDS patients. (June 15, 2001)
Few to Receive Generic AIDS Medicines | Pharmaceutical companies drop suit against South Africa, but problems remain. (May 18, 2001)
Zambia's Churches Win Fight Against Anti-AIDS Ads | Church leaders are concerned that condom promotion encourages promiscuity. (Jan. 12, 2001)
Mandela, De Klerk, and Tutu Join to Fight AIDS | South Africa's men of peace call for end of silence and stigmatization. (Dec. 14, 2000)
Pastors as Grave Diggers | Christians hope to break the silence and overcome Asia's prejudice against people with AIDS. (July 28, 2000)
Speaking with Action Against AIDS | A report from the Thirteenth International AIDS Conference. (July 19, 2000)
'Have We Become Too Busy With Death?' | As 4,900 people die each day from AIDS, African Christians are faced with the question. (Feb. 4, 2000)
Article continues below
'Sexual Revolution' Speeds Spread of HIV Among Africans | An interview with World Relief's Debbie Dortzbach. (Feb. 4, 2000)
Books & Culture Corner: An Open Letter to the U. S. Black Religious, Intellectual, and Political Leadership Regarding AIDS and the Sexual Holocaust in Africa (Jan. 24, 2000)
Recent Charles Colson columns for Christianity Today include:
The Postmodern Crackup | From soccer moms to college campuses, signs of the end. (Dec. 09, 2003)
Sowing Confusion | One small ruling for Texas; one giant leap into a cultural abyss. (Oct. 03, 2003)
Being Here | Why we should sink our roots in the places we call home. (July, 28, 2003)
Beyond Condoms | To alleviate AIDS, we must sharpen our moral vision. (June 10, 2003)
Taming Beasts | Raising the moral status of dogs has created a breed of snarling, dangerous humans. (April 3, 2003)
Faith vs. Statistics | Beware of doing ethics by crunching numbers. (Jan. 28, 2003)
Just War in Iraq | Sometimes going to war is the charitable thing to do. (Dec. 10, 2002)
A Clan of One's Own | Hacking through the jungle of identity politics. (Oct. 9, 2002)
Undaunted | Bioethics challenges are huge. But so is God. (July 31, 2002)
The Wages of Secularism | New laws won't prevent another Enron. (June 4, 2002)
More Doctrine, Not Less | We need to proclaim truth to a truth-impaired generation. (April 15, 2001)
Post-Truth Society | The recent trend of lying is no accident. (March 4, 2002)
Drawing the Battle Lines | We need to be informed and discerning about the Islamic worldview. (Jan. 9, 2002)
Wake-up Call | If September 11 was a divine warning, it's God's people who are being warned. (Nov. 5, 2001)
The New Tyranny | Biotechnology threatens to turn humanity into raw material. (Oct. 5, 2001)
Merchants of Cool | We should be angry that the media hawks violence and that parents allow it. (June 6, 2001)
Slouching into Sloth | The XFL is but the latest sign of the coarsening of our culture. (Apr. 17, 2001)
Checks and (out of) Balance | Moral truth is in jeopardy when the courts enter the business of making law. (Feb. 27, 2001)
Pander Politics | Poll-driven elections turn voters into self-seeking consumers.(Jan. 3, 2001)
Neighborhood Outpost | Changing a culture takes more than politics. (Nov.8, 2000)
Have something to add about this? See something we missed? Share your feedback here.
Charles Colson
Charles Colson was the founder of Prison Fellowship Ministries, an outreach to convicts, victims of crime, and justice officers. Colson, who converted to Christianity before he was indicted on Watergate-related charges, became one of evangelicalism's most influential voices. His books included Born Again and How Now Shall We Live? A Christianity Today columnist since 1985, Colson died in 2012.
Previous Charles Colson Columns:
Our digital archives are a work in progress. Let us know if corrections need to be made.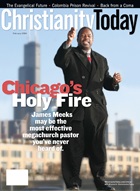 This article is from the February 2004 issue.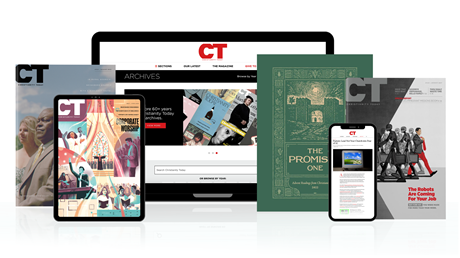 Annual & Monthly subscriptions available.
Print & Digital Issues of CT magazine
Complete access to every article on ChristianityToday.com
Unlimited access to 65+ years of CT's online archives
Member-only special issues
Subscribe
Read These Next
Trending

American Christians Should Stand with Israel under Attack

While we pray for peace, we need moral clarity about this war.

From the Magazine

Frozen Embryos Are the New Orphan Crisis

More than a million unused IVF embryos are in cryostorage. Are they the next pro-life frontier?

Português

Editor's Pick

Don't Miss These African Christmas Hits

Jam out this season to highlife, Afrobeats, jazz, a cappella, R & B, rap, dance, and hip-hop artists from Nigeria, South Africa, and more.
Confronting Moral Horror
Confronting Moral Horror