true
No one ever thought Bill Gaither would be hip. Not in 2004, at least. He wasn't all that hip a generation ago, when he was writing songs for Elvis Presley and racking up Grammy and Dove awards like some '70s version of Steven Curtis Chapman. By now, surely, his day should have passed. He can't rap (at least he doesn't) and he doesn't dance (at least he shouldn't).
Yet here's Bill Gaither, on top again. Since 1998, his name has appeared frequently on Billboard's Top Ten Music Videos chart—not the Christian music chart, but the general Top Ten Music Videos. Christian rockers like Switchfoot and Big Dismal may be making headway among the MTV crowd, but it's Gaither who competes with Missy Elliott, Dave Matthews, and Elton John on the video sales lists. Who saw that coming?
"I sometimes wonder what folks like Elton think when they see that chart," Gaither chuckled as he spoke to Christianity Today at his 29th annual Praise Gathering in Indianapolis. "Bill Gaither? Who's that?"
Who is he? He's a farm boy from Alexandria, Indiana, who has never shaken the dust of that small town from his feet—or from his art. He's a former schoolteacher and basketball aficianado whose devotion to learning and teamwork is still evident in his approach to the music business. He's an entrepreneur who runs several different companies and is regarded as one of the most successful Christian executives in America. He's a curious hybrid of poet and industrialist, of bumpkin and guru, of living legend and modest disciple.
"Do you want to know what's hip?" Gaither asks, reflecting on the radical diversity in the music scene today. "Hip is being what you are. What's unhip is trying to be something you're not." It's interesting he would think this, since authenticity is the single quality others attribute to him the most. "Nobody's perfect," says bandmate Guy Penrod, "but Bill Gaither is real—there is no difference between his public and his private persona."
The Homecoming Phenomenon
Gaither still lives in Alexandria (pop. 6,028), making the kind of music that he finds inspiring with an integrity and a humility rare for an industry obsessed with fame. Bucking trends current in both the religious and secular markets, Gaither has sought to take the focus off of celebrity consciousness and to fix it on the music itself (and on the message the music conveys).
The best-known examples of this pattern may be the phenomenally successful Homecoming programs—concerts featuring Gaither and his wife, Gloria, with diverse friends drawn from the world of Southern gospel. The programs draw on a rural tradition that Gaither calls "Southern singing conventions." The performers come together like a large family gathered around a parlor piano and take turns supporting each other, trading off on solos and partnering up to form various duos, trios, or quartets.
The Homecoming series has been critically acclaimed for its artistic excellence, and the participants testify to the remarkable spirit that imbues each gathering—a generous devotion to music that obliterates ego-driven obsessions with star power. Over a hundred different Homecoming albums and tapes have appeared in the past decade, and they have sold millions of copies. Several have been certified gold by the recording industry, and two have won Grammy awards.
Who knew there were so many Southern gospel fans out there? Actually, there weren't. Gaither had to create an audience for this music, and his skill at doing that is part of what inspires awe from his colleagues. "He is a teacher and a bridge," says Russ Taff, a Christian pop star from the 1980s who is now happy to assume a less prominent role as one of the Gaithers' Homecoming friends. "Bill Gaither is able to take what is not mainstream and pull it toward the mainstream without losing what made it special in the first place."
Indeed. It may be slightly predictable that Southern Baptists are the most vigorous consumers of the Homecoming albums, but who would have guessed that Roman Catholics are Gaither's second-largest audience?
One seldom hears this kind of music in certain churches, Gaither allows, because of gatekeepers who are "sometimes just as concerned about preserving who they are culturally as theologically." But television offers a way around the gatekeepers, and channel surfers are sometimes surprised to discover music that transcends stereotypes of taste and piety. The Gaither Music Hour, now appearing on eight different cable networks, attracts 75 million viewers a year.
Pundits are quick to note the analogous success of O Brother Where Art Thou?, a collection of bluegrass and Southern spirituals that became one of the best-selling albums of the year in 2000. "People like good songs," Gaither says, explaining what O Brother and the Homecoming have in common. "Music today relies so much on electronics and on production that there is a new market for that which goes back to the basics—good, solid songs with convincing lyrics and singable melodies, done with honest emotion and with the integrity of conviction—music that you know the artist really cares about, songs that you feel the artist has to sing."
As a child, Gaither became enamored of gospel groups like the Statesmen, the Dixie Four, and the Harmoneers Quartet. He admits that it may have been the sound and the "boogie woogie beat" that first grabbed him, rather than the lyrical content, but a deeper appreciation for the message in the music would come in time.
That message is what would remain constant throughout the next four decades, though Gaither would devise a variety of packages for presenting it. Though many new fans are only now discovering him, Gaither was inducted into the Gospel Music Hall of Fame more than a decade before the first Homecoming album came out, and he has garnered 20 Dove awards dating back to 1969, when that prize was first presented. He has left his mark as a songwriter, as a performer, and as a promoter of Christian art.
The Songwriting Duo
In 1963 Gaither wrote "He Touched Me," a song that would be recorded by hundreds of gospel performers (including Elvis Presley) and would be featured in dozens of hymnals. Many more popular hymns would follow: "Because He Lives," "The Family of God," "Get All Excited," "I Am Loved," "I Am a Promise," "I've Just Seen Jesus," "Jesus, We Just Want to Thank You," "The King Is Coming," "Let's Just Praise the Lord," "Sinner Saved By Grace," "Something Beautiful," and "There's Something About That Name."
More often than not, Gaither's partner in songwriting has been Gloria, his wife of 42 years. Typically, Bill focuses on the music and Gloria on the lyrics, but there is no clear or consistent division of labor, and the two Gaithers also write songs on their own and with other collaborators. In recent years their children Benjamin Gaither and Suzanne Jennings have also become noteworthy composers of Christian music (another daughter, Amy Gaither-Hayes, teaches at DePauw University).
Gloria Gaither holds a master's degree in English literature and is regarded as something of an authority on the novels of John Steinbeck. Gaither jokingly refers to her as "the smart one" and people who know the couple detect a more intellectual or ethereal ambience about her that contrasts with her husband's down-home practicality.
She is a woman who might surprise you. She likes rock & roll and acknowledges the influence of bands like Triumph and Journey on her songwriting. She operates a Christian bookstore in Alexandria that counteracts stereotypes of Christian bookstores (e.g., it's organized around a café and stocks some books by non-Christian authors). She also has strong feelings about modern liturgical trends that reduce worship to praise choruses. "Worship is to be a result," she says. "It cannot be produced artificially or summoned instantly. A hymn like 'Great Is Thy Faithfulness' offers four stanzas that recount our history with God, that move our hearts to offer the praise expressed in the chorus."
Altogether, more than 500 Gaither songs have been published in hymnals, and the Gospel Music Association once named Bill Gaither Songwriter of the Year eight years in a row. In 2000, the American Society of Composers and Performers named Bill and Gloria Gaither as Songwriters of the Century, recognizing that performances of their works surpass those of any other contemporary religious composers.
So, what makes for a Gaither hymn? Bill says he always strives for "an integration of sound theology with real-life experiences." Gloria says that hymns must be "corporate" but insists that "for something to be corporate, it does not have to be general. Things are more universal the more specific they are."
Consider one verse of "Because He Lives":
How sweet to hold our newborn baby
And feel the pride and joy he gives
But greater still, the calm assurance,
This child can face uncertain days because He lives.
Thus, the universal significance of Christ's resurrection is described with a specificity that indicates the existential relevance of a doctrinal absolute. This, the Gaithers agree, is the value of personal testimony, which features heavily in their songs.
Gaither further acknowledges an intention of keeping things simple, which derives from a commitment to cultural inclusivity. "I'm always telling Gloria, 'Let's try to put some of the cookies on the lower shelf where everyone can reach them.'" And so, Tony Campolo says, "To the casual listener, Gaither's music might seem simplistic—but in reality, it is the expression of deep theological and biblical reflection."
Ironically, Gaither's early stints with gospel quartets were not very successful, and for a time it seemed he might spend his life teaching seventh-grade Hoosiers how to diagram sentences and grab rebounds. But then he joined with Gloria and his brother Danny to form the influential and popular Bill Gaither Trio. A bridge between "traditional gospel" and "contemporary Christian," the trio had a soothing pop sound that retailers decided to call "Inspirational." It caught on. The 1970 album Alleluia was the first of its kind to be certified gold by the recording industry, and the Bill Gaither Trio discovered they could not only fill churches but also sell out civic auditoriums and other secular arenas.
In the early 1980s, Gaither also formed the Gaither Vocal Band, a four-man combo that looked like a gospel quartet but sounded like a pop ensemble comparable to harmony groups like Huey Lewis and the News (or, in retrospect, the Backstreet Boys). The group's changing roster became a wellspring of talent, with such members as Gary McSpadden, Michael English, Steve Green, Larnelle Harris, Mark Lowry, and Jonathan Pierce going on to impressive solo careers.
Over the years, the Gaither Vocal Band's sound changed as regularly as its membership, but the last decade witnessed a deeper embrace of the traditional Southern gospel sound. The latest project (with a lineup of Gaither, Taff, Penrod, and Dave Phelps) features a cappella singing.
This "return to roots" campaign is evident in the Homecoming series as well. "I still cannot let go of this thing that grabbed me as a teenager," Gaither muses, now in his 60s and able to do whatever he wants professionally. What he wants, it seems, is to preserve the value of that music that first touched him, record its history for posterity, introduce it to new audiences, and integrate its most compelling aspects into a music scene that can benefit from its persuasive power.
Gaither has known his share of difficulties and says he is prone to bouts of depression. He describes once telling a psychiatrist friend that he has always managed to fight these battles without medication. "Don't kid yourself," the doctor replied. "Your pill is your work."
Gaither admits to being a workaholic and a perfectionist. The depression, he says, is often brought on by acute introspection, when he feels proud of his outward success, but is plagued by internal doubt concerning the purity of his motives. The worst case came in 1969, when an angry colleague suggested he was only involved in gospel music to make money. Gaither says he spent months mostly sitting in a big chair, surveying his life, his words, and his actions.
"I felt as though someone were wrapping me in a large, heavy curtain," he remembers. "I now know that such feelings are not uncommon in Christian circles, but at the time I thought there must be something unusually wrong with me." The spell was only broken through spiritual intervention, when a friend identified his despondency as an "attack from the outside," anointed him with oil, and prayed for his release.
The healing, he admits, was not immediate. Gaither is not naïve about the nature of depression. He knows the causes are complex, involving physical fatigue and emotional stress. Still, he continues to regard the affliction as fundamentally spiritual, and to uphold the role of personal and intercessory prayer in its treatment.
Sharing the Wealth
The Gaithers do not receive a lot of attention in the modern world of contemporary Christian music, but it is hard to imagine what that world would look like without them. Donna Hilley, CEO of Sony Music Publishing, says simply, "The Gaithers are to Christian music what the Beatles are to pop music." The influence has come not only through their own songwriting and performing but also through Bill's indefatigable efforts as Christian music's number one promoter. It is here that Gaither may have left his greatest mark: as a promoter of art and of talent that glorify Jesus.
Gaither has not only assisted artists professionally but also has been considered a spiritual mentor. The Homecoming gatherings seem to have built-in potential for spiritual growth and enrichment, as artists share with each other their triumphs and struggles in the faith. But Bill has worried over the concern of bringing in artists whom "I knew were not living spiritually where they once were." It's risky, he admits, but sometimes "just being in the environment of the Homecoming family might help them to reconnect with their friends and, more importantly, with their faith in God."
Gaither's spiritual side is not divorced from his down-to-earth business sense. When asked to describe how Gaither has affected their lives spiritually, artists usually don't mention prayers and Bible studies, but more mundane, practical matters. Don Francisco, whose 1977 song "He's Alive" still holds the world record for the longest-running chart single in the history of Christian radio, remembers that "Bill was one of a disappointingly small minority in the Christian music business who were honest, respectful, and kind in their dealings with me."
Sandi Patty says, "The biggest spiritual lesson I learned from Bill is simply to be real. That sounds simple, but in this business it can be very difficult." It was especially difficult, perhaps, for a fallen celebrity like Patty, whose 11-year run as GMA's Female Artist of the Year (1982-92) came to an end amid revelations about an extramarital affair.
"As long as we are right with the Lord, nothing else matters," Patty now says. "To be real and honest about one's life is the most spiritually significant thing Bill or any one has ever taught me." Patty has been forthright in talking about sexual abuse she suffered as a child, and the emotional havoc this wreaked on a marriage that ended with adultery and divorce.
"Bill has been able to re-energize the careers of older gospel singers," Amy Grant says, "while also jump-starting the careers of younger artists." She was one of those younger artists some years back, as were Carman, Francisco, Patty, and many more whose talents Gaither recognized and encouraged.
"Bill and Gloria first asked me to share the stage with them when I was in college," Grant says. "I remember being a little nervous because I don't have the kind of vocal style that elicits a standing ovation after one song. Bill pointed to himself and said, 'Amy, if that's what it takes to make it, I'd have been finished a long time ago. Be yourself. Sing from the heart. Share who you are. That's what matters.'"
Style has never been the issue. In the '80s, Gaither was responsible for launching White Heart, a hard-rock band composed entirely of Gaither's backing musicians. More recently, he has partnered with Toby McKeehan of dcTalk to create alternative (read: hip-hop) praise records. "One of the themes through our whole ministry," Gloria says, "has been to pull together divergent pieces of the body of Christ."
Gaither allows that "whoever said music is the universal language must have lied, because music can be incredibly divisive." And that realization is what brought him to title his recently published autobiography It's More Than the Music (Warner Faith). "We are what we are, but we have to be about more than music," he maintains. "I'm here to lift up Jesus. If you don't like what we do musically, maybe we can still relate on that level."
That philosophy has guided Gaither for four decades—not only with regard to changes in musical style but also when navigating the treacherous waters of political and doctrinal issues. "We get approached to support and endorse all kinds of causes," he says, "but we believe we have been called to do one thing: lift up Jesus as high as we can lift him up, and let him draw all people to himself."
It seems to work. All sorts of people—Baptists and Catholics, country folk and city dwellers, Southern Gospel fans and MTV addicts—are being drawn to the Gaithers' Homecoming celebrations and related events.
Ask Gaither why it works and he'll shrug off the success with characteristic humility. "The older I get, the fewer things I know, but those things I do know, I know with certainty. And I know that people are drawn to that picture of Christ that I learned in Sunday school, standing with his arms outstretched and saying, 'Come, come.' I am moved to share that Christ, especially with persons who might have become turned off to the faith."
And there is that authenticity factor again, the intrinsic appeal of an artist who thinks what's hip is being who you are. "Styles will come and go," Gaither says, "so it's got to be more than the music. If we've survived all these years, I suppose it must be that people sense the genuine love for Christ that is in our hearts."
Mark Allan Powell is a professor of New Testament at Trinity Lutheran Seminary in Columbus, Ohio, and author of The Encyclopedia of Contemporary Christian Music (Hendrickson).
Related Elsewhere:
Also posted today is an article about the Gaithers' Praise Gathering.
Gaithernet has more information about Bill and Gloria including an email newsletter, events calendar, Homecoming information, the Homecoming magazine, and sales information.
Christianbook.com has a massive collection of the Gaither's music, videos, and Homecoming paraphernalia.
Have something to add about this? See something we missed? Share your feedback here.
Our digital archives are a work in progress. Let us know if corrections need to be made.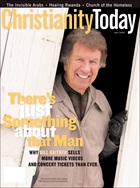 This article is from the April 2004 issue.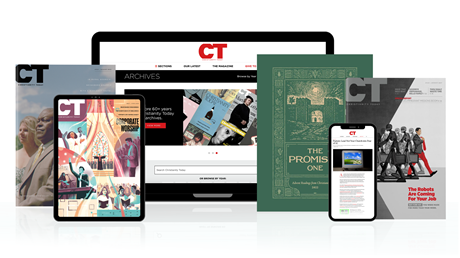 Annual & Monthly subscriptions available.
Print & Digital Issues of CT magazine
Complete access to every article on ChristianityToday.com
Unlimited access to 65+ years of CT's online archives
Member-only special issues
Subscribe
There's Just Something About This Man
There's Just Something About This Man