Last fall, Stephanie Monegro flipped through yellow pages, looking to get an abortion. A high-school dropout, the 17-year-old New Yorker was two months pregnant and already the mother of a three-year-old boy.
Seeing an ad for Expectant Mother Care, she went to the crisis pregnancy center (CPC) and asked about an abortion. Counselor Linda Susan Marzulla said the center did not provide abortions, but asked Monegro if she wanted to have a sonogram taken of her embryonic sac.
"[Marzulla] asked why I would want to kill my baby," Monegro told Christianity Today. "She said I would always regret it. [Then] I saw my first sonogram of the baby, and I burst into tears. I thought: Why would I want to kill something that's living?"
More pregnant women are asking that same question. Crisis pregnancy centers nationwide have discovered that performing sonograms early in pregnancy influences many pregnant women to change their minds about abortion. Ultrasound technology uses sound waves to create a sonogram, an electronic picture of a developing baby.
In 2000, 67 percent of 4 million pregnant women underwent an ultrasound exam, according to the Centers for Disease Control (CDC). Researchers say medical professionals typically administer those exams after the 15th week of pregnancy to assess the development and physical well-being of the child. Almost 90 percent of the abortions performed annually in the United States occur in the first 13 weeks of pregnancy, before most physicians would take a sonogram.
About 341 CPCs nationwide offer sonograms, according to Heartbeat International, a Columbus, Ohio-based nonprofit. Three years ago, there were fewer than 170 centers offering sonograms. There are 1,800 CPCs and 2,000 abortion clinics across the nation.
Thomas Glessner, president of the National Institute for Family and Life Advocates (NIFLA), a Virginia-based nonprofit, believes that 1,000 CPCs could be equipped with ultrasound machines by 2010. Glessner is pushing for Congress to authorize up to $3 million annually for the Secretary of Health and Human Services to purchase sonograms for nonprofits that provide free examinations for pregnant women.
"If women are informed, they can be persuaded to choose life rather than killing the fetus," said Rep. Cliff Stearns, R-Florida, who is sponsoring the House version (H.R. 3686). The bill, which has 45 cosponsors, went to the House Subcommittee on Health a year ago, and it remains there. The Senate version (S. 1984) went to the Committee on Health, Education, Labor, and Pensions in March 2002. Glessner believes the legislation will help "topple the abortion industry."
Manipulation alleged
Some abortion advocates oppose federal funding for ultrasound machines. The National Abortion and Reproductive Rights Action League (now known as naral Pro-Choice America) publishes a booklet titled "Unmasking Fake Clinics." It warns that crisis pregnancy centers are buying ultrasound machines as part of a "new agenda" to deceive pregnant women.
Karen Pearl, executive director of Planned Parenthood Nassau County in New York, told The New York Times last year that centers use sonograms to "manipulate the patient's decision."
Rep. Juanita Millender-McDonald, a Democrat from Los Angeles, was one of several prochoice African American lawmakers who initially supported the ultrasound-funding bill. But several months ago, she withdrew her support. McDonald and naral declined interview requests.
The current abortion rate, 21.3 abortions per 1,000 women aged 15 to 44, is at its lowest level since 1974. According to the U.S. Centers for Disease Control and Prevention, the number of abortions reported by states, the District of Columbia, and New York City fell from 1,429,577 in 1991 to 1,186,000 in 1997. The Alan Guttmacher Institute, the research arm of Planned Parenthood, has a higher count. The institute estimated 1.3 million abortions annually from 1997 to 2001.
Persuasive technology
In 1973 the Supreme Court did not mention ultrasound technology when it struck down state abortion limits in Roe v. Wade. Many hospitals started using ultrasound machines in the early 1980s. General Electric now runs television ads for its "4-D" ultrasound machine, which shows an in utero child moving in real time.
Marzulla estimates that about 20 percent of visitors to Expectant Mother Care want a sonogram because of concerns about fetal health. But she said that less than 1 percent of the exams found significant birth defects or other problems. Many problems are not detectable by ultrasound until after 16 weeks of gestation. Some CPCs have a policy to discourage pregnant women from seeking a sonogram to find fetal birth defects, but staff members will disclose defects if the exam finds any.
Evidence that ultrasound helps to persuade women not to abort came in an unpublished study by Eric Keroack, medical director of A Woman's Concern, a CPC in Boston. Keroack compared two 18-month periods in the crisis pregnancy center's history and kept data only on women who expressed interest in abortion. Without a sonogram, about 60 percent of 366 tracked women had abortions. But with a sonogram, 25 percent of 434 tracked women aborted. He estimated that 125 babies were born who would otherwise have been aborted.
Keroack concluded, "Ultrasound is an amazing reality check."
Sonograms quicken a mother's emotional attachment to her unborn child, experts say. Before sonograms, maternal-fetal bonding often occurred after the 15th week of pregnancy, when the mother senses fetal movement for the first time. But with sonograms, bonding is possible within the first 13 weeks, according to British researchers Stuart Campbell and Judith Lumley.
At six weeks gestation, mothers can see and hear an embryo's beating heart. Just before 10 weeks, they can see the fetus sucking its thumb.
"When they see the hands or feet of the fetus, they're much more attached," said Dolores Pretorius, professor of radiology at the University of California at San Diego.
But CPC workers say that pregnant women need more than a sonogram. They need encouragement to choose life. "You can't put all your hope in sonograms saving babies. You're always going [to need] good counselors," said Chris Slattery, president of Expectant Mother Care.
Financial constraints
Right now, few crisis pregnancy centers can afford to buy ultrasound machines. A basic ultrasound machine, which produces flat black-and-white images, costs $15,000 or more. A CPC needs another $10,000 for a Doppler heartbeat monitor. Machines that show 3-D images cost about $120,000; 4-D machines cost $145,000.
Many crisis pregnancy centers have small budgets. For example, a CPC in Bowie, Maryland, operates on less than $15,000 per month. To pay for these expensive machines, crisis pregnancy centers apply for grants or approach individual donors. Pamela Palumbo, executive director of Maryland's Bowie Crofton Pregnancy Center and Medical Clinic, was able to raise enough money after 17 weeks of contacting donors in 1998.
"We just gave donors our vision for the medical clinic," she said, "and showed them what the ultrasound should accomplish."
With the new funds, clinic leaders also hired a part-time nurse manager to supervise the center's staff. The center recruited a local physician to serve as medical director. While the physician does not need to be on-site, his involvement permits the clinic's nurses to administer sonograms legally.
The clinic's sonograms are free but are available only a few hours each week. Still, Palumbo said, the center has experienced "a big, dramatic change" in the volume of visitors since 1999. She credits some of that increase to the installation of the ultrasound machine that January. She estimated the visits rose by nearly half, to 550 women annually, during the past three years. In 2002, 100 women received an ultrasound exam.
NIFLA's Glessner is convinced that if Congress passes legislation to pay for ultrasound machines, the rate of abortion will continue to decline. "All I know is that [if] a woman hears a heartbeat, she chooses life."
Related Elsewhere
Also appearing on our site today:
New Life for Prolife | Abortion is no longer the ghastly growth industry it was in the 1970s and 1980s.
The New Partial-Birth Abortion Bill and Old Myths | Unconstitutional? Rare? Dangerous? Don't believe the disinformation campaign.
This is the second in a two-part series on crisis pregnancy centers. The first part, "Saving Black Babies" was published in our February issue.
Previous Christianity Today articles about abortion include:
Prolife as Mafia? | Supreme Court to decide if racketeering laws apply to anti-abortion activities. (Jan. 15, 2003)
Saving Black Babies | Abortion has cost 13 million African American lives. (Jan. 19, 2003)
FDA Candidate Irks Abortion Pill Advocates | The Christian Medical Association says critics fear David Hager's "well-grounded" opposition. (Nov. 26, 2002)
Embracing the Unwanted | Chinese American Christians are starting to become more openly prolife. (May 9, 2002)
Doctors Slow to Prescribe Abortion Pill | Since RU-486's approval, rising safety concerns and common side effects have led to little use. (Nov. 12, 2001)
Whistleblower Fired | Nurse Jill Stanek's lawyer calls action retaliation for prolife views. (Oct. 26, 2001)
Bush's Prolife Strategy Questioned | White House chief of staff says abortion isn't on list of public policy priorities. (June 15, 2001)
Counteroffensive Launched on RU-486 | Abortion-pill critics allege safety concerns overlooked in FDA approval process." (June 15, 2001)
Virginia Okays Waiting Period For Abortion | NARAL says 43 prolife measures were passed at the state level last year. (April 2, 2001)
Bitter Pills | What does RU-486 change about abortion? (December 11, 2000)
House Passes Bill to Protect Babies Outside the Womb | Protection for infants who survive abortions draws 380-15 approval. (Sept. 28, 2000)
Partial Birth: What Next? | Louisiana's special assistant attorney general questions well-intentioned lawmakers. (August 7, 2000)
Article continues below
The Abortion Debate Is Over | Pro-lifers overestimated the average American's allegiance to logic. (Dec. 6, 1999)
Partial-birth Abortion Ban May Go to Supreme Court | Differing appeals court rulings increases chances of forthcoming decision. (Nov. 8, 1999)
Abortion Is Not a "Necessary Evil" | Why Americans oppose abortion but want to keep it legal. (May 24, 1999)
Refocusing the Pro-life Agenda | The pro-life cause is winning the battle of persuasion in the minds of many Americans. (March 1, 1999)
Abortion's Untold Story | How journalist Cynthia Gorney has helped both sides of the abortion debate to view the other side honestly. (April 27, 1998)
Wanted: A New Pro-life Strategy | Twenty-five years after Roe, and 37 million abortions later, we have to admit we are losing the fight. (Jan. 12, 1998)
Roe v. McCorvey | What made "Roe" betray the pro-choice cause? (Jan. 12, 1998)
States Approving Bans on Partial-Birth Abortion | Lawmakers are no longer waiting on federal bill. (October 27, 1997)
Pro-life Legislation Makes Strides | Laws already have been enacted in a dozen states to ban partial-birth abortion. (July 14, 1997)
Profamily Victories Tempered by Abortion Override Failure (Nov. 11, 1996)
Abortion Pill Seems on Fast Track | Pro-life activists say they will now concentrate their opposition efforts on grassroots education about the drug's potential dangers. (Sept. 16, 1996)
You Say Choice, I Say Murder |Before prolife arguments can reach the undecided American, we have got to look at the language we use. (June 24, 1991)
The Abortion Wars | What most Christians don't know about the history of pro-life struggles. (Oct. 6, 1989)
Reversing Roe v. Wade | It may take more than a single court decision to counter abortion on demand. (Sept. 20, 1985)
Arguments in Favor of Abortion Are Strong. … |. … if you accept one all-important assumption. (July 15, 1983)
Abortion and the Court | The Roe v. Wade decision runs counter to the moral sense of the American people. (Feb. 16, 1973)
Have something to add about this? See something we missed? Share your feedback here.
Our digital archives are a work in progress. Let us know if corrections need to be made.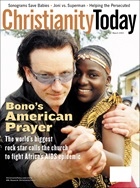 This article is from the March 2003 issue.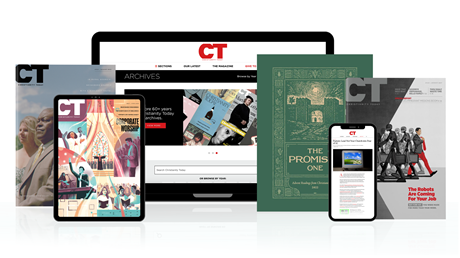 Annual & Monthly subscriptions available.
Print & Digital Issues of CT magazine
Complete access to every article on ChristianityToday.com
Unlimited access to 65+ years of CT's online archives
Member-only special issues
Subscribe
Saved by sonogram
Saved by sonogram