Baseball is a game of memory, and the World Series that concluded last night with the Anaheim Angels besting the San Francisco Giants in the seventh game for the first championship in their 42-year-history added generously to the collective scrapbook. The stern mask of Barry Bonds, a silver cross dangling incongruously from his ear as he leaned over the plate and dared anyone to pitch to him. The uncanny poise and wicked stuff of 20-year-old Frankie Rodriguez, the Venezuelan phenom with a month or so of big league experience under his belt. The rally monkey. Thunder sticks (ban 'em, I say). Kayaks in the bay outside Pac Bell, waiting for another monster drive from Bonds.
If last year's back-and-forth struggle between the mighty Yankees and the finally victorious Diamondbacks featured some deliciously improbable moments, this year topped them—beginning with the improbability of the matchup. Neither franchise was supposed to be there. The Angels started the season with a team that had finished 41 games behind the Seattle Mariners. And 2002 looked at first like more of the same, as they were 6-14 out of the gate. In the Giants' division, all the attention was on the defending champion D-backs and their awesome twosome, Randy Johnson and Curt Schilling.
As the season progressed and the negotiations between players and management grew nastier, it began to look like no one would be going to the Series. A strike was averted, but the problems Michael Stevens wrote about in this space in a two-part season preview were merely papered over in a short-term compromise. Many lifelong fans are alienated. (My friend Bill, with whom I have spent thousands of hours talking baseball, boycotted this series because he has never accepted baseball's move to the wild-card format, which cheapens the distinctive appeal of baseball's pennant races.) Many young people are indifferent. And the doomsayers will be sure to point out that this Series was the least watched since 1969. (What bothers me far more than that stat is the ceaseless exposure of Great Moments, shown so often that all the meaning and emotion is leached out of them.)
If you're a fan you carry on and hope they don't ruin the game you love. You admire the skills of the players (and put their off-field doings out of mind). You argue over managerial decisions. You marvel at the ability of the Angels to come from behind again and again. You savor the improbable. You remember. (For the 9th inning last night, I was on the phone with my brother in Pasadena. We grew up Dodger fans, but we took a friendly interest in the Angels, too—saw many games and listened to countless more. This championship has been a long time coming.)
And the day after the Series ends, the Hot Stove League begins. (Will the Cubs manage to land Dusty Baker?) Now is the time to have some good baseball reading laid in. I have a stack of seven or eight books, some new to me, a couple of old favorites. One of the new ones is Line Drives: 100 Contemporary Baseball Poems, edited by Brooke Horvath and Tim Wiles (Southern Illinois University Press). It was published earlier this year, but I set it aside for the off season and didn't open it until last night, in the afterglow of the Series.
Dipping here and there, experimentally tasting, I've already found a half-dozen poems to remember. The one that made the biggest impression was a surprise: "Baseball Cards," by Dan Quisenberry, the submarining closer for the Royals who was the best in the game for a while. I knew that he'd died of a brain tumor several years ago, still in his mid-forties. I didn't know he wrote poetry.
Quisenberry's isn't the strongest poem of those I've seen, and it didn't fit my celebratory mood, but it tells a certain truth with economy: the arc of a player's life seen via his baseball cards, from his rookie card to the end of his career. It counts the toll a life in baseball often takes, not only on the player but also on his family. Here is the last stanza:
I look back
at who I thought I was
or used to be
now, trying to be funny
I tell folks
I used to be famous
I used to be good
they say
we thought you were bigger
I say
I was
So I went to bed last night with two images in mind: the Angels pouring out on the field to celebrate, and somewhere a figure like Dan Quisenberry contemplating the scene. I don't want to forget either one.
John Wilson is editor of Books & Culture and editor-at-large for Christianity Today.
Related Elsewhere
Visit Books & Culture online at BooksandCulture.com or subscribe here.
Sports Spectrum offers more analysis of baseball and other sports from a Christian perspective.
Earlier this year, Christianity Today examined Why God Enjoys Baseball.
Earlier Books & Culture Corners on baseball include:
Baseball 2002 Preview | Part 2: Saving the game? By Michael R. Stevens (Mar. 25, 2002)
The State of the Game | After one of the best World Series ever, baseball faces a crisis. By Michael R. Stevens (March 18, 2002)
Article continues below
Play Ball | Baseball, leisure, and worship. By John Wilson (November 5, 2001)
Books & Culture Corner appears Mondays at ChristianityToday.com. Earlier Books & Culture Corners include:
Train Up a Child | Helping children to become intimately familiar with Scripture. (Oct. 14, 2002)
Acting Like Those 'Evangelicals' | Guilty as charged? (Sept. 30, 2002)
Ugly Evangelicals | Is this us? (Sept. 23, 2002)
Herbie Goes Bananas | The rise and fall and rise and fall and rise of the VW Beetle. (Sept. 16, 2002)
So Far, So Near | A graduate of Murree Christian School in Pakistan, the site of a deadly assault by Islamic terrorists in August, reflects on his growing-up years, on what has changed in the interim, and on the beleaguered Christian community in Pakistan (Sept. 9, 2002)
The New York Times Discovers Religion (Again) | Shouldn't the paper of record be able to move beyond Square One? (August 26, 2002)
After the Quake | Bedside reading for the anniversary of 9/11. (August 19, 2002)
How to Avoid the Coming Disaster | "Imitate Japan." "No, don't imitate Japan." Time out. (August 12, 2002)
"Mind Control" and the Christian Citizen | Historian Sean Wilentz's misguided attack on Justice Antonin Scalia. (August 5, 2002)
Speak What We Feel | Frederick Buechner's latest book is one of his best. (July 29, 2002)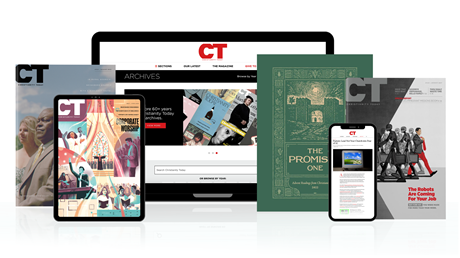 Annual & Monthly subscriptions available.
Print & Digital Issues of CT magazine
Complete access to every article on ChristianityToday.com
Unlimited access to 65+ years of CT's online archives
Member-only special issues
Subscribe
Angels in Heaven
Angels in Heaven