The man behind the most damning archive on religious persecution in China escaped to the United States as a godless political refugee. Chinese police knocked on Li Shi-xiong's door in 1989, after the military massacred hundreds of pro-democracy demonstrators in Beijing's Tiananmen Square. It was a knock the anticommunist dissident from the central Chinese city of Wuhan had heard before.
A half-dozen police stormed Li's home, demanding a confession. They confronted Li with photos and videotape of him giving food and money to the demonstrators.
"I supported people who are the flowers of China," he told them. "You guys should support this."
Li had not done anything illegal, and after a harsh exchange the authorities turned to leave. But Li's parting volley—"Don't cause me any trouble! Your IQ is too low!"—secured a promise from the police commander to arrest him someday.
"I'll be waiting!" Li shouted. "Come anytime!" He knew, though, that this bravado would quickly land him back in the kind of labor camps where he, the son of political opponents, had spent his early childhood.
It took him seven years to scrape together the funds—while the government forced his businesses into bankruptcy, he says—but by 1997 Li had completed a complicated odyssey to Flushing, New York.
Li applied for political asylum and helped others do so. Impressed, a lawyer asked Li to work for him. As Li began to notice religious persecution cases among the asylum applicants, he recalled a man he had known in a labor camp.
"One rainy day I was coming back to our living quarters after a day's work in the fields," he says. "There was an elderly man with a long gray beard and poor clothes sitting on a tractor. Surprisingly, he called out to me."
The old man, a Christian, had been in the same jail cell as Li's father. "He really cared for me," Li says. "I learned about God from him. I felt closer to him than to my parents."
Li thus knew of the existence of Christians in China but nothing of their growth and suffering. In 1998 an applicant for political asylum also told him about suffering as a Christian pastor.
"I was a little surprised to hear this man's story," Li says. "He talked about being beaten and said, 'Everybody in our church was beaten.' "
Eventually Li helped the pastor obtain asylum, and his success in many other cases attracted the attention of a group of Chinese religious leaders. Warily, the leaders of an unlikely collection of orthodox and nominally Christian groups came together to meet with Li. Eventually representatives of more than 30 orthodox and heterodox Christian groups joined the work on the archive.
Li found it difficult to persuade them they needed to work harder at obtaining proof for their words. One told him, "What you want is hard and very dangerous to get."
Within three months, those applying for asylum agreed to get their house-church networks to gather testimonies about incidents of persecution. Sometimes the evidence came in recorded testimonies.
"Listening to these disembodied voices talk about their sufferings," he says, "is like sitting in a dark jail hearing the screams and the nightmares."
While working with Li, Chinese church leaders helped him come to a saving relationship with Christ.
An Activist Is Born
By March 2001 Li was receiving 500 testimonies a month. He has collected 5,000 testimonies with pictures of the persecuted. In many cases, court documents and photos accompany them. He has also received less complete reports of another 17,000 cases of religious persecution.
The photos of the persecuted tell their stories: Sister He, a handsome mother, stripped and beaten with an iron rod. Elder Brother Song, holding out his arms with fresh scars where the bones stuck out; his throat, partly cut, now presenting an ugly jagged scar. Pastor Chan, beaten 20 times, his face staring out kindly with pain discernible in the eyes.
Historically the government has been able to deflect accusations of religious persecution because credible information was so difficult to get out of China. Li's work signals a breakthrough on that front.
A tough childhood, more difficult than most of us can imagine, prepared him for this role. His native Wuhan is a drab, hard-edged, and sprawling industrial city in central China. Li was born in a back-alley room from which his parents were evicted six days after his birth. The Li family wandered from one begging spot to another.
"As long as I've had a memory, I remember suffering," he says.
His family had been on the losing side of China's civil war. His mother's father had been an anticommunist military leader, which doomed the Lis to a dire existence in a tough city.
He tells of once seeing a toy train through the window of another home. "I don't especially like trains, but I was amazed that this toy train could go round and seem to automatically, magically, come out of the mountain. I wondered if I could go somewhere and magically reappear in a new life."
In March 1960, labor camp seemed like such a new start to the 7-year-old Li. He got to see his father, attend the camp's school, and hold his first book. But he found there was a pecking order in prison, too—labeled as counterrevolutionary, Li's family pined away at the bottom.
His father took out his bitterness on his young and loving son by beating him. At the urging of a teacher, the son of an official kept a list of young Li's counterrevolutionary deeds. Li recalls: "Complain about the weather? 'Counterrevolutionary!' Complain about the food? 'Treasonous son of a poisonous weed!' "
He was thrown out of school during the first grade. Li's father beat him again.
"I was dirty every day, and sometimes other kids would beat me up. My mother couldn"t do anything. She only had the right to apologize to people who bullied me. She had to say, 'Oh, your children got hurt.' They got hurt beating on me!"
A deep bitterness and a violent temper gripped him by the time he was released from labor camp after 20 years. He had almost no formal education and no money. He married, but prison life had not prepared him with much social grace. The marriage fell apart after a few years.
A Christian aunt from Taiwan wrote Li about Christ and her daily prayers for him. He paid little attention as he fought his way up the ladder of China's ecomomic boom.
He never forgot, however, the aunt's encouraging words to him while he made red bricks in labor camp as a young boy: "Look at the stars above your bricks. Know that God is with you to the end."
Related Elsewhere
Also appearing on our site today:
"New" China: Same Old TricksTop communists, despite their denials, endorse arrest and torture of Chinese Christians by the thousands.
What China's Secret Documents RevealThe New York archive of religious persecution in China contains numerous government documents that show how the government controls religion.
China Persecution Dossier: Zhang Wu-JiTortured to the point of death.
China Persecution Dossier: Shi Yun-ChaoBeaten for Hosting Bible Studies.
China Persecution Dossier: Gu XiangmeiSurviving on "tiger's diarrhea."
Freedom House has a press release on the documents, as well as posted the full text of Li's report online with an analysis (pdf) of the contents.
Coverage of the release of the Chinese documents includes:
Papers 'reveal' Chinese religious persecution — BBC (Feb. 14, 2002)
Secret papers tell of war on religion — Sydney Morning Herald (Feb. 14, 2002)
China deepens assault on faith — The Washington Post (Feb. 13, 2002)
Article continues below
U.S. Rights Groups Issues 'Secret' Chinese Documents — Reuters (Feb. 13, 2002)
Religious hopes rise in China — Chicago Tribune (Feb. 12, 2002)
China 'extreme' on sects — The Washington Times (Feb. 12, 2002)
China Accused of Christian Crackdown — Associated Press (Feb. 11, 2002)
Leak uncovers Beijing's torture of Christians — The Times, London (Feb. 11, 2002)
The State Department's 2001 International Religious Freedom Report on China said the "government seeks to restrict religious practice to government-sanctioned organizations and registered places of worship and to control the growth and scope of the activity of religious groups."
See Christianity Today'sBearing the Cross article on the persecution of Christians in China.
Previous Christianity Today stories about persecution in China include:
Gong's 'Accusers' Claim Torture Induced False ConfessionsLetters from imprisoned Christian women in China describe assaults with electric clubs. (Feb. 1, 2002)
Church Leader Gets ReprieveChina's case against Gong Shengliang now on hold. (Jan. 24, 2002)
Chinese House Church Leader Granted Time to Appeal Death SentenceSentence likely to be commuted to imprisonment, but church remains in danger. (Jan. 8, 2002)
Free China's ChurchThe Communist country may ease some religious restrictions, but they still want an apolitical church. (January 3, 2002)
Communists May Recognize Independent ChristiansCommunist leaders in China are preparing to give formal recognition to unregistered religious groups, but house-church leaders are wary. (November 19, 2001)
Changes in China's Religious Policy Imminent?Several respected house-church leaders consulted about official registration. (November 16, 2001)
House Churches May Be 'Harmful to Society'But China's unofficial congregations resist "evil cult" label. (Jan. 25, 2001)
China's Religious Freedom Crackdown Extends to ForeignersIt is against the law for visitors to teach the Bible in China's house churches. (Nov. 13, 2000)
China's Smack Down53 Christian professors, students, and church-planters detained. (Sept. 11, 2000)
House Approves Divisive U.S.-China Trade PactBut will permanent normal trade relations status help human rights? (May 25, 2000)
China Should Improve on Religion to Gain Permanent Trade Status, Commission SaysReligious liberty in Sudan and Russia also criticized. (May 8, 2000)
A Tale of China's Two ChurchesEyewitness reports of repression and revival. (July 13, 1998)
Have something to add about this? See something we missed? Share your feedback here.
Our digital archives are a work in progress. Let us know if corrections need to be made.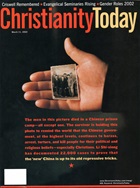 This article is from the March 11 2002 issue.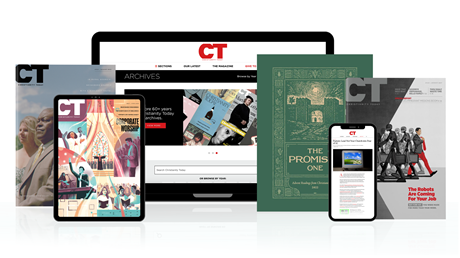 Annual & Monthly subscriptions available.
Print & Digital Issues of CT magazine
Complete access to every article on ChristianityToday.com
Unlimited access to 65+ years of CT's online archives
Member-only special issues
Subscribe
Read These Next
Trending

American Christians Should Stand with Israel under Attack

While we pray for peace, we need moral clarity about this war.

From the Magazine

The Unusual Epistle that Helps Me Counsel on Sexuality

Jude has strong words for immorality in the church. Yet he advocates for mercy for those who doubt.

Editor's Pick

Don't Miss These African Christmas Hits

Jam out this season to highlife, Afrobeats, jazz, a cappella, R & B, rap, dance, and hip-hop artists from Nigeria, South Africa, and more.
The Unlikely Activist
The Unlikely Activist