"What message do you have for American Christians?" I ask the Rt. Rev. Peter Munde Yacoub. Yacoub is Bishop of Yambio in the Province of the Episcopal Church in the Sudan. He is in Houston to address the first-ever international Sudanese Christian Conference for Peace and Unity, which met at the city's First Baptist Church the weekend of May 23-May 26.
The conference brought together nearly 500 participants, mainly displaced Sudanese Christians now living in asylum in the United States, Canada, and Great Britain, and a dozen or more Christians from war-torn Southern Sudan and from Sudan's capital, Khartoum. Also attending were a sizable group of non-Africans, mostly members of various churches in the Houston area.
A registration mailer sent to potential participants explained the conference's goals: "[It] presents a forum to raise awareness of the war in Sudan and explore solutions for the problems resulting from this war." Organized by Frank Blackwood, founder and director of AID Sudan Foundation, and Rev. Samson Diko, a refugee Sudanese Episcopal priest licensed to serve in the Diocese of Texas, the event was co-sponsored by an impressively ecumenical array of mission and refugee-relief organizations such as Samaritan's Purse, Persecution Project, Safe Harbor, Living Water International, Voice of the Martyrs, Catholic Charities, the YMCA, Interfaith Ministries, and Houston's Sudanese refugee community. Representatives came from refugee communities throughout the United States and Canada. Two groups—one from Omaha, Nebraska, and one from Lansing, Michigan—drove more than 24 hours to attend.
Bishop Yacoub contributed special energy to the Conference because his own Sudanese Episcopal Church leads among Christian communities in Sudan in working to end oppression and to rebuild a devastated South Sudan, called the New Sudan in those areas under the control of the Sudanese Peoples Liberation Army/Movement (SPLA/M). The Bishop works out of Kampala, Uganda, where he can have electricity, telephone, and Internet connections not available in his diocese.
The population of Sudan is 70 percent Arab or mixed-race Muslim, nearly all of whom live in the north. Yacoub works among Black African Christians and other non-Muslims who live primarily in the south and the northern Nuba Mountains. Many live in exile in what is called the "Sudanese Diaspora." Before returning to Africa, Bishop Yacoub will be visiting the exiles in Texas.
Among the most inspiring speakers at the conference was Abraham Nhial, a strikingly self-possessed young man in his twenties. In 1986, he became one of about 30,000 Dinka and Nuer boys aged five to fourteen who fled their villages on foot when Islamic forces killed or captured their parents in the civil war. Without adults to help them, they walked through harsh forest and desert areas of Sudan into Ethiopia. Many died of starvation, thirst, or exposure. Survivors of this first leg of the journey managed to move on into Kenya after war also broke out in Ethiopia. Sometimes having to eat dirt to put something in their stomachs, only about a third of the original group lived through the years-long 1000-mile trek.
Abraham is one of 3,800 Lost Boys, as they are called, who were chosen for resettlement in the United States. He is a testament to hope, courage, and perseverance. During Abraham's speech, the audience burst into fervent applause when he said, "While in Ethiopia, some of us found some books, and, despite the difficulty, we carried those books with us to Kenya, saying among ourselves that 'education will now be our father and mother.'" His own newfound competence with English and his poise as a speaker suggest that he has kept that commitment.
Another speaker, Malcolm Morris, President of Stewart Title and Guaranty Inc. and founder of Living Waters International, a Christian mission organization that drills wells to provide needy communities with potable water, reported on the insidious role oil has played in the war. The government has systematically pursued tactics of ethnic cleansing to secure oil fields for international companies—some of which, Morris said, seem conspicuously indifferent to such tactics, so long as they obtain their leases.
Two other effective speakers were U.S. Rep. Thomas Tancredo (R-Colo.), who spoke on the Sudan Peace Act, and Kezia Nicodemus, a Khartoum-based Christian Women's Rights activist, who detailed the extensive efforts to help refugee mothers, most of whose husbands have been killed, to cope with health, child-rearing, and family-stability issues.
But the conference was not just about trouble in Sudan; it was also about Sudanese refugees in this country, building community and working together to survive well in an alien culture. Blackwood hopes the conference will bear fruit in opening more opportunities for refugees needing work, education, technical training, and friendship.
Perhaps naively but fervently, most of the Sudanese I spoke with expressed the belief that God has given America the moral authority and means to successfully promote the democratization of the Sudan, the establishment of a nonsectarian multi-party system of government, and the legal enforcement of religious freedom. Not once did I hear any lashing out at Muslims or desire for revenge and reprisal. Indeed, Bishop Yacoub pointed out that moderate Muslims opposed to the radical fundamentalism of the NIF hold leadership roles in the SPLA/M. He noted also that the SPLA follows Geneva Convention in its treatment of prisoners of war. The talk was consistently about how God would show a way to reconciliation and freedom.
I found that Sudanese attending the conference believe a secular government under a U.S.-style Constitution would be best for their country. The people of South Sudan apparently have had more than enough of theocratic government. In speech and prayer, conference leaders advocated separation of church and state as the only workable alternative to the current NIF practice of sharia, which makes Qur'anic law the civil and criminal law code for the country.
The Sudanese at the conference are pinning their hopes for effective U.S. intervention on a bill now in the Congress. H.R. 2052 has been coordinated with a similar Senate bill, S 180, to form the Sudan Peace Act. This bill forcefully condemns the Sudanese government's arming and support of "murahalliin" (or "mujahadeen") tribal militias and Popular Defense Forces (PDF) as well as its ordering "regular Sudanese Army units into raiding and slaving parties in Bahr al Ghazal, the Nuba Mountains, Upper Nile, and Blue Nile regions, and its aerial bombardment of civilian targets." The Act confirms "that the use of raiding and slaving parties is a tool for creating food shortages as a systematic means to destroy the societies, culture, and economies of the Dinka, Nuer, and Nuba peoples in a policy of low-intensity ethnic cleansing."
Both the House and Senate versions of this bill passed almost unanimously in November 2001. Conference speakers and participants spoke enthusiastically of its passage. But it still sits in conference committee some six months later. Why, I wondered, have American media rarely reported on the world's longest civil war that, since 1983, has claimed the lives of two million black Africans, the displacement of many millions more, and the enslavement of thousands?
"What message do I have for American Christians?" Before he answers, Bishop Yacoub draws a hand across his eyes then glances at the Spanish-language television program he has been watching. I ask if he understands Spanish. Laughing, he replies, "What? Spanish? I thought they were speaking French!" Then, seeing I am wondering why he is watching a show in a language he doesn't understand, the Bishop explains, "I want to see how people here live, what they do, how they behave. This I can understand without knowing the language they speak."
Judging from the action on the screen, I guess the program to be a pop-culture quiz or game show aimed at young Hispanics. I wonder what Rev. Yacoub thinks of the young women's high-heels, midriff-revealing hip-hugger pants, and skimpy halter tops. He makes no comment but instead turns to answer my question: " I want to tell Americans, especially American Christians, that the unlimited freedom you enjoy in this country carries with it much responsibility and that such freedom without responsibility allows great suffering and adversity in the world. The events of September 11 in New York and Washington were terrible, but in my country terror has been a fact of daily life for Southern Sudanese for many years."
I ponder the Bishop's message to American Christians in the context of three days of conference speakers and interviews. One speaker, Joe Madison, an African American talk-show host from Washington, himself instrumental in helping free thousands of Sudanese enslaved by Islamic militia, told the audience, "Our ignorance is immoral."
Madison's remark, I realized, amplified the polite but uniformly insistent call to American Christians: educate yourselves about the persecution of Christ's church in Sudan, pray diligently for that church, and act, doing everything possible to help bring Sudan peace and unity in Christ.
On the website for Persecution Project Foundation, Chuck Colson says, "We should be as concerned about the persecution of Christians in Sudan as we are about our neighbors down the street. Maybe in some respects more so because America has had a privileged position in the world." I now know a few hundred Sudanese representing several million more who would shout their thanks to God and dance their joy if they saw American Christians rise up to active and visible expression of concern for the Sudan. After 19 unbroken years of brutal conflict, it is time.
David C. Owens is visiting assistant professor of English at Sam Houston State University. With Virginia Stem Owens, he is the author of Living Next Door To Death, forthcoming from Eerdmans.
Related Elsewhere
Visit Books & Culture online at BooksandCulture.com or subscribe here.
See Christianity Today'sWorld Report for news articles on living conditions in Sudan and Sudanese refuges.
Other coverage of the Sudan Christian conference includes:
Sudanese churches unite in call for peace | The bishops of both Catholic and Episcopal churches in Sudan have issued their first ever joint appeal for an end to the country's 18 years of civil war. (Christian Aid)
Books & Culture Corner appears Mondays at ChristianityToday.com. Earlier Books & Culture Corners include:
Stop, Drop, and Cover … | Then hack your lungs out and die. (June 3, 2002)
Death of an Evolutionist | RIP Stephen Jay Gould. (May 31, 2002)
Closing The X-Files … | … with the sign of the Cross. (May 20, 2002)
And the Next Thing Is … | Marxism (or not). (May 13, 2002)
God Bless the Eliminator | Mother Jones magazine makes known a shocking discovery: evangelicals are sending missionaries to Muslim countries! (May 6, 2002)
'A Peculiar People' | The uniqueness of the Jews. (April 29, 2002)
'Nebuchadnezzar My Slave' | Was the Holocaust God's will? (April 15, 2002)
'In the Beginning Was the Holocaust'? | Blasphemy, rage, memory, and meaning of the Shoah. (April 8, 2002)
The Gospel According to Biff | A conversation with novelist Christopher Moore. (April 1, 2002)
Baseball 2002 Preview | Part 2: Saving the game? (March 25, 2002)
The State of the Game | After one of the best World Series ever, baseball faces a crisis. (March 18, 2002)
America's Homegrown Islam—and Its Prophet | The strange story of Elijah Muhammad, leader of the Nation of Islam and onetime mentor of Malcolm X. (Mar. 11, 2002)
'Must Be Superstition' | Rediscovering spiritual reality. (Mar. 4, 2002)
Science Holds a Meeting | A report from the annual convention of the AAAS. (Feb. 25, 2002)
Saint Frodo and the Potter Demon | The Lord of the Rings and Harry Potter series spring from the same source. (Feb. 18, 2002)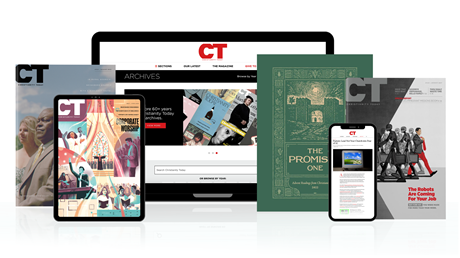 Annual & Monthly subscriptions available.
Print & Digital Issues of CT magazine
Complete access to every article on ChristianityToday.com
Unlimited access to 65+ years of CT's online archives
Member-only special issues
Subscribe
A Cry for Help
A Cry for Help