true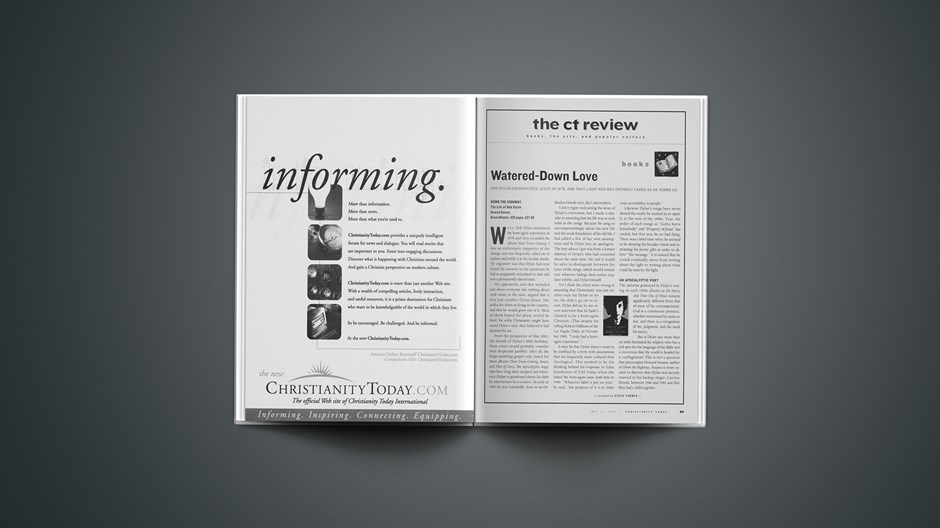 When Bob Dylan announced his born-again experience in 1978 and then recorded the album Slow Train Coming, I was an enthusiastic supporter of the change and was frequently called on to explain and justify it in the secular media. My argument was that Dylan had now found the answers to the questions he had so poignantly articulated to date and was a permanently altered man.
My opponents, and that included just about everyone else writing about rock music at the time, argued that it was just another Dylan phase, like polka-dot shirts or living in the country, and that he would grow out of it. Most of them hoped the phase would be brief, for while Christianity might have saved Dylan's soul, they believed it had damned his art.
From the perspective of May 2001, the month of Dylan's 60th birthday, these critics would probably consider their skepticism justified. After all, the finger-pointing gospel only lasted for three albums (Slow Train Coming, Saved, and Shot of Love), the apocalyptic stage raps have long since stopped and whenever Dylan is questioned about his faith by interviewers he is evasive. As early as 1983 he was reportedly close to an Orthodox Hasidic sect, the Lubavitchers.
I don't regret welcoming the news of Dylan's conversion, but I made a mistake in assuming that his life was as rock solid as the songs. Because he sang so uncompromisingly about his new life and the weak foundation of his old life, I had added a few of my own assumptions and fit Dylan into an apologetic. The best advice I got was from a former sideman of Dylan's who had converted about the same time. He said it would be safer to distinguish between the lyrics of the songs, which would remain true whatever failings their author may later exhibit, and Dylan himself.
Yet I think the critics were wrong in assuming that Christianity was just another style for Dylan to try on. He didn't go on to recant. Dylan did say in one recent interview that he hadn't claimed to be a born-again Christian. (This despite his telling Robert Hillburn of the Los Angeles Times, in November 1980, "I truly had a born-again experience.")
It may be that Dylan doesn't want to be confined by a term with associations that are frequently more cultural than theological. This seemed to be the thinking behind his response to Edna Gundersen of USA Today when she raised the born-again issue with him in 1989. "Whatever label is put on you," he said, "the purpose of it is to limit your accessibility to people."
Likewise Dylan's songs have never denied the truths he exulted in so openly at the turn of the 1980s. True, the ardor of such songs as "Gotta Serve Somebody" and "Property of Jesus" has cooled, but that may be no bad thing. There was a brief time when he seemed to be denying his broader vision and restraining his poetic gifts in order to deliver "the message." It is natural that he would eventually move from writing about the light to writing about what could be seen by the light.
An Apocalyptic Poet

The universe portrayed in Dylan's writing on such 1990s albums as Oh Mercy and Time Out of Mind remains significantly different from that of most of his contemporaries. God is a continuous presence, whether mentioned by name or not, and there is a recognition of sin, judgment, and the need for mercy.
But is Dylan any more than an artist fascinated by religion who has a soft spot for the language of the Bible and a conviction that the world is headed for a conflagration? This is not a question that preoccupies Howard Sounes, author of Down the Highway. Sounes is more excited to discover that Dylan was secretly married to his backup singer, Carolyn Dennis, between 1986 and 1992 and that they had a child together.
Sounes recounts the already well-documented details of Dylan's conversion—the influence of his African-American backup singers, his contact with Vineyard Fellowship in California, his baptism by immersion, his regular attendance at discipleship classes—but doesn't seek to determine the precise role of religion in his life.
Unlike Michael Gray, author of the impressive Song and Dance Man III, which seems to footnote every Bible verse alluded to in the lyrics, Sounes has no real understanding of Christian theology. Sounes refers to Dylan writing out verses from "the Book of Paul" and connects his conversion with an earlier belief (not uncommon among rock stars) that his songs came to him from God. "It was a small step, apparently," he concludes, "from this to flinging himself headfirst into orthodox religion."
But Dylan's conversion appeared to be a genuine work of regeneration rather than a chase for the source of creativity. He studied the Bible in depth, put his career on the line (for a time) by refusing to play his back catalog in concert, alienated his friends by accusing them of spiritual blindness, and horrified his record company by recording songs of a Christian explicitness unparalleled in the rock genre.
Sounes also fails to follow the thread of religious interest that has been there ever since the biblical language of early songs like "The Times They Are A-Changin'" (a running theme that caused poet Allen Ginsberg to speak in 1975 of Dylan's "songs of redemption").
Sounes makes no mention of the Zen that seemed to inform songs of the Bringing It All Back Home period or Dylan's later interest in the tarot, astrology, and Egyptian mythology. We don't get to discover what the Lubavitchers believe and how it may differ from the Judaism of Dylan's upbringing in Hibbing, Minnesota.
Hobbled by Isolation

What is clear from this account is that Dylan hasn't been walking the talk. At times his life seems like a shambles. Dylan's church attendance was sporadic even in his most evangelical days but is now nonexistent. The womanizing and drunkenness that Dylan once saw as evidence of the old life have apparently continued almost uninterrupted.
Although Sounes does not mention it, the lack of close Christian fellowship and Bible ministry must have affected the quality and consistency of Dylan's faith. This may be in part because of Dylan's restless spirit and continuous touring, but it's also because churches have such trouble helping celebrities blend in as ordinary members. When Dylan attended church, Vineyard assistant pastor Bill Dwyer tells Sounes, "people would glom onto him: Oh, it's Bob Dylan!"
The importance of Bob Dylan's work exists regardless of the nature of his commitment to Christ. He opened my ears to the possibilities of music and language long before either of us called ourselves Christians. He played a large part in nurturing my belief that poetry could come out of the libraries and into the streets. He continues to inspire me, not just through his songs but through his determination to avoid mindless conformity and his ability to rise to new levels of artistic greatness. Dylan's Oscar-winning song, "Things Have Changed," is a true return to form. He remains one of the few artists who can raise my goose bumps simply through unexpected juxtapositions of words.
Still, Down the Highway does prompt questions for me about how different things might have been if Dylan had met a greater variety of Christians and become a part of the worldwide church. The Dylan depicted in this book is someone so highly protected that even old friends aren't allowed to see him. That none of his gatekeepers have valued his spiritual life might explain why he has grown in isolation.
One of the most startling remarks in the book comes not from the more than 250 friends and colleagues who spoke to Sounes but from Pope John Paul II, when Dylan performed "Blowin' in the Wind" at the 1997 World Eucharistic Conference in Bologna. "You say the answer is blowing in the wind," said the Pope. "So it is. But it is not the wind that blows things away. It is the wind that is the breath and life of the Holy Spirit, the voice that calls and says, 'Come!'"
Steve Turner is a veteran rock journalist and author of several biographies, including Trouble Man: The Life and Death of Marvin Gaye (The Ecco Press, 2000).
Related Elsewhere

Christianity Today's other articles on Bob Dylan include:
Bob Dylan: Still Blowin' in the Wind | Christianity Today reviews Dylan's work before the singer's conversion to Christianity. By Daniel J. Evearitt (Dec. 3, 1976)

Bob Dylan Finds His Source | A call into the bars, into the streets, into the world, to repentance. By Noel Paul Stookey (Jan. 4, 1980)

Not Buying into the Subculture | Slow Train Coming reveals that Bob Dylan's quest for answers has been satisfied. By David Singer (Jan. 4, 1980)

Has Born-again Bob Dylan Returned to Judaism? | The singer's response to an Olympics ministry opportunity might settle the matter once for all. (Jan. 13, 1984)
Wheaton College professor of English Alan Jacobs has written on Bob Dylan for Christianity Today sister publication Books & Culture and for poet's official site, BobDylan.com. The former article looks at Dylan's Basement Tapes, the latter reflects on Dylan's conversion.
In addition to daily links to Dylan-related news from around the world, Expecting Rain has bajillions of its own pages about his influences, lyrics, records, and concerts.
A Lily Among Thorns obsessively analyzes Dylan's songs, concert statements, interviews, and ephemera for evidence of Dylan's Christianity.
Tangled Up in Jews does something similar with Dylan's Judaism, but hasn't been updated since 1997.
How Long Has It Been Since Dylan Played … notes that "Gotta Serve Somebody" last made a concert appearance in 2000, while "I Believe In You" has been in storage since 1998. "Property Of Jesus" has apparently never been played live.
Down the Highway is available at Amazon.com and other book retailers.
Sounes's Down the Highway was excerpted in The National Post, which continues to cover the revelations of Dylan's secret wife.
Clean Cut Kid has a horrible site design, but it also has excerpts of Down the Highway and a copy of Dylan's marriage license.
Have something to add about this? See something we missed? Share your feedback here.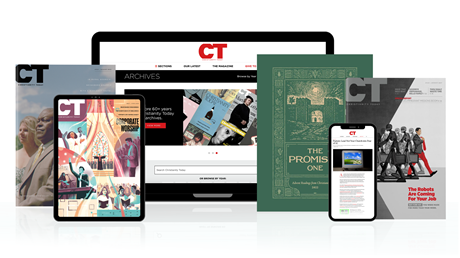 Annual & Monthly subscriptions available.
Print & Digital Issues of CT magazine
Complete access to every article on ChristianityToday.com
Unlimited access to 65+ years of CT's online archives
Member-only special issues
Subscribe
Watered-Down Love
Watered-Down Love