Between the start of the Olympics and a lousy selection of films, the box-office top ten posted its lowest total in four years. But it wasn't all bad news in Tinseltown; Cameron Crowe's autobiographical Almost Famous debuted in limited release and collected a whopping $17,669 in each of 131 theaters—also collecting the year's best reviews to date.
What's Hot
Although we usually lead off with the box-office winners, the low totals for The Watcher and Bait don't exactly qualify them as hot tickets. Rather, the per-screen average of eighth-place finisher Almost Famous makes it a much stronger candidate for the week's hottest film. Christian critics gave glowing reviews to this story of a 15-year-old who goes on tour with a rock band as a reporter for Rolling Stone, much like writer/director Crowe did in 1973. "The perspective of Almost Famous is large, compassionate, and as wide-eyed with wonder as [the teen] William himself," raves Jeffrey Overstreet of Promontory Artists' Looking Closer. "It walks a tightrope, never endorsing the 'seize the day' indulgence of the rock stars (although it is honest about the pleasures of that world), and never judging the rebels either, allowing them to learn some moral lessons along the way. … Just as he did in Jerry Maguire, Cameron Crowe finds hope for the broken. And it's not empty hope." Preview's Mary Draughon agrees: "Almost Famous does not glamorize the musicians' immoral lifestyle, and William's genuine caring, honesty and innocence ultimately impacts their lives." Michael Elliott of Crosswalk.com attributes the teen's strength to his mother, played by Frances McDormand. "William, though the youngest and most inexperienced, is perhaps the most mature, responsible, and grounded individual on the tour. This can only be attributed to the manner in which he was raised. Such qualities are learned, not inherited. … McDormand is nothing less than awesome in her role as an opinionated and doting mother and philosophy professor." Movieguide was also impressed by William's mother, who isn't an object of ridicule but of strength. "McDormand is a treasure to behold as William's mother. Despite some flaky comments, she does an excellent job of portraying the warmth that only a strong, concerned parent can give. The quirks in her character's nature add zest to that strength, making it more memorable than it otherwise would have been." This respect for integrity also finds its way into the movie's outlook on sex, drugs, and rock 'n' roll, Movieguide says: "The movie is not excessively salacious. … [Crowe] is not interested in showing viewers explicit sex and nudity, or assaulting their eardrums with heavy metal music or music with vulgar lyrics. He's mainly interested in the moral, redemptive themes in his story. In fact, he is so interested in them that some critics might accuse him of being overly optimistic and sentimental, to the point of distorting reality. These qualities are what give the movie its charm, however." But for the Dove Foundation's Phil Boatwright, no redemptive themes outweigh the depiction of drug use, even if it's not glamorized. "Although the content is not exploitive, but rather used to further this story of road life with an up-and-coming '70s band, the fact remains that objectionable language, drug use and sexual activity are a part of this film. … I maintain that the purpose of art is not merely to reveal what life is, but to exemplify what it could be." For those who choose to see the film anyway (and it does warrant thought; each reviewer emphasized to take the R rating seriously), Boatwright has good news in store: "As a film critic, I honestly enjoyed this film. I love good dialogue, sensitive performances and an observant story that's about something. … [It] contains a life-lesson reminding us that true happiness comes not from what we can get, but what we give."
What's New
It seems like behind-the-scenes glimpses at music stars are somewhat of a trend these days; the documentaries Backstage and The Ballad of Ramblin' Jack join Almost Famous in exploring the musician's life on the road. Backstage follows the 1999 tour of the rap group Ruff Ryders, and Mary Draughon of Preview says there's no note of redemption here, just glamorized stardom: "The ghetto images of drugs, degrading sex and hustling, reflected in the rappers' music, seems to cling to their fame and fortune. The performers are shown spending their spare time smoking pot, drinking, gambling and spouting filthy expressions. … Two attractive girls stand stark naked at a party while these 'stars' fondle them."
The Ballad of Ramblin' Jack, however, delivers a human story about "an amazing and under-appreciated artist," says Movieguide. Written and directed by the daughter of Jack Elliott (protégé of Woodie Guthrie and mentor of Bob Dylan), the film is "a touching story seen through the eyes of a person who admires him and longs for his love and happiness. The Ballad of Ramblin' Jack was a delight, especially with Jack Elliot's dry wit thrown into the mix."
Singers also feature prominently in Duets, a story of three pairs of strangers—a hustler and his long-lost daughter, a burnt-out businessman and a career criminal, an ex-seminary student and a promiscuous woman—on their way to the karaoke championship in Omaha, Nebraska. Crosswalk.com's Michael Elliott says the film contains a great message but delivers it flatly. "The common element shared by these six characters is their need to break beyond the shackles of their current existence to fill a long-standing void in their life. Karaoke merely serves as a metaphor for the risks they must take to break free from whatever is binding them to a life of mediocrity and quiet resignation." But, Elliott adds, the story hinges on a plot twist that "lessens the sweet impact the film could have made with the various characters and their stories, and cheapens the overall production." Movieguide echoed that complaint, calling it "shallow and even unrealistic at times," but also found "a few funny moments and some decent acting … [as well as] some redeeming qualities to the characters." The U.S. Catholic Conference liked the "colorful characters," but ultimately felt it was a "superficial film where toe-tapping music and the carefree subculture of karaoke singers take precedence over exploring any serious issues raised."
The new release Bait didn't attract any critics. Although star Jamie Foxx drew compliments for his comedy, the violent action and moral choices of the film turned reviewers sour. "This film features wild action sequences and great comic timing, but miserable content," says Bob Smithouser of Focus on the Family. "[It's] quite violent in places, and operates under the false assumption that heroes can be ignoble so long as the bad guys are even worse." Foxx plays Alvin Sanders, a small-time crook whom the Feds use to lure a master criminal out of hiding. "Alvin's history of hustling gets a wink and a nod. … A few selfless gestures suggest that Alvin may want to go straight and accept responsibility for the child he sired out of wedlock. That's admirable, but it's hardly enough to redeem this profane gangsta fairy tale." Crosswalk.com's Michael Elliott was more impressed with Alvin's desire to change, touting the film as one "which can remind us that it is available to change for the better, when we make up our minds to do so." (However, it only qualifies as "passable entertainment," Elliott says.) The Dove Foundation's Phil Boatwright and Preview's John Evans disagreed over how well Bait blended its action and comedy. Evans finds that "Alvin's comical quips throughout the film make the intense scenes more bearable." Boatwright, though, complains that "the action turns grim in its savagery," and "in nearly every instance, the film's killings become inconsequential due to jokes."
What's Noteworthy
Christian film critics often write about parents' media choices, but a new article at Beliefnet is giving the religious readers a chance to voice their opinion, too. Alan Gelb, a freelance writer (whose faith is not mentioned), admits to being fairly permissive when it comes to what his kids watch. He reasons that "picking your battles gives you amazing credibility with teens. … 'There isn't much I won't allow, so when something comes along that I don't feel is right for you, just take my word for it, will you?'" Gelb believes that exposing his children to life's rough edges gives him the chance to teach them. "This past year, when my son was 13, I decided to take him to Boys Don't Cry. It is violent and full of 'adult content,' but I felt he was ready to see it so long as he was seeing it with me. He did find it disturbing, but we were able to have a valuable discussion about how some people become victims in our society." Reader reaction was mixed; "Phlipside" agrees with Gelb in principle because "he does pay attention, he does try to make intelligent informed decisions," but questions some of his conclusions: "Very young children are more susceptible to horror flicks because they have less experience to help them deal with some of the images." "Oversoul" is fully in Gelb's corner, arguing that "sheltering children from the real world doesn't help them. … I knew families that used that approach, and it always ended with [rebellious] drug use, teen pregnancy, excessive drinking, etc." That wasn't the experience of "Roberta," however, who says "drug use, teen pregnancy, excessive drinking, etc. are NOT the result of parents not letting their children watch inappropriate movies. That's just nonsense. It's more likely to come from letting them watch movies, TV, etc. which portray teenage drinking, sex and drug use as common, normal and acceptable." A third theory is offered by "gabrielk," who says that exposure to media doesn't matter one way or another, as long as parents teach children morality. "Think about it. All you people whose parents raised you right, taught you right from wrong, who would you trust and be influenced more by, the big screen or your parents?" An opposite position can be found at the church ministry site Next-Wave; recent secondary school graduate Dan Revill embraces both the permissive and restrictive approaches to media, saying he needs to be balanced by both kinds of people in his life. "I totally understand why my friends sometimes worry about my film tastes, and it is good to be loved by people who care about what I do with my life. I pray that you too have at least one person in your life that cares that way about you." These friends keep him sensitive to what he watches. "If God tells you that a film will trip you up, then follow His will. … I've had to be re-taught this a few times in my spiritual life." However, the permission he's received to watch difficult movies has taught him, too. "[Watching Magnolia], I discovered what true forgiveness means to God. It's not about holding grudges for past wrong doings but is about saying that was the past and I am going to love you for what you have become and not hold anything against you. It's simple, yet true, and a film helped me understand Jesus' principle because it showed me how it really does work in life." Even when Revill regrets having seen a film, he learns from his mistake. "I do screw up and see something like The Cell, which just made me feel disgusted about film in general. Yet God is a God of forgiveness." For Revill, both choosing to attend a film and choosing to abstain can be methods of discovering a deeper understanding of God.
Steve Lansingh is editor of TheFilmForum.com, an Internet magazine devoted to Christian conversation about the movies.
Related Elsewhere
See earlier Film Forum postings for these movies in the box-office top ten: The Watcher, Bring It On, Nurse Betty, Space Cowboys, The Cell, What Lies Beneath, and Scary Movie.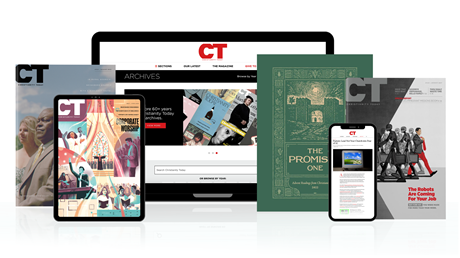 Annual & Monthly subscriptions available.
Print & Digital Issues of CT magazine
Complete access to every article on ChristianityToday.com
Unlimited access to 65+ years of CT's online archives
Member-only special issues
Subscribe
Crowe-ing Over Almost Famous
Crowe-ing Over Almost Famous