Gerald Dunaway used to sit in his darkened office every night, drinking and weeping. He had a drinking problem but did not know where to go for help. At his lowest point, he slept in his office every night and consumed a fifth of Scotch each day.
He would not ask his church in Georgia for help because all he heard Christian leaders tell people struggling with alcoholism was that they needed to be saved. "For me that was not true," Dunaway says. "I had Jesus."
In time Dunaway got sober through the well-known 12-step program that originated with Alcoholics Anonymous. Dunaway decided to take seriously the program's third step of turning his life and will over to the care of God. He aspired to work for the church in an overseas mission, but one organization after another turned him down.
Remembering the faces
Finally, an organization suggested he get a one-year Bible certificate, so Dunaway enrolled at Columbia International University in South Carolina. But he soon realized the overseas mission field was not for him.
Not knowing where God wanted him to minister, he continued his seminary training. During Dunaway's time at Columbia, a professor told him that pastors should minister among people for whom they feel intense care, even being willing to give up life itself to care for them.
Those challenging comments prompted Dunaway to recall the members of his home group.
"I remembered all the faces of those people I had gotten sober with," he says. "It was as though God put his hand on my shoulder and said, 'Gerald, this is what it's all about. This is why I let you go through all of that. It's because I need somebody to go to the recovery community.' "
Following up on that conviction, Dunaway and his wife, Delores, planted a recovery church near Atlanta about a year ago. Every Sunday, the Dunaways set up two rows of folding chairs, a podium, and a cross, transforming the gymnasium of Snellville (Ga.) United Methodist Church into New Freedom Fellowship.
Except for Delores Dunaway, everyone in the tiny congregation is a recovering alcoholic or drug addict.
"I'm trying to reach those people who are in those secular programs and say to them, 'There's more to the 12 steps than just getting clean and sober. There's Christianity,' " Dunaway says. The church's mission is not to be a recovery program but to help people from secular recovery programs come to know Christ.
Some Christian authorities estimate that as many as one in four church members abuses alcohol or has an immediate relative who is an alcoholic.
More churches are turning to openly Christian 12-step programs, including Overcomers Outreach, Alcoholics Victorious, or Christians in Recovery. A few large churches are hiring recovery pastors. Tom Sharp, a recovery pastor at Capo Beach Calvary Chapel in Capistrano Beach, California, oversees the 3,500-member church's recovery ministry, including individual counseling and small groups.
Christian recovery programs stress that they are not Bible studies or substitutes for church. On the other hand, New Freedom and similar efforts emphasize that they are not replacements for recovery programs.
Both try to be a bridge between the church and the recovery community by accepting alcoholics unconditionally and supporting them in their quest to be free from addiction.
Forming a sober band
A major obstacle to effective church-based, recovery ministry is the lack of under stand ing about addiction, says Michael Liimatta of Alcoholics Victorious in Kansas City, Missouri.
Liimatta, an ordained minister, remembers that his seminary education on alcoholism consisted of reading one book, God Is for the Alcoholic. Liimatta says pastors do not understand alcoholism in part because their pastoral training rarely includes intensive instruction on addiction.
Liimatta says churches too often expect addicts to have "Damascus Road–type experiences, where everything will change overnight for them." Liimatta's organization teaches that recovery, like sanctification, is "the continuing process of growth into the image of Christ."
When pastors understand recovery is a process, they can be more accepting of people with addictions. "God brought me to AA, and AA brought me back to God," says New Freedom Fellowship member Michael Raulin.
Raulin posted fliers to find people who might be interested in forming a "sober band." When Gerald Dunaway spotted one of the fliers, he contacted Raulin about New Freedom Fellowship. Soon after that Raulin became active in leading the church's music ministry.
Raulin credits the church and Dunaway for helping him battle through extreme depression and low self-esteem.
"It definitely gives people a place to go where they can go to identify with other people who are like them," Raulin says of the church. "I think the nonjudgmental atmosphere is one of the biggest assets of the church—that and Gerald's down-to-earth style of preaching."
In a recent sermon, Dunaway said he fully expects revival to break out, beginning with people in recovery.
"I believe a spiritual awakening will take place in the recovery community that sweeps the world and influences the traditional church."
Related Elsewhere
The Web site of Snellville United Methodist Church, where New Freedom Fellowship meets, doesn't have much on the recovery church (which doesn't seem to have a Web site of its own, either).
Philip Yancey has been drawing lessons from the Alcoholics Anonymous and other such groups in his recent Christianity Today columns, especially in "Lessons From Rock Bottom | The church can learn about grace from the recovery movement."
In a 1998 interview with Christianity Today, New Life Clinics' Steve Arterburn talked about why we are reluctant to be transparent about our problems and why recovery groups are good at battling pretense.
More on Overcomers Outreach, Alcoholics Victorious, and Christians in Recovery is available from those organizations' web sites. Alcoholics Victorious also runs a great site called the Christian Recovery Connection.
Have something to add about this? See something we missed? Share your feedback here.
Our digital archives are a work in progress. Let us know if corrections need to be made.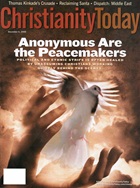 This article is from the December 4 2000 issue.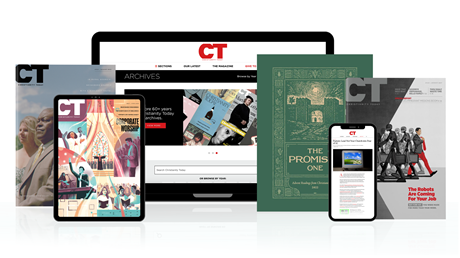 Annual & Monthly subscriptions available.
Print & Digital Issues of CT magazine
Complete access to every article on ChristianityToday.com
Unlimited access to 65+ years of CT's online archives
Member-only special issues
Subscribe
Outreach: More than 12 Steps
Outreach: More than 12 Steps