Sunrise to an Era
Thank you for the special issue "Now That We're Global" [Nov. 16]. It demonstrates what Charles Van Engen, professor of biblical theology of mission at Fuller Theological Seminary, wrote in the foreword to the Billy Graham Center monograph Supporting Indigenous Ministries: "Although more than four billion people still do not know Jesus Christ as Savior and Lord, around one-and-a-half billion people now consider themselves Christian, circling the globe. In spite of the obvious needs facing the church, Christians around the world today speak more languages, possess greater resources, have the Bible available in more languages, have greater facility of travel and communication, have more qualified leaders, have a deeper awareness of the cultural imprisonment of the Gospel, and possess a deeper sensitivity to the cultural issues in mission than at any time in the church's history. We are not at the sunset of Christian mission, but rather at the sunrise of the most exciting and extensive era ever in its history."
The reality now facing the church calls for all of us to awaken to the power of brotherhood in Christ.
Daniel Rickett
Modesto, Calif.
Reading the article on Mexico by Juan M. Isais, I was saddened to learn how virulently Roman Catholic mobs, stirred on by a priest, harassed and injured evangelicals in Chiapas. The tragedy hits me hard because it was in the Catholic church where I became a born-again Christian. I am well aware few Protestants know that a dying pope, John XXIII, prayed specifically for the coming of the Holy Spirit to the world—a prayer stunningly answered in his denomination, as well as in many others.
In succeeding years, the charismatic renewal faded in an onslaught of traditionalism within Roman Catholicism; I decided I would be disloyal to the Holy Spirit of Christ if I remained a Catholic.
It is well past time for followers of Christ to eradicate past jealousies, reject jockeying for power, and band together, in emulation of the Lord's footwashing example, to help the suffering and des-titute in Chiapas, as well as the Central Americans overwhelmed by the ravages of Hurricane Mitch.
Ginger O'Neil
Annandale, Va.
I want to thank you for Luis Palau's article "Which Part of the Great Commission Don't You Understand?" It is thrilling to see what God is doing around the world, especially through the churches in the Two Thirds World. Thanks for the strong emphasis on evangelism.
George W. Murray, Executive Director
The Evangelical Alliance Mission
Carol Stream, Ill.
David Kasali [Kenya] portrays that the early missionaries' method of ministry was to build their homes on top of a hill, come down to the bottom of the hill to minister to the people, then retreat to the security of their homes. Early history and missionary biographies contradict this. Read the history of the Sudan Interior Mission where two young men under insurmountable odds were determined to bring the gospel to tribes in the interior only to lose their lives in the attempt. Notwithstanding, others followed—many having the same fate. Read the many biographies of courageous people who, at great cost, for the love of the people, gave their lives to bring them the gospel. It's good the African church is looking for new ways to spread the gospel, but let us not forget the contributions of the early missionaries.
Eleanor Cowell
Aloha, Oreg.
Having served as a missionary teacher in Africa, I was interested in David Kasali's report. I feel the statistics in the top corner of page 57 give a misleading picture of the situation in these countries in light of Kasali's subtitle, "Cursed by Superficiality," indicating that many, if not most, of the "Christians" are nominal only, showing no transformation of life.
Kasali says, "Rwanda was the site of the 1994 genocide in which a half-million people were murdered." (He states earlier that the country was 80 percent Christian at that time.) "Christians were slaughtering Christians. How could this happen?"
The answer is: It couldn't happen. These people were not Christians! First John 3:15 says, "Anyone who hates his brother is a murderer, and you know that no murderer has eternal life in him." True evangelism must include discipleship.
Fred Manning
Chattanooga, Tenn.
Thank you for Michael G. Maudlin's comments about Overseas Council in his "Inside CT" editorial. My family discovered this "hidden mission" 15 years ago and continue to be amazed at the scope of their influence in kingdom building through the global church.
The feature story, "Now That We're Global," is the best, most concise description I have seen of missions in today's world. Thanks to the Overseas Council's "vision tours," we saw firsthand the unique contribution these leaders are making to the "global church" as well as in their own countries.
I would encourage your readers to be changed forever by one of the "executive vision tours" Overseas Council makes each year. As a widowed mother of baby boomers, I celebrated my 63rd, 64th, and 65th birthdays in Russia working with CoMission. I highly recommend a second career in short-term missions. The benefits are life-changing for the retiree and her family.
Ernstena Parker
Colfax, N.C.
Crippling the Message
I find Charles Colson's article "Poster Boy for Postmodernism" to be reactionary, simple-minded, unbalanced, and unfair [Nov. 16]. As a doctoral student at a major theological seminary, I have studied the philosophy of postmodernism a great deal. I am familiar enough with the literature available on the subject to know that these sources vary greatly with regard to both philosophical perspective and cultural bias. While this variety is not itself bad, it does make it possible for even bright individuals to acquire a very partial understanding of the subject if they do not make a conscious effort to sample this literature broadly. The issues involved are much more complex and legitimate than Colson seems to admit. I would encourage an even-handed approach.
Christopher Richardson
Richmond, Va.
Ethiopia's Treasures
Having lived in Ethiopia for 30 years, I was especially interested in your article "Centuries Old Treasures Pilfered" [World Report, Nov. 16]. How tragic that Ethiopia's wonderful religious art should be so treated by those who are appointed to guard it. How fortunate I am to have visited Lalibella and to have seen the magnificent gold cross before it was stolen.
The Ethiopia of the Bible is not today's Ethiopia, but the Kingdom of Meroe in what is now Sudan. The Ethiopian eunuch (A.D. 34) returned to what we know now as Sudan (not the present-day Ethiopia). Until the twentieth century Ethiopia was called Abyssinia, where the gospel arrived A.D. 330.
Harry R. Atkins
Monterey, Calif.
Oops!
Thank you for your fine article on the Finishers Forum conference [Nov. 16]. You accurately represented my thoughts in the article, but you erred on my name. You are not the first; many people have made the same mistake of substituting Gibson for Gilson. I would like to ask you to print a correction.
Thomas A. Gilson
Campus Crusade for Christ International
Orlando, Fla.
A Fresh Look at the Prodigal
I hadn't realized how starved I was for Christian materials in the English language until a friend sent me your annual Bible issue [Oct. 26]. Receiving it was like receiving an enormous steak dinner—plus apple pie and free refills on my drink!
The Prodigal Son parable is a Bible story that has been beaten with the same stick, from the same angle, for years. Nevertheless, you managed to compile articles and artwork that were not only engaging but offered completely fresh perspectives. (Thank you for recognizing the visual arts as a powerful study tool!)
What impressed me most was the diversity of the contributors' perspectives and the fact that within each article the author chose to plumb the depths of God and humankind. I suppose this mirrors the very nature of the parable itself—a gut-wrenching interaction between God and man.
What I found in your annual Bible issue were intensely personal explorations of God's Word that did more to leave me in awe and reverence of him than any speech by a great theologian. I am left with greater clarity of understanding and yet still so much to chew on, still so much about which I want to dialogue with God.
Liza Langrall
Tokyo, Japan
Sharing God's Love for Israel
Your October 5 cover article "How Evangelicals Became Israel's Best Friend," is emblematic of Christianity Today's hardening tone toward Christians who share a God-given love for Israel and the Jewish people. In his neatly packaged but seriously flawed analysis of the "dispensationalist" movement, Timothy P. Weber charges past adherents with being "elated" over wars and suggests that pro-Israel Christians are heartless and mindless in addressing the Palestinian-Israeli conflict.
Weber is simplistic in lumping as one many distinct prophetic viewpoints and unfairly selective in recounting the development of Christian thought on the coming of the Lord and its relation to a restored nation of Israel. For instance, he ignores the many honorable men of faith since the Reformation who were martyred (e.g., Francis Kett) or persecuted (the Puritans) or esteemed (Lords Shaftesbury and Palmerston) for advocating Jewish return to the Land of Israel. Sadly, Weber also fails to identify the core motivating factor for the International Christian Embassy Jerusalem and many other Christian Zionists today—the belief that this return to Zion emanates from the very heart and mind of God himself.
As for the Palestinian Arabs, the Christian Embassy has an established record of reaching out to them in sincere expressions of the love of Christ. We do believe, however, that the Palestinian national movement, with its self-destructive history of violence and terrorism, has managed to manipulate world opinion against Israel. It stands perilously in direct opposition to God's revealed will. Yet we genuinely care and pray for the Palestinians and consider it to be one of the most "anti-Arab" things we could do if we hid from them the eternal truths of Scripture concerning Israel.
God has laid down clear markers in his Word as to the signs of Messiah's soon coming, and none is more unmistakable than the restoration of Israel. To this, all the prophets agree. We view Israel's rebirth and survival against incredible opposition as a miraculous testament to the irreversible nature of this prophetic fulfillment. Our stand with Israel is not based solely on prophetic insights, but also on sound biblical principles that challenge us to "bless" the children of Israel and to "show them mercy." Ultimately, our message is one of "humility and hope" (as called for by Weber), in that we seek to responsibly proclaim these biblical truths, and their accompanying warnings, to the church and the world in the fear of God .
David R. Parsons
International Christian Embassy
Jerusalem, Israel
Professor Weber would have us believe the citizens of the tiny newborn State of Israel were a well-trained and well-equipped army up to the task of defending themselves from hostile neighboring countries. Quite a feat for many of them, newly arrived and weakened from their time in Europe's concentration camps!
The article also states, "In August 1947, the UN Special Committee on Palestine also recommended that the area be partitioned into Arab and Jewish states; but Arabs refused to relinquish their land, so the UN abandoned the idea. By the spring of 1948 it was obvious to everybody that a political solution was not possible." I do not know what Professor Weber means by "the UN abandoned the idea," but on November 29, 1947, the UN General Assembly approved Resolution 181, which approved a partition of British-ruled Palestine into a Jewish state and an Arab state, with 33 votes in favor, 13 against, 10 abstentions, and one absent. This resolution called upon "the inhabitants of Palestine to take such steps as may be necessary on their part to put this plan into effect."
Had the Jewish state been legally able to train and equip troops during the time between this UN resolution and the withdrawal of British forces on May 14, 1949, perhaps the hand of God would not have been so evident in their victory. As it was, for Israel not only to survive but to win the war that immediately followed was no less of a miracle than that of David defeating Goliath. Happy anniversary, Israel.
Marcia Mullins
Huntington, W. Va.
Brief letters are welcome. They may be edited for space and clarity and must include the writer's name and address if intended for publication. Due to the volume of mail, we cannot respond personally to individual letters. Write to Eutychus, Christianity Today, 465 Gundersen Drive, Carol Stream, IL 60188; fax: 630/260-0114. E-mail: cteditor@ChristianityToday.com.
Have something to add about this? See something we missed? Share your feedback here.
Our digital archives are a work in progress. Let us know if corrections need to be made.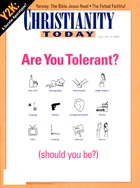 This article is from the January 11 1999 issue.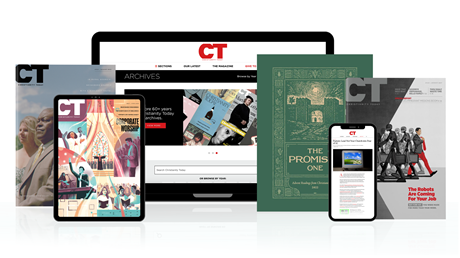 Subscribe to Christianity Today and get access to this article plus 65+ years of archives.
Home delivery of CT magazine
Complete access to articles on ChristianityToday.com
Over 120 years of magazine archives plus full access to all of CT's online archives
Subscribe Now
Letters
Letters