How Silently, How Silently, the Wondrous Gift Is Given
In the birth stories of Luke and Matthew, only one person seems to grasp the mysterious nature of what God has set in motion: the old man Simeon, who had long clung to the belief that he would not die before seeing the Messiah, instinctively understood that conflict would break out. "This child is destined to cause the falling and rising of many in Israel, and to be a sign that will be spoken against ... ," he said, and then gave the prediction that a sword would pierce Mary's own soul. Somehow Simeon sensed that though to all appearances little had changed—Herod was still king, Roman troops were still stringing up patriots, Jerusalem still overflowed with beggars—under the surface, everything had changed. A new force had arrived to undermine the world and its powers.
At first, Jesus hardly seemed a threat. He was born under Caesar Augustus, at a time when buoyant hope wafted through the Roman Empire. More than any other ruler, Augustus raised the expectations of what a leader could accomplish and what a society could achieve. It was Augustus, in fact, who first used the Greek word for "gospel" or "good news" as a label for the new world order represented by his reign. The empire declared him a god, and established rites of worship. His enlightened and stable regime, many believed, would last forever, a final solution to the problem of how to structure a government.
Meanwhile, in an obscure corner of Augustus's empire under the local dominion of Herod the Great, King of the Jews, the birth of a baby named Jesus was barely noticed by the chroniclers of the day. We know about him mainly through four books written years after his death, at a time when less than one-half of 1 percent of the Roman world had ever heard of him. Jesus' biographers would also borrow the word for "gospel," proclaiming a different kind of new world order altogether. They would mention Augustus only once, a passing reference to set the date of the census that ensured Jesus would be born in Bethlehem.
God's visit to Earth took place humbly, in a berth for animals with no attendants present and nowhere to lay the newborn king but a feed trough. Indeed, the event that divided history, and even our calendars, into two parts had more animal than human witnesses. For an instant, the sky grew luminous with angels. Yet, who saw that spectacle? Illiterate hirelings who watched the flocks of others, "nobodies" who failed to leave their names. Shepherds had a randy reputation, and proper Jews lumped them together with the "godless." Fittingly, it was they whom God selected to help celebrate the birth of one who would be known as the friend of sinners.
Perhaps the best way to understand the "underdog" nature of the Incarnation is to transpose it into terms we can relate to today. An unwed mother, homeless, was forced to look for shelter while traveling to meet the heavy taxation demands of a hostile government. She lived in a land recovering from violent civil wars and still in turmoil—a situation much like that in modern Bosnia, Rwanda, or Somalia. Like half of all mothers who give birth today, she gave birth in Asia, in its far western corner, the part of the world that would prove least receptive to the son she bore. That son became a refugee in Africa, the continent where most refugees can still be found.
I sometimes wonder what Mary thought about her militant Magnificat hymn during her years of exile in Egypt. For a Jew, Egypt evoked bright memories of a powerful God who had flattened a pharaoh's army and brought liberation; now she fled there out of desperation, a stranger in a strange land hiding from her own government. Could her baby, hunted, helpless, on the run, possibly fulfill the lavish hopes of his people? Even the family's mother-tongue summoned up memories of their underdog status: Jesus spoke Aramaic, a trade language closely related to Arabic, reflecting the Jews' history as a subject people.
Growing up, Jesus' sensibilities were affected most deeply by the poor, the powerless, the oppressed. Today theologians debate the aptness of the phrase "God's preferential option for the poor" as a way of describing God's concern for the underdog. Since God arranged the circumstances in which to be born on planet Earth, his "preferential options" speak for themselves.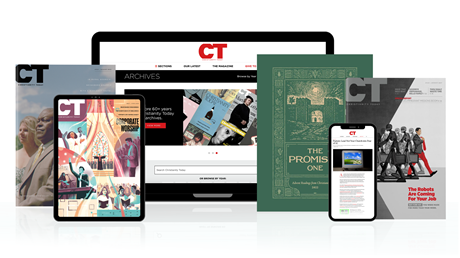 Subscribe to Christianity Today and get access to this article plus 65+ years of archives.
Home delivery of CT magazine
Complete access to articles on ChristianityToday.com
Over 120 years of magazine archives plus full access to all of CT's online archives
Subscribe Now
Cosmic Combat Part 2
Cosmic Combat Part 2