Some Far and Distant Place, by Jonathan S. Addleton (Universityof Georgia Press, 207 pp.; $29.95, hardcover);
Through Isaac's Eyes: Crossing of Cultures, Coming of Age, and the Bond Between Father and Son, by Daniel Barth Peters (Zondervan, 185 pp.;$10.99, paper). Reviewed by Alan Jacobs, associate professor of English at Wheaton College.
As debates over Eurocentrism and multiculturalism lose the attention of the popular press, and as even the most vocal participants in the controversy seem bored by their own arguments, a new note is being sounded for those with ears to hear. It may well be that most Americans are geographically and historically parochial (at best); it may be that we are, by and large, woefully ignorant of the cultures of the developing world. But one group of Americans has had lengthy and thorough experience in the parts of theworld neglected by our history books, and I don't mean members of the diplomatic service. These most multiculturally literate of Americans are Christian missionaries— and especially their children, the missionary kids(MKs).
A dawning awareness by publishers that these people have something to contribute to our national conversation about other cultures may be partially responsible for the appearance of these two memoirs. The subtitle of Daniel Barth Peters'sThrough Isaac's Eyes tells us that the book is about (among other things) the "crossing of cultures"; the blurb writer for the University of Georgia Press tells us that Jonathan S. Addleton's Some Far and Distant Place "describes an experience that will become increasingly more common as cultures that once seemed remote and distant are no longer confined within the bounds of a single nation-state." Strange to say, we could in the near future see, marketed for general rather than specifically Christian consumption, several more examples of this genre, the MK memoir— though,as will be clear, only Addleton's book really fits the category.
What these two books do have in common is a faithful and respectful portrayal of the evangelical subculture, especially in its missionary aspect. Evangelicals are often criticized for their use of a specialized (and to outsiders,inscrutable) language of spirituality, but what we see in these books is the way in which Christians living in strange lands and difficult circumstances rely on this familiar language as their anchor. Jonathan Addleton notes the way his father concluded letters to supporters of his missionary work: "Yours in Calvary's bonds"; "Yours in His amazing grace"; "Yours for the saving of souls in Pakistan." As Daniel Barth Peters and his parents leave California for Vietnam, they buttress themselves against fear and grief with comforting phrases: "This was the parting, this was the tearing away of a pastor fromhis flock. Blest be the tie that binds. Blest be the fabric as it rends . …We had our eyes set on things above and would not be held back. Therewas no grief, only joy, in serving the Most High." A thoroughly biblical vocabulary and the love of family: those are the two visible constants in the lives of these MKs.
Some Far and Distant Place is a narrative of a childhood spent almost wholly in the region of Pakistan called Sind, mostly in the town of Murreeat the feet of the Himalayas. That childhood had its moments of pain and tension, but Addleton seems almost sorry that there wasn't more of either. During the India-Pakistan war in 1971, he and his family had to leave their home in Murree to escape potential danger, but, he writes, "I was disappointed in my meager allotted portion of the war." Dramatic danger always remained at a distance. And while he knows that there are other MKs whose relationship to their upbringing is unsettled, and who are continually troubled by a senseof belonging to no culture (neither the America they hardly knew nor the mission field where they are by definition aliens), he ruefully, but without much explanation, confesses to a lack of trauma and neurosis: "Taken selectively,the accumulation of such experiences could have scarred me for life, as was perhaps the case for certain classmates [at Murree Christian School], some of whom are still trying to come to terms with it all. … Perhaps the saving grace was that, in the end, I somehow decided never to take any single event too seriously. … Things happened, on occasion unpleasant things; but life went on, and there were many extraordinary compensations."
Pakistan remains for Addleton the closest thing to home that he knows, and it is interesting to see that as an adult he has again lived in, and written about, Pakistan. He now works for the U.S. Agency for International Development,and as such is part of another story, too complicated to go into here: MKs who have gone into relief-and-development work.
Peters—who, as a Ph.D. in history and American Studies "with a specialty in fundamentalist and evangelical culture," represents another fairly common MK career—tells a story different in almost every respect from Addleton's. Addleton was born in Pakistan and lived there with few interruptions untilhe entered Northwestern University; Peters was in Vietnam only from September of 1967 to February of 1968 (he was 13 years old at the time). Peters' encounters with Vietnamese culture were therefore necessarily limited—which is why the "crossing of cultures" part of the subtitle is a bit misleading. However, if the young Addleton wished for closer proximity to the India-Pakistan war, Peters got more direct exposure to warfare than any sane person would want: the Peters family was in Saigon when the infamous Tet Offensive began,and they soon found themselves in daily mortal danger. It is a harrowing tale, and Peters tells it vividly: we can all too well imagine the trauma inflicted on a secure and happy 13-year-old Christian by repeated exposure to bomb and mortar attacks, machine-gun fire, and (a different kind of trauma)the abject suffering of Vietnamese whose own children were not just endangered but often killed—and thus were added to that great company, the "innocent bystanders" of modern warfare.
The last part of Peters's subtitle, however ("the Bond between Father and Son"), is what the book is really about. Above all, Peters inscribes here a moving tribute to his father's commitment and integrity. The book's backcover prominently features a blurb by Bill McCartney, founder of Promise Keepers: "I wept and rejoiced at the love your daddy had for Jesus." Theblurb is quite appropriate. Readers accustomed to our culture's condemnations of patriarchal families will be troubled and confused by Peters's refusal to criticize his father's dominance and leadership. He doesn't explicitly endorse the structure of his family, but he makes it clear that one as kind and Christlike as his father could use his authority in a way that was anything but oppressive or tyrannical. "To this day I cannot … look into the memory of Daddy's eyes and not see orphaned boy, brave hero, tender father, holy saint, sacrificer."
But there is also something troubling and confusing for Christians about the book's conclusion, about that word sacrificer. Note the title; note that the book begins with the whole account of Abraham and Isaac on Moriah. And near the end, Peters relates a horrific story his father told in a sermon, a story about a Chinese Christian who will not repudiate Christ even when soldiers hack off his son's fingers and hand with a machete. Both father and son are then killed, and, Peters writes, "the son died as the father's test of faith"; moreover, he writes, he can only see this story" through Isaac's eyes." This is quite understandable, but it is less clear when Peters explicitly identifies himself as an Isaac who was notspared, one for whom "the ram did not bleat."
What can he mean by that? It is clear that he could not simply resume a "normal" American life: after their return to California his father buys him a football, which he cannot enjoy because he knows that his Vietnamese friends, if they survived at all, could never have such a prize. But to equate his great suffering with being murdered seems odd, especially in light of the fact that Peters's father got him (and his mother) back to California as soon as possible after he saw what danger they were in.
Jonathan Addleton, in his childhood in Pakistan, came across the graves of many MKs whose parents brought them to the mission field only to end up burying them there. The conclusion of Peters's story is extremely confusing, but the only inference I can draw from the details I have just related is that he sees no difference between a father being willing to risk a son's life in the service of Christ and his actually taking that life.
The content of these books would, I think, be pretty much the same whatever the authors' faith-commitments happened to be. (Peters's book seems to be pitched to non-Christians as well as Christians, and university presses rarely consider Christians as part of their prospective audience.) But I have to admit that I would be more secure in my reading of both books if their authors explained what remains in their lives today of their Christian upbringing. I (perhaps idiosyncratically) am interested not just in what these men can tell me about living in "some far and distant place," but also in what it means for one's faith to go to such strange lands at the behest of one's parents, who may themselves live for Christ, who may themselves be sustained by Christ, but who cannot simply give that faith and that sustenance to their children.

Short Notices
Keeping the Faith: Embracing the Tensions in Christian Higher Education
Edited by Ronals A. Wells
Eerdmans
152 pp; $16, paper
In 1995, Gaylen J. Byker was inaugurated as the eighth president of Calvin College. In Keeping Faith, Ronald Wells, the director of the Calvin Center for Christian Scholarship, has assembled a group of essays (plus asermon, by Richard Mouw, and a poem, by Lionel Basney) from the festivitiessurrounding that event.
Sounds like a dreary volume, doesn't it—rather like one of those "biographies" commissioned by a business tycoon and destined to be read only by its subject.(What will Eerdmans be publishing next? The table talk of the Calvin faculty?)
Think again. With contributions from Wells and James Bratt, Susan Van ZantenGallagher, and Nicholas Wolterstorff, among others, Keeping Faithis a superb contribution to the ongoing conversation about Christian higher education.
Have something to add about this? See something we missed? Share your feedback here.
Our digital archives are a work in progress. Let us know if corrections need to be made.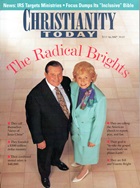 This article is from the July 14 1997 issue.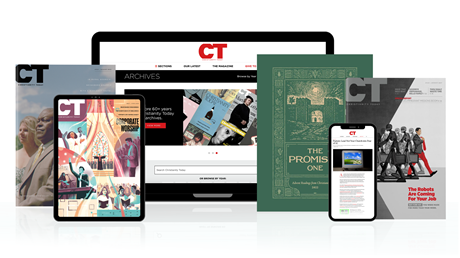 Annual & Monthly subscriptions available.
Print & Digital Issues of CT magazine
Complete access to every article on ChristianityToday.com
Unlimited access to 65+ years of CT's online archives
Member-only special issues
Subscribe
MK Memoirs
MK Memoirs