The Moral Vision of the New Testament: Community, Cross, New Creation:A Contemporary Introduction to New Testament Ethics, by Richard B.Hays (Harper San Francisco, 508 pp.; $25, paper). Reviewed by Thomas E. Schmidt,a New Testament scholar and author of Straight and Narrow? Compassion and Clarity in the Homosexuality Debate (InterVarsity).
In The Moral Vision of the New Testament, Richard B. Hays demonstratesthat a passionate faith can be expressed in a scholarly treatise. Hays's manner is every bit as significant as his subject. Indeed, here may be asignal that evangelical scholarship has at last found its voice. For hereis a university professor who writes for the church, a first-rate exegete who suggests that the Holy Spirit must guide the interpretation of texts,a denizen of the ivory tower who maintains that believers must practice obediencein community to realize Scripture's moral vision.
Hays demonstrates all the academic competence that landed him a professorship at Duke, but in and through his scholarship he preaches (powerfully), he discusses the moral challenges of real people he knows, he concedes that some of his conclusions are tentative, he even—gasp—admits to personal moral struggles and shortcomings.
Such a readable, superbly organized, substantial volume will quickly become the standard seminary text for New Testament ethics, supplanting the widely used works by Rudolf Schnackenburg (The Moral Teaching of the NewTestament), Wolfgang Schrage (The Ethics of the New Testament),and others. That is good news, but it will be a shame if the book does not move far beyond the walls of the pastor's study into the hands of lay Christians who should take up its challenge.
The Moral Vision of the New Testament is so clearly laid out in the table of contents and introduction that the reviewer is hard-pressed to improve on "see pp. vii-x and 1-7." Each section focuses on one of the four tasks—descriptive, synthetic, hermeneutical, and pragmatic—of New Testament ethics. The descriptive task is to convey the visions of the moral life in the New Testament text, preserving the distinctive and even disparate emphases of the various writers. The synthetic task is to find coherence in this diversity; such coherence Hays finds in three images—community,cross, and new creation—employed to guide or focus our reading of New Testament texts. With respect to the hermeneutical task of using Scripture in ethics, Hays evaluates five representative theologians against clearly defined criteria and then lays out his own approach. Finally, addressing thepragmatic task of living under the Word, Hays applies his method for New Testament ethics to five "test cases": violence, divorce, homosexuality,anti-Judaism, and abortion.
So much for the outline: now on to execution. In his descriptive section,Hays first surveys the New Testament witnesses and singles out those thatare "most important by virtue of their substance and historic influence":Paul's undisputed epistles, the Evangelists (including Acts with Luke), and Revelation. Hays argues that the other New Testament writings are not intension with those he treats, and he limits his treatment further by avoiding speculation about historical development. In a helpful excursus on the role of "the historical Jesus" in New Testament ethics, Hays affirms a fairly conservative reconstruction of the Lord's life and teachings (including astrong statement on the Resurrection), but he eschews attempts to base viewson the ever-elusive "objective Jesus" independent of the canonical witnesses. Nevertheless, Hays's treatment of the Gospels owes much to redaction-critical notions of post-Jesus development; and his treatment of the Pauline tradition involves late and pseudonymous authorship of at least three Epistles. This will be problematic for those who are unwilling to relieve tensions by choosing, say, Luke's Jesus over John's or Romans' Paul over Timothy's. Some might take issue with Hays's critical conclusions, but my point is merely to caution the reader against a simplistic view of Hays's preference for the canonical approach over the historical.
In the synthetic section, Hays responds to New Testament diversityby developing his proposal for coherence through the three focal images hefinds widely and consistently represented in the texts. He summarizes: "the New Testament calls the covenant community of God's people into participation in the cross of Christ in such a way that the death and resurrection of Jesus becomes a paradigm for their common life as harbingers of God's new creation." The popular themes of "love" and "liberation,"Hays argues, might be seen as subsets of these but are not themselves sufficientas focal images.
Hays takes up the hermeneutical task with a critique of Reinhold Niebuhr,Karl Barth, John Howard Yoder, Stanley Hauerwas, and Elisabeth SchusslerFiorenza on a sample topic (violence) against the criteria of their modes of appeal to Scripture (its rules, principles, paradigms, and symbolic world)and their use of other sources of authority (tradition, reason, and experience).This approach offers the reader a helpful "apples to apples" comparison and sets up Hays's subsequent normative proposals. His choices of Hauerwas and Schussler Fiorenza are a bit disappointing since by Hays's own account they add little of substance to the discussion (why not Schrage, Raymond F. Collins, or a popular ethicist like Lewis Smedes?); on the other hand, Hays helps us to see their methodological weaknesses without making what might be a political blunder by omitting them.
Hays proposes that New Testament ethics must be guided, first, by serious exegesis. Other guidelines include respect for the full and sometimes disparate messages of Scripture; guidance by the focal images of community, cross,and new creation; subservience of extrabiblical sources of authority; and an integrative use of the imagination to fit our lives into the truths of Scripture. Last and not least, he maintains that "right reading of the New Testament occurs only where the Word is embodied"; that is, where believers "experience the enactment of Scripture in community."
Applying these proposals in five test cases is the pragmatic tasktaken up by Hays in the last third of the book. To relay only Hays's conclusions does injustice to his approach, which is, humbly and carefully, to illustrate a method, not to propound rules for living. The topics well illustrate Hays's approach because they offer different configurations of evidence. Nonviolence is a univocal and pervasive theme within the New Testament,whereas no texts directly address abortion. There are only a few biblical references to divorce or homosexuality, but extrabiblical issues come intoplay. The anti-Judaism theme in the New Testament involves tension both between texts and between contexts (ours and that of the original audience).
The topics are, of course, interesting in their own right, although it might have been better to replace anti-Judaism with wealth, since materialism isa more pressing issue for the church, and the topic presents a similar configuration of texts in tension. Hays is reluctant to neglect the topic, but his passing treatment raises questions about his methodological consistency.
If, as Hays reminds us, Jesus demands that disciples give away all possessions(Luke 14:33), and if we cannot gloss over such texts either by spiritualizing them or choosing less threatening texts to guide our behavior, why is hecontent to lay the stress on sharing possessions and admonish that obedience "would entail some immediate practical and sacrificial changes in what wedo with our money"? Perhaps greater specificity would engender legalism, but does Hays's vagueness here suggest the lamentable tendency he notes elsewherefor Christians to take refuge against biblical directives in more pliable "principles"?
At several points, in fact, Hays appears to undermine powerfully expressed opinions by equivocation with regard to practice. For example, after presenting a powerful argument for lifelong marriage, he allows that divorce is justifiable "in certain extraordinary circumstances," which he would extend beyond sexual infidelity; he recommends that the church "receive divorced persons as full participants in Christian fellowship." Similarly, after building a compelling argument against abortion on the ground of mercy toward the powerless, heterms "justifiable" abortion in the case of rape or incest without explaining why such new lives have less claim on our mercy.
Presumably Hays allows more latitude in matters where the New Testament proscription is not as clear as in the cases of violence and homosexual practice. But it is at just such points that the reader would benefit from more thorough or explicit accounting for Hays's practical recommendations, including the irrelation to one another.
Further discussion of these and many other interesting questions raised by Hays's book will occupy thoughtful Christians for years to come. They hardly merit the term "criticisms" and should be set against great appreciation for a work that is at once scholarly, insightful, clear, convicting, personal,provocative, and unabashedly evangelical. Here is a voice that we must findears to hear, a vision that we must strive to realize.

Short Notices
Upholding Mystery: An Anthology of Contemporary Christian Poetry
Edited by David Impastato
Oxford University Press
369 pp.; $25, hardcover
If you are a reader of poetry—or if you have one or two of that tribe on your gift list—Upholding Mystery is a book you can't afford to miss. According to the critical establishment—see, for instance, Helen Vendler's introduction to the influential Harvard Book of Contemporary American Poetry—the poetry worth reckoning with in our time assumes the absence of transcendence. To which David Impastato has politely answered: Baloney!
Like all the best anthologists, from Yvor Winters to Seamus Heaney and TedHughes, Impastato has assembled a collection with a delightfully unpredictable personal flavor. Instead of representing Christian poetry piecemeal, he has selected 15 writers, arranging their work in thematic sections (for example,"The Cross," "Transformation," "Death"), with occasional commentary.
No one but Impastato would choose just these poets, famous and obscure. Daniel Berrigan and Wendell Berry are rarely found at the same soiree. Add Scott Cairns and David Citino, David Craig and Annie Dillard, Maura Eichner and Louise Erdrich, Geoffrey Hill and David Brendan Hopes, Andrew Hudgins and Denise Levertov, Les Murray and Kathleen Norris, and grandmaster Richard Wilbur and you have the makings for a wonderful party.
Not all the poems gathered here are orthodox in their sentiments, nor are they all shadowed by hesitation and doubt. What we get is a spectrum of attitudes, matching the profusion of styles and voices of these poets, asvarious as Creation itself.
Have something to add about this? See something we missed? Share your feedback here.
Our digital archives are a work in progress. Let us know if corrections need to be made.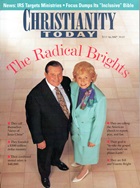 This article is from the July 14 1997 issue.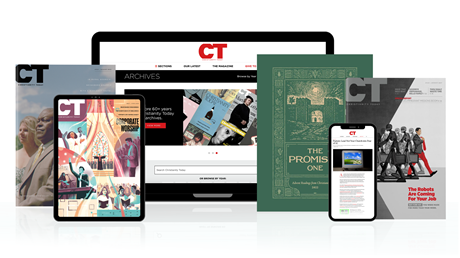 Annual & Monthly subscriptions available.
Print & Digital Issues of CT magazine
Complete access to every article on ChristianityToday.com
Unlimited access to 65+ years of CT's online archives
Member-only special issues
Subscribe
Living the Truth
Living the Truth