With the army providing free abortions for female soldiers, and social workers actively promoting abortion as a cure-all for emotional and economic woes, abortion in Israel is a widely accepted practice.
But that may change with new restrictive legislation before the Israeli Knesset. Although the official Israeli abortion rate is about one-half the United States rate, Jewish traditionalists, some calling abortion "the second Holocaust," abhor it. Yet, pro-life and abortion-rights rallies, long a staple of American news, are conspicuously absent here.
Earlier this year, the ultra-Orthodox Shas party grabbed headlines with a strongly worded pro-life bill. The bill, now in committee, defines an embryo as a human being from the day of conception, and inserts this definition into Israel's criminal code. If passed into law, the Shas bill would allow abortion practitioners to be tried for first-degree murder.
Although few Israeli political analysts expect the bill to pass in its current form, the bill has functioned to reopen the debate over abortion rights. Under pressure from the Women's Network political lobby, 19 of the bill's original 51 signatories withdrew their support. And Israeli evangelicals are divided over the measure, with some fearing that it will generate a backlash against the nascent pro-life movement. That sentiment echoes even within the ranks of Shas.
Shas Knesset member Shlomo Ben-Izri, who is Israel's deputy minister of health, supports the measure, but he is skeptical. "I don't believe for a minute that we can pass such a law in this country," he says. "Two-thirds of the abortions done in Israel are already illegal, and we cannot convince the government to enforce the existing law."
DIVIDED STRATEGY: But Ted Walker, director of the evangelical pro-life organization Be'ad Chaim, believes the Shas bill has come none too soon. "Abortion is used as the major means of birth control in Israel," he says. "What we're dealing with is a widespread epidemic."
That epidemic has swelled in part because pro-life physicians have been unable to form a unified front. Israeli Orthodox pro-life groups cannot afford to identify with the pro-life Messianic believer community. Jerusalem's Efrat, perhaps the largest of the Jewish pro-life groups, typifies this attitude: "We're happy they're out there," says Efrat director Eli Shus-Heim, "but they work on their side and we work on ours."
"They pretty much keep their distance because of our stand for Yeshua," Walker says. "We're in touch with them, but they're not in touch with us."
Efrat's director says it is not only religion but philosophy that separates Efrat from evangelical pro-lifers. "You cannot save even one baby by passing laws, by trying to force people," says Shus-Heim. "We need to respect a woman's rights—she has a right to know exactly what it is that's growing inside her. We believe in education, not confrontation."
He recalled a visit by representatives from a U.S.-based pro-life group. "They showed me a truly horrific film, all about picketing, protesting, even burning clinics," Shus-Heim says. "I turned to these people and said, 'Tell me, how many babies have you saved with these methods?' They just looked at each other; they couldn't answer."
Efrat has a unique pragmatic approach, according to Shus-Heim. "Women will do what they want," he says. "But we believe every woman has maternal instincts: if she knows that this is a real live baby in her womb, and not just a blob of tissue, she will want it to live." Shus-Heim adds that the Shas bill "is exactly the opposite of our philosophy."
For the Orthodox, the debate hinges on the rabbinic question of "destroying the seed." Rabbinic rulings allow for abortion for a variety of technical reasons.
But Shas Knesset member Ben-Izri says, "This is the seed of Abraham, this is life. If you take a five-month-old fetus from the womb and place him in the proper conditions, he will live. Who are we to decide that it is wrong to harm this baby one minute after birth, but not one minute before?"
FORGING AN ALLIANCE: Shas Knesset member Yitzhak Cohen, author of the bill, says the proposed law has been carefully crafted. "A lot of research went into it," he says. "We had biologists, philosophers, rabbinical councils."
The Orthodox are often portrayed by their critics as a pushy minority trying to force their beliefs on others. Messianic Jews are seen by the Orthodox as a threat to Israel and to Judaism itself. Yet, in the arena of abortion, these traditional antagonists are forging an uneasy truce.
Last year, Be'ad Chaim presented Efrat with a new Hebrew translation of the film Silent Scream. Shus-Heim took the film to Likud Knesset member Binyamin Netanyahu, who has since become prime minister.
"Netanyahu told me he didn't need to see the movie because he had already seen his own son on ultra-sound," recalls Shus-Heim, "and it was clear that anyone who would harm such a child was harming a human being." After the meeting, Netanyahu repeated his views to the press, firing the opening shot in what has become a heated public debate.
Pro-lifers from all sides are working to make sure the issue does not fade away.
During the recent uproar over Shas's proposed law, Efrat sent a copy of Silent Scream to every member of the Knesset. Cohen was grateful. "It's a very powerful film because it shows the truth," Cohen says. "Abortion is murder."
Have something to add about this? See something we missed? Share your feedback here.
Our digital archives are a work in progress. Let us know if corrections need to be made.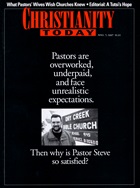 This article is from the April 7 1997 issue.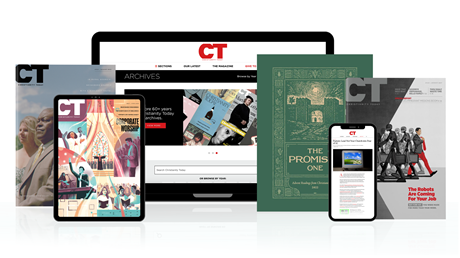 Annual & Monthly subscriptions available.
Print & Digital Issues of CT magazine
Complete access to every article on ChristianityToday.com
Unlimited access to 65+ years of CT's online archives
Member-only special issues
Subscribe
Bill Sparks Abortion Controversy in Israel
Bill Sparks Abortion Controversy in Israel