It's a Monday night in late October, and Halloween festivities across the college town of Madison, Wisconsin, are overflowing with partying young people. There is a dance at the high school - not to mention the Green Bay Packers on Monday night football.
Yet, instead of taking in any of those activities, dozens of high-school students and their adult tutors have congregated in the basement of Christ Presbyterian Church for their weekly study session, to be followed by a home-cooked meal.
Buttering bread for grilled-cheese sandwiches, Doug Madsen, a former tutor, says he signed up for kitchen duty because he couldn't stomach a second helping of high-school algebra.
In another section of the basement, Paul Nelson sits at a folding table, assisting 15-year-old Ger with his chemistry homework, while sipping a Coke. Nelson began three years ago as Ger's tutor and two years ago also took over as his "mentor" under another Christ Presbyterian program, an effort supported by Young Life. A state-government policy analyst with two children of his own, Nelson enjoys attending Asian festivals with Ger's family.
"Sometimes we get bored," Ger says, looking up from a textbook about atomic particles and tossing his long hair back off his forehead. "Then we just hang out together."
PROJECT OPPORTUNITY
The warm relationship between Nelson and Ger is just one of dozens that have been created in the last five years by the long reach of ministry at Christ Presbyterian, not far from the University of Wisconsin campus and the state capitol on Madison's east side.
In 1989, Christ Presbyterian created Project Opportunity, a program in which the church made long-term commitments to 16 sixth-grade students at a local public school. The Madison Community Foundation has supported the effort. The project commits the church to tutoring and mentoring the kids, helping them to finish high school, and then offering to pay their college tuition.
Madsen's wife, Norma, has joined the program and says, "The community never has a chance of knowing what would happen if you just stayed with a group of kids no matter what."
From that effort, Monday-night tutoring was initiated, pairing another 30 members of Christ Presbyterian with at-risk youth for one year. "Believers [want] to give feet to their faith," says Shirley Hammond, an elder at Christ Presbyterian, founder of Project Opportunity, and now coordinator of a citywide, multi-church mentoring and tutoring program known as Madison Urban Ministry. "Jesus told us to love, and that's not just our families and church members. That's a general command."
Christ Presbyterian's mentors and tutors have robustly embraced the Christian imperative to love everyone in spite of cultural and religious barriers. Jeanne Kinney, with Project Opportunity for five years, has been a mentor to 17-year-old Mao, a high-school junior who blends her native Hmong culture in with the life of a modern American teenager.
Mao holds a job at McDonald's on weekends, while maintaining a 3.0 grade-point average and carving out time for her boyfriend, shopping, and other interests. Following cultural tradition, her Hmong parents selected her boyfriend and have arranged for her to marry him after graduation. As Buddhists, Mao's parents believe that their daughter's flirting with another youth riled dead ancestors. As a result, they whisked her to Chicago for four days of prayer to deal with her "errant spirit."
"At the wedding, I'll be, like, sold to the guy," says Mao. As Mao deals with her two very different, very demanding worlds, she has relied on Kinney as a pal, mother confessor, cultural guide, tutor, and coach. In turn, Mao has become a source of great joy to Kinney, who hopes to find mentors for Mao's two younger sisters.
"This is a good point of balance in my life," says the 49-year-old social worker. "Mao is such a gift to me.
"She knows I pray for her, but I never try to talk her out of where she is. I only address superstitions that frighten her," says Kinney, who is sensitive to the tensions that arise in interfaith ministry.
INTERRACIAL MINISTRY
Not only has cross-cultural ministry been a hallmark of the mentoring program, it also has become interracial and intergenerational. Ed Reid, a 59-year-old manufacturing executive, has been mentoring 13-year-old Maurice for two years. Like many young blacks, Maurice's lifetime ambition is to play professional basketball, Reid says, noting that the youth is "fantastic" at the game.
Reid feels his calling is to guide Maurice, whose mother is a single parent of four boys, through the whole of life, not just a potential career in professional sports.
In addition to attending Maurice's basketball and football competitions, Reid takes Maurice cycling and has equipped him with a toolbox so the boy can tinker with his bike. Last spring, he tutored Maurice two evenings a week.
A mentor's job is not always focused on academics or recreation. One mentor has her charge spend weekends at her house because the boyfriend of the girl's mother physically threatened her. Another mentor felt compelled to attend Alcoholics Anonymous several times to learn how to turn down requests for booze money from a teenager's mother. "These kids need to learn to trust because they haven't had adults they can trust," Hammond says. "And they test our adults to make sure they stay with them."
Through tutoring, mentoring, and relationships with caring Christian adults, Project Opportunity and Madison Urban Ministry has found itself at the front lines of friendship evangelism, a method likely to become more evident as communities across America change their cultural and ethnic mix.
Jon Good, associate pastor at Christ Presbyterian, says, "We're not too heavy-handed about faith, but we hope through the relationships being formed that they'll be interested and that they'll share it with their siblings, families, and friends."
Good says the program has enriched the lives of church members. "It has brought some folks out of the woodwork that I never dreamed would be interested. It has brought them back to the church."
Good says the public-school system sees the results of the mentoring program. "The schools are seeing that the kids' grades are improving. And teachers and administrators have become so overwhelmed with kids' needs that they're happy to see us being supportive."
For mentor Paul Nelson, support is given unconditionally. Speaking about his teenage charge Ger, Nelson reflects, "He needs an adult friend in the larger culture, and I'm personally committed to being with him through graduation."
Have something to add about this? See something we missed? Share your feedback here.
Our digital archives are a work in progress. Let us know if corrections need to be made.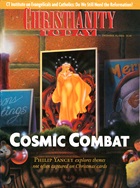 This article is from the December 12 1994 issue.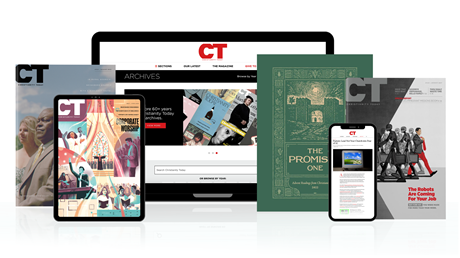 Annual & Monthly subscriptions available.
Print & Digital Issues of CT magazine
Complete access to every article on ChristianityToday.com
Unlimited access to 65+ years of CT's online archives
Member-only special issues
Subscribe
Close Encounters Across Cultures
Close Encounters Across Cultures