true
He expressed a profound theology in music better than anyone has ever done.
Johann Sebastian Bach has long been recognized as one of the greatest evangelists in history. He has, in fact, often been called the "Fifth Evangelist." In this three-hundredth anniversary year of his birth, he speaks with special clarity, eloquence, and frequency.
The real source of the power of this "minstrel of God" was his intimate devotion to his Savior. He based his music on a solid foundation of theological orthodoxy and consistent personal piety. It is precisely this total dedication to Christ that causes so many unbelievers to miss completely the essence of Bach's music. Though compelled to admire his unchallenged genius, they do not often comprehend—and even are manifestly uncomfortable with—the intensity of his vital faith. They often prefer the music of Beethoven and Mozart—not because it is better, but because it does not make such personally spiritual demands upon them. A striking example is the recent Newsweek cover article that failed utterly to explain Bach's greatness, making no reference to his all-encompassing spiritual commitment.
The great musicians themselves have uniformly recognized Bach's supremacy as a composer. Beethoven described Bach as an ocean of creativity compared to whom all other composers were mere brooks. Brahms would let his meals wait so he could study a newly published volume of Bach's music. Igor Stravinsky said Bach's cantatas should be at the heart of every musician's study.
But music lovers who approach Bach's music primarily as great art, without understanding his spiritual priorities, miss its most important dimension. A university faculty colleague of mine, herself a native German, once said to me unhappily, "Bach wrote such great music, it's a shame he chose such unworthy, sentimental texts."
The Approachable Bach
Many people who sincerely wish they could enjoy Bach's music have unfortunately been intimidated by music lovers or anti-intellectuals. Too often we have preferred lesser musicians because we have been deceived into thinking Bach makes too many demands upon the listener. Yet the virtuosic "Toccata in D Minor" (usually played on the organ in movies by mad scientists!) is known to almost everyone. Often, with disturbing frequency, the people who make decisions concerning sacred music in church, school, and on religious radio seem to seek primarily the popular paths of mediocrity. The result is that the evangelical community has denied itself its rightful and richest musical heritage.
"We must go through Bach's head to get to his heart," Donald Hustad once observed. The unbeliever, unfortunately, rarely gets to Bach's heart, but the believer rarely even gets to his head. Yet the multitudes who enjoy "Jesu, Joy of Man's Desiring," "Sheep May Safely Graze," and the exquisite "Air On the G String" know that Bach is very accessible, not "heavy," "dull," or "complicated." The truth is, no matter what kind of music we enjoy, Bach's genius has in some way touched it all. His two-volume keyboard work, The Well-Tempered Clavier, for instance, established our modern scale and keyboard tuning, affecting all the music we hear today. His music has become the very touchstone of theory and composition.
A Man Of Faith
Johann Sebastian Bach was more than a musician; he was a competent theologian. He expressed his theology in music probably better than anyone has ever done. Raised as an orthodox Lutheran, his study of the leading theological writings of his day helped lay principles for the Christian life that he adhered to all his life.
Bach's library—to which he added regularly—was filled with theological works, including two sets of the writings of Luther. His remarkable theological balance is revealed by the many pietistic works he also possessed. To Bach, Luther's concept of salvation sola fide ("by faith alone") was absolutely essential. He also followed Luther's views on music.
When he was 48, Bach acquired Luther's monumental three-volume translation of the Bible, which he studied intensively. He corrected errors in the text and commentary, inserted missing words, underlined passages, glossed Johann Colov's accompanying commentary, and made numerous personal annotations that not only reveal his personal spiritual concern, but also his attitude toward Scripture and how it should be set to music. Christoph Trautmann, after examining those remarkable annotations, concluded that Bach was "a Christian who lived with the Bible."
Believing he was called to be a minister of music, Bach sought for direction in his ministry in the Scriptures. One of his marginal annotations is at 1 Chronicles 25, a classic passage in the theology of church music: "NB This chapter is the true foundation of all God-pleasing music."
At 1 Chronicles 29 he commented: "… music too was instituted by the Spirit of God through David."
He also recognized how necessary is a right attitude of the heart in offering acceptable musical sacrifices to God, commenting at 2 Chronicles 5:13: "NB At a reverent performance of music, God is always at hand with his gracious presence."
Bach made many changes in the texts he set to music, carefully aligning them with his theology, so that the texts express what he personally believed. For instance, he adapted a text by one of his librettists—Christian Friedrich Henrici, a local postman known as Picander—which may sum up his personal devotion to Christ:
Mouth and heart are open to Thee,
All highest, sink therein!
I in thee, and Thou in me;
Faith, love, endurance, hope
Shall be my bed of rest. (#148)
His theology was immensely practical. As Alfred Einstein has written, "It can fairly be said that no composer thought more about death or stood in greater awe of it than Bach. Bach welcomed death, although he feared it; and between his fear and his longing stood only an indomitable and rocklike faith." Such famous chorales as his "Come, Sweet Death" are eloquent witnesses to this fact.
Bach saw no conflict between "sacred" and "secular" music. The title page to his "Little Book for Organ" (Orgelbüchlein) reads, "To the glory of God alone in the highest and to further the learning of everyone."
He is well known for having initialed his compositions, sacred or secular, "S.D.G."—Soli Deo gloria—"To God alone be the glory." He occasionally would inscribe "J.J."—Jesu juva—"Jesus, help me." Such ascriptions of praise were not the empty religious formulas of a professional churchman but the heartfelt prayers of a man who deeply loved the Master Artist.
The Man And The Musician
Bach was born in Eisenach on March 21, 1685, just a month after his greatest counterpart, George Frideric Handel, and only about 30 miles away. (Though Bach twice initiated attempts to meet Handel, whom he greatly admired, Handel never showed any interest.)
He was a member of history's most important musical family. In fact, around 1700, any musicians in Thuringia were known as "the Bachs." About 40 of his ancestors were practicing musicians. His forebears were deeply committed believers, having left Hungary during the Thirty Years War rather than give up their faith.
Male members of the Bach family had their profession laid out for them, and training was taken largely within the family circle. The young Sebastian studied first with his father, Johann Ambrosius Bach, who was a court trumpeter, and with his uncle.
Bach faced great adversity throughout his life, yet each event seemed to advance his personal and musical development. His mother died when he was nine, and his father a year later. This forced him to leave Eisenach for Ohrdruf to live and study with his older and newly married brother, Johann Christoph, court harpsichordist and organist at Saint Georg. There the youth was exposed to some of the finest music of the day.
It was not an easy life. There is an often-told legend about a volume of contemporary music belonging to Christoph that he would not let Sebastian use. (Printed music was scarce; until the nineteenth century, students who wanted to study a piece of music first had to copy it out by hand.) For six months, the youth copied at night—probably starting his eyesight on the road to eventual ruin. Tragically, Christoph is said to have confiscated the manuscript when he discovered what the boy had done.
As an orphan, he was dependent on a scholarship for his schooling at Ohrdruf. But the scholarship went into default, and when Christoph could barely support his rapidly growing family, Sebastian had to leave. That hardship proved to be providential, however, for Ohrdruf was decimated by an epidemic soon afterward. He walked 200 miles to Lüneburg to continue his schooling. An outstanding boy soprano (women were not allowed to perform in church), he helped support himself by singing. By age 18 he was an accomplished violinist, violist, a master clavichordist and organist, and a promising composer.
He completed his education in 1703, the best in his class; well educated, he knew Latin, French, and Greek. He then took his first church position as the organist at the New Church in Arnstadt. It was the least important church in town, so he had available only the least competent talent. Discipline often was a serious problem, for some of his singers were older than Bach. When a frustrated Sebastian once called an incompetent instrumentalist a "nanny-goat bassoonist," the player hit Bach and called him a "dirty dog." Bach drew his sword and, in the ensuing fight, made several cuts in his opponent's cloak before the two were separated. He also got into trouble for "going into the wine-cellar during the sermon," and for allowing a "strange maiden" (probably his cousin Barbara, whom he later married) to solo in church.
Bach incurred further trouble for staying far beyond the four weeks leave he had been granted to journey to Lübeck to hear the great organist Dietrich Buxtehude, also a Christian. Reportedly he walked the 200 miles each way. So impressed was Bach with Buxtehude's music that he stayed four months. When he returned to Arnstadt, he improvised on the congregational hymns as he had heard Buxtehude do, and was reprimanded for "having hitherto made many curious variations in the chorale, mingling in it many strange notes, thereby confusing the congregation."
He refused to play political games. Offered the prestigious position held by Buxtehude, he objected to one condition: that he marry Buxtehude's daughter. (Handel earlier had refused the same offer.) He did not receive appointment to the important post of organist at the Saint Jakobi Church in Hamburg when someone else was willing to pay a contribution of 4,000 marks—the equivalent of several years' salary.
After a one-year stay at Saint Balthius Church in Mühlhausen, he went in 1708 to Weimar as court organist to Duke Wilhelm Ernst. The duke personally supervised daily devotions at court, and required his servants each to take a turn reading from the Bible. Some years later, when Bach wanted to accept another position, the duke put him in jail for a month in an attempt to prevent his leaving. Bach made the best use of his enforced time. Just as Luther, in hiding at Wartburg Castle, had spent his time translating the Bible into German, so Bach used his time to work on the Orgelbüchlein, now a standard pedagogical work for all organ students.
He left Weimar in 1717 to become court conductor to the Prince of Cothen. Since Bach believed God was at the center of everything, he saw his service at court also as spiritual calling. He identified with the Calvinist Reformed church there, which believed artistic music had no place in the church and that an artist should not depict biblical scenes. It made life difficult not only for Bach, but also for his contemporary Rembrandt.
Another of the tragedies of Bach's lifetime occurred in Cöthen in 1720 when he left to accompany the prince on a musical tour. Upon his return, he learned that his wife Maria Barbara, whom he had married in 1707, was not only dead, but already buried.
In 1721 he married Anna Magdalena, a soprano and "singer to the Prince's Court" of Cöthen. Aged 20, and 16 years his junior, she was the daughter of the court trumpeter of Weissenfels. The pair made several concert tours together, and Bach wrote many arias for her, as well as the Anna Magdalena Notebook.
"Children arrived regularly," observes Karl Geiringer in a classic understatement. Indeed they did. Bach fathered 20 children—7 with Maria Barbara, and 13 with Anna Magdalena. But the mortality rate was extremely high, and ten of the children died in childhood, including twins at birth.
He was "temperate, industrious, devout, a home lover and a family man; genuine, hospitable, and jovial. Frugality and discipline ruled in the Bach home, also unity, laughter, loyalty, and love." Anna Magdalena and the children assisted him by copying out many of his manuscripts.
He referred to all his children as "born musicians." In 1730 he wrote that he was able "to put on a vocal and instrumental concert with my own family." Four sons did have considerable talent and, in the public estimate of the day, overshadowed their father. He even helped his sons get their music printed and sold; but none really could equal him, either musically or personally.
The Leipzig Years
Bach finally left the court at Cothen in 1723 to accept the post of cantor at the Saint Thomas church in Leipzig, a position of significantly lower social status. He was required to take a theological as well as a musical exam. The church at Leipzig never realized what they were getting, nor appreciated what they had. Bach was actually their third choice. One town councilor unhappily commented, "If we can't have the best, we must make do with what there is." Bach wrote his Saint John Passion to demonstrate his ability to write good sacred music, but the church was not satisfied.
He suffered a 75 percent cut in salary when he went to Leipzig, a city he described as having an "excessively high cost of living." Furthermore, since women were not allowed to perform in church, Anna was forced to give up her career and income—which had been half of Sebastian's. The total salary reduction, therefore, was a staggering 83 percent. Even so, the authorities were stingy in remunerating Bach for his phenomenal work. In fact, when he died, the church officials contrived to defraud his widow of as much of his salary as possible; she died ten years later an "almswife," in poverty and neglect.
During his first years in Leipzig, Bach wrote a cantata for nearly every Sunday and every church holiday. In addition to major works such as the Saint John and Saint Matthew Passions, he eventually composed five complete cantata cycles, or nearly 300 cantatas. (A composer today who writes even one cantata a year is considered very productive.)
The main service at Saint Thomas normally ran from 7 to 12 o'clock. The cantata, an essential ingredient of the liturgy, was placed next to the sermon. It followed the pattern of the sermon, being divided into four sections: (1) the introductory text—a quotation from the Bible or a hymn; (2) a poetic exegesis; (3) exhortation in living, usually through a solo; and (4) the chorale as "closing prayer." For his first Christmas in Leipzig, Bach wrote cantatas for Sundays, three feast days, a Magnificat, and a cantata for New Year's Day.
His duties as cantor at Saint Thomas included supervision of the music of the other three principal churches of Leipzig as well. In addition, he taught music and Latin at the Thomasschule (he later managed to be relieved of the Latin duties), where he was third in command. He had a long-running dispute with the prefects over who would appoint the leader of the school music group. From 1734 until his death, he was locked in a bitter struggle with Johann August Ernesti, the new, young rector. It was a conflict that persists to the present for many school teachers: Bach wanted to retain music as a central emphasis in the school's curriculum; Ernesti, reflecting the philosophy of the Enlightenment, wanted to abandon Lutheran orthodoxy with its emphasis on the role of music and place more emphasis on natural sciences and classical languages.
His students had to sing at all funerals, regardless of the weather, and were often forced to go out into the streets to beg. He had to teach three classes at once in a single classroom that also had to function as a dining room. His private study was separated from his sixth-form students by nothing more than a plaster wall, which must have made composing difficult. It was under such conditions that he wrote the Saint Matthew Passion.
Bach preferred to be known in Leipzig by his title as senior musician of the city—director musices—rather than as cantor, for it was closer to his former title of Capellmeister. He was conductor at all municipal events for which music was required, especially the renowned Leipzig trade fair.
In 1730 Bach experienced a real "low," and wrote his now-famous "Outline for a Well-Appointed Church Music." He begged the Leipzig town council for a modest contingent of adequate musicians to perform his music: "The state of music is quite different from what it was, since our artistry has very much increased, and taste has changed astonishingly; accordingly the former style of music no longer pleases our ears, and considerable help is therefore all the more needed." He requested a total of three singers to a part—a total of 12 in the choir—so that he could still perform double choir music if one singer were sick. He evaluated the forces he had available to him: "17 serviceable, 20 not yet serviceable, 17 useless." The council, however, did not understand or heed his request—and probably regarded his remarks as impertinent. They responded by giving him only seven musicians, the fixed number since the seventeenth century when that number had been sufficient. Bach's evaluation was plain: "Discretion forbids me from speaking truth about their qualities and musical knowledge." Fortunately, university students enthusiastically volunteered their services.
Subsequently, Bach wrote a letter to his old friend Georg Erdmann, by then the Imperial Russian ambassador at the court in Danzig. All but disillusioned with church music, he told Erdmann that the change from court conductor to church cantor had seemed wrong to him to start with, and that he had intended to remain in his former position at Cöthen for the rest of his life if it had been possible.
In retrospect, it seems apparent that God had moved him out. While he was still at Cöthen the prince had remarried, to a princess with no musical inclination. Bach feared for his security and his ability to care for his ever-growing family. Indeed, soon after his departure, the splendid music program at the Cöthen court was totally wiped out.
Bach's adversities continued to the end. His eyesight began to fail, and from the summer of 1749 on, he was in a weakened condition and seemingly had little activity. In June of that year, the Leipzig Council approved an especially ungracious resolution that provided for "a test for a future Cantor of St. Thomas's, in case the Capellmeister and Cantor Herr Sebast: Bach should die."
In early 1750, the English oculist who had operated unsuccessfully on Handel happened to be in Leipzig. He operated twice on Bach, but both operations went badly and he was further weakened. On July 18, his sight was suddenly restored, but a few hours later he suffered a stroke. After a second stroke, followed by a raging fever, he died on the evening of July 28, 1750. His final work, dictated from his deathbed, was the uncompleted chorale, "Before Thy Throne I Now Approach."
Surprisingly, Bach left no will, and after his death the sons of Barbara wrangled with the sons of Anna Magdalena over their father's estate. His musical legacy was divided up, fragmented, and much of it lost. Some was sold at a fraction of its value to buy food; some, reportedly, was even used to wrap garbage.
Unappreciated In His Own Time
All too often, men of Bach's stature are scorned and quickly forgotten in their own time. Though he created and immortalized certain church music programs, the church consistory—then, as now—"wished to make the greatest possible use with the smallest possible means." Bach had unending difficulties with the church authorities, who continually carped at the man we recognize today as the world's greatest musical genius. Constantly ungrateful, they could never appreciate the glories he created. During his tenure in Leipzig, over a 25-year period, he created his greatest theological testament, the nonliturgical Mass in B Minor. Shortly after he presented his Saint Matthew Passion—which is now considered to be Western civilization's supreme musical achievement—the church reduced his salary and complained, "Not only does the cantor do nothing, but he is not holding singing lessons."
He was known as the greatest keyboard virtuoso of his day; still, the church authorities griped. "If Bach continues to play in this way," they said, "the organ will be ruined in two years or most of the congregation will be deaf." He was savaged outside the church as well, viciously attacked by exponents of the new Enlightenment as being hopelessly conservative and out of date. Nominated court composer to the King of Poland and Elector of Saxony in 1736, only his position improved, not his problems.
After his death, his works were not considered fit for publication. Felix Mendelssohn finally gave Bach his rightful place. In March 1829, exactly one century after it was first performed, the 20-year-old Mendelssohn gave Bach's Saint Matthew Passion its second performance, and in the process himself became a Christian. The performance started the Bach revival, culminating in 1850 with the founding of the Bach-Gesellschaft, which included among its members Liszt, Schumann, and, later, Brahms.
Bach's Monumental Legacy
During his earliest years, Bach had no particular desire to write music for the choir. His interest in choral music developed while in Mühlhausen, and when he left there, he saw the cultivation of "formal church music" as the "ultimate purpose" of his professional life.
From beginning to end of his career, Bach harmonized the Lutheran chorale; it was foundational to his output. Bach was concerned with the hearers of the Word, and he frequently challenged the listener to respond to God in faith. He recognized the primacy of congregational participation, giving the people a chance to sing their own music at the end of each cantata, and during his Passions. He considered the organist's chief duty to be to accompany the congregation.
Bach used the same musical style for all his works, sacred or secular. I once asked students in a church music class to listen to a Bach cantata—in German, of course—and asked for their reaction. Conditioned to the concept of a "church sound," they responded with insightful statements describing spiritual blessing. They were shocked to discover they had been listening to Bach's cantata extolling the delights of drinking coffee!
Nearly three-fourths of the more than 1,000 compositions Bach is known to have written were intended for use at Christian worship services. He wrote all of his cantatas, motets, and Passions for single performances that he himself conducted. He would be astounded at today's exhaustive repetitions of infinitely inferior materials.
Almost all of two of the yearly cycles have been lost, as well as two additional Passion settings and most of one more, and there are likely many other works of which we know nothing—as, for example, the 33 previously unknown early compositions discovered at the end of last year.
Bach stands as the great divide of music history. Because he so majestically brought together and transcended what had preceded him, those who followed could only strike off in new directions. "He blended all the elements of the past into a perfect whole and opened the way for later developments."
Of all people, Bach himself would be the most surprised to learn that he has given to the church the greatest legacy in music history. During his lifetime he was known more as an incomparable organist than a composer. If he had thought any music would survive, he would have expected it to be some of his instrumental works.
Johann Sebastian Bach, God's greatest musical servant since King David, consistently lived by his musical-theological credo, which he so articulately stated not only for himself, but for generations of Christian musicians who have attempted to follow in his giant footsteps:
The aim and fundamental reason of all music is none other than to be to the glory of God and the recreation of the spirit.
Bach's Saint Matthew Passion: An Incomparable Proclamation of the Gospel
The "Fifth Evangelist" still sings today.
"The supreme cultural achievement of all Western civilization": such is a common estimation by cultural authorities of J. S. Bach's The Passion of Our Lord Jesus Christ According to Saint Matthew. It has never been equalled as a musical expression of the Christian faith. On hearing it in 1870, Nietzsche said, "One who has completely forgotten Christianity truly hears it here as gospel."
Bach intended his Saint Matthew to be a sermon set to music, a service of worship in which all participate, experiencing emotions ranging from sorrow and meditation to quiet joy and reflection. Bach himself selected the 141 Scripture verses from Matthew 26 and 27, and from the Song of Solomon. At strategic points, he interpolated other texts, including 24 chorale stanzas from German Protestant hymnody.
The Passion makes the greatest use of dramatic possibilities. Part One is a lyric prologue to the dramatic crisis of Part Two. The sequence generally moves from narration of Scripture to action to reflection upon the meaning of the action.
Two choirs are used, representing the Old Testament and New Testament believers, and two orchestras. Performers and listeners function equally both as spectators and as participants, and Bach avoids "spectator worship" by having the congregation join in singing the chorales.
Bach had only about 30 singers at his disposal. The total number of performers did not exceed 50 to 60—a reminder that, like Messiah, this is a chamber work. The composer conducted the first performance at Good Friday Vespers on April 15, 1729. The next performance was conducted on March 11, 1829—after nearly a century of neglect—by Felix Mendelssohn, then only 21 years old, with the Berlin Singakademie. The event was a phenomenal success, and began the revival of interest in Bach. Until this time, he had not been considered a master of religious music!
Part I: Conspiracy to Arrest
No. 1 Prologue
This is a call to meditate upon the events and meaning of Christ's suffering and death. The words, drawn from Song of Solomon, create an immediate sense of intense love and devotion, heightening the expression of anguish and sorrow over the supreme expression of Divine Love—the Bridegroom giving his life for his bride. It invites us to join in the mourning, a reflection of the old German custom of relatives who "help" wail over the body of the loved one.
Nos. 2–3 Introduction
Traditionally, Passions began with the text following our Lord's Olivet Discourse, "And when Jesus had finished all these sayings."
Nos. 4–12 Conspiracy and Anointing
Bach portrays the fear of the conspirators (Luke 22:2), the anointing of Jesus (6–8), and our responses (9–10). In "Bleed and Break" (12), Bach displays heart-rending emotion for the betrayed Savior.
Nos. 13–19 The Last Supper
In a classic example of musical symbolism (15), Bach represents the faithful disciples by stating their question, "Lord, is't I?," only 11 times: three times in each voice part except for only two in the bass—for Judas is a bass. The chorale (16) "O Welt, sieh hier dein Leben" (O world, see here thy life), by Paul Gerhardt, reminds us it is each of us who is actually guilty. Christ explains the meaning of the Communion table (17), and statements of personal trust in him follow (18–19).
Nos. 20–34 The Garden of Gethsemane
Jesus and his disciples ascend the Mount of Olives where he is violently arrested, and the disciples dispersed (20). Then follows the "Passion Chorale," Paul Gerhardt's great hymn "O Sacred Head, Now Wounded" (21), in the first of five appearances (the others are 23, 63, 72, and 53).
Nos. 25 and 26 portray the anguish of our Lord's sorrow in the garden, Then the arrest is dramatized in 32–34. In 33, the section beginning "Have lightning and thunder from heaven all vanished?" is one of the most dramatic moments in baroque literature, a desperate cry to heaven to strike down Judas and the soldiers. The silence from heaven is represented by a dramatic pause. An impassioned appeal is then made for hell to open up and swallow these fiends into the fiery abysses.
No. 35 Call to Repentance
The invitation chorale, "O Mensch, bewein dein Sünde gross" (O man, bewail thy grievous sin), is a powerful, emotional close to Part I.
Part II: Trial to Burial
No. 36 Prologue
This text, from Song of Solomon 6:1, contrasts the end of Part I, when all the disciples fled: now the believer seeks Christ.
Nos. 37–48 The Trial Before the High Priest
Bach imitates the crowing of the cock and represents Peter's bitter weeping as he contemplates his three denials of Jesus (46). In the elaborate weeping in the aria (47), the believer identifies with Peter. The chorale (48) relates Christ's denial, and his mercy to every individual.
Nos. 49–63 Trial Before Pilate
Bach set the cry "Let Him be crucified" in a manner both rhythmically and harmonically violent. Graphically representing the whipping (60) and the soldiers' mocking (62), Bach then expresses the depth of our awareness of personal responsibility (63). The Passion Chorale's title words, "O Sacred Head, Now Wounded," appear here.
Nos. 64–75 Crucifixion
Vividly, Bach portrays the rending of the temple veil, the earthquake, and the opening of the graves (73). The phrase "Truly, this was the Son of God" stands as the climax of the Passion—perhaps the two greatest measures in all of Bach's music. He then extends another of his many invitations (75).
Nos. 76–78 Burial and Consecration
The burial accomplished (76), we bid the Savior a temporary farewell (77). There is then a supremely sublime love lullaby (78)—a burial custom of Bach's time—that looks forward to Christ's awakening on Easter morning.
The Passion concludes without a sense of finality—a reminder that the Resurrection is soon.
Have something to add about this? See something we missed? Share your feedback here.
Our digital archives are a work in progress. Let us know if corrections need to be made.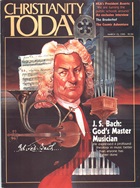 This article is from the March 15 1985 issue.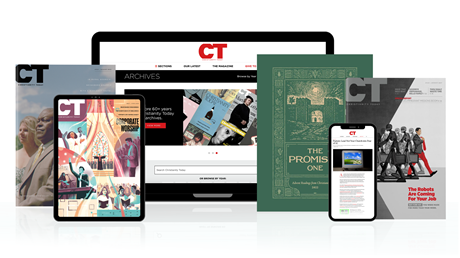 Subscribe to Christianity Today and get access to this article plus 65+ years of archives.
Home delivery of CT magazine
Complete access to articles on ChristianityToday.com
Over 120 years of magazine archives plus full access to all of CT's online archives
Subscribe Now
J. S. Bach: God's Master Musician
J. S. Bach: God's Master Musician