This baby has taken America by the shoulders and given us a good shake.
These remarks by U.S. Surgeon General C. Everett Koop were adapted from a speech presented to the Committee of Hospital Care of the American Academy of Pediatrics on September 19, 1984, in Chicago.
Baby Doe has figuratively taken America by the shoulders—and given us all a good shake. He asks us to confess how we really feel about our fellow human beings. He prods us into revealing whether or not we are the friends of the helpless, the weak, the hurt, the injured, the troubled. Indeed, he challenges us all.
Baby Doe reminded the medical establishment that while we cannot always find a cure, we can offer patients something else just as valuable. We can offer genuine care. Our patients may still need us as people, even though we can't do very much for them as physicians.
That's an important message. But it is a demanding one. It demands that we lay aside our medical texts, sit down, and work through those questions and answers that are spun out of the depths of our conscience. My considered judgment, worked out over some years, tells me we ought to do those things that give a person all the life to which he or she is entitled, but not to do anything that would vainly extend that person's act of dying.
I was asked to do some long-distance hypothesizing about Baby Doe's chances, but refused. I believed then, and I believe more intensely now, that these problems can best be answered by clear-thinking, responsible people who are right there on the scene.
Baby Doe did not fit neatly into any of our legal pigeonholes. His was not a straightforward case of child abuse and neglect in which a normal, healthy child is the victim of parental violence. The key to this case was the child's handicapping condition. Had Baby Doe only had Down's syndrome, he would have been nourished and cared for. Had he only had esophageal atresia, he would have been operated on and cured. However, he had both and neither was treated. And this is what made Baby Doe newsworthy, what made the circumstances particularly troubling. This is what stimulated a number of people in Indiana, in Washington, and elsewhere in the country to think about Baby Doe as a victim of discrimination.
A number of people said the government had no right to interfere in a matter that was the sole responsibility of the parents and the attending physicians. Yet there are truancy laws, child abuse laws, immunization laws, and so on, where the state's right to interfere is never seriously challenged. Those laws are accepted because, for the most part, they concern children who are no longer infants.
If the Baby Does of this world were 35 years old, they would have a national advocacy organization and a strong congressional lobby. Unfortunately, they are too small, too weak, too poor.
Baby Doe's life began with many tragic complications. But none of those handicaps put him outside the protection of the law. None of them relieved the state of its obligation to protect him. None of them permitted anyone to further jeopardize his health or his life.
One concept I repeated over and over caught hold in the years 1947 through 1967, but then began to fade. This was the idea that youngsters born with congenital anomalies could be aggressively treated; that the community support systems existed to help them; and that the role of parental love could do far more than the pessimistic assumptions of many physicians.
But sometime after 1967 the "quality of life" ethic overtook the traditional "equality of life" ethic handed down by Hippocrates. And then infanticide not only occurred, but was openly supported and went unchecked and unquestioned. Oddly enough, it "peaked out" and began to decline before Baby Doe arrived in Bloomington.
When we say "Baby Doe has a life that's not worth living," are we not really saying, "It's not worth our effort to care for him"? The lives of health professionals and of parents of the disabled are remarkably shaped by the care we give the handicapped. My 40 years of hands-on experience has convinced me that all aspects of medical ethics are dwarfed by the question: "How ought we to care for those who cannot—in one way or in every way—care for themselves?"
When we have settled that question, we can then turn to the others: finances, resources, committees, and so on. No one said it would be easy. I'm not even saying it can be objective. What I am saying is that the quality of life we talk so much about is nowhere as important as in the reflection these decisions make in the quality of our own lives.
Have something to add about this? See something we missed? Share your feedback here.
Our digital archives are a work in progress. Let us know if corrections need to be made.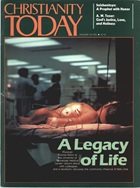 This article is from the January 18 1985 issue.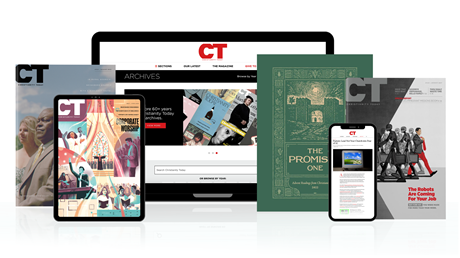 Annual & Monthly subscriptions available.
Print & Digital Issues of CT magazine
Complete access to every article on ChristianityToday.com
Unlimited access to 65+ years of CT's online archives
Member-only special issues
Subscribe
The Surgeon General Speaks out on Baby Doe
The Surgeon General Speaks out on Baby Doe