The attorney general of Maryland, Stephen H. Sachs, has issued a challenge to a federal law that allows student-initiated religious meetings in public high schools. His 31-page opinion, written in response to a controversy in a Balti-more-area school, says the law is unconstitutional and "simplistic." The statement is significant because it increases the likelihood that the U.S. Supreme Court will agree to rule on the landmark Williamsport, Pennsylvania, case that prompted Congress last summer to pass the law, called the Equal Access Act (CT, Sept. 7, 1984, p. 77).
Sachs defined a "First Amendment meridian" that distinguishes between a school's "passive toleration" of student religious meetings on the one hand and its "underwriting, sponsorship, or recognition of such activity" on the other. In order to maintain the state neutrality the Constitution requires, he said, school officials must remain rigorously separate from free-time religious activities such as Bible study groups. They may not schedule the meetings, grant permission for the use of school facilities, allow announcements or other communications about the meetings, or attend or monitor them.
When students request permission to hold a religious meeting, Sachs said a school principal's only appropriate response is: " 'What you do with your free time is for you to decide, not us.' " At the same time, school officials may not "police the private utterances and exchanges of students, in order to ferret out and suppress voluntary religious practices." If students are reading and discussing the Bible at lunch time in the cafeteria, for example, they must be allowed to do so.
"We are in an area of the law when it often seems necessary to say two contradictory things at once," Sachs's guidelines conclude. "But the abiding principle is that the price of religious liberty is official neutrality." He said he rejects the Equal Access Act because it was "designed with a specific, sectarian purpose in mind: to enhance the status of religious meetings in public secondary schools."
His opinion addresses both the free exercise rights of students and their free speech rights, which formed the basis of the law. Citing legal precedent, Sachs said the freedom to hold religious beliefs is absolute, but the freedom to act on those beliefs is not. Because students have ample opportunity at home and in church to pursue religious activities, he said, schools do not infringe on rights of free exercise by prohibiting student religious meetings.
However, the equal access debate in Congress centered on free speech rights of students because, in the Williamsport case, a Bible club was the only extracurricular pursuit disallowed due to the subject matter being discussed. A lower court decision against the students, along with other rulings prohibiting such meetings, have led some school officials to prohibit all forms of private religious expression. Those prohibitions have included a student saying grace before lunch, the use of a rosary on a school bus, and student research papers on religious topics.
A petition filed with the U.S. Supreme Court by the Christian Legal Society (CLS) said such actions damage students' rights of freedom of religious speech and association and diminish the "respect many students previously had for their school authorities." The CLS petition urged the high court to review the Williamsport case, and U.S. Solicitor General Rex E. Lee endorsed the petition in an unusual request to the Court. The Court's answer is expected by mid-January.
Sachs's substantial disagreements with the Equal Access Act mean the Supreme Court is likely to take up the case. CLS lawyers who are representing the Williamsport students say the Sachs opinion bolsters their reasons for filing an appeal. "The heart of our argument is that there is confusion among lower courts, school administrators, attorneys general, and students," said Samuel Ericsson of CLS.
Ericsson said the Sachs statement is disturbing in its assessment of the Equal Access Act because it "treats an act of Congress as though it had no more weight than a resolution passed by a junior high student council. His position is that it is not really law until the courts have ruled on it.
The Equal Access Act was formulated in response to situations around the country in which students were prevented from holding religious meetings, often because school administrators feared a court challenge from aggressive civil liberties groups. Sponsored by U.S. Sen. Mark O. Hatfield (R-Oreg.) and U.S. Rep. Don Bonker (D-Wash.), the bill became law in August.
NORTH AMERICAN SCENE
A California Superior Court judge has refused to allow a 13-year-old boy to live with either his homosexual father or his evangelical Christian mother. Judge Judith McConnell said Betty Lou Batey had harmed her son, Brian, by viewing him as "her protector." The judge did not give custody to the father, Frank Batey, because the boy threatened to run away if he were placed with his father.
A New York State Supreme Court justice has upheld a city resolution that bans discrimination against homosexuals in hiring by social-service agencies that do business with New York City. The Roman Catholic Archdiocese of New York and the Salvation Army had brought suit against the resolution, calling it an illegal exercise of legislative power. Justice David Saxe ruled against the churches, finding that the nondiscrimination order was in accordance with the equal-protection clauses of the U.S. and New York State constitutions. The ruling affects the Catholic archdiocese and the Salvation Army because they provide social services for New York City.
Federal investigators have found no evidence of a national conspiracy behind the bombing and burning of abortion clinics. Representatives of three federal agencies said they did not view the attacks as "terrorist" incidents or as criminal violations of laws protecting civil rights. However, the officials said the attacks might violate other federal criminal laws. Since March 1982, the Bureau of Alcohol, Tobacco and Firearms has investigated 25 incidents of arson or bombing at abortion clinics and related facilities.
According to a recent survey, 31 percent of seventh-grade students in New York State said they used illicit drugs before entering seventh grade. Officials attributed the findings to the easy availability of drugs, changing values, and reduced federal commitments to combat drug abuse. In a separate survey, 11 percent of New York State high school and junior high school students described themselves as "hooked" on alcohol. The survey estimated that 53 percent of the state's secondary-school students were drunk at least once in the last year.
WORLD SCENE
The General Synod of the Church of England has voted to permit the eventual ordination of women to the priesthood. The decision must be approved by 51 percent of the Anglican dioceses and given final approval by the synod. Then it would be submitted to a vote of the British Parliament.
Desmond Tutu, winner of last year's Nobel Peace Prize, has become the firstblack Anglican bishop of Johannesburg, South Africa. A bishops' synod made the appointment after white Anglicans reportedly blocked Tutu's election at a diocesan synod. The bishop is an outspoken critic of apartheid, South Africa's policy of racial segregation.
East German authorities ordered a weekly Lutheran newspaper to change a news story before publication. The censored article originally told about Luthern Synod decisions concerning environmental issues and new nuclear missiles in Europe. In recent months authorities have forced other church newspapers to withdraw or reprint issues.
Islam, the world's fastest-growing religion, claims close to 1 billion adherents, a figure equal to the number of Christians in the world. Islam has increased by about 500 percent since 1934. During the same period, Christianity grew by 47 percent. Hinduism claims 500 million followers, Buddhism claims 245 million, and Judaism claims about 15 million.
The Italian government and the Vatican signed an accord that will end state subsidies for clergy salaries and will tighten tax benefits for church institutions. The accord was added to an agreement signed last year that ended the role of Roman Catholicism as the state religion of Italy.
Members of the Church of England's House of Bishops reaffirmed their belief in the Incarnation and the Resurrection. In recent months, controversy has raged over whether the Anglican confession, representing 67 million adherents worldwide, is departing from traditional Christian beliefs. The bishops' statement came in the wake of a British television report claiming that one-third to one-half of the 31 Anglican bishops it surveyed held liberal theological views.
Members Of Congress Hold Ties To 21 Religious Groups
Members of the U.S. Senate and House of Representatives include more Catholics, Methodists, Episcopalians, and Baptists in their ranks than the last Congress. The Washington-based Americans United for Separation of Church and State (AU) surveyed the religious affiliations of members of the Ninety-ninth Congress.
Twenty-one different religious affiliations are represented, and only three of the 535 members claim no ties to any faith group. The Roman Catholic church has nearly twice the number of adherents in Congress as any Protestant group, with 142. That is an increase of one, following the November elections.
United Methodists gained three for a total of 76; Episcopalians added six, bringing their numbers to 67; and Presbyterians retained the same number, with 56. Baptists, including a variety of denominations with "Baptist" in their name, increased their numbers from 46 to 49.
There are 38 Jewish members of Congress, 23 Lutherans, and 22 who identify themselves only as Protestants. Mormons number 12, and Unitarian Universalists, 9. Members listed in italic type are Republicans.
ALABAMA
Senators:
Howell Heflin (M)
Jeremiah Denton (RC)
Representatives:
H. L. Callahan (RC)
William Dickinson (M)
Bill Nichols (M)
Tom Bevill (B)
Ronnie Flippo (CC)
Ben Erdreich (J)
Richard Shelby (P)
ALASKA
Senators:
Frank Murkowski (RC)
Ted Stevens (E)
Representative:
Don Young (E)
ARIZONA
Senators:
Dennis DeConcini (RC)
Barry Goldwater (E)
Representatives:
John McCain (E)
Morris Udall (LDS)
Bob Stump (SDA)
Eldon Rudd (RC)
Jim Kolbe (M)
ARKANSAS
Senators:
Dale Bumpers (M)
David Pryor (P)
Representatives:
Bill Alexander (E)
Tommy Robinson (M)
John Hammerschmidt (P)
Beryl Anthony (E)
CALIFORNIA
Senators:
Alan Cranston (PR)
Pete Wilson (PR)
Representatives:
Douglas Bosco (E)
Eugene Chappie (RC)
Robert Matsui (M)
Vic Fazio (E)
Sala Burton (J)
Barbara Boxer (J)
George Miller (RC)
Ronald Dellums (PR)
Fortney Stark (U)
Don Edwards (U)
Tom Lantos (J)
Ed Zschau (UCC)
Norman Mineta (M)
Norman Shumway (LDS)
Tony Coelho (RC)
Leon Panetta (RC)
Charles Pashayan, Jr. (E)
Richard Lehman (L)
Robert Lagomarsino (RC)
William Thomas (B)
Bobbi Fiedler (J)
Carlos Moorhead (P)
Anthony Beilenson (J)
Henry Waxman (J)
Edward Roybal (RC)
Howard Berman (J)
Mel Levine (J)
Julian Dixon (E)
Augustus Hawkins (M)
Matthew Martinez (RC)
Mervyn Dymally (E)
Glenn Anderson (E)
David Dreier (CS)
Esteban Torres (N)
Jerry Lewis (P)
George Brown, Jr. (M)
Al McCandless (PR)
Robert Dornan (RC)
William Dannemeyer (L)
Robert Badham (L)
Bill Lowery (RC)
Dan Lungren (RC)
Ron Packard (LDS)
Jim Bates (PR)
Duncan Hunter (B)
COLORADO
Senators:
Gary Hart (P)
William Armstrong (L)
Representatives:
Patricia Schroeder (UCC)
Timothy Wirth (E)
Michael Strang (E)
Hank Brown (UCC)
Ken Kramer (J)
Dan Schaefer (RC)
CONNECTICUT
Senators:
Christopher Dodd (RC)
Lowell Weicker, Jr. (E)
Representatives:
Barbara Kennelly (RC)
Samuel Gejdenson (J)
Bruce Morrison (L)
Stewart McKinney (E)
John Rowland (RC)
Nancy Johnson (U)
DELAWARE
Senators:
Joseph Biden, Jr. (RC)
William Roth, Jr. (E)
Representative:
Thomas Carper (P)
FLORIDA
Senators:
Lawton Chiles (P)
Paula Hawkins (LDS)
Representatives:
Earl Hutto (B)
Don Fuqua (P)
Charles Bennett (DC)
Bill Chappell, Jr. (M)
Bill McCollum (E)
Kenneth MacKay (P)
Sam Gibbons (P)
C. W. Young (M)
Michael Bilirakis (EO)
Andy Ireland (E)
Bill Nelson (E)
Tom Lewis (M)
Connie Mack III (RC)
Daniel Mica (RC)
Clay Shaw (RC)
Larry Smith (J)
William Lehman (J)
Claude Pepper (B)
Dante Fascell (PR)
GEORGIA
Senators:
Sam Nunn (M)
Mack Mattingly (E)
Representatives:
Lindsay Thomas (M)
Charles Hatcher (E)
Richard Ray (M)
Patrick Swindall (P)
Wyche Fowler (P)
Newt Gingrich (B)
George Darden (M)
J. Roy Rowland (M)
Ed Jenkins (B)
Doug Barnard (B)
HAWAII
Senators:
Daniel Inouye (M)
Spark Matsunaga (E)
Representatives:
Cecil Heftel (LDS)
Daniel Akaka (UCC)
IDAHO
Senators:
James McClure (M)
Steven Symms (FM)
Representatives:
Larry Craig (M)
Richard Stallings (LDS)
ILLINOIS
Senators:
Alan Dixon (P)
Paul Simon (L)
Representatives:
Charles Hayes (B)
Gus Savage (B)
Marty Russo (RC)
George O'Brien (RC)
William Lipinski (RC)
Henry Hyde (RC)
Cardiss Collins (B)
Dan Rostenkowski (RC)
Sidney Yates (J)
John Porter (P)
Frank Annunzio (RC)
Philip Crane (PR)
Harris Fawell (M)
John Grotberg (M)
Edward Madigan (RC)
Lynn Martin (RC)
Lane Evans (RC)
Robert Michel (AC)
Terry Bruce (M)
Richard Durbin (RC)
Melvin Price (RC)
Kenneth Gray (B)
INDIANA
Senators:
Richard Lugar (M)
Dan Quayle (BC)
Representatives:
Peter Visclosky (RC)
Philip Sharp (M)
John Hiler (RC)
Daniel Coats (B)
Elwood Hillis (P)
Dan Burton (PR)
John Myers (E)
Francis McCloskey (RC)
Lee Hamilton (M)
Andy Jacobs, Jr. (RC)
IOWA
Senators:
Charles Grassley (B)
Tom Harkin (RC)
Representatives:
Jim Leach (E)
Tom Tauke (RC)
Cooper Evans (M)
Neal Smith (M)
Jim Lightfoot (RC)
Berkley Bedell (M)
KANSAS
Senators:
Robert Dole (M)
Nancy Kassebaum (E)
Representatives:
Pat Roberts (M)
Jim Slattery (RC)
Jan Meyers (M)
Dan Glickman (J)
Robert Whittaker (DC)
KENTUCKY
Senators:
Wendell Ford (B)
Mitch McConnell (B)
Representatives:
Carroll Hubbard, Jr. (B)
William Natcher (B)
Romano Mazzoli (RC)
Gene Snyder (L)
Harold Rogers (B)
Larry Hopkins (M)
Chris Perkins (B)
LOUISIANA
Senators:
J. Bennett Johnston, Jr. (B)
Russell Long (M)
Representatives:
Robert Livingston (E)
Lindy Boggs (RC)
W. J. Tauzin (RC)
Buddy Roemer (M)
Jerry Huckaby (M)
W. Henson Moore (E)
John Breaux (RC)
Gillis Long (B)
MAINE
Senators:
William Cohen (U)
George Mitchell (RC)
Representatives:
John McKernan, Jr. (PR)
Olympia Snowe (EO)
MARYLAND
Senators:
Charles McC. Mathias, Jr. (E)
Paul Sarbanes (EO)
Representatives:
Roy Dyson (RC)
Helen Bentley (EO)
Barbara Mikulski (RC)
Marjorie Holt (P)
Steny Hoyer (B)
Beverly Byron (E)
Parren Mitchell (E)
Michael Barnes (PR)
MASSACHUSETTS
Senators:
Edward Kennedy (RC)
John Kerry (RC)
Representatives:
Silvio Conte (RC)
Edward Boland (RC)
Joseph Early (RC)
Barney Frank (J)
Chester Atkins (U)
Nicholas Mavroules (EO)
Edward Markey (RC)
Thomas O'Neill, Jr. (RC)
Joe Moakley (RC)
Gerry Studds (E)
Brian Donnelly (RC)
MICHIGAN
Senators:
Carl Levin (J)
Donald Riegle, Jr. (M)
Representatives:
John Conyers, Jr. (B)
Carl Pursell (PR)
Howard Wolpe (J)
Mark Siljander (PR)
Paul Henry (CR)
Bob Carr (B)
Dale Kildee (RC)
Bob Traxler (E)
Guy Vander Jagt (P)
Bill Schuette (E)
Robert Davis (E)
David Bonior (RC)
George Crockett, Jr. (B)
Dennis Hertel (RC)
William Ford (UCC)
John Dingell (RC)
Sander Levin (J)
William Broomfield (P)
MINNESOTA
Senators:
Rudy Boschwitz (J)
David Durenberger (RC)
Representatives:
Timothy Penny (L)
Vin Weber (RC)
Bill Frenzel (N)
Bruce Vento (RC)
Martin Olav Sabo (L)
Jerry Sikorski (RC)
Arlan Strangeland (L)
James Oberstar (RC)
MISSISSIPPI
Senators:
John Stennis (P)
Thad Cochran (B)
Representatives:
Jamie Whitten (P)
Webb Franklin (E)
G. V. Montgomery (E)
Wayne Dowdy (M)
Trent Lott (B)
MISSOURI
Senators:
John Danforth (E)
Thomas Eagleton (RC)
Representatives:
William Clay (RC)
Robert Young (RC)
Richard Gephardt (B)
Ike Skelton (DC)
Alan Wheat (CC)
E. Thomas Coleman (PR)
Gene Taylor (M)
Bill Emerson (P)
Harold Volkmer (RC)
MONTANA
Senators:
Max Baucus (UCC)
John Melcher (RC)
Representatives:
Pat Williams (RC)
Ron Marlenee (L)
NEBRASKA
Senators:
J. James Exon (E)
Edward Zorinsky (J)
Representatives:
Douglas Bereuter (L)
Hal Daub (P)
Virginia Smith (M)
NEVADA
Senators:
Jacob Hecht (J)
Paul Laxalt (RC)
Representatives:
Harry Reid (LDS)
Barbara Vucanovich (RC)
NEW HAMPSHIRE
Senators:
Gordon Humphrey (B)
Warren Rudman (J)
Representatives:
Robert Smith (UCC)
Judd Gregg (UCC)
NEW JERSEY
Senators:
Bill Bradley (PR)
Frank Lautenberg (J)
Representatives:
James Florio (RC)
William Hughes (E)
James Howard (RC)
Christopher Smith (RC)
Marge Roukema (PR)
Bernard Dwyer (RC)
Matthew Rinaldo (RC)
Robert Roe (RC)
Robert Torricelli (M)
Peter Rodino, Jr. (RC)
Dean Gallo (M)
Jim Courter (M)
James Saxton (PR)
Frank Guarini (RC)
NEW MEXICO
Senators:
Pete Domenici (RC)
Jeff Bingaman (M)
Representatives:
Manuel Lujan, Jr. (RC)
Joe Skeen (RC)
Bill Richardson (RC)
NEW YORK
Senators:
Alfonse D'Amato (RC)
Daniel Moynihan (RC)
Representatives:
William Carney (RC)
Thomas Downey (M)
Robert Mrazek (M)
Norman Lent (M)
Raymond McGrath (RC)
Joseph Addabbo (RC)
Gary Ackerman (J)
James Scheuer (J)
Thomas Manton (RC)
Charles Schumer (J)
Edolphus Towns (P)
Major Owens (B)
Stephen Solarz (J)
Guy Molinari (RC)
S. William Green (J)
Charles Rangel (RC)
Ted Weiss (J)
Robert Garcia (PE)
Mario Biaggi (RC)
Joseph Dioguardi (RC)
Hamilton Fish, Jr. (E)
Benjamin Gilman (J)
Samuel Stratton (P)
Gerald Solomon (P)
Sherwood Boehlert (RC)
David Martin (RC)
George Wortley (RC)
Matthew McHugh (RC)
Frank Horton (P)
Fred Eckert (RC)
Jack Kemp (P)
John LaFalce (RC)
Henry Nowak (RC)
Stanley Lundine (PR)
NORTH CAROLINA
Senators:
John East (M)
Jesse Helms (B)
Representatives:
Walter Jones (B)
I T. Valentine, Jr. (B)
Charles Whitley (B)
William Cobey (PR)
Stephen Neal (E)
Howard Coble (P)
Charles Rose (P)
W. G. Hefner (B)
Alex McMillan (P)
James Broyhill (B)
Bill Hendon (E)
NORTH DAKOTA
Senators:
Mark Andrews (E)
Quentin Burdick (UCC)
Representative:
Byron Dorgan (L)
OHIO
Senators:
John Glenn (P)
Howard Metzenbaum (J)
Representatives:
Thomas Luken (RC)
Bill Gradison (J)
Tony Hall (P)
Michael Oxley (L)
Delbert Latta (CC)
Bob McEwen (CC)
Michael DeWine (RC)
Thomas Kindness (P)
Marcy Kaptur (RC)
Clarence Miller (M)
Dennis Eckart (RC)
John Kasich (RC)
Don Pease (PR)
John Seiberling (P)
Chalmers Wylie (M)
Ralph Regula (E)
James Traficant (RC)
Douglas Applegate (P)
Edward Feighan (RC)
Mary Rose Oakar (RC)
Louis Stokes (M)
OKLAHOMA
Senators:
David Boren (M)
Don Nickles (RC)
Representatives:
James Jones (RC)
Mike Synar (E)
Wes Watkins (P)
Dave McCurdy (L)
Mickey Edwards (E)
Glenn English (M)
OREGON
Senators:
Mark Hatfield (B)
Robert Packwood (U)
Representatives:
Les AuCoin (PR)
Bob Smith (P)
Ron Wyden (J)
James Weaver (PR)
Danny Smith (B)
PENNSYLVANIA
Senators:
H. John Heinz III (E)
Arlen Specter (J)
Representatives:
Thomas Foglietta (RC)
William Gray III (B)
Robert Borski (RC)
Joseph Kolter (RC)
Richard Schultze (P)
Gus Yatron (EO)
Robert Edgar (M)
Peter Kostmayer (E)
Bud Shuster (UCC)
Joseph McDade (RC)
Paul Kanjorski (RC)
John Murtha (RC)
Lawrence Coughlin (E)
William Coyne (RC)
Donald Ritter (U)
Robert Walker (P)
George Gekas (EO)
Doug Walgren (RC)
Bill Goodling (M)
Joseph Gaydos (RC)
Thomas Ridge (RC)
Austin Murphy (RC)
William Clinger, Jr. (P)
RHODE ISLAND
Senators:
John Chafee (E)
Claiborne Pell (E)
Representatives:
Fernand St. Germain (RC)
Claudine Schneider (RC)
SOUTH CAROLINA
Senators:
Ernest Hollings (L)
Strom Thurmond (B)
Representatives:
Thomas Hartnett (RC)
Floyd Spence (L)
Butler Derrick (E)
Carroll Campbell (E)
John Spratt (P)
Robert Tallon, Jr. (M)
SOUTH DAKOTA
Senators:
James Abdnor (M)
Larry Pressler (RC)
Representative:
Thomas Daschle (RC)
TENNESSEE
Senators:
Albert Gore, Jr. (B)
Jim Sasser (M)
Representatives:
James Quillen (M)
John Duncan (P)
Marilyn Lloyd (CC)
Jim Cooper (E)
Bill Boner (M)
Bart Gordon (M)
Don Sundquist (L)
Ed Jones (P)
Harold Ford (B)
TEXAS
Senators:
Lloyd Bentsen (P)
Phil Gramm (E)
Representatives:
Sam Hall, Jr. (CC)
Charles Wilson (M)
Steve Bartlett (P)
Ralph Hall (M)
John Bryant (M)
Joe Barton (M)
Bill Archer (RC)
Jack Fields (B)
Jack Brooks (M)
J. J. Pickle (M)
Marvin Leath (P)
Jim Wright (P)
Beau Bolter (BC)
Mac Sweeney (M)
E. Kika de la Garza (RC)
Ronald Coleman (P)
Charles Stenholm (L)
Mickey Leland (RC)
Larry Combest (M)
Henry Gonzalez (RC)
Tom Loeffler (L)
Tom Delay (B)
Albert Bustamante (RC)
Martin Frost (J)
Mike Andrews (M)
Richard Armey (P)
Solomon Ortiz (M)
UTAH
Senators:
Jake Garn (LDS)
Orrin Hatch (LDS)
Representatives:
James Hansen (LDS)
David Monson (LDS)
Howard Nielson (LDS)
VERMONT
Senators:
Patrick Leahy (RC)
Robert Stafford (UCC)
Representative:
James Jeffords (UCC)
VIRGINIA
Senators:
Paul Trible, Jr. (E)
John Warner (E)
Representatives:
Herbert Bateman (P)
G. Wm. Whitehurst (M)
Thomas Bliley, Jr. (RC)
Norman Sisisky (J)
Dan Daniel (B)
James Olin (U)
French Slaughter (E)
Stan Parris (E)
Frederick Boucher (M)
Frank Wolf (P)
WASHINGTON
Senators:
Daniel Evans (UCC)
Slade Gorton (E)
Representatives:
John Miller (J)
Allan Swift (U)
Don Bonker (P)
Sid Morrison (M)
Thomas Foley (RC)
Norman Dicks (L)
Mike Lowry (B)
Rodney Chandler (P)
WEST VIRGINIA
Senators:
Robert Byrd (B)
Jay Rockefeller (P)
Representatives:
Alan Mollohan (B)
Harley Staggers, Jr. (RC)
Bob Wise (E)
Nick Rahall II (P)
WISCONSIN
Senators:
Robert Kasten, Jr. (E)
William Proxmire (UCC)
Representatives:
Les Aspin (E)
Robert Kastenmeier (N)
Steve Gunderson (L)
Gerald Kleczka (RC)
Jim Moody (PR)
Thomas Petri (L)
David Obey (RC)
Toby Roth (RC)
F. James Sensenbrenner (E)
WYOMING
Senators:
Alan Simpson (E)
Malcolm Wallop (E)
Representative:
Dick Cheney (M)
Correction
In a November 9, 1984, news article, CHRISTIANITY TODAY misstated the projected number of voters registered by the American Coalition for Traditional Values (ACTV). With 15 percent of the group's registration sites reporting 250,000 registrants, the projected total was 2 million. Further, ACTV was staffed by eight field directors and 305 chapter chairmen.
Have something to add about this? See something we missed? Share your feedback here.
Our digital archives are a work in progress. Let us know if corrections need to be made.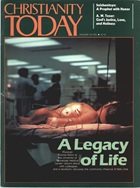 This article is from the January 18 1985 issue.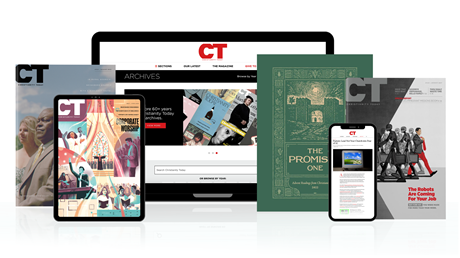 Annual & Monthly subscriptions available.
Print & Digital Issues of CT magazine
Complete access to every article on ChristianityToday.com
Unlimited access to 65+ years of CT's online archives
Member-only special issues
Subscribe
Maryland Official Challenges a Law that Allows Religious Meetings in High Schools
Maryland Official Challenges a Law that Allows ...