American Baptists: Piety Revisited
The sweetest convention in years. That was the consensus of the 2,800 delegates and 1,150 registered visitors to the first biennial meeting of the 1.5-million-member American Baptist Churches in the U. S. A. at Lincoln, Nebraska. (Until restructure last year, it was the American Baptist Convention, with annual meetings.)
For one thing, there wasn't much to argue about. In many of the conventions during the past decade, delegates had slugged it out in verbal skirmishes over social-action resolutions. Under restructure, there are no resolutions, only "statements of concern," non-controversially stated, to be studied by the churches for the next two years. Because of Watergate, the delegates did feel constrained to adopt a "statement of immediate concern" that approached resolution status. In it they called on President Nixon to provide leadership that is open, direct, and honest; on Congress to reassert its leadership role in government; and on Americans in general to vote and to keep in touch with their political leaders.
There was really only one major moment of tension on the floor. A number of delegates disapproved the selection (made by a committee months ago) of Yale chaplain William Sloane Coffin, the anti-war activist and long-time opponent of the Yale Christian Fellowship, to receive the denomination's peace award. This was settled amiably when southern California pastor Earl Riley, leader of an evangelical lobby known as the American Baptist Fellowship, proposed that the constituency be permitted a voice in the selection next time. Embarrassed officials unofficially agreed. Also, dissidents merely boycotted the afternoon award session where Coffin gave his acceptance speech. "I'm impressed that you let your generosity outstrip your judgment," he quipped to the few hundred who attended. Then he went on to plead that room be made for God in American policy. (Coffin had flown from Chicago on the same plane as evangelist Leighton Ford, who addressed one of the main sessions. Ford said their encounter on the plane was "one of the best arguments I ever had," and he paid gentle tribute to Coffin's emphasis on the social side of the Gospel.)
Another minor ruckus involved self-avowed homosexual American Baptist minister Rodger Harrison, pastor of a "gay" congregation, Christ Chapel in Costa Mesa, California. Harrison, formerly pastor to the American diplomatic community in Moscow and associated with Troy Perry's 800-member Metropolitan Community Church for homosexuals in Los Angeles, called a meeting on the University of Nebraska campus to present his case: that the "straight" membership should accept the gays and, by implication, homosexual behavior. Of the 150 who showed up, most turned out to be straights intent on showing Harrison the error of his way. (Harrison told reporters his church had applied for membership in the ABC, but an executive with the ABC's southern California unit said that no application had been received and that an application from such a group would probably have little chance of approval.)
In what may be a first for church conventions. TV color cameras and a large projection screen at the front of the auditorium were used to bring speakers and audience closer together.
Few matters of business were on the agenda. (A 200-member general board of regionally elected representatives that meets twice yearly takes care of most housekeeping now.) The delegates voted 1,382 to 813 to change ABC by-laws to permit increased cooperation with the 200,000-member Church of the Brethren, with whom low-key unity talks have been going on for years. In the only other major action, they elected Ottawa (Kansas) University president Peter Armacost, 37, as ABC president, effective January 1.
Armacost said he sensed a hunger among the ABC membership for spiritual renewal. Indeed, sensitivity toward spiritual renewal was a heavy emphasis at platform level. Outgoing president Gene E. Bartlett, a pastor of Newton Centre, Massachusetts, declared in his keynote speech that Key 73 "has been accepted more readily and more heartily than any program within our recent history." But, said he, beneath evangelism and action projects is a basic question: where do we get the spiritual energy needed for what must be done? He proposed that members commit themselves beginning September 1 to "100 days of devotion" to Christ and the Scripture because "the closer we come to Jesus Christ, the more our energy begins to flow again." His proposal was warmly received.
ABC evangelism executive Jitsuo Morikawa, who has been in hot water over the years for expressing universalist views of salvation, gave a resounding testimony of how at age 16 he had received Christ as Saviour, led seven others—including his brother and a teacher—to Christ within six months, and preached on street corners. He went on to talk about the extension of salvation to the social structures, but he was clearly in a spiritual frame of mind. (Despite the fact that he studied at Biola, Morikawa has long been identified in ABC circles as a theological liberal.)
Evangelist Ford and U. S. Senator Mark Hatfield, both evangelical heavyweights, underscored the spiritual-renewal theme. Even Harvard's Harvey Cox talked more about spirituality than about secular concerns. He said he is on a spiritual pilgrimage, its route described in a book to be released in a couple of months.
In an interview, Cox reminisced about how as a teen-ager he had accepted Christ at the First Baptist Church in Malvern, Pennsylvania, had become turned on evangelistically ("I was like the Jesus people"), and had later been treasurer of the Inter-Varsity Christian Fellowship chapter at the University of Pennsylvania, from which he graduated in 1951. In an experiment in Christian community, he and his family live with eleven other families of Old Cambridge Baptist Church near Harvard in a jointly owned apartment house. (Although there is no group worship or ministry at the house, the American Baptist Extension Corporation unit of the ABC's Board of National Ministries staked Cox's group to an $80,000 mortgage. The unit also loaned $45,000 on a forty-five-foot sailboat as a floating retreat center for Hawaiian Baptists and $30,000 to a coffeehouse ministry run by churches in Wichita.) At any rate, Cox says he has never really jettisoned basic evangelical beliefs and hints he may be on the way back to his pietistic beginnings.
The only major figure who seemed to be out of step was Yale dean Colin Williams, an Australian Methodist who is an outspoken foe of evangelist Billy Graham and former evangelism head of the National Council of Churches. He knocked Graham and evangelicals in general in an evangelism-luncheon speech for their emphasis on individual salvation and for their alleged failure to oppose the political establishment. At one point, somewhat choked, he acknowledged that his teen-age daughter in Switzerland had joined the Children of God sect.
In an interview, Williams indicated with a tinge of bitterness that he feels he has been left standing virtually alone on the social-action front, his former colleagues having deserted him for less risky institutional and spiritual pursuits.
But Williams was an exception. Even members of the conservative American Baptist Fellowship and the liberal Roger Williams Fellowship decided to enter into dialogue. Missionaries and national leaders gave glowing reports of church growth in Nagaland (India) and in Thailand. The growing ABC Charismatic Fellowship held forth every night (Cox attended two sessions) and at a well attended breakfast session. Old friends—and sometimes enemies—embraced one another in the corridors. It was that kind of convention.
EDWARD E. PLOWMAN
Look Leftward, Young Jew
Jews who "wedded themselves to Nixon's America" in last year's election cast their lot with "the most threatening option" confronting the nation, says Rabbi David Polish, president of the Central Conference of American Rabbis, a Reform Judaism body. The alliance of many Jews with President Nixon (about 30 per cent of U. S. Jews voted for him in 1972, twice the total for 1968) represented a movement to the right, a break with traditional liberalism that is not in their best interest, he asserts. This has been accompanied by "diminishing stress in Israel on the socialist and, even more, the prophetic principles of its founders," he adds. There is less repression in a left-oriented society, he argues, than in a rightist one.
A.D. In Israel
According to a recent decision of the Supreme Court of Israel, Jewish gravestones in that country now may give the dates of the deceased's birth and death according to the Gregorian calendar. A citizen of Tel Aviv took the matter to court when a stonemason refused to chisel A.D. dates on his father's gravestone. The court asked the Rabbinate (the highest Jewish religious council in Israel) for its opinion. The Rabbinate urged rejection of the appeal, stating that the Christian-Gregorian dating was unacceptable, because it is based on the birth of Jesus.
The court, however, declined to accept the rabbis' statement, noting that it was dated 1972. According to the Jewish calendar, at the time it was 5733.
Collision Course
Radio-TV personality Martha Rountree and her Leadership Foundation, a crusading band of women out to do something about America's declining morality, are on collision course with Congress and a host of church-state separationists. The group, which has recruited women all over the land to monitor television language and morals (see January 19 issue, page 40), now wants to get prayers back in the public schools by September. Attorney Robert Morris, who once served as chief counsel to a Senate subcommittee, has already drafted a resolution to remove the appellate power of the Supreme Court over Bible reading and prayer in the public schools. The Constitution provides for such action by a simple majority vote of Congress. (Previous congressional bills designed to allow Bible reading and voluntary prayers in public schools—hotly contested by church-state separation advocates—have failed.)
Celluloid Statement
St. Claire Bourne, a black film-maker who has taught film courses in various schools and who produced a film for the College Entrance Exam Board to encourage minority-student enrollment in colleges, has completed a new film for the United Methodist Church, Let the Church Say Amen.
Edited from more than twenty-six hours of footage, the film is based on a young black seminarian's struggle to identify with black theology as well as with his own blackness. No actors are used. Instead, the film focuses on real people in small Mississippi Delta black churches and on a real seminarian, Hudson Barksdale, at the Interdenominational Theological Center in Atlanta. It follows him through the classrooms there, then to Mound Bayou, Mississippi, and finally to the urban north side of Chicago.
COME TOGETHER
"Come Together," a color TV special featuring actor-singer Pat Boone and a cast of thousands, was shown widely on Pentecost weekend, June 9–10, in connection with the continental Key 73 outreach campaign.
The hour-long show, described as a "musical experience in Christian love, uniting the themes of Christian fellowship, witness, and joy," was videotaped in the Los Angeles Forum before 13,000 persons. It features a stage choir of 100 voices, an orchestra, a back-up chorus of 2,000 young people from 150 Southern California churches, audience participants, and such vocalists as the Boone family, Harold Brinkley of the Edwin Hawkins Singers, and Barrie McGuire. Written by musician Jimmy Owens (who directs it) and his wife, the musical focuses on the identity and power of Christ, his death and resurrection, and the outpouring of the Holy Spirit on his followers.
Key 73's virtually empty kitty prohibited coordinated continent-wide saturation of TV channels, but a number of local and regional Key 73 committees scraped funds together to book the show for viewing in their areas at a later time.
The film is a statement on the relevance of the black church to the liberation struggle, a visual lesson that "the black church is the most stable, most representative community organization that black people in the United States have," says Bourne.
Theme music for the film includes instrumentals by such noted black musicians as Roberta Flack, Donny Hathaway, and B. B. King.
JAMES S. TINNEY
Protecting The Pope
Uniformed Italian police and plainclothesmen in large numbers were furnished by the Italian government recently to protect the Pope from being presented with a Libellum Accusationis—a letter accusing him of breaking with apostolic tradition and with all his predecessors—by the traditionalist French Catholic abbé (abbot) Georges de Nantes. Abbé Georges, who led a band of ten members of religious orders and fifty laymen on a "pilgrimmage," found that the two hotels he had engaged for press conferences had been "advised" by the Italian police not to admit him, on the grounds that he was "insulting a foreign head of state," an act that could not be permitted. At every attempt to approach a Vatican office, the little group found its way blocked by Italian police. The Libellum was finally presented to the Pope at a public audience by a member of the diplomatic corps sympathetic to the abbé.
Spire In The Sky
The Reverend Nicholas Copernicus, one of the great intellectual figures of history, was honored recently with an eight-cent commemorative stamp as the United States joined his native Poland and many other nations in observing the 500th anniversary of his birth in 1473.
Copernicus is best known for his extraordinary mathematical feat in determining that the earth revolved on its axis and orbits the sun; previously it was believed that the heavens revolved around the earth.
Copernicus held a doctorate in canon law as well as medicine. He was canon of the cathedral at Frauenberg, Prussia, where his uncle was bishop, and, as the authoritative Modern Catholic Encyclopedia states, "he was almost certainly an ordained priest."
Working before the invention of the telescope, Copernicus, by simple triangulation, using the cathedral spire for his sightings, discovered the vast distance of the moon and sun from the earth. He also determined that the planets, the mysterious "wanderers" of the sky, were also orbiting the sun and deduced that the earth was simply another planet.
His great book, De Revolutionibus Orbium Coelestium, was not printed until 1542, the year before his death, and it was just as well for him. The clergy hastened to denounce it. The Vatican placed it on the Index, forbidden for any Catholic to read. No less outraged were Protestant leaders like Martin Luther, who said, "This fool wishes to reverse the entire scheme of astronomy. But sacred Scripture tells us Joshua commanded the sun to stand still, not the earth."
Galileo's telescope in the next century proved Copernicus right, but had not the Italian astronomer made a timely recantation, he would have been burned at the stake for saying so.
In 1748, the Vatican quietly removed the works of Copernicus from the Index. Since that time, both Catholic and Protestant theologians have learned to their discomfort to go a little more slowly in denouncing scientific discoveries.
Few biographers note that Copernicus was not only a hero of science but also a dedicated churchman. He was greatly troubled by the apparent conflict of his discoveries with the prevailing interpretations of Scripture, but he was determined that truth must prevail.
GLENN D. EVERETT
Zambia Remembers
David Livingstone, famed Scottish missionary doctor and explorer (see April 27 issue, page 5), is still remembered in Zambia, Africa. Led by the president of the eight-year-old republic, Kenneth D. Kaunda, 1,000 pilgrims gathered at the historical village of Chief Chitambo, now called Chipundu, to pay tribute to the white man who died there in May, 1873. The centennial observance, sponsored by the Christian Council of Zambia, took place near a twenty-foot national monument marking the place where Livingstone's heart is buried.
"After 100 years, the love of God and the memory of David Livingstone so enamored his friends of all races that they are gathered here in thanksgiving," noted President Kaunda in unveiling a commemorative plaque. He also cited the missionary's efforts to discover waterways in central Africa that could bring in trade to replace the slave traffic, which he opposed.
Livingstone came to Africa in 1840 as a missionary of the London Missionary Society. After 1857, when he severed ties with that organization, he devoted much of his time to exploration. The sixty-year-old missionary is said to have died on his knees in prayer while suffering malaria after exploring the swamps at the southern end of Lake Tanganyika. Companions dried his body for two weeks and embalmed it with brandy and salt, then carried it for nine months before reaching the African coast. (The journey today takes twenty-four hours across a highway constructed with American aid.) From there, the body was shipped for burial in London's Westminster Abbey.
Cathedral Divestments
Plagued for nearly a year by increasing financial problems, television evangelist Rex Humbard's Cathedral of Tomorrow is divesting itself of high-cost, low-yield investments. CHRISTIANITY TODAY has learned that the Cathedral's year-old Mackinac College island campus in northern Michigan will close permanently June 22 except for a few youth retreats, and that the facility—purchased reportedly for about $3 million but worth much more, say Cathedral officials—is already on the market. The closing affects twenty-seven professors and administrators, all on two-year contracts, and more than 100 students. A spokesman said nearly half of the staff have found new positions despite stiff competition in the limited job fields. Thirty or more Christian colleges meanwhile have been actively recruiting among the student body, he said.
Morale at the college has been low, the spokesman reported, alleging that many of the staffers and students felt "betrayed" by the closing. A feasibility study of the college made by a noted consultant firm before the purchase cautioned Cathedral of Tomorrow officials that they should place at least four years' funding in escrow before going ahead with the plan, he said. The money was pledged, he asserted, but never placed in escrow.
Also up for sale: the $10 million office-hotel redevelopment complex in downtown Akron, Ohio, purchased by the Cathedral in 1971 (see October 18, 1971, issue, page 42). It was reported earlier that the complex was losing $25,000 per month.
Money from the sale of the properties and from other sources will be placed in a fund to pay back Cathedral investors under an agreement signed late last month with Ohio officials. The agreement gives Humbard until November to build the fund to an acceptable level according to an undisclosed formula and on a "best-effort" basis, with no specific amount set. (Cathedral lawyers say the fund already contains $2 million.)
The establishment of such a fund was one of the main demands of the state commerce department in a legal suit filed against the Cathedral earlier this year, at which time state officials sought a minimum fund of $3 million. The action was taken by the state in part to end allegedly illegal practices—selling unregistered securities and failing to tell prospective investors of the Cathedral's precarious financial situation (see March 2 issue, page 52, and March 30 issue, page 47). Meanwhile, a court-ordered injunction that prohibits crisis-oriented appeals for money, freezes assets, and puts a spending ceiling on the Cathedral remains in effect. (Contacted by telephone, Humbard and his lawyers declined to comment on certain aspects of the case.)
The agreement was signed in an Akron-area courtroom where presiding Judge Paul E. Riley a day earlier had lashed Humbard for a recent fund-appeal letter. In the letter Humbard begged recipients to send at least $100—even if it meant borrowing it as he and his wife had done. Judge Riley suggested the Cathedral could be held in contempt of court because the letter appeared to be a violation of his injunction, and, accusing the evangelist of misrepresentation, he voiced doubts that Humbard had borrowed even "a dime." Riley, whose court has been inspecting Cathedral financial records, went on to criticize television announcements that imply that the court is an enemy of the Cathedral. The judge warned that he wants no more appeals that talk about "all those godless people who want to do Reverend Humbard in."
For his part, Humbard—amid applause by the Cathedral's congregation—led an international television audience to believe that the Akron Beacon-Journal, hitherto an "enemy," had come to his aid by featuring his appeal letter in a front-page story. The story was actually an unfavorable one, suggesting Humbard had violated the court's injunction.
BARRIE DOYLE
Strike Three Against Mcintire
It's apparently all over except for the shouting. The U. S. Supreme Court refused to rule on an appeal by radio preacher Carl McIntire seeking to overturn the Federal Communications Commission's revocation of the broadcast licenses of WXUR and WXUR-FM, stations in suburban Philadelphia owned by McIntire's Faith Seminary. In a brief order without comment, the high court said it would not consider the authority of the FCC to deny renewal of licenses for stations it says misrepresent or conceal programming plans.
McIntire reportedly spent more than $200,000 in his unsuccessful defense since the FCC's 1970 decision against him. The amount includes a huge mortgage on the seminary's property, which may have to be sold to keep the various McIntire enterprises afloat. (Earlier, most of Faith's teachers and students left to form a breakaway school when McIntire proposed selling out and shifting the seminary's operations to Cape May, New Jersey.)
The FCC, overruling its examiner in the case, had denied McIntire's bid to renew the licenses, citing violations of the so-called Fairness Doctrine and misrepresentations about the type of programs that would be aired. The U. S. Court of Appeals in the District of Columbia upheld the FCC two to one solely on the misrepresentation issue: the stations did not broadcast the programs they promised to carry and aired seven programs about which they had not informed the FCC, it found. Judge J. Skelly Wright charged that McIntire's group sought through "subterfuge to gain its license … [and] broadcast the type of material it believed to be most suitable—in utter disregard for the public or … earlier representations to the commission."
Religion In Transit
The itching rash, dizziness, and nausea that afflicted eighty elementary pupils and teachers in Berry, Alabama, was diagnosed by a state health officer and a local psychiatrist as a psychosomatic chain reaction. In other words, mass hysteria. Psychiatrist Iniz Fowler suggested that the community's "deeply religious, fundamentalist type of background" may have had something to do with it. But, insisted a stricken teacher, "It was definitely not imagination."
Despite a strong protest campaign led jointly by United Methodist, Episcopal, and Roman Catholic bishops, Ohio voters authorized a state lottery by a vote of more than two to one. Catholic bishop James Malone labeled the lottery a "tax in disguise, a sugar-coated pill which will cause rather than cure social ills."
A $5,000 grant by San Francisco's controversial Glide Memorial Methodist Church is helping to support self-avowed prostitute Margo St. James, 35, in her efforts to organize a "craft guild" of harlots. Its purpose: to better working conditions and to reform the way society views and treats its ladies of the night.
Seventh-day Adventists are sponsoring a five-day Stop Smoking seminar for commuters aboard several Long Island Railroad trains.
Roy W. Lowrie, Jr., is the new executive director of the National Association of Christian Schools.
The Seventh-day Adventists are sponsoring a new Art Linkletter television show, "It's Your World." The weekly half-hour program emphasizes healthful living and features vegetarian recipes.
The United Presbyterian Church will sell its historic Witherspoon Building headquarters in Philadelphia, concentrating its facilities in New York.
Have something to add about this? See something we missed? Share your feedback here.
Our digital archives are a work in progress. Let us know if corrections need to be made.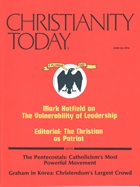 This article is from the June 22 1973 issue.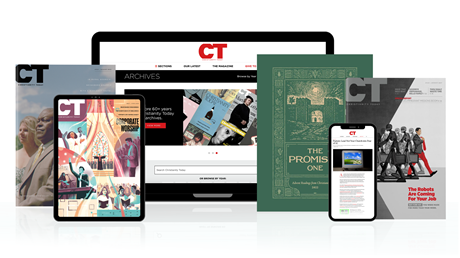 Annual & Monthly subscriptions available.
Print & Digital Issues of CT magazine
Complete access to every article on ChristianityToday.com
Unlimited access to 65+ years of CT's online archives
Member-only special issues
Subscribe
American Baptists: Piety Revisited
American Baptists: Piety Revisited