Last month I spent several gratifying weeks in Minnesota. I spoke at the Decision School of Writing and renewed fellowship with Sherwood Wirt, who edits the world's largest religious magazine, Decision—five million subscribers, published in ten languages. I also attended some of the Billy Graham Upper Midwest Crusade meetings in the Twin Cities (see report, page 29). I never cease to marvel as thousands respond to Mr. Graham's simple, low-key invitation to receive Christ.
On July 28 I performed the wedding ceremony for my son John and Stephanie Larson of Minneapolis. They were married in the Shepherd of the Hills Lutheran Church, and I was assisted by the bride's pastor.
My book The World, the Flesh, and the Devil, a Canon Press publication, should be off the press several weeks from now. It is a study of Christian personal conduct and deals with such matters as sex, abortion, drugs, social action, alcohol, situationism, and the law of God.
The sermon preached by the retiring moderator at the recent General Assembly of the Presbyterian Church in the United States
On the day of Pentecost, when Christ's promise of his Holy Spirit was fulfilled, plain, ordinary people had their lives completely changed—so changed that all those about them could hear and see and sense the difference. Some observers asked, "What does this mean?" Others said, "They are drunk." But Peter said: "These men are not drunk.… This is what was spoken by the prophet Joel: 'And in the last days it shall be, God declares, that I will pour out my Spirit upon all flesh, and your sons and daughters shall prophesy, and your young men shall see visions, and your old men shall dream dreams' " (Acts 2:15–17).
I have been told that I am the oldest man ever to have served as moderator of this denomination—I will be seventy-nine next month—and I have a dream, a dream of a transformed and revitalized church that once more emphasizes those things of eternal import, things that were central on the First Pentecost:
1. Calling on the Lord for salvation.
2. The mighty works and wonders performed by Christ during his earthly ministry.
3. The death of Christ, God's Son.
4. The witness to the fact of the resurrection.
5. Conviction of sin—"Brethren, what shall we do?"
6. Repentance for sin.
7. The need of God's forgiveness, which is to be had through faith in Christ.
8. The wideness of God's offer—"for the promise is to you, and your children."
Have we gotten away from the simplicity of the Gospel and the need it meets for all who believe? The Apostle Paul clearly states the content of the gospel message:
Now I would remind you, brethren, in what terms I preached to you the gospel, which you received, in which you stand, by which you are saved, if you hold it fast—unless you believed in vain.
For I delivered to you as of first importance what I also received, that Christ died for our sins in accordance with the scriptures, that he was buried, that he was raised on the third day in accordance with the scriptures [1 Cor. 15:1–4].
The basic message of the Gospel is the death and resurrection of Christ for man's salvation from sin. How far have we departed from this message? How much have we permitted the ills of this world to mislead us into thinking that the Gospel is not sufficient or that it is basically irrelevant—and in so doing have accepted and preached another gospel, which is no gospel at all?
None of us can deny that the world is in desperate straits. Have we lost sight of the fact that to the Church there has been entrusted the one and only answer to man's predicament? Have we been led to reject God's blood-bought solution and to substitute man-devised "solutions," which are no solution at all?
Look at our programs, our stated objectives, our church-produced literature, our pronouncements and messages. How many of them refer to man's sinfulness and lostness? How many stress the gospel message, that Christ died for the specific purpose of atoning for our sins so that man "should not perish, but have everlasting life"?
Take an honest look. We have been so concerned with the magnitude of the results of sin in the human heart that we have become obsessed with symptoms while we have neglected the cause—and the cure God has provided in the person and work of his Son. We have been so enamored of the fruits of Christianity that we have forgotten that fruits demand first roots and a tree.
Our world is a prodigal world, estranged from God by disobedience. The world is populated by prodigals. Humanism seeks to make the prodigal comfortable, happy, and prosperous in the "far country" and leave him there.
Christianity, too, seeks man's immediate welfare, but above and beyond all else it seeks to bring the prodigal back to his Father through the Lord Jesus Christ.
You may say to me, "You have no social consciousness. You are blind to the misery of hunger, oppression, disease, and poverty to be found on every hand." I reply to you that I am neither blind nor insensitive to the misery abroad in the world. But I am convinced that the message of redemption from sin through faith in Jesus Christ must go hand in hand with every social program.
For twenty-five years I worked in a 380-bed hospital in China, and during that time we treated hundreds of thousands of patients. We gave them the best we could from a professional standpoint. Where are they today? I would guess that 90 per cent of those patients are now dead. And death is the ultimate end of all human existence—a fact that the "social gospel" seems to ignore.
We saw the great majority of those patients leave the hospital physically cured or improved. But while they were in the hospital we earnestly sought to give them the message of Christ's death and resurrection.
During those twenty-five years I spent a lot of time in jail. Almost every Sunday morning I went with a nurse to the city jail and the penitentiary, treating the sick and telling of Jesus's love. I saw men and women living in unspeakable filth and enduring various forms of torture. And I saw many of these people come to be gloriously saved through faith in Jesus Christ. Treatment of their diseases was a humanitarian effort, but it would have been mere humanism had I not told them of the One who died for their sins.
"Reconciliation" is a popular word today. But for reconciliation the Bible requires a fixed sequence:
From now on, therefore, we regard no one from a human point of view: even though we once regarded Christ from a human point of view, we regard him thus no longer. Therefore, if any one is in Christ, he is a new creation: the old has passed away; behold, the new has come. All this is from God, who through Christ reconciled us to himself and gave us the ministry of reconciliation: that is, God was in Christ reconciling the world to himself, not counting their trespasses against them, and entrusting to us the message of reconciliation. So we are ambassadors for Christ, God making his appeal through us. We beseech you on behalf of Christ, be reconciled to God [2 Cor. 5:16–20].
Reconciliation with God must come before there can be a valid reconciliation with our fellow men, and Paul tells us the basis of this reconciliation, our Lord's atoning word: "For our sake he made him to be sin who knew no sin, so that in him we might become the righteousness of God."
Man's reconciliation to man is a hopeless dream aside from reconciliation to God. Let's face it: the world rejects—even hates—the Gospel of redemption from sin by Christ's atoning work. At the same time the world applauds humanism, with its primary concern for the material and physical welfare of the individual. Unbelievers and the followers of other religions can, and often do, join in the efforts of the Church for human welfare provided Christ is left out of the picture.
The shift from Christianity to humanism can be insidious and deceiving. Humanism leads man to congratulate himself, while Christianity glorifies Christ. Essentially, humanism is the old doctrine of salvation by works—if it offers any salvation at all. Humanism is willing to make use of any secular power or means to accomplish its ends. Christianity depends on the presence and power of the Holy Spirit for its effectiveness.
Christians need to recognize the solemn fact that humanism is not an ally in making the world a better place in which to live. It is a deadly enemy, for it is a religion without God and without hope in this world or the next. In 1933 a group of humanists prepared a manifesto that was signed by thirty-four of their leaders, twelve of whom were prominent ministers. It reads in part as follows:
Religious humanists regard the universe as self-existing and not created.…
Humanism asserts that the nature of the universe depicted by modern science makes unacceptable any supernatural or cosmic guarantee of human values.… Religion must formulate its hopes and plans in the light of the scientific spirit and method.…
Humanism consists of those actions, purposes, and experiences which are humanly significant. Nothing human is alien to the religious. It includes labor, art, science, philosophy, love, friendship, recreation—all that is in its degree expressive of intelligently satisfying human living. The distinction between the sacred and the secular can no longer be maintained.…
Religious humanism considers the complete realization of human personality to be the end of man's life and seeks its development and fulfillment in the here and now. This is the explanation of the humanist's social passion.
In place of the old attitudes involved in worship and prayer the humanist finds his religious emotions expressed in a heightened sense of personal life and in a cooperative effort to promote social well-being.
It follows that there will be no uniquely religious emotions and attitudes of the kind hitherto associated with belief in the supernatural.
This manifesto is a frank statement of the great counterfeit being foisted on today's world, one for which many within the Church have fallen. Recognize it and turn from it as you would turn from the plague. Our hope is in Christ and in nothing else.
In his monograph "The Case Against the Counterfeit Gospel" Dr. James Leon Kelso opens with these words:
In the days of the Apostle Paul his program of world evangelism was greatly handicapped by Judaizers in the congregations he had established. These Judaizers insisted that Christ's own definition of the gospel was deficient and that something new must be added by these Judaizers. Today, world evangelism faces a similar tragic situation in modern Judaizers who, under the name of the "social gospel," insist on adding something totally unrelated to the gospel as it is presented in the New Testament. The "social gospel" is a counterfeit gospel.
And near his conclusion Kelso says:
There remains one last feature of social work to be studied. Just being a Christian may increase your own social problems. Think of the Gerasene demoniac who was denied the privilege of joining Christ's disciples but was instead sent home to work with his own people. Christ even pronounced a special blessing upon "peace makers" for they usually win the hatred of both parties. Again, just being a Christian may bring you persecution and even death itself (Matt. 24:9)!
Our conclusions on social work are the same as those of John Calvin who said, "Social transformation is a product of theological proclamation." When the gospel is preached in plenitude and power, men will be converted, and through them the institutions of society will be permeated with the mind, manners and morals of Jesus Christ!
In these pages I am in no sense asking the church to abandon its social work. I was taught to do such work when I was a child, and I have done it all my life. Indeed, I am as enthusiastic for the church doing social work as any "social gospel" advocate. But I insist that we must do social work the way Christ wanted it done. The "social gospel" people, however, are urging the church to abandon Christ's method and simply duplicate the work of Jews, Muslims, and other non-Christians. Their "gospel" is a blatant counterfeit.
One strange quirk of humanism into which the Church has fallen is that, while it is concerned about the "whole man" and about ecology and pollution, the Church says little about the pollution of the mind and spirit that has produced in America a sex obsession that is destroying our nation, even as Greece and Rome were destroyed.
Paul has given us the Church's answer to obscenity and pornography in these words:
Put to death therefore what is earthly in you: immorality, impurity, passion, evil desire, and covetousness, which is idolatry. On account of these the wrath of God is coming [Col. 3:5, 6].
And on the positive side:
Away then with sinful, earthly things; deaden the evil desires lurking within you; having nothing to do with sexual sin, impurity, lust and shameful desires; don't worship the good things of life, for that is idolatry. God's terrible anger is upon those who do such things (Phil. 4:8).
We are concerned about poverty and its attendant hunger in the world. As Christians we must give prompt help to those in need where we meet them. To fail to do so would be to deny the faith. But let us also remember that our Lord has in one sentence given the ultimate solution to the economic problems of individuals—and the Church alone has that message. Jesus said, "Seek first his kingdom and his righteousness, and all these things [housing, food, clothing] shall be yours as well." Those who put their trust in God will find that his promises are good today—in America, in China, India, Russia, and to the ends of the earth.
Let us turn from anything that is contrary to God's clear teaching. Let us remember: "This is the word of the LORD, saying … Not by might, nor by power, but by my spirit, saith the LORD of hosts" (Zech. 4:6).
On the floor of the U. S. Senate, Daniel Webster made this reply to Hayne:
When a mariner has been tossed about for many days, in thick weather, and on an unknown sea, he naturally avails himself of the first lull in the storm, the first glimpse of the heavens, to take his bearings and to ascertain just how far he has been driven from his true course.
It is high time that the Church take its bearings and see how far it may have been driven from its course.
Have something to add about this? See something we missed? Share your feedback here.
Our digital archives are a work in progress. Let us know if corrections need to be made.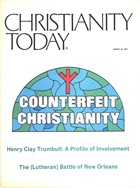 This article is from the August 10 1973 issue.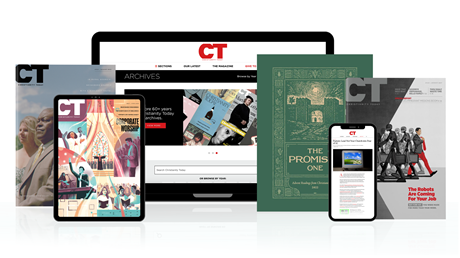 Annual & Monthly subscriptions available.
Print & Digital Issues of CT magazine
Complete access to every article on ChristianityToday.com
Unlimited access to 65+ years of CT's online archives
Member-only special issues
Subscribe
Editor's Note …
Editor's Note …