A discussion of lively concerns on the margin of church-state separation
American Christians have been thrown into some disarray by the recent attacks on religion in schools, the rulings of the Supreme Court, and the threat of further action against the pledge of allegiance, coins, congressional prayers, and the chaplaincy. It is commonly admitted that the principle of church-state separation is a good one. There is also today a general sensitiveness to the rights of minorities and the wrong of coercion in religious matters. And some would go further, welcoming the consistent application of the principle of separation and accepting the challenge it poses.
Many others, however, have a feeling that, despite the validity of the principle as such, the ruthless banishment of religion from national life is a fundamental departure from the true American tradition, and is also in itself an infringement of the rights of large segments of the people. Their only problem is how to present this point clearly, and to be sure what it is they are really defending or seeking.
At the constitutional level, there is now little or nothing to be gained by questioning again the interpretation of the establishment clause. It may well be true that the historical preamble to the judicial ruling was no great model of historiography. It could also be true that in the eighteenth century the word "establishment" was used in a more technical sense, and that religion had more reference to denomination than to religion as such (though this is not at all certain in the Age of Rationalism). But all this has little relevance, for the legal application of a fundamental document like the Constitution cannot be dominated by historical considerations. The increased and increasing religious pluralism of modern America demands a broader interpretation of both establishment and religion if religious discrimination is to be avoided.
Rights, however, apply not only to minorities but to all groups. It might well be that, to prevent an establishment of irreligion, Christians should now pay more attention to the second clause of the First Amendment, which specifically states that there must be no law "prohibiting the free exercise" of religion. In other words, if neither Congress nor any other body can pass laws establishing religion, such bodies are equally interdicted from legislation that would hamper a man of religious conviction from freely discharging his commitment.
It has always been agreed, of course, that the kind of freedom is not absolute. A group that might seek to practice human sacrifice can be prevented from doing this. A Christian who claimed the right to preach a sermon instead of, for example, teaching mathematics, could hardly claim legal protection if restrained. The freedom of some has to adjust to the freedom of others. This is part of being free men in society. But surely all church groups recognize this, so that there is no very marked wish to make inordinate or illegitimate use of the freedom constitutionally guaranteed.
Less evident is the readiness of some to admit that religious exercise is to be restricted to a narrow circle of private devotion and institutional worship. A brief word will have to be said in conclusion about the theological implications of this. Legally, however, it would seem rather contradictory to construe the term "religion" here in the narrowest possible way when "establishment" of religion is taken very broadly (the same applies, of course, to the word "prohibit").
The exercise of religion is the carrying out of what is required by religious belief or prescription. The law itself recognizes this in, for example, the special provision made for those who conscientiously object to war on religious grounds. They are not prohibited from exercising this side of their religion, although it goes much beyond personal piety or common worship. Only when irreconcilable conflict arises does a limit have to be set, and even here severely punitive legislation would seem to be against the best constitutional interest if it can be avoided.
In the light of what is surely to be taken as a guarantee of freedom, many of the issues raised in recent agitation take on a new aspect.
For example, men conscripted into the armed forces also have a right to the free exercise of religion; and if, as often happens, this cannot be met by ordinary church membership, there is every reason why chaplaincy facilities should be made available for those who desire them. The organization of these is an administrative question; their provision is the basic issue. Those without religious beliefs, so long as they are not coerced, surely cannot complain if others who have such beliefs are given the chance for their free exercise in these special circumstances. Even complaint against payment is rather flimsily grounded. What is paid for through federal support of chaplains is not the propagation of religion but the making possible of its constitutionally guaranteed exercise.
The exemption of churches from taxation seems to fall in the same category. Taxes can severely hamper churches and in some cases make their work impossible, thus stopping the free exercise of religion. This is not to say that wealthier churches, or those that have scruples on the matter, might not voluntarily assume a tax burden. The point of principle is that the exercise of religion should not be burdened or halted by financial exactions any more than by direct restraint.
The case of schools is, of course, somewhat different. Teachers and pupils can enjoy normal church relations, and Christian schools can be founded for those who desire consistent Christian education. Therefore many Christians are prepared to accept a banishment of religion from public schools, and perhaps to shoulder the burden of private schools.
Before this conclusion is hastily adopted, however, two considerations should be taken into account. First, many religions, including Christianity, have always had a close association with education. Even in constitutional America, certain religious features in schools (such as prayers and carols) have in many places and periods, and for many people, formed part of the traditional exercise of religion. No one is claiming, of course, that non-believers should be forcibly indoctrinated. No one is asking that facilities should be available for only one group. No one is saying that more than a fractional part of the total program should be devoted to such things. Nevertheless, Christians are surely not outside their constitutional rights in asking, not for laws enforcing prayers, but for no laws prohibiting them; that is, for reasonable opportunity to exercise this traditional aspect of their religion where there is desire on the part of parents and students on the one side and/or school authorities on the other.
The second consideration is that, for the Christian, the intellectual exercise of religion naturally implies the setting of all knowledge in relation to, or in the context of, his faith in God. This means that any imposition of a purely areligious curriculum is for both teacher and pupil an infringement of freedom of religious exercise in a highly important field.
To be sure, Christians have no right to engage in the propagation of a Christian view at the expense of others. They have no right to demand that only a Christian view be taught. But it must be remembered that an a-Christian view is in fact anti-Christian unless the religious option is also presented with fairness and courtesy.
In other words, Christians surely have a constitutional right to resist any form of legislation banishing a religious view, or even a religious reference, completely from the curriculum. As no teacher should be victimized because he is a secularist, so no teacher should be victimized because he is a Christian. As Christians should take into account a secularist understanding, so the secularist should do with the Christian. As non-religious students should not be exposed to religious propaganda, so Christian students should not be subjected to a purely secularist presentation.
True objectivity is not achieved by excluding a Christian view and thus implying the truth of philosophical empiricism. It is achieved by allowing all the data, and all interpretations of the data, to be presented. Any rule, whether national or local, that prevents this would seem to be a prohibition of the free exercise of religion in this field.
There is still need of a final note at the theological level. Many Christians today are ready to say that such things are not part of the exercise of religion. On the one side, absolute separationists confine religion to the sacral sphere; on the other, some champions of social action plead for involvement only in political and social terms, so that, if they do not go the whole way to secularization, they too relate religion only to an inner or churchly sphere.
In reply, it should be asked, at least, whether sacralization is not a non-biblical truncation that laudably stresses non-worldliness but fails to give due weight to in-the-worldliness. It should also be asked whether liberal secularization—an almost necessary final outworking of classical liberalism and its inner contradictions—does not mean either the end of religious practice altogether (religionless Christianity) or a reversion to sacralization, but with a schizophrenic element.
In contrast to these extremes, may it not be that the truth lies with a Christianity that, in spite of modern pressures, is prepared to accept the implications of being a Christian in the world, and of serving society by the exercise of true Christianity within it?
Playing With Fire
What has been happening in the civil rights movement is profoundly disquieting. With hatred and violence openly advocated by certain proponents of "black power," the movement stands in grave danger. When the Southeast section of Washington was on the edge of explosion, Stokely Carmichael, head of the Student Non-Violent Coordinating Committee (called by columnist Arthur Hoppe the "Violent Non-Student Coordinating Committee"), said: "If we don't get the vote, we're going to burn down the city. Don't be ashamed when they start talking about looting.…"
That was in August. Now Carmichael has carried his inflammatory crusade for black power to Atlanta. This city, under an enlightened and progressive mayor, has had a notably good record in race relations. But hate begets hate, and a Negro youth was murdered by a white assailant in Atlanta after riots in which the SNCC apparently had a part.
Tragedy has many forms. Among them is the senseless frustration of a just cause by an extremism within its leadership that rivals the excesses of its opponents. To shout in a racially tense neighborhood about burning down and looting the city is just as criminal an abuse of free speech as crying "Fire" in a crowded theater. And such extremism can lead to other than physical casualties; it may have contributed to the plight of the 1966 Civil Rights Bill.
But the situation is not hopeless. Responsible Negro leaders are speaking up for restraint. Moreover, the evangelistic campaign recently conducted in Washington by the Rev. Tom Skinner, converted Negro gang leader, shows, as the July crusade of the Rev. Howard O. Jones in Harlem showed, that the love of Christ is stronger than hatred.
White intransigence at the grass-roots level—symbolized by the explosion of hatred for Negroes in the Chicago area and the shocking attack on Negro school children in Grenada, Mississippi—makes advice difficult to offer. Yet it must be said that only by holding to its original non-violent basis can the civil rights movement avoid disaster, and that only by putting aside hate can all Americans dwell together in peace.
The Political Tightrope
Lyndon B. Johnson is now feeling strong vibrations on the tightrope of American politics he nimbly treads as President of the United States. Cautiously seeking to maintain his balance—to follow high principles as he leads the nation and yet retain the broad-based popular appeal necessary for continuing in public office—he finds himself in peril of falling on either side. Critics are vociferously accusing him of forsaking the policy of peace in his conduct of the Viet Nam war. Others are claiming he has thrown economy and efficiency to the winds in waging his war on poverty. Now his plight is complicated by reports in last month's Gallup Poll that his popularity among voters has been eclipsed by that of the junior senator from New York via Massachusetts. Small wonder that the President has recently increased the frequency of his visits and the forthrightness of his speeches to people in various parts of the country.
Past presidents of recent years have said that no one who has not been President can fully comprehend the burden of the Presidency. As Lyndon B. Johnson seeks to carry this enormous burden with sureness of foot and with head held high, we repledge our prayerful support of him, not out of political partisanship but because he is President of all the people and needs assurance that the electorate will support a leader who abides by righteousness and justice. Let him not be influenced by the fickle responses of impressionable people attracted by the charisma of other political figures. Let him not become defensive and turn a deaf ear to his critics. Let him not be concerned about how this generation or those to come will rank him as a President. But let him be true to the motto that West Point men swear to uphold: duty, honor, country.
The American people have shown they will support a President whose foreign policy is based on freedom for all men, opposition to all tyranny, and peace with justice. They will follow a leader whose domestic policies endorse equal opportunity for all, fiscal responsibility, freedom in the marketplace of ideas and goods, and tender-hearted concern for people. If a President devotes himself, before God and his fellow countrymen, to policies that accord with these principles, he should not tremble as he contemplates his own political destiny.
America long remembers, loves, and respects not those leaders who quaver at the blasts of critics or at the growing popularity of political opponents, but those who would rather be right than be President. Lyndon B. Johnson's political tightrope may feel shakier these days. But let us hope it will not send a shiver up his spine. Only a President with courage, wisdom, and perseverance can provide the leadership the nation needs in these critical days.
World Congress Draws Near
Less than a month from now, the World Congress on Evangelism will be under way in Berlin. Delegates have been invited from 106 countries, and there is every indication that all 1,262 seats in the Kongresshalle will be filled from October 26 to November 4. The congress is this magazine's tenth-anniversary project. Evangelist Billy Graham, who will soon hold a week-long crusade in Berlin, is its honorary chairman.
Many delegates will travel on special charter flights that leave Tokyo and New York on October 22 and Chicago and New York on October 23. Others will converge upon Berlin one by one from all over the earth. What will bring them together is their awareness that an hour has struck in world affairs for a mighty evangelistic offensive.
But obedient fulfillment of the Great Commission requires every single disciple of Jesus Christ to bear faithful witness. The plain but profound call of Berlin to evangelical Christians around the world is to give full obedience to the Great Commission. Let us love all men as God has loved and loves us, and let us plead with all men to be reconciled to him.
After Verwoerd—What?
The dastardly assassination of Hendrik F. Verwoerd leaves a troubled nation caught in the snares of the apartheid to which he was dedicated. Observers foresee broad resistance and possibly resort to force by the blacks, who have, under apartheid, gained many material benefits but not human freedom of association.
Verwoerd's death focuses attention on the choice the white man faces in South Africa—denial of the freedom of some men or the end of apartheid. In this confrontation one might wish the churches of South Africa would set a high example of the supraracial nature of the body of Christ, but government policy has had a restrictive influence even upon Christian fellowship. South Africa's problem must ultimately be solved internally. Yet the example of Christians around the world can be an influence more effective than criticism.
Have something to add about this? See something we missed? Share your feedback here.
Our digital archives are a work in progress. Let us know if corrections need to be made.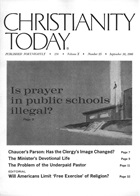 This article is from the September 30 1966 issue.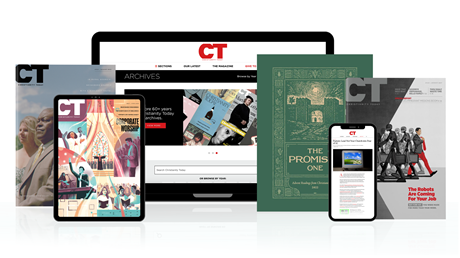 Annual & Monthly subscriptions available.
Print & Digital Issues of CT magazine
Complete access to every article on ChristianityToday.com
Unlimited access to 65+ years of CT's online archives
Member-only special issues
Subscribe
Will Americans Limit 'Free Exercise' of Religion?
Will Americans Limit 'Free Exercise' of Religion?