College life has always been characterized by varying degrees of rebellion against traditional thought and behavior patterns. In recent years this insurrectionist spirit has taken on a much deeper dimension than the panty-raiding of old. A counterpart movement, moreover, is now becoming very evident at conservative Protestant colleges all across North America. A survey shows pockets of intellectual unrest on scores of accredited evangelical campuses.
At best, today's Christian college rebellion is a purposeful crusade against hypocrisy and the status quo. At worst, it breeds among other things the kind of immorality in which, in the case of at least one church-related college, the motels on the edge of the campus do a thriving business.
Either way, college administrators will have their hands full this fall trying to keep students and even some faculty members in line while at the same time trying to placate worried parents and complaining alumni whose support is necessary to keep operation out of the red.
"This thing is everywhere," says Dr. George L. Ford of Azusa Pacific College. "All the schools are affected. We're getting the backlash of the Berkeley riot."
On secular campuses the war in Viet Nam is the big issue. At fundamentalist colleges the most conspicuous agitation is for an overthrow of old taboos. At Northwest Nazarene College, Nampa, Idaho, the student body approached open revolt in trying to win approval for the wearing of shorts and short-sleeved blouses in the dining hall.
But ideological agitation is also showing up at such schools. Says one bitter student at another Nazarene college, "Academically, freedom is impossible on church campuses. The church has great possibilities, but it is turning out nothing but school teachers, insurance men, and radical preachers."
Spokesmen for the rebel element insist that by and large they do not disown biblical concepts but rather are against phony preaching, against black-and-white codes, and against preoccupation with the abstract. Miss Betty Jane Tutton, a professor of literature at St. Petersburg (Florida) Junior College, contends that students are now asking more radical questions but that evangelical higher education has traditionally been, as she puts it, "insulated from discovery."
At least part of the turmoil is attributable to the problem of reconciling orthodox Christianity with the various academic disciplines. This gets more acute with the apparent shift of the spiritual dynamic from theology, missions, and music to political science, sociology, psychology, history, and even literature.
"Students are now taught to use the inductive method in everything," says one Christian faculty member. "They are puzzled when they apply it to matters of religion."
A complicating factor on most campuses is that a "stinker fringe" tries to capture responsible intellectual exchange for its selfish interest. Occasionally the new morality gains a foothold, and sex-for-the-sake-of-recreation becomes an undercover cause. Christian educators are complaining louder than ever that freshmen arrive with closed minds on sexual morality and with standards assimilated from peer groups in public schools, not from home or church. Failure of parents and pastors to provide proper and adequate sex education for children is considered a major problem.
Dr. Ivan J. Fahs, a scholar at Harvard this year, thinks that the "real rebellion" stems from the personal spiritual problems of the individual student. "Often he is just what we might term a pagan evangelical," says Fahs, who recently taught sociology at Bethel College, a Baptist General Conference school in St. Paul, Minnesota. "He knows all the labels and all the doctrines but nothing of a personal relationship with Christ. He is rebelling against a God who doesn't seem to act, failing to realize that his own frustration lies simply in the fact that he has never been plugged in."
Other evangelical observers take a considerably more optimistic view of the unrest. Incidents such as those in which a well-known evangelist was virtually laughed off two Christian campuses in the East are regarded as indicative of a new spiritual depth that sees through bogus pundits. "He sounded off on Honest to God, then admitted under questioning that he hadn't even read it," complained one student.
Administration-invited speakers present special problems, especially when chapel attendance is required. These engagements often have a non-academic rationale, which means that the visitor is seldom in tune with the interests and concerns of students and succeeds only in arousing hostility. An example of this occurred in a Midwestern school recently when a local pastor lectured against the evils of the theater.
"Fifty per cent of chapel services are a waste of time," declares Dr. Virginia Mollenkott, head of the English Department at Nyack (New York) Missionary College. She says they are frequently "exercises in naïveté" during which students prefer to study and write letters. "The students turn off their hearing aids when someone starts preaching in absolutes."
At Nyack, leading school of the Christian and Missionary Alliance, the faculty is said to be more avant-garde than the student body. On most campuses it's the other way around.
Perhaps the most serious aspect of the current unsettledness is that so few are aware of it among "the constituency"—namely, the financial supporters of the college, the parents of students, and the general membership of the sponsoring churches. College administrators almost invariably try to keep the lid on controversial rumblings, fearing that if word gets out the sources of college revenue will be threatened. The resulting information gap makes for an explosive potential.
A few schools seem to be using some imagination and appropriating the rebel spirit to good advantage. Malone College of Canton, Ohio, operated by the Ohio Yearly Meeting of Friends, has now begun annual seminars on social problems. Not long ago about seventy Malone students signed up to tutor Negroes and paint houses in a nearby ghetto as expressions of their Christian compassion.
At Seattle Pacific College, biggest of the Free Methodist schools, inner-city projects also are part of the students' extracurricular program. At Abilene Christian College (Churches of Christ) the latent energies of many of the 3,000 students are being channeled into direct evangelism through weekend and vacation visitation efforts.
In short, evangelical educators are realizing that today's students require a type of faculty that provides more than spirituality and piety. Unless students are academically and spiritually challenged to take evangelical initiative, they soon tend to become reactionary and to voice doubts about the adequacy of their own movement.
Campus Roundup
Here is a summary of developments on Christian campuses throughout the country:
Valparaiso. Christ College, the fifth college to be established at Valparaiso (Indiana) University, will open this month on a students-by-invitation-only basis. Says Dean Richard P. Baepler, "We go further than the Honors College idea would suggest by aiming at the involvement of a much larger part of the university community in experimental programs." The Valparaiso liberal arts college is related to the Lutheran Church—Missouri Synod.
Barrington. Officials at Barrington (Rhode Island) College report they are recasting the academic program "to more effectively express its philosophy of Christian education. The new concept involves Biblical studies as the 'regulating center' of the curriculum, with interdisciplinary 'bridge courses' designed to demonstrate and communicate the relevancy of biblical truth to contemporary thought and life." Barrington, located in a suburb of Providence, recently dedicated a $300,000 student union building and plans construction this fall of a $650,000 physical education facility.
Goshen. Like many a church-related school, Goshen (Indiana) College has been hard-pressed for funds to bring about necessary expansion. But President Paul E. Mininger, eager to retain church-state separation, reportedly shunned federal aid appeals and instead asked his faculty to pray. One result was a whopping $1 million from a Michigan couple, Goshen alumni. Goshen is a four-year Mennonite liberal arts college with a graduate-level seminary.
Azusa Pacific. The forty-acre property of Brown Military Academy in Glendora, California, is becoming part of the campus of Azusa Pacific College. Azusa's main campus is two miles south of the site. The newly purchased addition is located in the foothills of the San Gabriel Mountains.
Reformed Theological Seminary. Opening convocation for the Reformed Theological Seminary in Jackson, Mississippi, will be held next week. The new Presbyterian-oriented seminary will begin classes on a fourteen-acre campus.
Northwestern College. Declining enrollment and financial problems prompted Northwestern College to suspend daytime classes for a year. The school, once headed by evangelist Billy Graham, plans to reorganize and operate under a three-year program beginning in 1967.
Lycoming. Ground was broken this summer for a $4.5 million academic center on the Williamsport, Pennsylvania, campus of Lycoming College. A substantial portion of the cost of construction is being provided by the federal government under the Appalachian Regional Development Act. Lycoming is a Methodist liberal arts college.
Number Nine For C.O.C.U.
The Consultation on Church Union got its ninth full member last month, the first addition since basic principles of mass church merger were proposed in Dallas this spring (see May 27 issue, page 46).
Number nine is the African Methodist Episcopal Zion Church, whose bishops voted to move from observer to participant status. It is one of three Negro Methodist bodies exploring merger on their own. Another of these, the African Methodist Episcopal Church, joined COCU earlier this year.
The addition of AMEZ, which had 770,000 members in a 1959 tally, puts the potential COCU constituency over 24.5 million. It also heightens possibilities for racial integration of American Protestantism from the top, a process that is moving at snail's pace at the grass roots.
The AMEZ bishops' board also elected a new president, William M. Smith of Mobile, Alabama.
Evangelical College For Canada
Canada's first independent, evangelical liberal arts college is scheduled to open a year from this month in Toronto. Keyed to the nation's centennial, the college is a project of the Association for Higher Education and Evangelism and its magazine, the Evangelical Christian.
Spearheading the drive are the publication's editor, Elmer S. McVety, a Christian and Missionary Alliance minister, and Dr. John Wesley White, a Canadian associate of Billy Graham. Other supporters are members of the federal and provincial parliaments and several Canadian educators.
Negotiations are now under way with the Canadian government to purchase the site of a former military base as temporary campus for 400 students. The latest issue of the Evangelical Christian uses a picture of Bryan College in Dayton, Tennessee, to show what it hopes the eventual campus will look like.
'Shared Time' In Higher Education
In Buenos Aires, Argentina, the Christian and Missionary Alliance has come up with a plan providing young people with Bible training as well as opportunity for study in secular disciplines on a high academic level. The Bible training is available at the newly constructed Buenos Aires Bible Institute, and the schedule of classes is designed to allow students to matriculate as well at the University of Buenos Aires. "But we are being cautious," says an institute spokesman. "We could easily fill our halls with people who would come merely for the cheap room and board while studying at the university."
Have something to add about this? See something we missed? Share your feedback here.
Our digital archives are a work in progress. Let us know if corrections need to be made.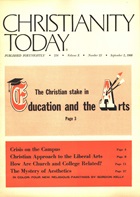 This article is from the September 2 1966 issue.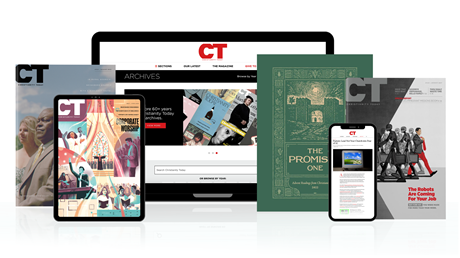 Annual & Monthly subscriptions available.
Print & Digital Issues of CT magazine
Complete access to every article on ChristianityToday.com
Unlimited access to 65+ years of CT's online archives
Member-only special issues
Subscribe
Rebel Spirit Jolts Church Colleges
Rebel Spirit Jolts Church Colleges