Much that is artificial and unbecoming in preaching vanishes when we are eager to share the good news
I rejoice in Bernard Manning's memorable definition: "Preaching is a manifestation of the Incarnate Word, from the written Word, by the spoken Word." Preaching, after all, is God's idea. It lives because he has done great things for us and spoken glad news to us in Jesus Christ. It is Christ, God's living Word, who is the grand theme of preaching. In "warning every man and teaching every man in all wisdom," cries Paul, it is always "him we proclaim." Each sermon of mine, then, must somehow point to Christ.
But to manifest him—who can accomplish that? Only Christ himself. The living Lord is the real Author of preaching as well as its theme. It is he who calls me to follow him, who sends me to preach, and who enriches me by his Spirit with whatever gifts I have. It is not so much that I talk about him, it is rather that he condescends to speak through me.
The first thing in preaching, then, is for me to offer myself afresh to him for his use. Let me seek to be filled with the Spirit—renewed, enlightened, empowered by him in all I plan and prepare. When I can begin to pray wholeheartedly, and with an expectant faith, I feel that I am well on the way to a sermon and I find myself warming to the task.
What is the aim of preaching? Here again Manning's definition helps to point the way. If preaching is a manifestation of Christ, then its purpose ought to be that for which Christ was first manifest. Since the end of his coming was that men might be saved, let this be my constant aim in preaching. For Christ, saving men meant not only rescuing them but also restoring them—discipleship as well as deliverance. This is the goal: to further God's saving purpose in the lives of those who hear, enlisting and equipping them in turn to be the agents of his salvation. "That we may present every man mature in Christ"—that says it perfectly. And that means knowing our people, caring about them, praying for them, standing ready to serve them even in costly ways. Who is sufficient for this?
Preaching shows forth Christ (to quote Manning again), "from the written word." It is not the airing of any man's pet notions. It means proclaiming the Christ of the Bible, heralding afresh in our time the witness of prophets and apostles to him.
Convinced of this, I try to maintain a daily study of the Scriptures, using interleaved copies of the Hebrew Old Testament and the Greek New Testament. On the blank pages I record notes from my personal gleanings, as well as references to other sources uncovered in wider reading. Often the idea for a particular sermon arises from such Bible study, sometimes from a pastoral contact, from reading, conversation, or everyday experience. But whatever the genesis of the idea, I seek to make every sermon expository in the sense that it opens up some aspect of the biblical message, some facet of its witness to God's salvation in Christ.
With the best tools at my disposal, I try to "get at" what the biblical writer was saying in his own time to those who first received his message. I try to view the passage in its immediate context and also in the wider setting of the whole Bible. Then I grapple with what this message, so interpreted, is saying to me and to those who will hear me preach. I try so to live with it that not only its content but also its atmosphere become real to me, and I find it searching and healing my own life.
While all this is going on, I ask myself two key questions. The first, "What is the heart of what I want to say?" And the other, "What, precisely, am I after in saying it?" These questions sound quite commonplace, but I find that I need to stay with them all through my preparation. I want that sermon to be the outgrowth of a single idea. I want its one theme to be luminous and compelling. And I want all its energies to be concentrated on achieving one aim. Let my message be a guided missile—not a personnel mine!
Assuming that I know what I want to say and where I want to go, now the question is: How do I get there? To communicate this message, to call for this response, what method will best serve? Am I arguing a case? Clearing up a difficulty? Telling a story? Laying down a challenge? Once this question is settled, I have taken a long step toward arranging my materials. Now, what are the main lines along which this message will move? What are the chief facets of the truth I plan to present?
When I have come this far, with a basic outline of my message in mind, I turn to commentaries, reference works, sermons on similar themes, and any other resources at hand. These may modify my outline, often supplement it; but when used in this way they never become a substitute for thinking it through myself.
In planning an introduction and a conclusion, I let the big questions already settled give the clue. Searching for an introduction, I ask, "How can I awaken interest in, and attract attention to, this theme?" And, for a conclusion, "What kind of ending will best call forth the response I seek?"
I do as much writing as I can, because I am sold on its value for developing style, but I do not write my sermons. I try to think them through carefully. Usually I write a detailed sentence outline. Before actually delivering a message, I preach it over in its entirety, often several times, experimenting with different ways of putting what I want to say. Then, with the content and structure clearly in mind, I preach it without notes.
I trust that then, by the spoken Word, Christ manifests himself. The real sermon, I am persuaded, exists not on paper or in my mind but in the living moment of proclamation.
As far as delivery itself is concerned, I steer by one dominant conviction: I must be totally involved in my message. Here again the Spirit's quickening is my urgent need, prayer my chief resource. When I can be constrained by the Word, and therefore more concerned for those who hear me than for my own image, I am truly free to preach. Not free from responsibility to work at preaching, nor from natural limitations, but free to be myself. And how much that is artificial and unbecoming simply dissolves away when we are eager to share the good news!
This is the story of my "minister's workshop." Often it has been a place of wrestling and too often one of personal failure. But I would be neither honest nor grateful if I did not call it, above all, a place of joy!—
The Rev. WILLIAM C. BROWNSON, JR.,
assistant professor of preaching,
Western Theological Seminary,
Holland, Michigan.
Have something to add about this? See something we missed? Share your feedback here.
Our digital archives are a work in progress. Let us know if corrections need to be made.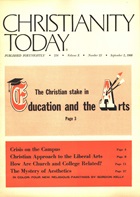 This article is from the September 2 1966 issue.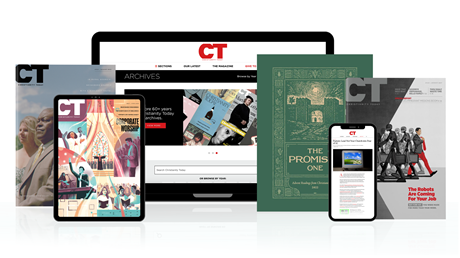 Annual & Monthly subscriptions available.
Print & Digital Issues of CT magazine
Complete access to every article on ChristianityToday.com
Unlimited access to 65+ years of CT's online archives
Member-only special issues
Subscribe
The Minister's Workshop: The Sermon's Grand Theme
The Minister's Workshop: The Sermon's Grand Theme