As the Christian feels about him the strong currents of contemporary change, he finds himself asking whether our world is heading into the final stages of its long day's journey into night or facing the dawn of a new day of spiritual resurgence. Are the diabolical forces of man's rebellion against God that now often masquerade as a quest for authentic human life ushering us into the "post-Christian" era? Or do the uncertainties precipitated by the increasing secularization of life presage a period when men, driven to the sure Word of God, will experience a God-breathed revival of faith in Jesus Christ?
We cannot calculate the course of future events of life in the secular city. Nor can we predict the sovereign action of the Holy Spirit as he moves in the affairs of men. But whether the prospects for penetrating deeply into our world with the Gospel of Jesus Christ are bright or dim, every Christian must seriously assume the supreme task Christ has given his Church: to participate actively in the evangelization of all mankind.
Transition and competing claims have constantly challenged the Church in its witness for Christ. Men have always lived in flux. Historian Kenneth Scott Latourette tells the story that Adam, upon being thrust out of the Garden of Eden with his wife, said, "Eve, I believe we are living in an age of transition." Yet today's changing patterns, in which the lengthening shadows of secularization and revolutionary unrest are prominent, make our generation qualitatively different from others in modern history.
Dietrich Bonhoeffer wrote from a prison cell in 1944, "We are proceeding toward a time of no religion at all." While the German martyr's claim does not wholly describe our present situation, it is undeniably true for a growing part. More and more people consider a conception of God to be unnecessary to their understanding of life. Such a secularistic view, writes Harvey Cox, "is the loosing of the world from religious and quasi-religious understandings of itself, the dispelling of all closed world views, the breaking of all supernatural myths and sacred symbols." Men are doubting God more and enjoying life less.
Secularization in the Western World has been fostered by urbanization, overconfidence in man's scientific prowess, selfish pursuit of materialistic satisfaction, and pragmatic, non-metaphysical habits of thought. But at the bottom of it all is man's craving to worship and serve "the creature rather than the creator." The outworking of this impulse is the limiting of human aspirations to this-worldly objectives. And the end result is the enthronement of man in the place of God.
To this secularistic world, Christians must boldly assert that the God-man, Jesus Christ, and not finite, sinful man, is the Lord of history, and that Christ alone provides meaning and salvation for this life and the life to come.
Closely associated with the secularistic trend is an intensified spirit of rebellion against all types of authority throughout the world. Men are on the march to have things their own way. International Communism continues its ruthless, imperialistic drive as it seeks to conquer Viet Nam and extend its power throughout Southeast Asia. Militant nationalistic uprisings occur with great frequency in the underdeveloped nations of the world. Racial strife mounts as people of all colors use violence to try to secure their rights or protect their interests. In the West, lawlessness is seen in soaring crime rates and the use of force rather than courts to settle grievances. The sexual revolution and high divorce rates show the refusal of great numbers of people to abide by principles that would restrict their unbridled freedom.
An indictment in the Book of Job (34:37) applies to contemporary man: "He adds rebellion to his sin; he claps his hands among us, and multiplies his words against God." Men hell-bent on rebellion present no static target on which the Church can calmly set its sights. Yet believers must carefully aim the Christian message at the revolutionaries as well as the ever-present self-satisfied people. The Christ they proclaim is the conqueror of the sin that gives rise to rebellion.
The growing decadence of our day is further reflected in the sham theology dispensed by influential secularist theologians. Purporting to rescue the Church from irrelevance, these ecclesiastical turncoats tailor their teachings to the empirical standards of natural man. Hailing the secularistic surge and fanning the flames of social unrest, they divest the Gospel of its supernatural elements. They replace the objective revelation of sacred Scripture with subjective human insights as the basis of religious authority.
In the formulas of these theologians, the Trinity is considered outmoded as an expression of the nature of God. They no longer speak of Jesus Christ as the eternal Son of God who became the Son of Man; he is rather "the man for others" chosen by God for a messianic mission. Man's basic problem, they say, rests not in his willful rebellion against God but in the finitude of his existence, which is estranged from its true essence. In their eyes, the bodily resurrection of Jesus Christ is a psychic experience of faith experienced by the disciples and other believers. And so it goes, ad nauseum.
Such heretical notions, now garbed in up-to-date terminology, surely are not unique to the mid-twentieth century. What is astounding is that such views are being promoted by prestigious leaders in various Christian denominations. And not only are they being paid to advance these non-biblical doctrines; they are also being heralded as courageous, creative thinkers. Tolerance is the watchword of the day in much denominational theology—unless one wishes to be read out of the "in" group.
The threat that secularistic theology poses for our generation is not that its formulations are superior to historic biblical theology. The more conventional "new theology," like its most extreme form, the "death of God" fad, will eventually fail because it contradicts the teaching of Scripture. But in the meantime, unless it is repudiated by Christian laity and ministers, this theology will rob the institutional church of its life-transforming message and power. If the "new theologians" have their way, the Church will shift its emphasis from calling men to repentance and faith in Christ to using political and social action to change the institutions of society. Contending against a Christ-rejecting world, the Church can ill afford to have a man-made gospel sound forth from its pulpits.
The demonic triumvirate of secularization, rebellion, and false theology could well plunge the world into its darkest hour. But not all prospects are black. The hand of God can be seen in many recent developments.
The crisis in theology is drawing evangelicals together across denominational lines, creating a new unity stronger than that previously seen in this century. Thousands of small trans-denominational Bible study groups are springing up in homes and churches across America. Among Roman Catholic scholars there is a renaissance of significant biblical research. Widespread cooperation of evangelicals is seen in organizations like the National Association of Evangelicals and gatherings like the recent Congress on the Church's Worldwide Mission. The Billy Graham crusades, far from receding—as was predicted—after the religious upswing in the 1950s, continue even more strongly to galvanize Bible-believing Christians in cities across the world. The upcoming World Congress on Evangelism in Berlin in October promises further evangelical resurgence. The life-transforming power of the Gospel seen in such activities as the Graham meetings, various campus Christian witness programs, evangelical church outreach activities, and personal evangelism is proof that this Gospel is as relevant now as it has always been.
Although the evangelical witness now faces greater opposition and competition than it has for decades, our day is not a time for discouragement. The Christian Church has an illustrious record of performing best under pressure and persecution. The living God is active in the lives of those who move out in response to his command to evangelize the earth.
Whether the world is heading into the final stages of its long day's journey into night or stands before the dawn of a new day of spiritual awakening, the task of the Christian remains the same: to reach his generation for Christ. The Christian Church must arise and devote its energies to carrying out its evangelistic mission, which was so neatly defined at the meetings of the International Missionary Council at Madras, India, in 1938: "to present Jesus Christ to the world in the power of the Holy Spirit, that men shall come to put their trust in God through him, accept him as their Saviour, and serve him as the Lord in the fellowship of his Church."
What happens at home can complement the World Congress on Evangelism in Berlin
There is one chance in two thousand that you have been invited to the World Congress on Evangelism. Sorry about that, but the Berlin Kongresshalle can seat only 1,300, and when the seats are divided among participants from more than 100 nations, well …
But this is no reason to feel left out. There is an important role for you in this world focus on evangelistic thrust.
The congress will bring to Berlin leaders from all races and nations who have been bearing much of the burden of world evangelism. These ten days—October 26 to November 4, 1966—should be red-letter days for every Christian concerned with fulfilling Christ's Great Commission. This is where you come in, if you are one of the 1,999 out of every 2,000 CHRISTIANITY TODAY readers who weren't invited.
There is no reason to wait for word from Berlin before you take action. Your prayers for the Congress are needed and requested, but there is no reason for you to be content with prayer support alone.
Evangelism had first priority for Jesus. It has first priority on the calendar of evangelical Christianity. Why not make it a first-priority item for yourself? Block off October 26—November 4 on your calendar. Draw a firm red line from Wednesday the twenty-sixth through Friday the fourth. Cancel everything. Set these days aside for a personal, definite, specific evangelistic emphasis. Test your soul-winning potential during those days. Have no other aim that week, and prepare to be amazed at the result.
What specifically can you do? Here is one idea.
First, challenge some group (a committee, class, board, the whole church) to list as many ways of winning the lost as they can. These should not be discussed or evaluated—simply list them. Avoid long discussion of objections, the justification for evangelism, or mass evangelism vs. personal work. Leave the why's for a while and concentrate on the how and what. Spend twenty minutes listing old and new ways of communicating the Gospel to people. You will end with far more suggestions than can be implemented in a year. The list will be valuable for future use, but the making of the list is valuable in itself. It will dramatize the reason why more souls are not being won. The reason is not lack of knowledge. Nor is it lack of method. It is lack of effort!
To know what to do is not enough. As Shakespeare had Portia say: "If to do were as easy as to know …, chapels would be churches and poor men's cottages princes' palaces." The test of any enterprise is not in the recipe but in the result. Evangelism does not lack discussion; it is in a doldrums for lack of action.
Second, begin immediately to evangelize. Anticipate the days from October 26 to November 4 with positive, specific, and efficient action. These are not times for a wavering sound. Go to where the people are and speak to their need. Love them. Help them. Answer their questions. Share yourself and your personal faith in a saving Lord. This was the apostolic method, this was the method of last year, this will be the method of tomorrow. No matter what vehicle is used, people are saved by grace, through faith, and almost invariably because someone cared enough to share his own experience.
There are many frameworks on which to build a program of evangelism, and their value is not to be minimized. But the lack of an ideal one is no justification for inaction. Depending on your situation, you may choose one plan over many alternatives. A Sunday school class visiting an up-to-date prospect list is a proved framework. Neighborhood captains, block captains, apartment-house captains—these are good systems. Dinners for inquirers, cell groups, luncheon fellowships, coffeehouses, literacy-evangelism among the educationally deprived, direct mail, campus crusades, businessmen's groups, industrial prayer meetings, home Bible-study groups—these are all good vehicles for person-to-person encounter. Any communication medium that has ever been used for any form of persuasion can conceivably be used to communicate the unsearchable riches of the Gospel. Even revival meetings have been known to reach the lost.
The key is in the doing. Jesus spoke of doing, going—action. There is always something easier to do. You can talk about what you would do if conditions were changed or how you could do it better than someone else if you wanted to. Yet anyone who truly wants to win others can win them. Failure results from lack of effort, not from lack of ability or opportunity.
Suppose you respond to this proposal. Suppose you concentrate your personality, your prayer, your intelligence, knowledge, energy, and ability on evangelism for ten days. It could change your life and the lives of a score of people.
What if only 10 per cent of the 40,000,000 evangelicals in the United States were to block off ten days of their lives for the propagation of the faith? Can you imagine what four million evangelicals could do in ten days of intensive witnessing? Would not 20,000,000 new Christians—one convert per worker every two days—be a conservative estimate? Putting aside all petty distractions, they could take the Great Commission as their own command—"Advance. Conquer. I am with you."
Evangelism is our cutting edge. It is essential, not only for extension but also for survival. Everyone is "pushing" his product. If evangelicals do not push their faith, they will not make history—they will be history.
Overcome evangelistic indifference. Spiritually and actively identify yourself with the World Congress on Evangelism.
Have something to add about this? See something we missed? Share your feedback here.
Our digital archives are a work in progress. Let us know if corrections need to be made.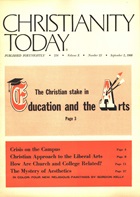 This article is from the September 2 1966 issue.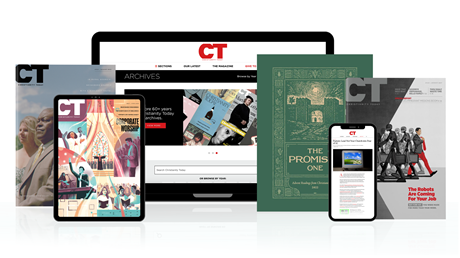 Annual & Monthly subscriptions available.
Print & Digital Issues of CT magazine
Complete access to every article on ChristianityToday.com
Unlimited access to 65+ years of CT's online archives
Member-only special issues
Subscribe
Darkness or Dawn: Make Christ Known
Darkness or Dawn: Make Christ Known