Homosexuality is no longer an unmentioned, neglected curiosity. A shift in attitude is especially perceptible in Britain, where last month the House of Commons approved in principle a liberalization of laws against homosexuality. The changes had been sought by several church lobbies.
Earlier, Time reported that "a surprising number of Protestant churchmen" are accepting a shift away from the "clear-cut condemnations of the Bible or of traditional moral philosophy."
Religious journals, excepting a few of the avant-garde, have dodged the issue. The silence was broken in the February issue of His, campus magazine of the evangelical Inter-Varsity Christian Fellowship. University of Illinois psychiatrist Charles Young criticized churches for dealing too harshly with homosexuals in the past but charged that today they are "sometimes naïvely permissive."
Protestant leaders in San Francisco, which harbors one of the nation's largest homosexual communities, support a Council on Religion and the Homosexual, with the announced purpose of opening a channel from the churches to the homosexuals. The members are clergymen drawn from mainline denominations. Their rationale is that of the new theology, which holds love as the ultimate and only norm of conduct. Though criticized in pulpit and in print, the council has sent forth speakers and helped form satellites in Los Angeles, Seattle, and Honolulu.
The question of law is prominent in council concern, and a major opponent is the San Francisco Police Department, whose officers' handbook calls homosexuality "wicked and heinous." This month the society and the police community-relations division plan an open meeting at which homosexuals will present their side.
The council's orientation on these issues was obvious during a February interview with board president Clarence A. Colwell, 42, a "Minister of Metropolitan Mission" for the United Church of Christ. He states flatly that homosexuality is not a sin—"a variation, rather than a deviation of human sexual behavior." But the council doesn't "advocate homosexuality, in the sense that it encourages it or seeks to recruit followers to this form of behavior."
The society agrees with the pending change in British law that would end penalties for homosexual acts committed in private between consenting adults. The law is the end result of the 1957 Wolfenden Report on sexual behavior in Britain.
The San Francisco council chose a bizarre means of publicizing its existence a little more than a year ago: a New Year's Eve Costume Ball sponsored by a number of "homophile"Colwell explains that on the West Coast "homophile" means "homosexual," while in the East "it tends to mean anyone who is interested in the problems of the homosexual." organizations to raise council funds.
The police broke up the dance and arrested three council attorneys and a woman on duty at the door. Juries later acquitted all four of charges of "interfering with the police in the performance of their duty." Now false-arrest suits for more than $1 million in damages are pending against the police.
The council was the brainchild of the Rev. Theodore McIlvenna, 34, former director of a Methodist young-adult project in the city, who has since moved to Nashville to become number-two man in national Methodism's "experimental" Young Adult Project.
The council was organized after a two-day conference in May, 1964, attended by representatives from such homophile groups as the Mattachine Society and the Daughters of Bilitis, and by clergymen from the National Council of Churches, the Methodist Board of Christian Social Concerns, and various denominations.
After an evening touring homosexual bars in the city, discussions began. C. Kilmer Meyers, who later became suffragan bishop of the Episcopal Diocese of Michigan, said that church attitudes had been conditioned by prevailing sexual patterns but that the Church is beginning to recognize a new "pluralism." He contended that relationship with the homosexual is impossible unless "the Church is able to reassess its view of sexuality." One emerging conclusion, he said, is that "all relationships are valid, providing they are informed by love and involve commitment which includes responsibility."
A somewhat different view was expressed recently by Stanford University psychiatrist Philip H. Heershema in the Journal of the American Medical Association: "Homosexuality is abnormal from the personal, biological, and social standpoints. To speak of a healthy, happy homosexual is a euphemism.… To present homosexuality as a desirable 'way of life' and inferentially to deny the pathological aspect is to blind oneself to reality."
Council spokesmen seem to view homosexuality as an inevitable result of some persons' hereditary make-up. McIlvenna's replacement in local young-adult work, the Rev. Edward Hunt, 25, said "psychology today is questioning whether or not a person is responsible for what he is. Some people just realize all of a sudden that they are homosexuals."
But Time says the experts have "generally discarded" such theories in favor of the view that homosexuality is a disease caused psychically by "a disabling fear of the opposite sex." In the His article, psychiatrist Young writes that Freud was correct in saying that "every person has the potential to become homosexual." But he denies the fatalistic view that homosexuals are incurable and offers clinical proof.
Young contends that "a person with a homosexual problem can become a Christian. Christ does not insist that we have all our problems solved or our personalities tidied up before we ask for forgiveness and renewal of life. I am equally sure that a person repeatedly committing homosexual acts cannot be a maturing, witnessing Christian.…"
Miscellany
The Evangelical Lutheran Church synods that span the Berlin wall elected 63-year-old Dr. Kurt Scharf bishop to replace Otto Dibelius, despite Communist objections. Scharf left his East Berlin office for a trip to the Western Zone in September, 1961, and has been barred from returning. Dr. Guenther Jacobs later quit as Eastern Zone administrator because of lack of support in extending his authority.
The Church of England Assembly endorsed a fixed day for Easter, the Sunday following the second Saturday in April.
Waterloo (Ontario) Lutheran University plans to open a graduate school of social work this year, the first organized in Canada since 1952.
Delaware Governor Charles L. Terry, Jr., vetoed a bill to provide free school bus service for parochial school students.
Union Theological Seminary and Fordham University (Jesuit) agreed to exchange professors, accept each other's academic credits, and share library resources.
Maryland's Court of Appeals ruled that tax exemptions for church-owned property are legal, in a suit originated by atheist Madalyn Murray.
Governor Paul B. Johnson wants Mississippi to end fifty-eight years of prohibition because of widespread neglect and abuse of the law.
The South Vietnamese government provided World Vision, Inc., a twenty-two-acre tract in suburban Saigon for a 500-unit orphanage and a "halfway house" for disabled war veterans. Construction begins immediately.
Soldiers with the 1st Air Cavalry Division in Viet Nam gave a $700 offering to missionary Chester E. Travis of Qui Nhon to help establish church buildings for refugees.
Roman Catholic, Orthodox, Anglican, and Protestant leaders joined in Montreal to pray for success of their 1967 World's Fair pavilion there.
LeRoy Chatfield, 31, revealed he quit the Christian Brothers order last fall and became a farm-union organizer after failing to get the large Christian Brothers Winery to grant union demands during the California "grape strike."
Detroit mental patient Richard Wishnetsky, 23, shot a rabbi who had been counseling him and then shot himself during an interfaith service. Wishnetsky died days later, and Rabbi Morris Adler remained in grave condition.
The Rev. Frederick Essex of Hollywood. American Baptist film executive who quit a National Council of Churches awards panel in protest after it bypassed The Greatest Story Ever Told (see Feb. 18 issue, page 49), was employed as a publicist for the film. Religious News Service reports Essex was paid for several weeks by the film's distributor, United Artists, for lining up church support. Essex did not quit the awards group until after the decisions were made.
Have something to add about this? See something we missed? Share your feedback here.
Our digital archives are a work in progress. Let us know if corrections need to be made.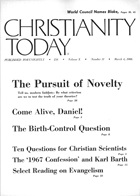 This article is from the March 4 1966 issue.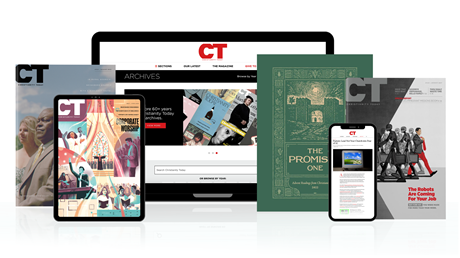 Annual & Monthly subscriptions available.
Print & Digital Issues of CT magazine
Complete access to every article on ChristianityToday.com
Unlimited access to 65+ years of CT's online archives
Member-only special issues
Subscribe
Church Channel to Homosexuals
Church Channel to Homosexuals