Miffed at the Rift
So Sammy Runs
The Late Liz is the title of a book written by Gert Behanna, and it's a good one. Now it has been put on a record in her own remarkable voice and with just the right lilt. She tells, of course, about the wonderful change that took place in her life. In telling it in her own characteristic way, she mentions the occasion when she was coming out of a slough of despond, needed some help, and thought she should see a minister. When she had inquired around about where to get a minister, someone asked her, "Do you want a go-getter or a man of God?" She thought that maybe in her condition she needed a man of God.
We all do, and they are hard to come by. The go-getters have taken over.
My idea of a first-rate nightmare is to dream that someone has suddenly given me a church of about 5,000 members complete with staff, intercom, a stainless steel kitchen, and a mimeograph machine. Oh yes, the mimeograph machine. How did the early Church ever get started without a mimeograph machine? And please let's have everything in triplicate, and make sure we keep open the channels of communication, and don't do anything until you have at least three signatures.
This is a false picture, if I give you the impression that large churches are necessarily manned by go-getters instead of men of God. That's a generalization that won't hold up at all. But the threat is always with us. Person-to-person and the "I-thou" can get lost in the machinery. In a game where you can't serve God and mammon, the organization man and mammon get together all too frequently.
And this calls for a quiet word to our seminary faculties. What makes a man "succeed" in the ministry? Well, certainly something more than the ability to endure committees, and get things done, and slap backs, and laugh heartily.
EUTYCHUS II
A Look Across The Rift
Referring to your statement ("Will the Gap Narrow or Widen?," Feb. 4 issue) that "of all the tragedies of the modern world, none would be sadder than an ecclesiastical rift that would further divide the community of Christian faith": Such a statement … is either totally naïve due to a theological blindness or it shows a lack of willingness to admit the reality of the twentieth-century situation.
There is a rift.… Naturally the evangelicals are outweighed in the ecumenical movement and in most of the large Protestant denominations due to this rift.… Why not recognize the facts and realize that this movement would be denying itself to let evangelicals have important positions and voices in its various programs. Would we want to let them, that is the "liberals," have a voice in our programs?…
HURVEY WOODSON
Milano, Italy
I have read with more than ordinary interest the editorial.… It concerns itself with a matter which has been one of great concern to me for a good many years, even long before I became in 1953 president of the former Evangelical and Reformed Church.…
I am no longer active in the National Council, although I believe in it and continue to support it in every way I can. I believe in its leadership.…
It seems to me that you and your colleagues are in a particularly strong strategic position to exercise a ministry of reconciliation in behalf of the more conservative orthodox viewpoint which you generally represent, just as I am sure there are leaders in the National Council constituency who favor among themselves that kind of a ministry of reconciliation.
JAMES E. WAGNER
Vice-President
Ursinus College
Collegeville, Pa.
It is very heartening to know that there are still seven thousand who have not bent the knee.…
PETER ALPHENAAR
Bradenton Beach, Fla.
I hope it will wake up the evangelicals who yield to the popular and bewitching voice of ecumenicity.
C. P. DAME
Second Reformed Church
Kalamazoo, Mich.
Southern Baptists believe there is a difference between "union" and "unity." Tie two cats together by their tails and you will have union but not unity. Different church bodies formally joining up together is likewise union but not unity. Unity can only exist among born-again believers who know what it is to have a common experience of salvation through faith in [Christ's] blood.…
WILBER M. SCHLICHTING
Prichard, Ala.
I fail to understand why persons agitating for church unity should necessarily be opposed to evangelism and vice versa.…
HERBERT KAISER
Monticello, Ill.
I feel that the vast majority of us who are serving in the local parish are simply trying to be obedient to both the ecumenical and the evangelical imperatives of our Christian faith as best we can. We believe in the authority of Scripture, in justification by faith alone, and in most of the other tenets you credit to "the evangelical," but we also recognize that the ecumenical movement is both scriptural and Spirit-led as a whole, and respond to it with joy, for such is our understanding of Christ's Church.…
I would drop my support of the ecumenical movement this moment if I thought it failed to be evangelical at its heart.
WILLIAM B. SIMONS
Riverside Methodist Church
Harrisburg, Pa.
No Grounds For Praise
Sorry, I do not share Vernon Grounds's praise of Carnell's book, The Burden of Sören Kierkegaard (Feb. 18 issue). I believe Carnell has neglected altogether too much the philosophical framework of Kierkegaard's interpretation of Christianity. He thus fails to see the radical nature of this (re)interpretation and consequently grants him far more credit than he is due. In this respect I believe Zuidema has done a far better job in his monograph on Kierkegaard in the "Modern Thinkers" series. And I believe his judgment to be more accurate when he states: "Kierkegaard secularized Christianity and Christian categories long before the development of Heidegger's and Jasper's existentialism."
J. TUININGA
Philadelphia, Pa.
Peale Or The Picayune
I marveled at Peter Van Tuinen's review (a meticulous search for possible omissions and inconsistencies) of Norman Vincent Peale's Sin, Sex, and Self-Control (Feb. 4 issue) and especially his summing-up: "… it is not Christianity." In my judgment, there is much more Christianity in the book than in the review. The book deals creatively with Christian living; the review has the aura of the picayune.
HARRY H. WIGGINS
Fairview Park, Ohio
Doctoring The Ministry
I was interested in … "Theological Doctorates" (Current Religious Thought, Feb. 18 issue).
Though I don't agree with the author's conclusions about the matter of giving a doctorate for seminary work, at least he did present some of the considerations. However, I was interested in noting what seemed to me a significant omission in the discussion. This omission was in reference to the competition of the glut of D.D.'s, which is certainly a factor in forcing this reappraisal.… I couldn't help wondering if the author was afraid of offending some of the journal's regular readers by mentioning a sacred cow. Possibly if the glut of questionable D.D.'s is frowned upon, some of the tension will be released. However, I would imagine that there are too many what you term in another place "popularly educated ministers" who hold their positions with the help of a D.D. from someplace (the someplace is seldom mentioned) for this to be a solution.
Thus, I say full speed ahead to the progressive schools, for at least it would be a better basis for a doctorate than raising some money for a Bible school someplace.
WM. ROSS JOHNSTON
Trinity Presbyterian
Perryton, Tex.
Montgomery should be glad that someone has courage enough to attack the sacred cow of theological education. If the attack was only by the fly of a cheap degree, it could be flicked off casually. Some educators feel that a religion major and some language prerequisites make sense for the undergraduate. Is it possible that a seminary that dares set Bible, Greek, and philosophy prerequisites just may be able to offer a superior education instead of a cheap degree? Could there possibly be a place for a seminary that aims to educate and professionally train preachers and missionaries instead of teachers?
WARREN H. FABER
Director of Academic Affairs
Grand Rapids Baptist Seminary
Grand Rapids, Mich.
Wrong Corpse
"God is dead!" some teachers claim;
They say they're "on the level."
Would God that someone, in his name,
Could also kill the Devil.
ERNEST K. EMURIAN
Cherrydale Methodist
Arlington. Va.
Convenient And Continual
I could not keep silent after reading Frank Gaebelein's recent article, "Rethinking the Church's Role" (Feb. 18 issue).…
Regarding adult Christian education, I have advocated scheduled Bible classes to be taught by church members who are Bible institute, college, or seminary graduates, located wherever convenient, … on week nights, or, for shift workers, on weekdays or weekends, if possible. I feel in this way Bible classes could be carried on continually. Details of such a program … would have to be worked out by the local church. This point of view is all I can add to this line article.…
JOHN BRISTOL
Flint, Mich.
Striking The Bell
Re Dr. L. Nelson Bell's column, "Caught Off Base" (Jan. 21 issue): One thing that I will never understand about some "conservative" Christians is their inability to appreciate the fact that they have very strong opinions on politics, society, and economics. They are very free to criticize the so-called liberals who also have strong opinions in these matters, and they condemn them for being so involved in politics, social issues, and economics.… After stating that "the Church fails in her primary mission when she becomes involved, as a corporate institution, in social, economic, and political matters," Dr. Bell goes on to quote approvingly from a sermon by "the pastor of one of America's great churches," who is not identified. (I am now wondering what a "great church" is; could my small parish be so classified?)
This sermon, if the quoted portions accurately summarize it, is one of the most political statements I have ever read.…
Although I don't seem to have the "correct views"—according to some conservatives—in many controversial political, social, and economic issues, I make it a practice not to bring my views into my sermons.…
I notice that Dr. Bell is above criticism (animadversion) in your "Letters to the Editors" column. Therefore I know you won't give my letter serious consideration, for this is how you treated me when I submitted a letter a year and a half ago.
I am glad that the "arts" is one area which is open for genuine discussion in your journal. Your articles in this area I have usually found stimulating.…
CHARLES H. KAMP
Suydam Street Reformed Church
New Brunswick, N. J.
A special round of applause for Dr. Nelson Bell's column—so edifying. "Caught Off Base" is an apt title for the article that decries the misapplication of "Christian" effort in the contemporary social arena.
DON AND ARLENE DE JONG
Pleasant Hill, Calif.
A $5,000 Offer
To prove to you that Jesus is a dream—or a myth—I agree to donate $5,000 to your organization if you will furnish me with a single irrefutable and realistic proof that there ever existed a supernatural person named Jesus Christ (no books).
LOUIS BERGER
Santa Monica, Calif.
Where The Scholars Are
The moderator of the United Church of Canada, Dr. Marshall Howse, said on television of us evangelicals, "They have no scholars." The head of the United Church Divinity School in Montreal, Dr. Johnson, said, "You'll have to take that back, Ernie," but he didn't.
Perhaps if he had been at the convention of the Evangelical Theological Society in Nashville, he would have!
W. GORDON BROWN
Dean
Central Baptist Seminary
Toronto, Ont.
Have something to add about this? See something we missed? Share your feedback here.
Our digital archives are a work in progress. Let us know if corrections need to be made.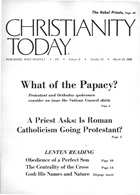 This article is from the March 18 1966 issue.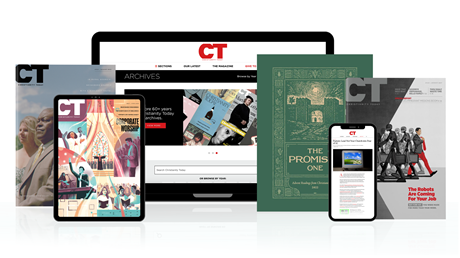 Annual & Monthly subscriptions available.
Print & Digital Issues of CT magazine
Complete access to every article on ChristianityToday.com
Unlimited access to 65+ years of CT's online archives
Member-only special issues
Subscribe
Eutychus and His Kin: March 18, 1966
Eutychus and His Kin: March 18, 1966