Churchmen at White House Conference ponder strategy once laws are passed; question guest list, U. S. policies
There was one complaint after another about this month's White House Conference "To Fulfill These Rights"—the procedure was wrong, the pre-fab legislation wasn't specific enough, the wrong people were invited. But some steam was let off and some eyes were opened during two days of discussion by 2,800 invitees (200 of them from religious organizations).
Largely because of church pressure, the hottest issue at last November's planning session for the conference—the stability of the Negro family—disappeared (see December 17, 1965, issue, page 38).
The Washington Post contended editorially that civil rights is a dead issue, since legal rights are established. But several Southern pastors at the capital conference found some unfinished business on this agenda. The Rev. James McRee of Canton, Mississippi, said that as long as federal school funds are channeled through his state government, Negroes will continue to get second-class education. The Negro is free to attend an all-white school, he said, but if he does he will be harassed constantly.
The ambush shooting of James Meredith days later was a graphic reminder of the remaining problems in law and order.
But such Southern eddies off the mainstream of American democracy seem quaint at a time when the civil rights movement is increasingly concerned with the North, with jobs, and with housing.
The Leadership Conference on Civil Rights, a blue-ribbon front including many religious leaders, held a press conference to back President Johnson's national fair-housing bill and other 1966 civil rights proposals. The President made a surprise visit to the White House conference and attempted to soothe dissidents by saying one man can't work miracles.
Vice-President Hubert Humphrey said churches and other community groups are "among the most potentially effective agents," but he noted that some local congregations are still segregated and "many more do not speak out affirmatively on urgent questions of racial justice which arise in our communities."
The conference was blander than expected, partly because militants tended to boycott it. Stokely Carmichael, new head of the Student Nonviolent Coordinating Committee, who has been accused of reverse segregation and black nationalism, was among those who hovered around the edges of the meeting and talked to reporters but didn't participate. Significantly, a group of Negro protesters who considered the meeting at the President's request a "sellout" refused to let whites join their picket line.
Inside, the protest was led by Floyd McKissick, national director of Congress of Racial Equality (CORE). He tried to get a resolution stating that the United States should get out of Viet Nam and spend all those millions at home, and thus make equal opportunity "the number one priority." But his discussion committee voted this down ten to one.
As set up, the conference would have forbidden motions from the floor, but the uproar about "rigging" was so great that conference planners changed policies in midstream.
The dozen discussion groups made significant additions to the block of recommendations prepared in advance by the 29-member planning council.Council members included Dr. Martin Luther King, Jr., Dr. Robert Spike of Chicago Divinity School, and J. Irwin Miller, industrialist and former NCC president. They backed home rule for Washington, D.C., stronger enforcement of existing civil rights laws, an emergency conference on law enforcement (Watts and Los Angeles were much in the air), and a revision of the council's report to add such specifics as cost, timetables, and priorities in national efforts in human rights.
Dr. Anna Arnold Hedgeman, one of the more outspoken representatives from the National Council of Churches, was so disappointed she wants the NCC to send the President an official protest. Her main criticism was that "the NCC clergy" and churchmen in general got the short end of representation, and those not left out were added at the last minute.
Among the missing were top officials and race experts from the Episcopal and Methodist churches, long active in the field. Dr. Benjamin Payton, NCC race director, sent a list of fifty key denominational staff people in the area, but only a handful were invited.
The long list of those inside had an unusual flavor: small-town Americans who admitted little concern with civil rights, funeral directors, mayors and governors, and such personalities as McGeorge Bundy, Sammy Davis, Jr., Theodore Bikel, Marlon Brando, Duke Ellington, and Jimmy Brown.
And there was Jackie "Moms" Mabley, Negro comedienne who has made good on off-color jokes, who opined that schools—whether segregated or integrated—will never be great until the "Bible is returned." She urged those who "outlawed the Bible from the schools to law it back."
Delta Ministry Wins Reprieve
Not since the widely disputed Cleveland conference of 1958Reflecting on adverse reaction to the conference's bid for Red China recognition, ecumenist Eugene Carson Blake observed, "Boy, did we get clobbered!" has anything piled so much grief upon the National Council of Churches. The Delta Ministry, a two-year-old effort to relieve the plight of Mississippi Negroes, costs NCC nearly half a million dollars annually and an untold measure of good will among race-conscious Southerners. Militant DM staffers complain, meanwhile, that "northern churchmen who were originally enthusiastic about the concept now find their interests monopolized by newer or more highly publicized concerns."
While digging into reserves because most of its member denominations have refused to support the Delta Ministry, NCC set up an "evaluation committee" headed by Baptist layman Brooks Hays and President A. Dale Fiers of the Disciples' United Christian Missionary Society. The committee's report to the NCC General Board this month lauded achievements of the DM, but charged that it was fiscally irresponsible and too freewheeling. A stringent overhaul was recommended to curtail DM voter registration drives, political workshops, and relief efforts in a dozen or so counties of western Mississippi where the soil is rich but the people are poor.
At the General Board's two-day meeting in New York, an attractive young Negro lawyer pleaded emotionally for the DM. The board, with fewer than 100 of its 250 seats occupied, was left in no mood for a full-dress debate. It put off consideration of the report and merely reaffirmed the "purpose and direction" of the DM.
Left hanging was the question of where the money is to come from. One of the board members suggested that they each try to raise $100 by July 1. None rose to the challenge.
Meredith And The 'Fringe'
Churchmen around the world issued statements deploring the act that sent Mississippi marcher James Meredith to a hospital with shotgun wounds.
One of the first to speak up was Arthur Thomas, 34-year-old head of the Delta Ministry (see box), who denounced Mississippi politicians for "encouraging the unbalanced fringe." Thomas said the shooting of Meredith, first Negro admitted to the University of Mississippi, was "only one of thousands of harassments of voters." He charged that the Rev. Clint Collier, seeking a seat in Congress for the Freedom Democratic Party, has been "continually harassed by law enforcement officers in Neshoba County ever since declaring his candidacy."
Thomas also asserted that "in the last few months, the state legislature passed, without protest from 'white moderates' and without notice of the national press, numerous laws to wipe out Negro votes. Congressional districts have been gerrymandered, qualification dates hastily moved up, and election procedures changed."
"When they encourage such circumvention of the Constitution, the state's leaders cannot escape responsibility for encouraging the unbalanced fringe who use more violent means to the same end."
Thomas, a native of Williamsport, Pennsylvania, is an ordained Methodist and a graduate of Colgate University and Duke Divinity School, where he specialized in the relation of economics and ethics. He offered Meredith "full support in your efforts to increase the participation of the Negro people in democratic procedures."
Religious News Service reported that the Delta Ministry had already assigned all staff members as poll-watchers when word of the Meredith shooting came, the day before the June 7 Mississippi primary. Meredith was felled while on a 225-mile march to encourage Negroes to vote. One of his co-marchers was the Rev. Robert H. Weeks, an Episcopal priest from Monroe, New York.
Also in the state, as poll-watchers, were Dr. David R. Hunter of New York, deputy general secretary of the National Council of Churches, and the Rev. James P. Breeden, assistant director of the NCC Commission on Religion and Race.
Meanwhile, Dr. Benjamin Payton, director of the NCC race commission, declared that the "treacherous attack" on Meredith "reminds us once again that we have only just set out on our halting march as a nation toward justice and equal opportunity." Payton pointed to an urgent need for vigilance by federal and state governments in the Mississippi primary and called on Congress for prompt action on the 1966 Civil Rights Bill with its protective features: "The shotgun pellets that wounded James Meredith, it is hoped, will have stung our Congress into performing quickly the duty set so clearly before it."
In London, evangelist Billy Graham led nearly 18,000 Britons in prayer for Meredith's recovery. The Southern clergyman said, "We hope God will see in our hearts the solution to this problem."
Negro Rights At Church Assemblies
Church conventions may become a target of civil rights groups if delegates are chosen in a manner that Negro leaders believe discriminates against colored parishioners.
This new development may confront, in particular, the Protestant Episcopal Church's triennial convention in Seattle next year. A resolution recently adopted at the National Negro Republican Assembly gave strong support to the independent Episcopal Society for Cultural and Racial Unity (ESCRU), which plans to challenge the seating of delegates from dioceses in which Negro members allegedly suffer discrimination.
The church convention challenge could be a trial run for the national political convention. The Negro Republicans resolved that their organization should keep close contact with ESCRU because "in spite of anticipated difficulty [at Seattle], much can be learned to prepare for an effort to prevent the seating of delegates elected on a racially discriminatory basis for the 1968 Republican National Convention."
In another move of interest to churchmen, the NNRA resolved to "set up a close working relationship with ESCRU and similar organizations in the Roman Catholic, Protestant, and Jewish faiths, so that the Republican Party may have the benefit of and experience of friends and sympathizers in various religious movements as we join in the effort to clean up the next Republican convention."
The NNRA was addressed by Michigan Governor George Romney, a Mormon. Elected chairman was former baseball star Jackie Robinson, an active layman in the United Church of Christ.
GLENN D. EVERETT
Have something to add about this? See something we missed? Share your feedback here.
Our digital archives are a work in progress. Let us know if corrections need to be made.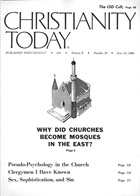 This article is from the June 24 1966 issue.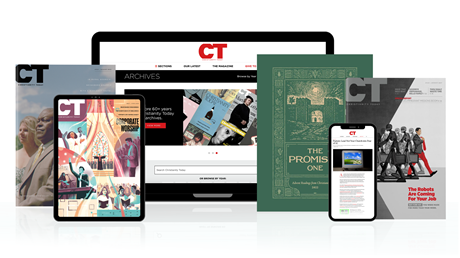 Annual & Monthly subscriptions available.
Print & Digital Issues of CT magazine
Complete access to every article on ChristianityToday.com
Unlimited access to 65+ years of CT's online archives
Member-only special issues
Subscribe
Beyond Civil Rights
Beyond Civil Rights