UNREGENERATE MAN HAS ALWAYS BEEN at odds with God. From the day that he heeded the cynical rejoinder, "Yea, hath God said?," he has not ceased to question the Almighty.
Except for its tragic implications, such an attitude would appear ludicrous. Can the finite question the infinite? Can the creature of time comprehend the Eternal One? Can limited man judge the sovereign God? Can the created call to account the Creator?
An objective contemplation of the universe leads one to sense something of its Creator. The immensity and order of the creation stagger one's imagination; they indicate the existence of Someone great, wise, and powerful, before whom man should bow in worship.
But often man does not make this response. He whose mind has never grasped the reality of God—his power and love, his justice and mercy, his infinite capabilities and marvelous condescension—complains about and rebels against this God who made him.
Many years ago I was examining with a fluoroscope a Chinese man who had received a chest wound in which it was thought there might be a piece of metal. The patient had loudly asserted his poverty, and the examination was being given without charge.
The fluoroscope did not reveal any foreign material in the chest or lungs. As I checked down toward the man's waist, however, I saw, in his canvas belt, about fifty silver dollars.
The divine X ray never fails in its diagnosis and will even reveal the sins a man says he does not have. So men are exposed and judged by it. We read in the letter to the Hebrews that "the word of God is living and active, sharper than any two-edged sword, piercing to the division of soul and spirit, of joints and marrow, and discerning the thoughts and intentions of the heart." Then we are confronted with this sobering statement: "Before him no creature is hidden, but all are open and laid bare to the eyes of him with whom we have to do" [Heb. 4:12, 13, RSV).
Mechanical contrivances and scientific techniques can tell us much about be physical condition of a person, but only God knows the "thoughts and intentions of the heart." This should be a frightening idea to all who have rejected his redeeming grace.
David, by the Holy Spirit, speaks of the deep truths of God. In the 139th Psalm he tells us: "Even the darkness is not dark to thee, the night is bright as the day; for darkness is as light with thee" (v. 12). The psalm ends with the prayer, "Search me, O God, and know my heart! Try me and know my thoughts! And see if there be any wicked way in me, and lead me in the way everlasting!"
How strange that man should call God in question. The Apostle Paul, paraphrasing the words of Isaiah, says: "Who are you, a man, to answer back to God? Will what is molded say to its molder, 'Why have you made me thus?' " (Rom. 9:20).
Man's questioning of God stems from his pride and unbelief. He forgets that God has declared himself in terms that preclude reasonable arguments. The eternal nature of God is stated in many ways, none more clear than, "Lord, thou hast been our dwelling place in all generations. Before the mountains were brought forth, or ever thou hadst formed the earth and the world, from everlasting to everlasting thou art God!" (Ps. 90:1, 2).
How can man, whose life is but a breath, argue with the One who exists from everlasting to everlasting?
The consistency of God should also preclude foolish questions. He is always the same. The Apostle James speaks of "the Father of lights with whom there is no variation or shadow due to change [or inconsistency]" (Jas. 1:17).
God revealed himself to Amos as the "plumb-line God" whose righteousness, holiness, justice, love, and mercy are constant and consistent. How foolish it is to question such a God.
Man is saved by faith, and that faith is effective because of God's faithfulness. Baalam, inspired by the Lord, said "God is not man, that he should lie, or a son of man, that he should repent. Has he said, and will he not do it? Or has he spoken, and will he not fulfill it?" (Num. 23:19). The Apostle Paul exclaims, "Let God be true though every man be false, as it is written, 'That thou mayest be justified in thy words, and prevail when thou art judged' " (Rom. 3:4).
We are rightfully overwhelmed by the multitude of known facts today. It is said that 90 per cent of scientific knowledge must now be stored away for the future, because at present we have no way to use it.
But what about the One who created all things and the laws that govern them? Man has not discovered anything that God did not create, and he never will. God is the ultimate source of reference, the Creator of all truth and knowledge. Man can only discover what God has made. How can he hope to argue effectively with the Creator?
The infinity of God and the finitude of man are a fact from which man cannot escape. The difference between the Creator and the created is pointed up in Psalm 115:16: "The heavens are the Lord's heavens, but the earth he has given to the sons of men."
The majesty and power of God, as well as his love, call us to worship him. Overwhelmed by a revelation of God, the Apostle Paul exclaims: "O the depth of the riches and wisdom and knowledge of God! How unsearchable are his judgments and how inscrutable his ways! 'For who has known the mind of the Lord, or who has been his counselor? Or who has given a gift to him that he might be repaid?' For from him and through him and to him are all things. To him be glory forever" (Rom. 11:33–36).
Job, catching a vision of God, asked, "Can you find out the deep things of God? Can you find out the limit of the Almighty?" (Job 11:7).
Man must acknowledge that he is very limited and that God is omnipotent, omniscient, omnipresent, and sovereign. For man either to question or to resist will not change the fact, which he must accept in humility and faith.
The steps to knowing and enjoying God are wonderfully simple. First one must believe that he exists; this is an act of faith based on the irrefutable facts of creation and life with which we are surrounded. The Apostle Paul tells us: "Ever since the creation of the world his invisible nature, namely, his eternal power and deity, has been clearly perceived in the things that have been made" (Rom. 1:20). Out of this step of faith the Holy Spirit gives understanding, and things once an enigma fall into place in the overall realization of God himself.
The second step is obedience. God reveals himself not to satisfy our curiosity but to elicit our obedience. The "heroes of faith" listed in the eleventh chapter of Hebrews proved their faith by their obedience to the God in whom they believed.
Faith like theirs is available to all who will humble themselves and turn to God. When this is done, faith and obedience assume their rightful place in the new relationship with the Eternal God.
Have something to add about this? See something we missed? Share your feedback here.
Our digital archives are a work in progress. Let us know if corrections need to be made.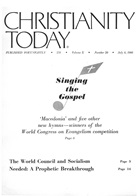 This article is from the July 8 1966 issue.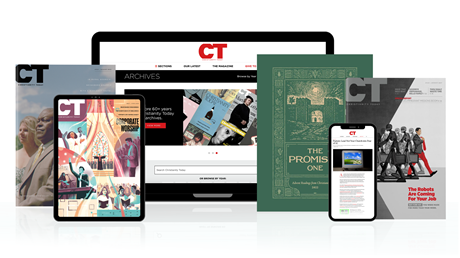 Annual & Monthly subscriptions available.
Print & Digital Issues of CT magazine
Complete access to every article on ChristianityToday.com
Unlimited access to 65+ years of CT's online archives
Member-only special issues
Subscribe
God in Perspective
God in Perspective