Nothing is so predictable about ecumenical social theory as its constant revision
The Protestant world will follow with eager interest the WCC's World Conference on Church and Society, to be held July 12–16 in Geneva, Switzerland. Multitudes of concerned ministers and laymen hope that this ecumenical conference will clearly disavow the socialist speculations of ecumenical spokesmen in Christian Social Ethics in a Changing World, edited by President John Bennett of Union Theological Seminary.
CHRISTIANITY TODAY'S criticism of the "responsible society" projected by many ecumenical spokesmen today does not arise out of the notion that the Christian religion requires some one type of society for its survival. After all, Christianity outlasted the slave economy of New Testament times and the feudalism of the Middle Ages; even "Calvinistic capitalism" had roots in the New Testament, and not the New Testament in capitalism. Our opposition to ecumenical "social planning" arises from its neglect of essential Christian values.
First, many vocal ecumenical theorists today repudiate a commitment to principles and demand a situational ethic. But "unprincipled" has never been a word of commendation and it is not one now. Christian principles, and in fact the scriptural doctrines in full, remain of fundamental importance to authentic Christianity.
Second, the ecumenical advocates of socialism, despite their heavily pragmatic approach, tend to ignore what has happened when some variant of Marxism has triumphed. In states of a socialist type, Christian values are not widely accepted; as Professor Harry Aronson, of the University of Lund, says about the situation in Sweden, a socialist state: "Mass culture appears to be essentially materialistic.… The process must be labeled as idolatry." In Communist countries, Christianity is officially denounced and its adherents deprived of natural rights.
Third, conciliar Christianity is increasingly involving the corporate church in specific political and economic commitments that fall outside its legitimate mission, competence, and authority. This deviation is a consequence of the glowing rejection of the Bible as Protestantism's sole authority. It is remarkable that many ecclesiastical leaders so profoundly indignant over laissez-faire capitalism should maintain laissez-faire attitudes toward Protestant theological deviation and moral rebellion against biblical standards!
For the shaping of social structures, President Bennett of Union promises revelational guidance of an ecclesiastical sort. This guidance "cannot be provided primarily by any general, rational set of values, but by participation in the Koinonia, where—through word, sacrament and interrelatedness—the concrete shape of God's humanizing work in the world is becoming visible" (Christian Social Ethics in a Changing World, ed. by John C. Bennett, Association Press, 1966, p. 40). This kind of nebulous pipeline to heaven has in the recent past achieved such conflicting ideas and ideals that most laymen will surely be tempted to leave this access to a few professional oracles, and even these professionals may gain new sympathy for the dogma of the infallibility of the pope (or at least of social-action committees).
The socialist direction of this ecumenical deviation, in its emphasis on the welfare state, is increasingly justified by a distortion of the biblical view of justice and love. Among the flaws of ecumenical social ethics are its ambivalent, even conflicting, notions of love and justice, and of their relation.
In expounding Reformation theology, Protestant leaders like Luther, distinguished between the "two kingdoms" of creation and redemption: in the kingdom of men, the Creator rules fallen humanity through Caesar and the law by civil justice and order, whereas in the Kingdom of God the Redeemer rules regenerate believers through Christ and the Gospel by personal faith and love. In the world at large, God achieves his purposes through the state, by the enforcement of law promotive of order and justice. But within the "new brotherhood" or community of the Church, Christ's law of love takes precedence over all juridical relationships and is decisive in personal neighbor relationships. By the preserving instrumentality of just laws, sinful society is to be conformed to God's created orders, and by the regenerating power of the Gospel of Christ, sinful men are to be personally transformed. The established social structures—marital, economic, and political—are the Creator's dikes against sin, and Christians are ideally to live within them in obedience to God's commandments.
Today the very content of justice is being widely revised. Protestant socialistic theorists admit that Luther did not include as a part of Christian social responsibility—as they do—the ecclesiastical transformation of the structures of society. Most ecclesiastical champions of the socialist restructuring of society contend that the proposed changes point toward God's justice. But while the Christian Scriptures exalt justice and assail injustice, the Bible nowhere advocates Marxist theory.
The attempt to derive a Christian ethic of justice from the love-commandment has characterized ecumenical social theory since the Oxford Conference of 1937. In the early twentieth century, optimistic modernists sought to expound Christian social ethics from the Sermon on the Mount alone, and they often reduced its essentials to love of neighbor and human brotherhood. But the reality of evil demanded increasing recognition by modern theology. Soon the difficulty of any direct universal application of the love-commandment became apparent, and the need of justice as a social criterion was re-emphasized. But, enamored of socialism, ecumenical social ethics more and more advocates translating love into justice, while scriptural precepts whereby justice is authentically defined are largely ignored. The Bible views property rights as personal rights; socialist theory contrasts them and presumes to elevate personal rights, but often simply substitutes one class of injustice for another.
The Oxford Conference (1937) extended the principle of love beyond the sphere of personal relations and defined the social task as the Christian use of the "principle of justice, as the relative expression of the commandment of love in any critique of economic, political and social institutions." Its net outcome in subsequent ecumenical theory was that socialism was assimilated to justice, then sanctified by the love-commandment, without any biblical authority whatever for this perverse authentication.
Encouraged by the universalism implicit in Karl Barth's theology, some expositors view the law as a "shadowy Gospel" and the state as a parable of the Kingdom of God. Under this ideological canopy, they sometimes contend that the state functions analogically to the church and that it should secure the goals of brotherly love through legal compulsion. In the view of Roger Mehl, "In place of the person-to-person relationship, which may be called the short or direct relationship, it substitutes the long or indirect relationship: that is to say, it organizes systems of mutual help, of social security, of social services, which function anonymously," so that men are helped "not by personal initiative but by virtue of legislation of universal application" (in Christian Social Ethics in a Changing World, pp. 54 f.).
In the same book Professor Wendland connects the commandment of love for neighbor with the "responsible society" and insists that this command imposes a humanitarian demand for the universal welfare of man that the Church (the "ecumenical brotherhood of the churches") must promote (ibid.; p. 142). Love of neighbor, we are told, is mere abstract idealism unless it issues in "social humanness," that is, in secular cooperation for social welfare (p. 147). "A church that restricted its preaching of the gospel to individuals would be contemptuous of the real man who is entwined with society.… The concepts developed by Christian social teaching today are nothing but an expression of simple obedience to God's love of the world" (p. 150). Evangelical Christians are apt to find such expositions of John 3:16 ingenuous. Wendland does indeed grant that the combination of "brother love" and law that blends into socio-ethical demands lacks salvation character, and that "these demands do not effect any 'social redemption' " (p. 151). But he nonetheless views the social-ethical demands of neighbor love, identified with a partnership-society, as "commandments of grace for secular existence in society" (p. 152).
The Roman Catholic Professor Janssens of Belgium tells us that justice imposes certain minimum requirements on society, but that it is nonetheless dynamic and changeable. "What becomes socially possible at a given moment, in view of the level of culture already reached, is, by that very fact, required by justice" (p. 171).
But the Lutheran Professor Aronson of Sweden warns against dialogue on "justice and love" on a humanist basis—as if it were a matter of indifference whether one believes that God rules the world by law, or holds a humanist view of man as the idealistic core of welfare theology (p. 262). Whenever the Church speaks as Church, he insists, the main theme is not the relationship of man to man; rather, specific issues and objectives of social action are transferred to the realm of law and Gospel, and the relationship is viewed in the light of man's relationship to God and to his righteousness and love. Through God's revelation of his love in Christ and in personal commitment to him, "human love and justice are finally to be understood" (p. 263).
This last point is important. What gives Christianity its distinctive position over against humanism is precisely this—that God has been pleased to reveal himself in Christ, and this revelation is normative. Man is not the measure of things. He is to be guided by God's revelation, not by subjective standards of his own.
"History shows that the thought of Christ on the Cross has been more potent than anything else in arousing a compassion for suffering and indignation at injustice.… The later Evangelicalism, which saw in the death of Christ the means of free salvation for fallen humanity, caused its adherents to take the front rank as champions of the weak.… The humanitarian tendencies of the nineteenth century, which, it is but just to admit, all Christian communities have fostered, and which non-Christian philanthropists have vied with them in encouraging, are among the greatest triumphs of the power and influence of Christ."—F. J. FOAKES-JACKSON in Cambridge Theological Essays (ed. by H. B. Swete), pp. 512 ff.
Have something to add about this? See something we missed? Share your feedback here.
Our digital archives are a work in progress. Let us know if corrections need to be made.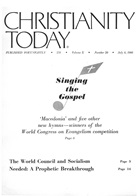 This article is from the July 8 1966 issue.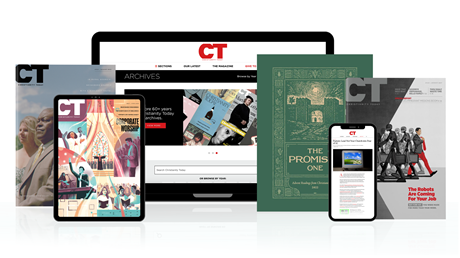 Annual & Monthly subscriptions available.
Print & Digital Issues of CT magazine
Complete access to every article on ChristianityToday.com
Unlimited access to 65+ years of CT's online archives
Member-only special issues
Subscribe
The Confusion of Love and Justice
The Confusion of Love and Justice