The Christ who comforts troubled hearts is also the One who disturbs complacent men and exposes hypocrisy
We most often think of the Messiah as the Comforter who comes with healing in his wings, speaking peace to troubled hearts. But Isaiah writes: "So shall he startle many nations" (Isa. 52:15, RSV). Here the Messiah is seen as one who disturbs, startles, and confounds. For some he will be a Deliverer, for others a Disturber. Christ endangers the thought patterns and way of life of those who hear him.
First, Christ is a danger to closed and prejudiced minds. It has been said that there is no pain like the pain of a new idea. We all have our own little thought-world that we do not want disturbed. The closed mind of the first century passed Bethlehem by despite the Prophet Micah's word that the Messiah was to be born there. The closed mind of Nathaniel answered Philip's invitation to come and see Jesus with the question, "Can any good thing come out of Nazareth?"—and yet Jesus hallowed Nazareth by spending thirty years of his life there. The closed mind of the Jews who heard Jesus teach at the feast of tabernacles led them to ask, "How is it that this man has learning, when he has never studied?" Yet Jesus has been the inspiration for the founding of more schools and the writing of more books than anyone else. None of our prejudices are safe in the presence of Christ.
In the spring of 1924, Negro troops were stationed in Germany, and there was a great deal of resentment against them. Roland Hayes, the American Negro tenor, was touring Europe and had scheduled a concert in Berlin. When he appeared to sing, the audience hissed and booed. Hayes waited until they were quiet and then sang Schubert's, "Thou Art My Peace." The audience listened in hushed silence. After it was over, Roland Hayes said that this was not a personal victory but the victory of a force that sang within him and subdued the hatred of the audience. We too may know that power; it is the power of the dangerous Christ who will have no part with our prejudices.
Second, Christ is a danger to selfish interests. His stand on greed and exploitation is startling indeed. Listen to him: "Whoever would save his life will lose it; and whoever loses his life for my sake, he will save it." And again, "What does it profit a man, to gain the whole world and forfeit his life?" Was it not dangerous for the rich young ruler to come to Jesus with the question, "Teacher, what good deed must I do, to have eternal life?" For Jesus' reply was, "Go, sell what you possess and give to the poor … and come, follow me." The price was too great. The young man loved his possessions too much, and he went away sorrowful. But he went away.
Was it not dangerous for the scribes and the Pharisees to expose themselves to Jesus' withering blasts about greed that hides beneath the cloak of religion? He said to them, "You devour widows' houses and for a pretense make long prayers; therefore you shall receive the greater damnation." Was it not dangerous for two of his disciples and their mother to request the chief seats in the coming Kingdom? Jesus let them know immediately that honors are not passed out in the Kingdom as politicians pass them out here. In reply to their request, Jesus asked, "Are you able to be baptized with my baptism?" And he gave us the guideline for our lives when he said, "Seek first his kingdom and his righteousness, and all these things shall be yours as well."
Christ still stands as the greatest menace to greed and selfishness. We need desperately to learn that any evil promoted for selfish gain at the expense of human personality must face the condemnation of Christ. Slavery, the liquor traffic, prostitution, war, white supremacy—these stand in danger in the presence of Christ. For all of them, Christ spells ultimate doom.
Third, Christ is dangerous to those who casually and formally profess religion. Whenever he comes in contact with them, he tears the cloak of pride and unreality from their shallow piety. To those who came to worship he said, "Beware of practicing your piety before men in order to be seen by them; for then you will have no reward from your Father who is in heaven." To be insincere in Christ's presence is always dangerous. It is perilous to attempt even a mild deception of God. "Whenever you stand praying, forgive, if you have anything against anyone; so that your Father who is in heaven may forgive you your trespasses." To boast of piety is always dangerous. The Pharisee who came to the temple to worship said, "God, I thank thee that I am not as other men." He did not receive the Lord.
When we come into the Lord's presence we should always be searching our hearts to see what he sees. Too many of us have the outward form but inwardly are, as Jesus said to the Pharisees, "full of dead men's bones." Christ always sees us for what we really are. He detects our formality and our empty professions and declares that harlots and publicans will enter the Kingdom ahead of mere formal professors of religion.
Fourth, Christ is a danger to evil-doers and those who defy God's moral order. This danger we recognize more readily than the others. We all can see that Christ imperils evil. Consider Herod. He was terrified when he heard of Jesus' birth. And his terror was well founded, for the baby in the manger was a threat to everything Herod represented. After Hitler's fall, William C. Kernan wrote, "It has taken ten years since the rise of Hitler to make us see that men who renounce sound moral principles have only the alternative left of acting like animals in response to the demand of their unbridled passions." When Hitler came to power, he feared Jesus and realized that he was the greatest threat to all his insane plans. This led to his systematic persecution of Christians as well as Jews. "Those who sought the child's life are dead"—this can still be said. None can defy God's moral order with impunity, because "whatever a man sows, that he will also reap."
Not many of us openly defy God's moral order. We rather try to reconcile ourselves to an easy-going existence made up of too much evil and too little positive good. We excuse our sin: it is "just human nature" and we are not really responsible. Our mean disposition? Inherited from grandfather. And a really Christ-like life is impossible these days, we tell ourselves.
Yet all the while this dangerous Christ is making us uncomfortable in our complacency. He will not let us rest. He is always saying to us, "I offer you more than an example; I offer you myself. Let me come in. Let me speak the healing word of forgiveness and peace. Let me release my power in your life. Let me be your Saviour and Lord." And our answer to him will determine whether he is our danger or our deliverer, our ruin or our redemption.
Have something to add about this? See something we missed? Share your feedback here.
Our digital archives are a work in progress. Let us know if corrections need to be made.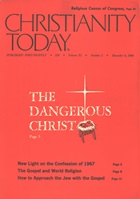 This article is from the December 9 1966 issue.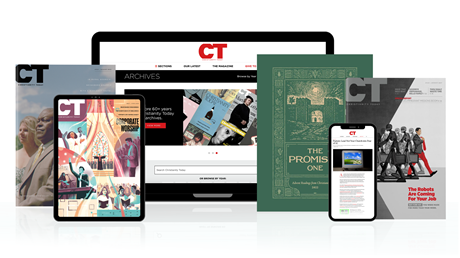 Annual & Monthly subscriptions available.
Print & Digital Issues of CT magazine
Complete access to every article on ChristianityToday.com
Unlimited access to 65+ years of CT's online archives
Member-only special issues
Subscribe
The Dangerous Christ
The Dangerous Christ