HAVE FUN!
Pastor Peterson often quotes from CHRISTIANITY TODAY. He was impressed by your coverage of the recent White House conference on youth, and cited one educator who favored developing the fun attitude in all living as over against the disagreeable motivation of a sense of duty.
As usual, he lapsed into verse on the subject:
In conference at Washington
An educationist observes,
Americans must have the fun
That every grown up child deserves.
No sacrifice can be too great
To subsidize our teaching staff:
We must learn how to recreate
Our carefree, happy way of laugh.
In classroom frolic every day
The droll instructor leads the way,
Or joins the party when it's gay,
For all must learn that work is play.
And soon in shops and factories
While music sounds and foremen sing,
The most reluctant boss agrees
That in production play's the thing.
In government the men of fame
Will find that paper work enthralls
When they can make it all a game
And fill the file with paper dolls.
What morbid fear of missile-lags
Can chill that patriotic son
Who bubbles with the latest gags?
The nation's greeting is, "Have fun!"
But when this romping has begun,
A single issue is at stake—
If all the job is really fun
Then who will want a coffee-break?
I warned the pastor that, considering his position, he should have a more positive message. Besides, isn't "Rejoice evermore!" rather close to "Have fun!"? He began to explain the difference between having fun and rejoicing in the Lord. When I left him he was busy with his concordance. No doubt a sermon is in the making.
EUTYCHUS
U.S. PROTESTANT PRESS
Your publication of this letter in the reader's column of CHRISTIANITY TODAY would be greatly appreciated:
I would like to congratulate Prof. E. Brunner for writing, and your magazine for printing, the splendid article "The Cleveland Report on Red China." Prof. Brunner's article shows him to be well informed.…
Unfortunately those refugees who were lucky enough to escape annihilation at the hands of the communists, do not find the proper understanding and attention in leading American Protestant circles. They are seldom, if ever, consulted on matters concerning communism and problems that it creates. It seems to me that people who lived under communist rule would be able to tell us the truth about actual communism, for they experienced this hell and could be beneficial to humanity by exposing it and in this way fighting it.
I can give as an example the activities of the Ukrainian Evangelical Alliance of North America. All of our press releases and resolutions which were passed during our conventions were ignored by most of the American Protestant press.…
We have not even been able to persuade leading American Protestants that Russia is only a part of the USSR, and that the USSR consists of many nationalities which are enslaved by communist imperialism and colonialism. The present communist government in the USSR favors the Russian people, language and culture, and is trying to impose that … language and culture on other nationalities that are living there. Czarist Russia had a similar policy.
The Ukrainians, who number about forty million and are the second largest nation in the USSR, have been struggling for their independence and national survival since 1917. They suffered terrible consequences in the struggle against this inhuman oppression. Millions of them died during an artificial famine, others in concentration camps, prisons, some in deportations, and many were just shot.
How often have we read in American Protestant magazines about this heroic nation, its religious life, history, culture, etc.? About two million Ukrainians live in North America. They are considered to be Russians by most American Protestants, in spite of the fact that these Ukrainians take this as an offense. How many Americans really know that these people have their own highly developed language, which is much older than the Russian language?
It is time to seriously consider the matter of understanding the present conditions in the countries which are under the communist yoke, and to start to appreciate those people who became victims of communist oppression, but never made a compromise with it. This also calls for a new approach in the missionary work among these people. A need arises for using their languages in the preaching of the gospel to them.
WLADIMIR BOROWSKY
Exec. Secy.
Ukrainian Evangelical
Alliance of North America
Detroit, Mich.
Brunner fails to point out a greater danger than an atomic holocaust or even world Bolshevism—viz., a world which may have escaped both of these horrors only to go to hell leisurely in the luxury of Western freedom and democracy. We need above all to be warned again: "Fear not them which kill the body … rather fear him who is able to destroy both soul and body in hell."
The threat of bolshevism is Satan's feint.… Not even the advent of America alters the fact that Christ's Kingdom is not of this world.… Those of us attempting to follow Christ may still have to suffer the loss of all things—even democracy—to find Christ and be found in Him.
MARLIN JESCHKE
Evanston, Ill.
I could not help being somewhat frightened with the article by Emil Brunner, a profound and recognized theologian, who could write [such] an article … and never seem to take God into consideration in his estimation of the power of "bolshevism."
W. J. MCGETTIGAN
Portland, Ore.
As a brilliant man of words, Professor Brunner seems fascinated with ideological systems and verbal abstractions—so fascinated—that he often overlooks practical realities and possibilities for change which are quite obvious to less gifted men.
GEORGE KOSKI
Lutheran Theological Seminary
Philadelphia, Pa.
It does hardly anything to show how granting a seat on the U.N. would further the cause of communism.
MELVIN W. LANG
Faith Evangelical United Brethren
Freeport, Ill.
Thanks for the Brunner article; it's a thoughtful statement on a question others of us have (perhaps too quickly) assumed to be closed. But is there not something of an anomaly in using as an insert for Brunner's article the dubious appeal of Sen. Nelson S. Dilworth of California for what appears to be a decisive attack on our system of free education? Or was it your intention to present a foil to Brunner's eloquent defense of human freedom?
SCHUBERT M. OGDEN
Perkins School of Theology
Southern Methodist University
Dallas, Tex.
Let me express our deep appreciation for Emil Brunner's excellent article.… Your indispensable journal has from the very first issue (I have them all!) printed the facts concerning the satanic nature of communism and its malevolent march toward the enslavement of every mind, soul, and body on this planet. Thank you for your alertness and vigilance!
RUSSELL F. BLOWERS
East 49th Street Christian Church
Indianapolis, Ind.
Mr. Brunner's article should be brought to the attention of the government officials responsible for the formulation of the United States' policies on such matters. Citizens who agree with Mr. Brunner would do well to inform their congressmen that there are American church people who do not subscribe to the Cleveland Message.
BRUCE A. ELLINGSON
Wheaton, Ill.
I hope it is reproduced in the Congressional Record.
EWING E. CLEMONS
Tracy, Calif.
You publish a quotation from Professor J. L. Hromadka and you state that he is a "President of the World Council of Churches." He has never held such an office.
He is a member of the Executive Committee of the Central Committee of the WCC. The undersigned has been a member of the Central Committee of the WCC ever since its organization, having previously served on the Provisional Committee.
At the New Haven committee meeting I strenuously opposed the election of Professor Hromadka as a member of the Executive Committee. He was nevertheless elected by a minority vote, because so many abstained from voting.
His membership in the Executive Committee has only one explanation. It is felt that there should be at least one representative of the churches behind the Iron Curtain and, so far, no one else has been discovered who is both representative and available.
The members of the Executive Committee must be elected from the membership of the Central Committee composed of men whom the member churches have themselves accredited.
Personally I have consistently each year voted against the election of Professor Hromadka because of his unchristian defense of the Russian rape of Hungary in 1956.
P. O. BERSELL
President Emeritus
Augustana Evangelical
Lutheran Church
Minneapolis, Minn.
RITUAL AND METHODISM
"Will Ritual Save Methodism?" (Apr. 25). The answer is "no," for only a personal experience of Christ as Lord and Saviour can do that. But, an intelligent, well-ordered service—conducted by a dedicated minister—can certainly do more to lead people to that experience than can some hodge-podge spiritual free-for-all, designed only on individual whim.
ARNOLD POPE
Roanoke Rapids, N. Car.
The present spiritual and biblical revival in Methodism is going hand in hand with this "high-church" movement.
REX D. KELLY
The Methodist Church
Basehor, Kan.
The word "ritual" as used in the article is incorrect. "Ritual" means the Order of Service, and Methodists already have a rite or ritual in their Book of Discipline, taken mostly from the Anglican Book of Common Prayer. What the Rev. Mr. Phipps means is "ceremonial".…
There is great danger, which Anglicans call "spikery," in introducing symbolic movements (ceremony) and other symbolism only for the sake of atmosphere or churchliness. It becomes a superimposition without basic requirements of apostolic faith and order.…
It is too often said that our Lord's practice of religion was "simple" in the sense that He was puritanical. The reverse is true, as can be seen by any student of the Bible who will take the trouble to enumerate the myriad of references to Jewish worship in which our Lord Himself engaged as a devout Jew.
I have no knowledge of the "simple form of liturgy" [Wesley] drafted in his younger days, but this would not have affected Methodism, for as an Anglican Wesley continued to use the Prayer Book, and the Methodists upon separating from the Anglican Communion took much of the Prayer Book with them.… Liturgies is not primarily a question of ceremonial, but is first concerned with ritual—an ordered service containing all the elements of public prayer with seasonal variation.… Adoption by Methodism of ritual and sacrament is devoutly to be hoped for, when one understands the basic principle of liturgies, which is the science and art of worship of Almighty God—the principal job of the Church.
ROBERTS E. EHRGOTT
St. John's Episcopal Church
Mount Prospect, Ill.
It has been my experience through a long and fruitful ministry that the basis for the liturgical revival for the most part is in revealed Orthodox Faith. Liturgical worship and evangelism are not generally, need not be (that is sure), antagonistic but rather supplementary and complementary.
HOWARD E. MATHER
First Presbyterian
Amenia, N. Y.
As the Episcopal Church has long been torn over the problems of ritual, I know something of the values as well as the dangers on both sides. There are many people who lay great stress on elaborate ceremonial but there are those, equally as worthy, who care little about it. However, so many who do not like ceremonial go to the extreme of conducting very sloppy and undignified services, and ceremony and pageantry can be and often are used as a shield behind which men of small ability will hide. They try to make up in show for what they lack in depth. But ritual does not destroy though it may be used to conceal spiritual death. It is like a pall which does not kill the victim but is used to cover him after he is dead.
The services from any good service book are superior in expression and thought to the average extempore ones. The great leaders of the Reformation were inspired men but they were all men whose foundations had been laid on one or another of the ancient liturgies. They knew how to express themselves but could not pass on their background of worship. There are rare souls in the Church today whose scope of worship is broad enough to meet the spiritual needs of people, but generally speaking, extempore prayers follow a definite pattern expressing the spiritual outlook of the person who is praying and the congregation is merely listening to a devout man saying his prayers out loud.
JAMES M. STONEY
Retired Bishop
Diocese of New Mexico and Southwest Texas
Albuquerque, N. Mex.
When ritual becomes too heavy, it is time then to revise, to throw out that part of it which has become a burden. The weight of ritual should be to worship what the weight of wings is to a bird.… Perhaps Methodism will save ritual.…
FRED E. STINSON
St. Paul's Methodist Church
Eau Gallie, Fla.
"Trends in Modern Methodism" (Jan. 4 issue) points up … weakness in the theological structure in The Methodist Church. The great stumbling block centers [on] the person of Jesus Christ and his relationship to God. This stumbling block will continue to be the major weakness of The Methodist Church just as long as the personnel directing the educational programs continue to circumvent the Saviour of the world. When The Methodist Church begins to focus attention on Jesus Christ, God manifest in the flesh, rather than Jesus Christ, the good example, the Holy Spirit will once again witness with power.
ROBERT ERICSON
Shelton, Conn.
R. P. Marshall made a mistake often made by those not familiar with the history of the Church of the Nazarene. He refers to the Church of the Nazarene as "one of … the several small groups which went out from the parent body."
The Church of the Nazarene is not a "split" from the parent body (The Methodist Church). It came into being through the merging of several independent groups over a short period of years which finally culminated in the Church of the Nazarene in 1908.
B. P. RUSSELL
Redwood Falls, Minn.
Have something to add about this? See something we missed? Share your feedback here.
Our digital archives are a work in progress. Let us know if corrections need to be made.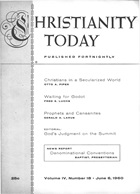 This article is from the June 6 1960 issue.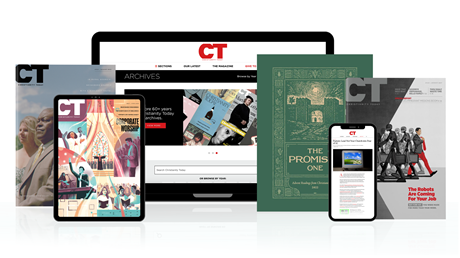 Annual & Monthly subscriptions available.
Print & Digital Issues of CT magazine
Complete access to every article on ChristianityToday.com
Unlimited access to 65+ years of CT's online archives
Member-only special issues
Subscribe
Eutychus and His Kin: June 6, 1960
Eutychus and His Kin: June 6, 1960