The 400th anniversary of the Scottish Confession was celebrated in May at a commemoration held in Edinburgh. While attending the event, I recalled Barth's 1938 Gifford Lectures on the Scottish Confession. The lectures were certain from beforehand to create a stir in the theological world. For Lord Gifford had endowed the Gifford series with the stipulation that the lectures be on the subject of natural theology and that they should serve the advancement of natural theology. Thus, when Barth was invited to give the lectures in 1938, he stood before a rather unique situation. He was already famous for his zealous opposition to all natural theology, for he had often declared that no theology apart from special, supernatural revelation was possible. The teaching of the Vatican Council, in which natural theology had been defined as Roman Catholic teaching, was in Barth's view the great error which Reformed theology could only oppose. Barth wrote to the officials of the University of Aberdeen, where the lectures are held, and said that though he was against natural theology, he was willing to speak of another theology. Perhaps, he suggested, he would arouse such opposition to his own views that he would win supporters for natural theology by reaction and thus serve the purpose of the lectureship, though not in a way intended by the founder.
Since Barth's Gifford Lectures, the question of natural theology has been the constant center of theological attention. Roman as well as Protestant writers have been busy with the subject. The new tendency in Roman theology has brought natural theology in general, and the proofs for the existence of God in particular, into intense discussion. The suggestion has been made in Roman circles that theology must be approached more Christocentrically; the Vatican statements need not be rejected, it is said, but the same matter should be approached with a different slant on the relationship between nature and grace. Thus, it is not only Protestants who have been raising questions about natural theology.
Proofs for the existence of God, apart from the Revelation of God in Christ, have unquestionably less authority now than at any time since Thomas Aquinas. One cannot challenge modern man effectually with a reasoned proof that the world has an "origin," a first cause. Even should one feel that the argument itself has some inner cogency, he would not be a step closer toward faith than he would have been had he not heard the argument. In our day, the abstract character of the God proven to exist by natural theology is not convincing. Such a God does not sound like the God of Jesus Christ. When Roman Catholic theologians put forward proofs they insist that they are not pleading for an irrationalism that has no respect for human reason. Theirs is not, they say, a plea for truth from feeling or intuition. Outside of Roman Catholicism, the attack on natural theology stems more from the biblical-theological conclusion that the objective proofs are not really serviceable because they never come to men who are neutral to revelation. Natural man is always in reaction to the revelation that comes to him from nature in the world about him.
In Romans 1, Paul says that God has revealed himself, but that man has resisted his revelation, has held the truth down in unrighteousness. Man is not a neutral observer of God's revelation. He is active with his entire life in reaction against it. Paul's statement points out to us that there is no neutral position, and that this explains why there is so little convincing power in the neutral proofs for God's existence. It is also the lack of power in the proofs which many modern Roman Catholic theologians have noticed.
From the very limited influence that the proofs have had on human thought, we see what a hopeless ambition it is to distinguish between a natural and a supernatural theology, and how it is futile to try to bring men to a real though limited knowledge of God outside of Jesus Christ. Natural theology has never been convincing to atheists for the simple reason that its arguments fail to reach the person at the point where his inclinations really lie. No person, as we have said, is ever a neutral observer of nature but is already in reaction to the revelation of God around him. Natural theology fails to reckon with the fact that man's response to revelation is defined, not simply by objective thoughts but by the heart from which come the issues of life.
The Church of Christ must not attempt to make God appealing to natural reason. Nor should she preach that there is every "reason" to believe in God. There are many people who believe that there is a first cause, that there is something that got everything in creation going, something to which they are even willing to give the name "God." But this kind of "faith" is that of a stranger to the actual revelation of God which is in Jesus Christ.
The Church must witness in the world to the only real God, the One revealed in Jesus Christ. She must witness, not with proofs, but with word and act. We need always to be aware that coming to living faith is not a matter of reasoned argument but of conversion, of a change of heart. In the secularization of life in our times, we can expect nothing of the power of reason but everything of the power of the Word and of the Spirit.
Natural theology has nothing to say about guilt and atonement, grace and judgment, or about God's future. It is a secularized theology that will only lead men away from the Gospel. A person who believes in a first cause may well think that he believes in and is confident of his religion, but actually he has missed the real message if this is all he believes. The effect of natural theology has always been soporific rather than awakening. The prophets of the Old and New Testament came with a message to awaken, to disturb, and to call men to conversion.
Have something to add about this? See something we missed? Share your feedback here.
Our digital archives are a work in progress. Let us know if corrections need to be made.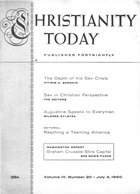 This article is from the July 4 1960 issue.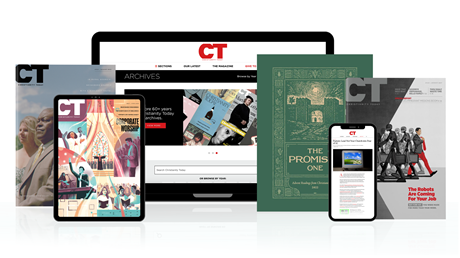 Annual & Monthly subscriptions available.
Print & Digital Issues of CT magazine
Complete access to every article on ChristianityToday.com
Unlimited access to 65+ years of CT's online archives
Member-only special issues
Subscribe
Review of Current Religious Thought: July 19, 1960
Review of Current Religious Thought: July 19, 1960