When I Can't Calm My Son's Fears
A Small Talk guest post about fear and peace by Micha Boyett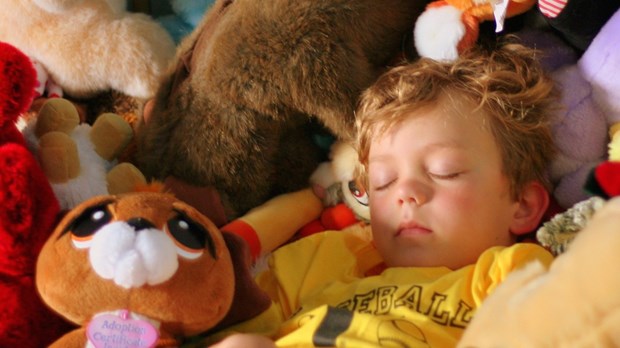 Image: John Morgan/Flickr
This week, our Small Talk guest series continues with a post by blogger and author Micha Boyett. Micha's post about her son's fears and her inability to calm them through reason reminds me of something my husband said to me: "Every emotion is an opportunity to pray." Micha takes that sentiment and runs with it, not only in this lovely post but also in her other writing about prayer and motherhood. I had the privilege of being interviewed by Micha earlier this week on her blog, and I'm delighted to include her words here today:
This past summer I picked up a book called The Highly Sensitive Person, a recommendation from a friend who felt it might help me understand myself. I've been a deep feeler all my life, and often joke that feeling is my spiritual gift. Or maybe it's making people cry. Either way, my sensitivities are often both a curse and a blessing. My sensitive nature is both the gem that has made me a writer and the dynamite that blasts my mind with reckless anxiety. Back and forth, back and forth.
What I didn't know when I picked up that book to learn about myself was how deeply it would speak to me about my child. My oldest son matches every description I've read of the highly sensitive child. He feels everything deeply, has a mind full of rich stories and insights, cries often, struggles with anger, has terrible nightmares, and worries. He worries a lot.
Every season has its obsessions and concerns. While his fascination with volcanoes at age three had him spouting off facts about Pompeii like a tiny adult, his fear developed right alongside his love of knowledge. Last fall, after his kindergarten class practiced an earthquake drill, he switched from volcanoes to earthquakes and we worked through his ever-growing fear of earthquakes for months. My son's late night terrors would wake him and he would wake us, crying in fear of a future earthquake. Night after night of three am wake up cries and earthquake conversations, my husband and I would try to keep our cool. We'd whisper the same things we whisper now:
God is here. Mommy and Daddy are here. We will always take care of you. We're sleeping nearby and we'll help you if there's an earthquake. God loves you and you are safe.
We live in San Francisco. We can't avoid the reality that an earthquake will come. And it will probably be a big one. And what are God's promises to us when it does come?
God loves us. God is with us.
Sometimes I'm not sure what else to say.
Last month there was a fire drill. My now first grader learned in the school assembly how to stop, drop, and roll. He learned to belly crawl along the floor because smoke rises. He came home and told me all about the fire truck he got to tour, the silly skit the older kids performed, how important it is to have a working smoke detector.
It took two nights before the nightmares started. He'd whisper his fears to me in the dark: Mom, what if the fire alarm is going off but you and Dad don't come get us? What if the fire alarm is the going off but I think you're just cooking and then it's really a fire?
Every attempt to answer him with reason fails. We talk in circles. He gets more and more agitated. Sometimes you reach these moments of parenting when the books don't give you answers anymore, when conversations turn round and round and you realize your words aren't taking you anywhere.
I was a highly sensitive kid too. I was afraid too. But my fears manifested themselves in secret hallucinations: my bed would grow prickly at night and I'd cry in silence, knowing that it wasn't real, knowing that it still hurt. Rhythms would grow louder and louder—drum beats in my ear—and then fade away into the lonely dark.
What did I need on those nights I was so afraid, those nights I never called for help from my bed?
Though my impulse is to speak logically to my son, I know words aren't enough in those moments. I cannot promise that there will be no earthquakes, no fires. I can't promise that his family will always be safe. I know the truth about this world. It is a dangerous place. It is full of fear.
But I can point to the truth I do know: Not that God promises we will never suffer, but that in the midst of suffering this world is still beautiful, God is still good.
I lean over his bed in the middle of the night. I whisper, "You have a war in your mind, buddy. You know what the opposite of war is? Peace."
And I pray that verse from the fourth Psalm: I will lie down and sleep in peace, for you alone, O Lord, make me dwell in safety.
I am a mother who knows all about wars inside me—my fearful self battling for space in my mind with my grateful self.
I may not have all the answers for my little boy, but I do know about the opposite of war:
Peace, and peace, and peace.
Sometimes the most important conversations we have with our kids are the ones where we have nothing left to say, when we realize our kids don't necessarily need our perfect words, our answers to their problems. What they really need is our presence.
Lie down and sleep in peace, I whisper, the same words God says to me when there are no words, when I only need God's gentle presence.
So I stand beside the bed stroking the hair on my son's head because there is nothing left to say. The world is hard and parenting is hard, and all I know is that right now, here, in this dark bedroom, my little boy is safe.
God is here. And sleep is coming.
Micha (pronounced "MY-cah") Boyett is a writer, blogger, and sometimes poet. A former youth minister, she's passionate about monasticism and ancient Christian spiritual practices and how they inform the contemporary life of faith. She recently released her first book Found: A Story Questions, Grace, and Everyday Prayer. Boyett and her husband live in San Francisco with their two boys. Find her on Twitter, Facebook, and at michaboyett.com
Support our work. Subscribe to CT and get one year free.
To add a comment you need to be a registered user or Christianity Today subscriber.
Recent Posts
When I Can't Calm My Son's Fears