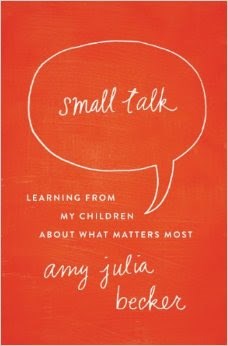 Almost every day, one of Amy Julia's children says something or asks something that prompts her to think more carefully: "What 'lasting' mean?" William wonders when he hears a song about God being an everlasting God. 'If the children who died went to heaven, then why are we sad?" Penny asks, when she passes by a funeral for a victim of the Sandy Hook shootings. 'I don't wanna' get 'tized!' says Marilee about baptism. These conversations deepen her relationships with her children, but they also deepen and refine her own understanding of what she believes, why she believes it, and what she hopes to pass along to the next generation.
Small Talk is a narrative based upon these conversations. It is not a parenting guide. It does not offer prescriptive lessons about how to talk with children. Rather, it tells stories based upon the questions and statements Amy Julia's children have made about the things that make life good (such as love, kindness, beauty, laughter, and friendship), the things that make life hard (such as death, failure, and tragedy), and what we believe (such as prayer, God, and miracles).
Amy Julia moves in rough chronological order through the basic questions her kids asked when they were very young to the more intellectual and spiritual questions of later childhood. Small Talk invites other parents into these same conversations, with their children, with God, and with themselves. Moving from humorous exchanges to profound questions to heart-wrenching moments, Amy Julia encourages parents to ask themselves---and to talk with their children about---what matters most.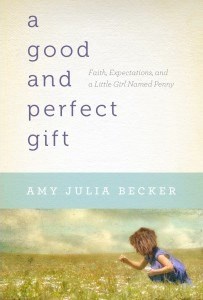 A Good and Perfect Gift: Faith, Expectations and a Little Girl Named Penny (Bethany House) is a spiritual memoir that chronicles Amy Julia Becker's journey through her daughter Penny's first years of life. Top of her class at Princeton, Amy Julia Becker always imagined that her children would turn out just like her. So when her daughter Penny entered the world with Down syndrome, Becker had to rethink everything.
Beyond tackling the day-to-day whirlwind of doctor visits, child development experts, insulting comments from well-meaning friends and even her own prejudices, Becker comes face to face with terrifying emotions. Worry that Penny would die early or that she wouldn't be able to live on her own. Sorrow over the thought that Penny might not know deep love from another person. And her darkest fear, that Becker herself wouldn't know how to love her daughter.
But love? Love from Penny, love from her husband, love from friends, and love from God? Finds a way to pick Becker up out of her fear and into faith. Instead of being a parent crippled by control and expectations, she finds freedom and joy in loving Penny and watching her thrive in who she was perfectly created to be.
A Good and Perfect Gift is more than just a narrative that spans the first two years of Amy Julia Becker's new life with Down syndrome. From the initial dark moments in the hospital to the light and laughter Penny brought into the family, it is a story of a remarkable little girl who surpassed expectations. It is the storyof a young couple coming to terms with their first-born child being different than they anticipated, and eventually receiving that child as a precious gift. It should appeal to any reader who wonders how grief can be transformed into joy.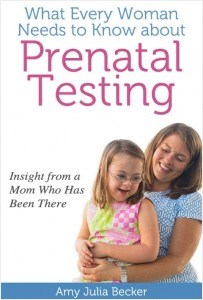 Advances in prenatal testing have resulted in more women than ever before being tested foratypical chromosomes and other conditions, sometimes without the women's full knowledgeof the testing process and its implications. In this brief guide,parenting expert Amy Julia Becker walks potential mothers through some questions to ask before they offer their consent for testing:
What is prenatal testing? What can it tell me?
What information do I want, and why?
What would I decide to do if prenatal testing led to a prenatal diagnosis?
Sensible and reassuring, this book should be on the e-nightstand of every woman who is or wishes to become pregnant.
This book should be required reading for all prospective parents. Much more than a scholarly report, it provides a clear, nonjudgmental, and up-to-date guide to prenatal testing. The book is born of Amy Julia Becker's evolving thoughts on the subject after she became the mother of a child with Down syndrome. Her measured presentation of the particulars and ethics of prenatal testing, coupled with her reflections on the unanticipated relational and spiritual gifts of human limitations, make for an engaging and thought-provoking read. Highly recommended.
- Jennifer Grant, author of Love You More: The Divine Surprise of Adopting My Daughter and MOMumental: Adventures in the Messy Art of Raising a Family
Prenatal diagnosis is on the threshold of a paradigm shift that will leave invasive tests such as amniocentesis as relics of the past and force each and every mother-to-be, regardless of her age, to ponder the ethical question of the moral status of the embryo implanted in her body. Using that rare ingredient, common sense, and adding her firsthand experience of conceiving and raising a child with Down Syndrome, Amy Julia Becker puts the science and ethics of prenatal diagnosis into a practical and wise narrative that I wish every couple could read before having their blood drawn to determine the karyotype of their offspring.
- John M. Thorp, Jr., MD,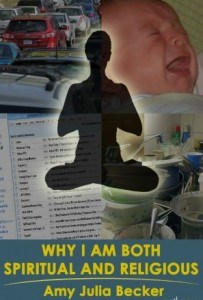 Like most moms, Amy Julia Becker's days begin early and busy—bottles and breakfast, dishes and dirty laundry—and she doesn't settle down all day. How to understand the purpose of such a life? "I long for a sense of meaning to undergird the tedium of housekeeping and the demands of caring for small children," she writes. "But I ignore or deny those longings because to pay attention seems impractical, indulgent, and nearly impossible."
What's the answer? Becker, whose writing on parenthood has appeared in the New York Times, Parents, Christianity Today, and Patheos, addresses the problem of soul-draining stress with a surprising answer: Become both spiritual and religious. While being "spiritual but not religious" is a dominant trend among today's seekers, Becker shows how true peace and solutions for life can be found in drawing on the strengths of both spiritual practices and religious doctrines and disciplines.
"Why I Am Both Spiritual and Religious" is a powerful primer on finding peace amidst chaos and strength from within weakness, and Becker is a reliable guide on the frenetic journey of contemporary life.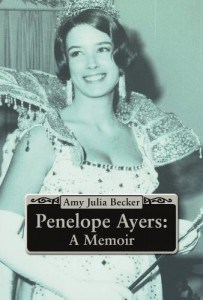 Penelope Ayers is a memoir about the year I spent getting to know my mother-in-law, a beautiful, gracious, lonely New Orleanian who discovered one February morning that she had cancer. When she reached out for help, three generations of her fractured, colorful family responded, and in so doing, we all experienced grace and healing.
Set in pre-Katrina New Orleans, Penelope Ayers unfolds against the backdrop of one of the world's most vibrant cities.
This story offers comfort and inspiration to anyone facing a life-threatening illness, and it will also appeal to individuals wrestling with questions for God, and about God, in the midst of difficult situations. Ultimately, it is a family story about the strong and tenuous nature of hope.
Recent Posts
Books