Who Does the Dishes at Your House? (and why that matters)
Weekly Roundup 5.30.14--good books, reading and IQ, and more on family, culture, and disability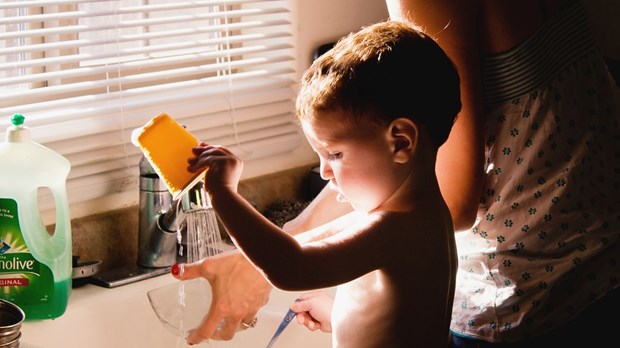 Image: Val/Flickr
I only saw my dad do a few household chores as a kid. Mom managed the household and he went to work in an office. It was a pretty typical gender-based division of labor. Except when it came to the dishes. Mom would happily let them sit until the morning, and Dad wanted them clean. It wasn't every night, but if there was anything domestic I saw my father doing, it was washing dishes. So I was interested in Melissa Dahl's piece for New York Magazine this week: Dads Who Do Dishes Raise Ambitious Daughters, in both looking back on my own childhood and consideirng the implicit messages we send as parents to our daughters now. Who washes the dishes in your house? And what do you think it means for your kids?
A few other articles on family, culture, and disability you might enjoy this weekend:
Family
"An overpopulated planet is not necessarily doomed. What matters most is how those billions of people choose to live." Sheril Kirshenbaum of The Atlantic offers some creative advice for achieving a healthier and more sustainable future in Having Kids Probably Won't Destroy the Planet.
Culture
David Brooks of The New York Times shares some of his favorite works and possible summer reading recommendations in his two part series, Really Good Books, Part 1 and Really Good Books, Part II.
In her piece for The Atlantic, 'Empathetically Correct' Is the New Politically Correct, Karen Swallow Prior explains how "the movement for 'trigger warnings' in college classrooms is part of a troubling trend toward protecting people from their own individual sensitivities."
Discover why our cultural canon is determined by whatever gets the most clicks. Karl Taro Greenfield explains in Faking Cultural Literacy (New York Times).
The numbers are in. The goal of eliminating one of the country's most devastating problems is becoming a reality. David Bornstein takes a closer look at the 100,000 Homes Campaign and how The Push to End Chronic Homelessness Is Working (New York Times).
Disability
As a followup to my interview this week with Cameron Doolittle, President and CEO of Jill's House, the following link(youtube video) offers a glimpse inside the ministry and The Gift of Rest it provides for families of children with special needs.
Recent studies prove that the termination rate of children with Down Syndrome in the U.S. is much lower than 92% and continues to decrease. KCDSG.org covers this story in Debunking the Termination Myth.
From Disability Scoop's Michelle Diament: Study Finds Reading Possible Despite Low IQ. Jill Allor, who led the study, concluded, "This study demonstrates the potential of students with intellectual disability or low IQ to achieve meaningful literacy goals...Even minimal reading skills can lead to a more independent life and improved job opportunities...we should never give up on anyone."
Michael Doyle also reports for Disability Scoop about the recent Supreme Court ruling: Supreme Court Rejects Bright-Line Test For Intellectual Disability.
Support our work. Subscribe to CT and get one year free.
To add a comment you need to be a registered user or Christianity Today subscriber.
Recent Posts
Who Does the Dishes at Your House? (and why that matters)