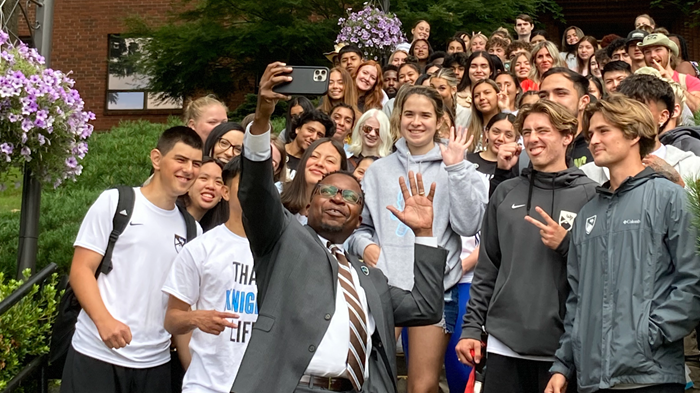 Image: Warner Pacific University
The US Supreme Court ruled against race-based college admissions last month, raising questions about the future of diversity efforts in higher education. But leaders at many evangelical colleges don't expect the decision to hinder their efforts to promote diversity.
"For most Christian institutions, I don't think there's going to be a significant change in our recruiting practices or our admissions policies," said James Steen, Houston Christian University's vice president of enrollment management.
Steen, who has worked in Christian higher education admissions for 30 years, said the Supreme Court's decision impacts institutions that are selecting students from a very large pool of applications.
"For the rest of us who aren't the elite privates or flagship publics, we're not turning anybody away, for the most part, who's admissible," he said.
Still, leaders of Christian colleges told CT they are taking this moment to clearly communicate the biblical heart behind the diversity efforts at their institutions. Pursuing a diverse student body, they say, is part of a larger mission and a critical way they seek to serve their communities.
At Houston Christian, for example, Steen said it's important the college reflect the demographics of Houston, Texas—"an extremely diverse city."
The college's student demographics track pretty closely with the demographics of Houston itself. About 42 percent of undergraduate students are Hispanic, 24 percent are Black, 19 percent are white, and 9 percent are Asian.
"When you walk around our campus, your tour guide probably isn't going to be a white student, right? You're going to see students of all ethnicities and backgrounds," Steen said. "Our commitment is not only to students, but definitely serving students from diverse backgrounds."
Affirmative action became common at many American schools in the late 1960s in an effort to correct historic discrimination and provide a college experience enriched with different life experiences and different points of view. Some, however, have long critiqued the practice as discriminatory, since it places a value on race.
Yet it is unclear how many institutions of higher education actually consider race in their admissions process. Harvard University claimed in documents filed with the Supreme Court more than 40 percent of universities—and 60 percent of "selective" schools—use affirmative action.
None of the Christian higher education leaders who spoke with CT have used race-based admissions. The Council for Christian Colleges and Universities (CCCU) statement released after the Supreme Court ruling did not specify whether the decision would affect any evangelical schools. The CCCU noted a variety of views on affirmative action, saying that the decision would be seen as "a tragedy to some and [as] the reversal of a wrong to others."
According to the CCCU, while the ruling "narrowed the specified tools permissible to attain diverse student bodies," evangelical higher education will nonetheless "continue to value all students, but in particular, as it relates to this case, students of color from the United States and around the world."
Lena Crouso, CCCU's senior advisor and fellow for diversity, said the organization's mission for Christ-centered higher education "requires the essential work around diversity," whatever the specific admissions process looks like.
"Certainly our schools are in conversations with each other and within their own admissions teams, senior leaders, and presidents to work within the law and assure that their admissions practices align," she said, "and at the same time making sure that all students who desire a Christian liberal arts education can find their belonging at our schools."
CCCU strives to support responsive, not reactive, diversity efforts, Crouso said.
Such efforts include its Commission on Diversity and Inclusion, the Multi-Ethnic Leadership Development Institute, and the CCCU Diversity Conference, held this October at John Brown University. This year's event will include research and best practices "on strategic campus transformation that will meet the needs of all students," under the theme "Diversity Still Matters."
Diversity is important, according to Crouso, because it helps achieve God's plan for humanity to live in reconciliation with God and each other.
"The continued hope is to resist stereotypical ideas around diverse populations and know that we want the most diversely represented and success-oriented student bodies who seek an education rooted in biblical truth," she said. "With that comes the work to create persistence and completion strategies for thriving and belonging for all of our students."
George Fox University, a private Christian university in Newberg, Oregon, has never considered race in its admissions process. But President Robin Baker said the college has a long-standing commitment to diversity, "which simply will continue."
"We're a Christian community. So we argue that we're trying to reflect the kingdom of God as it is," Baker said. "Our institutions, when they're primarily Anglo or white, simply don't do that."

Such a vision is largely driven by the vision of the kingdom of God shown in the Book of Revelation, Baker said, when the Bible depicts many nations, peoples, and tongues gathered together worshiping God (7:9). The followers of Christ are gathered not in sameness, he said, but in difference.
"Our diversity argument is an argument that the kingdom of God is indeed diverse and powerful," he said. "And in order for our students to live in a world that is going to be increasingly non-Western, they need to understand and engage and learn to live in difference."
In addition to serving and connecting already admitted students, George Fox is working to recruit diverse students and faculty. The college aims to improve its recruitment process by partnering with external organizations and removing unconscious barriers in the application process, said Lindsay Knox, George Fox's vice president for enrollment and marketing.
Other programs seek to recruit specific groups of students, like the college's Liberation Scholars Program. The program includes a free two-week seminar for Latino students from a local high school, along with help from George Fox faculty during the college admissions process.
"We're always trying to increase our pool diversity," Knox said. "Because who our pool is ends up being who our admitted students are – which ends up being who isn't here."
Warner Pacific University president Brian Johnson understands this need for increased access to opportunity well.
As a Black boy growing up in public housing in Durham, North Carolina, he never imagined himself as a university president.
"And yet I somehow didn't follow the script," said Johnson, who holds a PhD in American literature and has written seven academic books.
He credits such successes first and foremost to God but also to the many people who opened doors for him—including his mother, teachers and professors, and the institutions that welcomed and challenged him as a student.
Today, Johnson similarly strives to prioritize opening doors for all students, regardless of race, socioeconomic status, or background.
"This work is a deep personal calling to me. … In fact, it's a ministry. I rejoice that God has given me the exact life experiences needed to seek out and expect great things from every single student who walks through our door," he told CT. "What a privilege it is to gather students of many backgrounds at WPU and give them the opportunity to follow their God-given purpose, based on their God-given gifts of experience and background, and walk with the Lord."
Warner Pacific University is located in Portland, Oregon, where nearly 75 percent of the city is white. At the college, nearly 7 out of 10 students are nonwhite. The college does not use race-based evaluations in admissions and doesn't think it needs to. The Supreme Court ruling against that kind of affirmative action won't change anything.
"We have never reduced our view of students according to what box they help us check," Johnson said. "Our students—and every student—[are] uniquely and fervently made in the image of God, with all the wondrous facets of his creation."