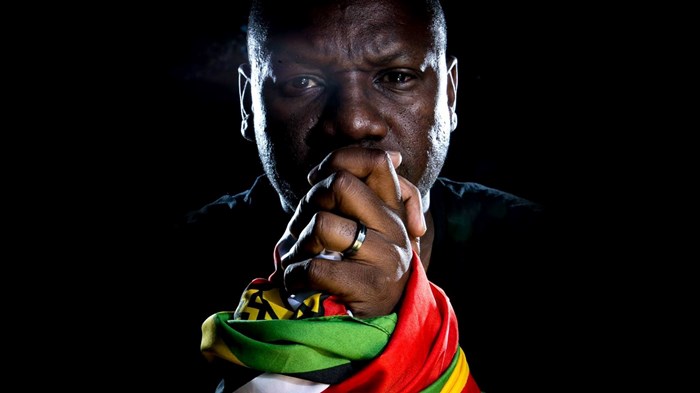 After the United States criticized Zimbabwe for arresting outspoken pastor Evan Mawarire last week over his #ThisFlag protest movement, the African country's secretary for information said that the US ambassador "can go and hang on a banana tree."
Amnesty International and CIVICUS, an international alliance that works to strengthen civil society, have also condemned the arrest as political persecution.
The pastor behind the unprecedented protests was released from jail yesterday on bail after his second arrest, this time with much less fanfare.
Mawarire was taken into custody at the Harare airport last week as he re-entered the country after fleeing to the US last summer. The charismatic pastor is widely known for making a video in which he laments the corruption and poverty of his homeland, referring often to the flag draped over his shoulders.
Zimbabwe's president, Robert Mugabe, has run the southern African nation since 1980; the country loses at least $1 billion to corruption annually, Newsweekreported. His party is backing him again for the 2018 election.
Thousands viewed Mawarire's YouTube call to action, and supporters caught up his hashtag #ThisFlag. The handle went viral on Twitter and sparked the largest citizens' movement in independent Zimbabwe's 36-year history.
Last summer, Mawarire led national protests against the government, including calling for everyone to stay home from work for a day; hundreds of thousands did.
Mawarire was arrested in July and charged with inciting public violence. After thousands rallied to support him and a court tossed the charges, Mawarire and his family fled to America. The pastor returned to Zimbabwe alone last week.
The charges this time are subversion and insulting the flag; if convicted, Mawarire could face 20 years in prison. Yesterday, he made his $300 bail and also surrendered his passport.
The same day, Zimbabwe's Constitutional Court threw out a case lodged by an activist against Mugabe, accusing him of violating the constitution when putting down the protests last summer. The court said Promise Mkwananzi didn't follow proper procedure; his attorney said he'll refile.
Mawarire did not set out to start a movement, he told CT in a November interview.
Born in Harare in 1977, Mawarire was only 3 years old when a newly independent Zimbabwe saw Mugabe rise to power. When Mawarire was in primary school, Mugabe's Fifth Brigade killed more than 20,000 civilians in Matabeleland Province for perceived political dissent, leaving a profound impression on the young student.
His parents taught Sunday school at an Apostolic Faith Mission church and raised their son in the faith. Mawarire considers his baptism at age 12 a pivotal moment.
Mawarire's involvement with Scripture Union, an evangelical youth ministry offering peer discipleship and classes in schools, left him with a lasting concern for spiritual challenges that young people face. He chose a secular profession but remained active in his local Christian community, volunteering with youth at the contemporary-style Celebration Church in Harare and eventually becoming its full-time minister in 2003.
Five years later, Zimbabwe's inflation rate had reached a farcical 231 million percent, stripping the value of the average citizen's loans and deposits. Mawarire's parents lost everything, and the memory of government negligence scarred the young pastor. It was the tumult of this hyper-inflationary period that Mawarire believes partially set the stage for his own movement's appeal.
Mawarire and his wife, Samantha, planted His Generation Church in the capital of Harare in 2010. In his role as senior pastor, Mawarire embraced using technology to connect with a plugged-in generation. In 2015, he posted a series of almost-daily videos of short and motivational mini-sermons under the hashtag #QuickCuppaWord. Alternating between a YouTube channel, Facebook, Twitter, and a church website, Mawarire sought to engage and challenge young Zimbabweans who craved freshness and authenticity.
Through counseling parishioners, Mawarire became intensely aware of the severe poverty, dismal employment conditions, and serious health issues plaguing the average citizen.
Still, he avoided direct public identification of the source, focusing instead on solutions.
"You'd think about the corruption of government officials, but never would speak of it, never would address it from the pulpit, or address it from the perspective of trying to rally people around something like that," he said. "You knew you could only take it so far as, 'Let's pray for the nation, let's pray for the turning around of the nation, let's pray that God would raise righteous men into key positions.' But never would we speak aloud of an issue and link it to a current activity within the nation and then mobilize people around it."
Then an announcement that the state planned to introduce bond notes stoked fears of a repeat hyper-inflationary period in an already troubled economy.
Mawarire explained to CT:
Zimbabwe's been through these cycles a number of times: things go bad, and the economy breaks down, and we have a meltdown, and then there's usually a political upheaval, and then we call for elections, and the ruling party wins, and it all quiets down. But I think this time around there was a sense in people that we were about to go through something that we had gone through before, and the last time we'd gone through all this nobody had said anything about it, and people that had caused the nation to literally break down and become a disaster had gotten away with murder, so to speak. So, at this point there was a sense that we were about to lose everything, but we at least needed to say something.
The concerned pastor turned to God with his grievances. "A couple of friends of mine had actually been praying about the turnaround of Zimbabwe before #ThisFlag started," he said. "Now, we didn't get the idea to start #ThisFlag in the prayer meeting, but I'll tell you what, those prayer meetings we were having contributed immensely, so that when the opportunity presented itself quite accidentally, we felt as if God had opened the door that we had been asking him for."
Though #ThisFlag wasn't posted until April, Mawarire had already been growing more outspoken.
He was midway through his sermon on Africa Sunday 2015, an annual church event dedicated to celebrating the church, when more than 70 congregants began to shift in their chairs.
"The African leader has found it important to shut down any voice that challenges him," Mawawire told them. "And yet the African leader does not realize that the voice speaking is a voice of development; it is a voice of progress."
Although the references to "Africa" were oblique, Mawarire knew the risk he took.
"Hello?" he paused, as if answering the phone. (It's a common question in his sermons, aimed at reinforcing points. "Are you there?" he often adds.) "I know someone is thinking, 'Pastor E., this could be the last message you preach. I think you should be careful with what you're saying.' Hello? But that's exactly what I'm talking about. That's exactly what I'm talking about."
Seven months later, while contemplating a small flag atop his desk and mulling over his government's indifference to suffering, he finally turned, as he often did, to Twitter. This time, his criticism would be straightforward. Mawarire knew he was going too far, but he no longer cared.
"If I've crossed the line, it was long overdue," he captioned the soon-viral video.
"As a pastor, the Word of God tells me in James that the true religion that God our Father accepts is to speak forth and to stand and to fight for the orphans and the widows," he told CT. "And that gives me a mandate as a pastor, to challenge corruption, injustice, and poverty within my community."
#ThisFlag is "definitely something that the church in Zimbabwe has been able to take ownership of and help the nation because we have the opportunity to turn things around," he said. "My hope is that people can begin to see the goodness of God particularly because it was a Christian who stood up."
The State Department estimates that 60 to 70 percent of Zimbabweans belong to "mainstream Christian denominations." The Evangelical Fellowship of Zimbabwe (EFZ) and the Zimbabwe Heads of Christian Denominations (ZHOCD) were especially responsive and supportive, publicly calling for the government to respect the rights of citizens and uphold the rule of law, Mawarire said. Churches in Zimbabwe have been largely united in speaking out against injustice and calling for compassion, he said.
It was even the church that mobilized the people when he was first arrested on July 12, effectively turning "the courthouse into a church," Mawarire said. Outside, people kneeled in prayer in front of the heavily armed riot police. During a court recess, a fellow pastor took the stage to pray for the nation, and the large audience began singing the lines of a well-known hymn: "Zimbabwe must be saved. The Holy Spirit must come down, and Zimbabwe must be saved."
After Mawarire was released and fled to the US with his family, supporters felt abandoned, and some criticized his absence. Mawarire sought to remain active in the movement from abroad, speaking at the Atlantic Council and staging a protest at the United Nations General Assembly in New York in an attempt to draw international attention to the plight of Zimbabweans.
Mawawire was nervous about his return, he told a South African online newspaper, but that didn't stop him from doing it. Though Mawarire is facing charges now, Mugabe is 92 years old. And Mawawire, who is 39, has hinted at tossing his hat into the political ring.
"Your lifestyle where you used to be can't sustain you where you're going to be in the future," Mawarire said in an early #QuickCuppaWord message, posted to Facebook. "Where you are right now, I know it looks like you have stopped. I know it looks like you are stuck. But if you are following God, if this is a result of you having obeyed God, then you are not stuck. You are not lost. Don't be stressed. You are only in transit."