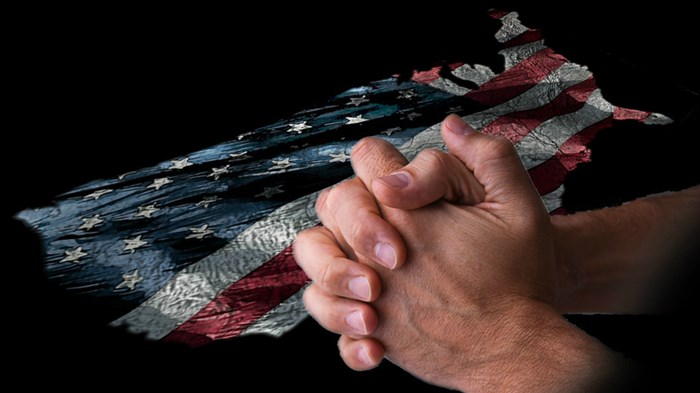 Image: Harley Pebley/Flickr
When God answers prayer, he tends to do it in the South.
At least, so say Americans who participated in a new poll from LifeWay Research sponsored by popular pastor and author Max Lucado. Southerners (31 percent) are twice as likely as Northeasterners (15 percent) to say all of their prayers have been answered. African Americans (38 percent) also have a greater propensity to say this than whites (22 percent) and Asian Americans (19 percent).
Overall, one in four Americans report that God answers all their prayers, while eight in 10 say at least some of their prayers are answered. Protestants are just a tad more likely to sense a response: 30 percent said God answers all of their prayers, and 87 percent said God answers at least some. Only 3 percent of Protestants said their prayers are never answered.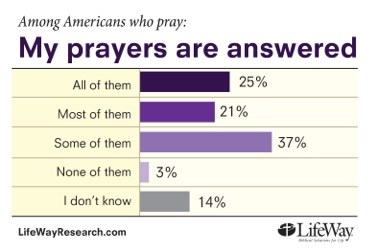 Image: LifeWay Research
Two out of five Americans pray for "my own sin," as do half of Protestants (51 percent). Only one in five Americans (20 percent) pray for people who do not share their faith; one in four Protestants (26 percent) pray for non-Christians. Only 12 percent of Americans say they pray for government officials.
Natural disasters regularly inspire calls for prayer, but less than half of Americans (38 percent) and Protestants (44 percent) say they pray for those affected. A higher percentage of women (41 percent) than men (35 percent) pray for "people in natural disasters," as do Baby Boomers (49 percent) than Gen Xers (34 percent) or Millennials (35 percent).
On only two topics are Catholics significantly more likely to pray than Protestants (or at least to acknowledge doing so): for God to lead their favorite sports team to victory (20 percent of Catholics vs. 11 percent of Protestants), and for someone to get fired (10 percent vs. 3 percent).
Wealthier Americans are more likely to use two imprecatory prayers: for someone to get fired, and for "bad things to happen to bad people." One-quarter of respondents with an annual income higher than $150,000 pray for "bad things to happen to bad people," while only around 8 percent of respondents making less than $50,000 said they would do so. And nearly one in five Americans with incomes over $150,000 have prayed for someone to get fired; in contrast, only 1 in 20 Americans who make between $75,000 and $149,000 and only one in 100 Americans who make less than $30,000 say they have prayed the same.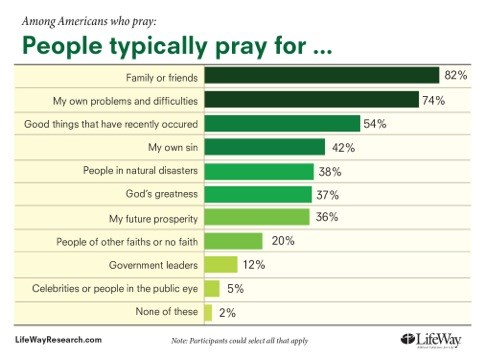 Image: LifeWay Research
Four out of five Americans (82 percent) implore God about the needs of their friends and family. Half (54 percent) pray about good things occurring in their lives, and around one-third (36 percent) pray for their own future prosperity.
Only 37 percent of Americans pray for their enemies, and 41 percent admitting to praying for those have mistreated them. Protestants were slightly better than the average American at following this command of Jesus: Nearly half said they prayed for their enemies (46 percent) and for individuals who had mistreated them (48 percent).
The same proportion of Americans and Protestants (14 percent) conceded they would pray for God to take revenge. The groups were also nearly identical (9 and 8 percent, respectively) in confessing they would pray for a bad thing to befall a bad person. Yet the overwhelming majority of Americans said they have not used prayer vindictively, with 95 percent saying they have not used it to pray for someone's relationship to end, someone else to get fired, or for someone else to fail.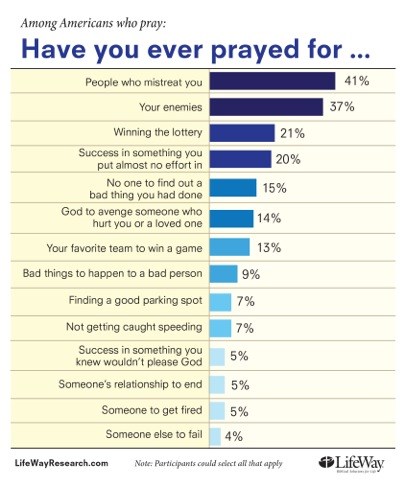 Image: LifeWay Research
One-third of Americans said they pray several times a day, and 17 percent pray once per day. Less than one in five say they never pray. Among Protestants, 61 percent pray at least daily, and 43% several times a day.
Who prays? Men are less likely to talk to God than women: one in five say they never pray (22 percent), vs. 1 in 10 women (11 percent). Roughly 20 percent of whites (19 percent) and Hispanics (20 percent) say they never pray; in contrast, only five percent of African Americans say the same.
The LifeWay Research study, conducted online on August 7, surveyed 1,137 Americans. The study's margin of error was ±2.5 percent.
CT frequently examines prayer, including asking what prayer studies prove, whether invocations are worth it if city leaders bow before false gods, why the Book of Common Prayer is still a big deal, and the importance of praying for anxiety-ridden Christians.
[Photo courtesy of Harley Pebley - Flickr]