Origen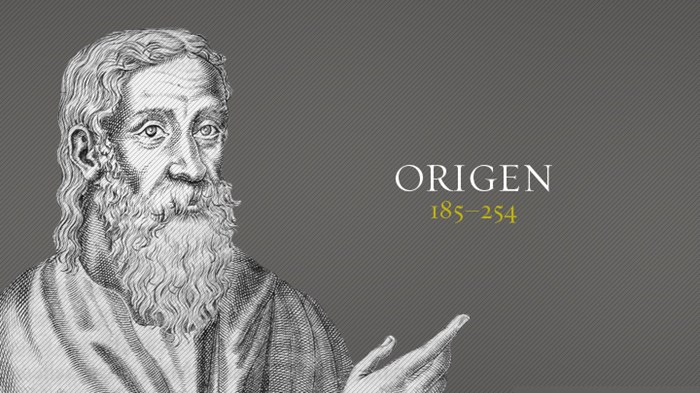 "We who by our prayers destroy all demons which stir up wars, violate oaths, and disturb the peace are of more help to the emperors than those who seem to be doing the fighting."
This third century "religious fanatic" gave up his job, slept on the floor, ate no meat, drank no wine, fasted twice a week, owned no shoes, and reportedly castrated himself for the faith. He was also the most prolific scholar of his age (with hundreds of works to his credit), a first-rate Christian philosopher, and a profound student of the Bible.
Child prodigy Origen Adamantius ("man of steel") was born near Alexandria about A.D. 185. The oldest of seven children in a Christian home, he grew up learning the Bible and the meaning of commitment. In 202 when his father, Leonidas, was beheaded for his Christian beliefs, Origen wanted to die as a martyr, too. But his mother prevented him from even leaving the house—by hiding his clothes.
To support his family, the 18-year-old Origen opened a grammar school, copied texts, and instructed catechumens (those seeking to become members of the church). He himself studied under the pagan philosopher Ammonius Saccas in order to better defend his faith against pagan arguments. When a rich convert supplied him with secretaries, he began to write.
Timeline

110

Ignatius of Antioch martyred

115

Polycarp martyred

180

Irenaeus writes Against Heresies

185

Origen born

254

Origen dies

303

"Great Persecution" begins under Diocletian
Bible student and critic
Origen worked for 20 years on his Hexapla, a massive work of Old Testament analysis written to answer Jewish and Gnostic critics of Christianity. An examination of Biblical texts, it had six parallel columns: one in Hebrew, and the other five in various Greek translations, including one he found at Jericho in a jar. It became an important step in the development of the Christian canon and scriptural translation, but unfortunately it was destroyed. So massive was it that scholars doubt anyone ever copied it entirely.
This first Bible scholar analyzed the Scriptures on three levels: the literal, the moral, and the allegorical. As he put it, "For just as man consists of body, soul, and spirit, so in the same way does the Scripture." Origen, in fact, preferred the allegorical not only because it allowed for more spiritual interpretations, but many passages he found impossible to read literally: "Now what man of intelligence will believe that the first and the second and the third day … existed without the sun and moon and stars?" In any event, Origen's method of interpretation became the standard in the Middle Ages. Origen's main work, De Principiis (On First Principles), was the first systematic exposition of Christian theology ever written. In it he created a Christian philosophy, synthesizing Greek technique and biblical assumptions. Add to these massive works his homilies and commentaries, and it's clear why he was reputed to have kept seven secretaries busy and caused Jerome (c.354–420) to say in frustrated admiration, "Has anyone read everything that Origen wrote?"
Heretical church father?
Origen has always been controversial. His reported self-mutilation, in response to Matthew 19:12 ("… there are eunuchs who have made themselves eunuchs for the sake of the kingdom of heaven….") was condemned as a drastic misinterpretation of the text. In Palestine he preached without being ordained and was so condemned by his bishop, Demetrius. When on a second trip, he was ordained by the same bishops who had invited him to speak the first time, Demetrius sent him into exile.
While some of his writings are thought to have been hypothetical, Origen did teach that all spirits were created equal, existed before birth, and then fell from grace. Furthermore, "those rational beings who sinned and on account fell from the state in which they were, in proportion to their particular sins, were enslaved in bodies as punishment"—some demons, some men, and some angels. He also believed that all spirits, even Satan, could be saved. "The power of choosing between good and evil is within the reach of all," he wrote.
Most notably, however, Origen described the Trinity as a hierarchy, not as an equality of Father, Son, and Spirit. And though he attacked Gnostic beliefs, like them, he rejected the goodness of material creation.
Three centuries after his death, the Council of Constantinople (553) pronounced him a heretic: "Whoever says or thinks that the punishment of demons and the wicked will not be eternal … let him be anathema."
Some contend that Origen was merely trying to frame the faith in the ideas of his day; still his works were suppressed following his condemnation, so modern judgment is impossible.
Despite such condemnation, Origen said, "I want to be a man of the church … to be called … of Christ." His Contra Celsum, in fact, is one of the finest defenses of Christianity produced in the early church. Answering the charge that Christians, by refusing military service, fail the test of good citizenship, he wrote, "We who by our prayers destroy all demons which stir up wars, violate oaths, and disturb the peace are of more help to the emperors than those who seem to be doing the fighting."
The authorities, however, were not convinced: in 250 the emperor Decius had Origen imprisoned and tortured. He was deliberately kept alive in the hope that he would renounce his faith. But Decius died first and Origen went free. His health broken, Origen died shortly after his release.