Erasmus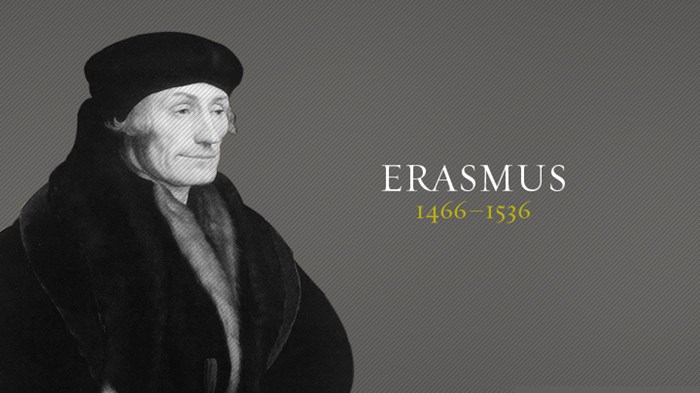 "Would that the farmer might sing snatches of Scripture at his plough and that the weaver might hum phrases of Scripture to the tune of his shuttle, that the traveler might lighten with stories from Scripture the weariness of his journey."
"When I get a little money I buy books," wrote Erasmus of Rotterdam, who took the name Desiderius in his adult life. "If any is left … I buy food and clothes."
This illegitimate son of a Dutch priest lived in search of knowledge, in pursuit of piety, in love with books, and oppressed by the fear of poverty. Along the way, his writings and scholarship started a theological earthquake that didn't stop until western European Christendom was split.
Timeline

1431

Joan of Arc burned at stake

1453

Constantinople falls; end of Eastern Roman Empire

1456

Gutenberg produces first printed Bible

1466

Erasmus born

1536

Erasmus dies

1540

Ignatius Loyola gains approval for Society of Jesus
No fan of monasticism
Born in Rotterdam, orphaned by the plague, Erasmus was sent from the chapter school of St. Lebuin's—which taught classical learning and the humanities—to a school conducted by the monastic Brethren of the Common Life. He absorbed an emphasis on a personal relationship with God but hated the severe rules of monastic life and the intolerant theologians. They intended to teach humility, he later recalled, by breaking the pupils' spirits.
But he was poor, and both he and his brother had to enter monasteries; Erasmus decided to join the Augustinians. He wanted to travel, gain some academic elbow room, and leave behind the "barbarians" who discouraged him from classical studies. And as soon as he was ordained a priest in 1492, he did, becoming secretary to the bishop of Cambrai, who sent him to Paris to study theology.
He hated it there too. The dorms stank of urine, the food was execrable, the studies mechanical, and the discipline brutal. But he was able to begin a career in writing and traveling that took him to most of the countries of Europe. Though he often complained of poor health, he was driven by a desire to seek out the best theologians of his day. On a trip to England in 1499, he complained of bad beer, barbarism, and inhospitable weather, but he also met Thomas More, who became a friend for life.
On the same trip he heard John Colet teach from the Scriptures, not the layers of commentaries he had studied in Paris. Colet, who would later become the dean of St. Paul's, encouraged the Dutch scholar to become a "primitive theologian" who studied Scripture like the church Fathers, not like the argumentative scholastics.
Thereafter Erasmus devoted himself to the Greek language, in which the New Testament was written. "I cannot tell you, dear Colet, how I hurry on, with all sails set, to holy literature," he soon wrote to his new friend. "How I dislike everything that keeps me back, or retards me."
The result was his most significant work: an edition of the New Testament in original Greek, published in 1516. Accompanying it were study notes as well as his own Latin translation—correcting some 600 errors in Jerome's Vulgate.
In the preface, Erasmus said he undertook the project so everyone could finally read the Bible: "Would that these were translated into each and every language … Would that the farmer might sing snatches of Scripture at his plough and that the weaver might hum phrases of Scripture to the tune of his shuttle, that the traveler might lighten with stories from Scripture the weariness of his journey."
Two of the most noteworthy praises of Erasmus's work came from Pope Leo X and from a German monk named Martin Luther—who, one year later, would launch the Protestant Reformation.
"Foolish" critic
Before that turning point—which would eventually consume the humanist (which at the time meant student of the humanities, not one who praises humanity above all else)—Erasmus became famous for his other writings. And there were plenty for him to be famous for. By the 1530s, between 10 and 20 percent of all the books sold had his byline.
He said he wrote to "correct the errors of those whose religion is usually composed of … ceremonies and observances of a material sort and neglect the things that conduce to piety." He became famous for his biting satire, In Praise of Folly, which attacked monastic and ecclesiastic corruption. He lambasted miracles supposedly performed by images, indulgences, and what he felt were useless church rites.
The books brought him fame, as did his Bible. This and his attacks on a church caught Luther's attention, who wrote asking for support.
Between Scylla and Charybdis
The two never met, but their fates were entwined for all history. Erasmus's enemies accused him of inspiring the schismatic Luther. And indeed, Erasmus found much he liked in the German's writings, describing him to Leo X as "a mighty trumpet of gospel truth." At the same time, he privately told his printer to stop printing Luther's writings because he didn't want his own efforts tangled with the Reformer's.
For four years, Erasmus pleaded moderation to both sides. But when pressed, he sided with the pope. "I am not so made as to fly in the face of the Vicar of Christ," he assured Leo.
Still, he hated the bickering and intolerance of both sides: "I detest dissension because it goes both against the teachings of Christ and against a secret inclination of nature. I doubt that either side in the dispute can be suppressed without grave loss. It is clear that many of the reforms for which Luther calls are urgently needed."
His mediating position, however, didn't satisfy either side: "My only wish is that now that I am old, I be allowed to enjoy the results of my efforts," he wrote. "But both sides reproach me and seek to coerce me. Some claim that since I do not attack Luther I agree with him, while the Lutherans declare that I am a coward who has forsaken the gospel."
Indeed, Luther attacked him as a Moses who would die in the wilderness "without entering the promised land." And the Roman Catholic church forbade his writings. "Had I not seen it, nay, felt it myself," he wrote, "I should never have believed anyone who said theologians could become so insane."