T.S. Eliot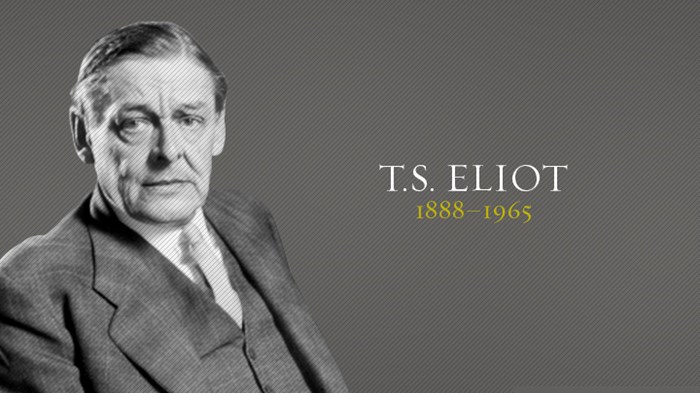 "The only hope, or else despair
Lies in the choice of pyre or pyre—
To be redeemed from fire by fire."
The man who wrote the most despairing poem of the twentieth century is today mostly remembered as the author of doggerel verse made popular in the hit musical Cats. Besides his poetry (the serious, the light, and the profoundly Christian), he produced literary criticism and drama so fine he was awarded the 1948 Nobel Prize for Literature and the British Order of Merit.
Timeline

1867

The Dominion of Canada is Established

1876

Alexander Grahm Bell invents the telephone

1882

Formation of Standard Oil Company

1888

T.S. Eliot born

1965

T.S. Eliot dies

1966

Chinese Cultural Revolution
Brooding masterpiece
Thomas Stearns Eliot was born in St. Louis to a family descended from New England stock. There was no smoking or drinking in the Eliot household, and the literary-minded family—Tom, his brother, five sisters, and mother—would gather around his father, a wholesale grocer, as he read Dickens aloud. In fact, frail Tom spent much of his childhood curled up in a big leather armchair reading.
He was sent to New England to private schools and was accepted at Harvard University, where he studied under the likes of philosopher and poet George Santayana and completed his degree in three years. Though naturally shy, he gained a reputation as a dancer and party-goer, and when he decided he was too puny, he took boxing lessons.
Eliot won a traveling fellowship to Germany in 1914; he barely escaped getting caught by the war and made his way to Britain. It turned out to be a long stay. He never returned to take his oral examination, which was all that stood between him and a Harvard Ph.D.
After a year at Oxford University, then a stint at teaching history, Latin, French, German, arithmetic, drawing, and swimming in English schools, he became a banker with Lloyds of London. Later he became an editor with Faber and Faber (where he eventually became known as a prolific writer of blurbs for book jackets).
Meanwhile he brooded over the crumbling of European civilization.
His first masterpiece, the first "modernist" poem in English, was "The Love Song of J. Alfred Prufrock," a portrait of an aging man reviewing a life frittered away between timid hopes and lost opportunities:
For I have known them all already, known them all
Have known the evenings, mornings, afternoons
I have measured out my life with coffee spoons …
With the publication of "The Waste Land" in 1922, he came to international attention. The poem begins,
April is the cruelest month, breeding
Lilacs out of the dead land, mixing
Memory and desire, stirring
Dull roots with spring rain.
It expresses the disillusionment and disgust after World War I, portraying a fearful world pursuing barren lusts, yearning desperately for any sign of redemption. It is considered by many to be the most influential poem of the twentieth century.
Redeemed from fire
Eliot's despair, however, was short-lived. After reading agnostic Bertrand Russell's essay "A Free Man's Worship," essentially an argument that man must worship man, Eliot decided its reasoning was shallow. He moved in the opposite direction and in 1927 was confirmed in the Church of England. The same year, he also gave up his American citizenship and became a British subject.
His faith became more widely known with the publication of "Ash Wednesday" in 1930, a poem showing the difficult search for truth ("Where shall the word be found, where will the word / Resound? Not here, there is not enough silence") and the discovery of a faith that will last, expressed in the repeated phrase, "Because I do not hope to turn again." Though criticized sharply by the literati for his turn to Christianity, he continued to express his faith in his poetry.
Eliot believed his finest achievement was writing the broadly religious poem "Four Quartets" (1943). It deals with the themes of incarnation, time and eternity, spiritual insight and revelation, culminating in an allusion to Pentecost:
The dove descending breaks the air
With flame of incandescent terror
Of which the tongues declare
The one discharge from sin and error.
The only hope, or else despair
Lies in the choice of pyre or pyre—
To be redeemed from fire by fire.
In The Idea of a Christian Society (1939), as well as other works, Eliot argued that the humanist attempt to form a non-Christian, "rational" civilization was doomed. "The experiment will fail," he wrote, "but we must be very patient in awaiting its collapse; meanwhile redeeming the time: so that the Faith may be preserved alive through the dark ages before us; to renew and rebuild civilization, and save the world from suicide."
He didn't believe society should be ruled by the church, only by Christian principles, with Christians being "the conscious mind and the conscience of the nation."
Eliot turned to writing plays in the 1930s and '40s because he believed drama attracts people who unconsciously seek a religion. The year 1935 saw the premiere of Murder in the Cathedral, a play based on the martyrdom of Thomas Becket, in which Eliot reiterates that faith can live only if the faithful are ready to die for it. It was followed by The Family Reunion (1939) and The Cocktail Party (1949), his greatest theatrical success. In his plays, he managed to handle complex moral and religious themes while entertaining audiences with farcical plots and keen social satire.
Verse to the postman
More personally, Eliot's first marriage was a disaster: his wife became increasingly unstable until she had to spend her last days in a mental institution. He then shared a flat with writer-critic John Hayward (who was almost completely paralyzed) until he married again in 1957.
Eliot enjoyed children, was a fan of Sherlock Holmes detective stories, addressed letters in verse ("Postman, propel thy feet / And take this note to greet / The Mrs. Hutchinson / Who lives on Charlotte Street … "), and made up rhymes about cats, which turned into his Old Possum's Book of Practical Cats (1939). He was an Anglican of Anglo-Catholic persuasion and served for a time as church warden at his local parish.