Geoffrey Chaucer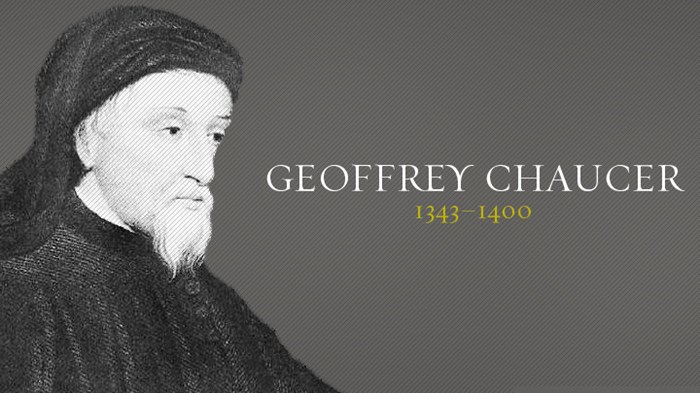 "Now I beg all those that listen to this little treatise [Canterbury Tales], or read it, that if there be anything in it that pleases them, they thank our Lord Jesus Christ for it, from whom proceeds all understanding and goodness."
Geoffrey Chaucer's first major poem, Book of the Duchess, was a well-received elegy for Blanche, the late wife of his patron John of Gaunt (who was also patron of Bible translator John Wycliffe). It was a gentle poem of courtly love and established Chaucer's reputation as a love poet who examined both the earthly and the eternal aspects of the subject.
Yet Chaucer was no mushy milquetoast; he had a few rough edges. He was once fined for beating a Franciscan friar and was charged with either sexual assault or abduction (the charge is unclear), though the case was dismissed.
Timeline

1302

Unam Sanctam proclaims papal supremacy

1309

Papacy begins "Babylonian" exile in Avignon

1321

Dante completes Divine Comedy

1343

Geoffrey Chaucer born

1400

Geoffrey Chaucer dies

1414

Council of Constance begins
This combination—sublimity and brutal realism—characterized not only Chaucer's life but his greatest literary contribution, The Canterbury Tales.
Political poet
Geoffrey's father, John, was an important London vintner (wine merchant) and a deputy to the king's butler, so Geoffrey received the best education of his day. He was well read, fluent in French and competent in Latin and Italian. By his early teens, he was already serving in the royal household; by his mid-teens, he was a member of the king's army in France. Unfortunately, a key siege in which Chaucer took part failed, and the future poet was captured and imprisoned. After being ransomed (the king paid 16 pounds for his release), Chaucer returned to court. Over the next few years, he was promoted from attendant of the king's chamber to squire and charged with providing the king with entertainments—especially poetry.
Chaucer's career continued upward, and eventually he became quite wealthy. Then a series of mishaps ensued. When his wife, Philippa, died in about 1387, he lost her annuity; when King Richard II and John of Gaunt were usurped, Chaucer was dismissed. He was sued for debts, then sued again. Then King Richard's usurpers gained control of Parliament and began executing many of Chaucer's close friends.
During this tumultuous time, Chaucer created much of his most famous poetry. He began his early work on The Canterbury Tales and penned Troilus and Criseyde, a humorous but tragic love narrative set against the Trojan War. Some scholars have named it the first English novel, and praise it even above Canterbury Tales.
At the time, however, Troilus and Criseyde had at least one major critic: Richard's wife, Queen Anne. She took issue with the poem's implication that women were less faithful than men in romance. Chaucer noted her critique and set about writing the Legend of Good Women, in which the women aren't really good, they're just betrayed by evil men. Chaucer left the work unfinished because, according to his disciple Lydgate, it was too taxing to come up with many good women in history.
Soon enough, Richard II, then only 23 years old, regained his throne. His supporters were rewarded, and Chaucer was no exception. Richard appointed him clerk of the royal works, including Westminster Palace and the Tower of London. But he was, at best, mediocre at his job, and it proved hazardous to his health. He was repeatedly robbed and once beaten. Two years after his lofty appointment, he was demoted to subforester of the king's park in North Peterton, Somerset.
Tales from the road
Again his demotion was fortuitous for future generations, for he devoted more time to his Canterbury Tales, which he'd begun several years earlier. The earthy, realistic Tales introduces readers to two dozen pilgrims making their way to the shrine of Thomas Becket in Canterbury, Kent. To amuse themselves, they engage in a storytelling contest. Chaucer portrays his pilgrims with vividness and detail, and religious themes color almost every page. Though a work of fiction, Canterbury Tales has helped historians peek into late-1300s English life, and it has helped to combat the notion that the medieval church was a monolith of religious attitudes.
The collection of stories brings together people from many vocations: knight, miller, reeve, cook, lawyer, shipman, prioress, monk, priest, physician, clerk, merchant, and so on. Among the more memorable characters are the Wife of Bath, one of literature's most endearing religious rebels and surely a protofeminist; the pardoner, a hawker of indulgences and charlatan; and the parson, a model priest (who may have been based on John Wycliffe) who says to his fellow travelers that his goal is
to guide your way one further stage
Upon that perfect, glorious pilgrimage
Called the celestial, to Jerusalem.
The book was to have two tales from each pilgrim on the way to the cathedral and another two on the return trip. But Chaucer quit writing far before that goal was reached. It is not known when exactly he stopped, but the end of his tales includes a "Retraction," where Chaucer himself takes the stage and, nearing the end of his life, apologizes for his "translations and [writings] of worldly vanities."
In October 1400, Geoffrey Chaucer died. He was buried in Westminster Abbey, a high honor for a commoner, and became the first of those entombed in what is now called Poets' Corner.