Anne Bradstreet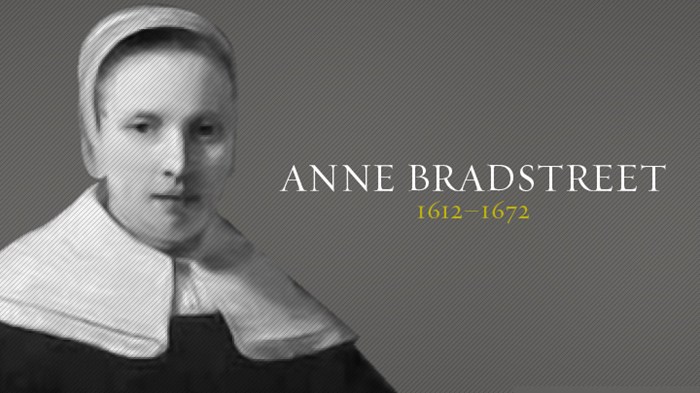 "I am obnoxious to each carping tongue Who says my hand a needle better fits, A Poet's pen all scorn I should thus wrong, For such despite they cast on Female wits."
Almost all we know of Anne Bradstreet comes from her meditations and poems. As a poet, she combined the longings of the human heart with devout faith and piety, and she is recognized as a true Puritan and one of America's greatest poets.
Mayflower lineage
Bradstreet was born in a castle in Northampton, England, where her father was a steward for the Puritan earl of Lincoln. She enjoyed the advantages of privilege and wealth, once noting, "When I was about seven … I had at one time eight tutors … in languages, music, dancing."
At age 16, she married Simon Bradstreet, a recent graduate of Cambridge and also a steward at the earl's estate. Two years later, in 1630, she came to Massachusetts with a group of Puritans led by John Winthrop.
These sudden changes didn't suit her: "I changed my condition and was married, and came into this country, where I found a new world and new manners, at which my heart rose [in anger]," she later wrote her children. "But after I was convinced it was the way of God, I submitted to it and joined to the church at Boston."
She led the demanding but relatively comfortable life of a mother (eventually bearing eight children) and wife of a husband who traveled in the highest circles of Massachusetts society.
Between her domestic chores, she found time to write poetry. Her brother-in-law thought it so good, he managed to get a few of her poems printed in England, under the title The Tenth Muse Lately Sprung up in America.
Though she is today considered the first American poet, and though her poetry was admired by many contemporaries, she was criticized by some for writing poetry, as she once noted in a poem:
I am obnoxious to each carping tongue
Who says my hand a needle better fits,
A Poet's pen all scorn I should thus wrong,
For such despite they cast on Female wits.
Puritan passion
Still she composed poems: about nature, about marriage, about children, about faith—sometimes all at once. As one historian put it, her poetry shows "a Puritan could … combine sexual passion, love of children and good furniture, humor—that the female Puritan, in short, could be both a Puritan and a woman of great charm."
Timeline

1577

Sir Francis Drake begins voyage around the world

1588

British Navy's victory over the Spanish Armada

1611

King James Version of Bible published

1612

Anne Bradstreet born

1672

Anne Bradstreet dies

1682

William Penn founds Pennsylvania
In "To My Dear and Loving Husband," she celebrates marital love while pointing to a love more eternal:
If ever two were one, then surely we.
If ever man were loved by wife, then thee.
If ever wife was happy in a man,
Compare with me, ye women, if you can.
I prize thy love more than whole mines of gold,
Of all the riches that the East doth hold.
My love is such that rivers cannot quench,
Nor ought but love from thee give recompense.
Thy love is such I can no way repay;
The heavens reward thee manifold I pray.
Then, while we live, in love let's so persever,
That when we live no more we may live ever.
One of her most poignant poems was written in 1665 upon the death of an infant grandchild:
Farewel dear babe, my heart's too much content,
Farewel sweet babe, the pleasure of mine eye,
Farewel fair flower that for a space was lent
Then ta'en away unto Eternity.
Blest babe why should I once bewail thy fate,
Or sigh the dayes so soon were terminate
Sith thou art setled in an Everlasting state.
By nature Trees do rot when they are grown.
And Plumbs and Apples throughly ripe do fall,
And Corn and grass are in their season mown,
And time brings down what is both strong and tall.
But plants new set to be eradicate,
And buds new blown, to have so short a date,
Is by his hand alone that guides nature and fate.
Her writings debunk the myth of the stodgy, prudish Puritan so long a part of the American psyche.