Church Buildings
The church's body is made up of many members, and for many of those members, the building they worship in is of vital importance. Though congregations may not always be able to dictate what their worship space looks like, more and more churches use architecture to reflect their mission. Church buildings can also be a significant source of conflict: numerous legal battles over church land and buildings occur each year, particularly as individual congregations split away from their denominations.
Featured Articles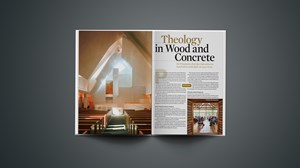 Theology in Wood and Concrete
Six Protestant churches that strive to match form with faith.
Keeping Holy Ground Holy
A new survey suggests that seekers are not looking for user-friendly, mall-like buildings.
Land and Building Wars
A handful of parishes win the right to keep their property, but legal experts don't know if their cases are setting a precedent.
loading more