Una vez, yo apagué un programa de televisión que normalmente me encanta, porque se hizo muy sermoneador. Este episodio era acerca de prevenir las enfermedades venéreas. Un caricaturesco activista de la derecha religiosa que insistía en la educación de la abstinencia frustraba la tarea de educar a las personas con respecto al uso de preservativos. El guión se prestó para que se hicieran una serie de bromas groseras, salpicadas con mensajes de que la abstinencia no funciona y daña a las personas y que los oficiales del gobierno necesitan el valor para combatir a los ideólogos.
Yo, por supuesto, yo soy un cristiano evangélico conservador que cree, con la iglesia cristiana histórica, que la castidad hasta el matrimonio es el plan de Dios y es necesaria para la prosperidad de la humanidad. También pienso que muchos esfuerzos para la educación sexual—los que se diseñan simplemente alrededor de la prevención de enfermedades y del embarazo en vez de la dignidad humana—han lastimado gente y reducido la sociedad civil. No tengo temor de escuchar otros puntos de vista. Apagué el televisor no porque estuviera indignado, sino porque estaba aburrido. Este programa estaba presentando un punto de vista con el tipo de seguridad presuntuosa de rectitud que sencillamente hacian una caricatura de mis perspectivas.
No me preocupan las comedias de televisión. Sin embargo, eso me incitó a pensar con respecto a qué tan a menudo nosotros, como el Cuerpo de Cristo, hacemos lo mismo. Podemos caricaturizar las posiciones de nuestros detractores en los términos más groseros, para ayudar a asegurarnos de que nuestros adversarios son especialmente estúpidos y perversos, y poder obtener algunos "amenes" de nuestro lado. Pero eso es sermonear, no predicar, y hay una diferencia.
La predicación de Jesús tomó posturas claras, con filos cortantes. Pero Jesús nunca convirtió la espada del Espíritu en cobija de seguridad para los ya convencidos. Con la mujer samaritana en el pozo, por ejemplo, habría sido fácil para Jesús sencillamente decir a sus discípulos cómo los samaritanos son promiscuos porque rechazan la autoridad de la Biblia. Pudo haber ridiculizado la falsa ilusión de la mujer sobre sus muchos matrimonios fracasados y su presente cohabitación. En vez de eso, Él habló con ella, no habló de ella. Él sacó a la luz cómo (aun) ella tenía que reconocer la aridez del agua espiritual que ella ha estado tomando.
Jesús, en continuidad con los profetas y los apóstoles, no huía de las confrontaciones morales. Sin embargo se negó a dejarlo en el tipo de superficialidad que todos ansiamos. A los discípulos no se les permitía felicitarse a sí mismos por no adulterar o matar, porque la predicación de Jesús condujo a la ley a lo más profundo de sus conciencias, sacando a la luz los tipos de adulterios y asesinatos internos que son mucho más difíciles de identificar. El apóstol Pablo, de la misma forma, demostró la degeneración moral de las naciones gentiles (Rom. 1:18—2:26), pero no permitió a los creyentes judíos que retrocedieran y que le aplaudieran por "llamar al pecado 'pecado.'"
Muchas de las ideologías y prácticas que debemos confrontar son de muerte. Pero no estamos predicando a los que están esclavizados a esos peligros si sencillamente repetimos lemas. Debemos preguntar por qué esas cosas son atractivas, y por qué los argumentos a favor de ellas pueden parecer ser creíbles. Nuestros adversarios, al fin de cuentas, no son caricaturas de súper villanos en una guarida en algún sitio, tramando la caída de lo bueno y lo verdadero. Ellos mismos creen seguir el camino correcto.
Cuando los no creyentes escuchan una ilustración enlatada que es una caricatura de sus puntos de vista, reconocen lo que yo reconocí en ese programa de televisión. La propaganda sermoneadora no detiene a la conciencia. Nosotros, como embajadores de Cristo, estamos tratando con el aroma de la vida y el hedor de la muerte (2 Cor. 2:15—16). Debemos apelar a lo más profundo de las conciencias acusadas que ya conocen a Dios pero que rehúyen de Él por miedo.
La bondad con convicción significa amar a las personas lo suficientemente para decirles la verdad, y decirnos a nosotros mismos la verdad sobre ellos. Los que se nos oponen no (necesariamente) son estúpidos. No merecen el infierno más que nosotros, separados de la gracia de Dios en Cristo. El sermonear nunca cambió la mente de nadie. La predicación, sin embargo, puede cambiarlo todo.
Fragmento de Onward: Engaging the Culture without Losing the Gospel por Russell Moore. © 2015 B&H Publishing Group.
(Vea los comentarios de nuestros jueces sobre los ganadores del premio the Beautiful Ortodoxy, y el resto de los libros premiados de CT en el 2016.)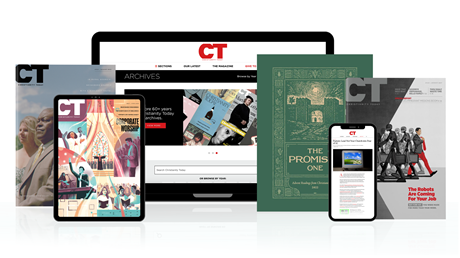 Annual & Monthly subscriptions available.
Print & Digital Issues of CT magazine
Complete access to every article on ChristianityToday.com
Unlimited access to 65+ years of CT's online archives
Member-only special issues
Subscribe
El sermonear nunca cambió la mente de nadie
El sermonear nunca cambió la mente de nadie