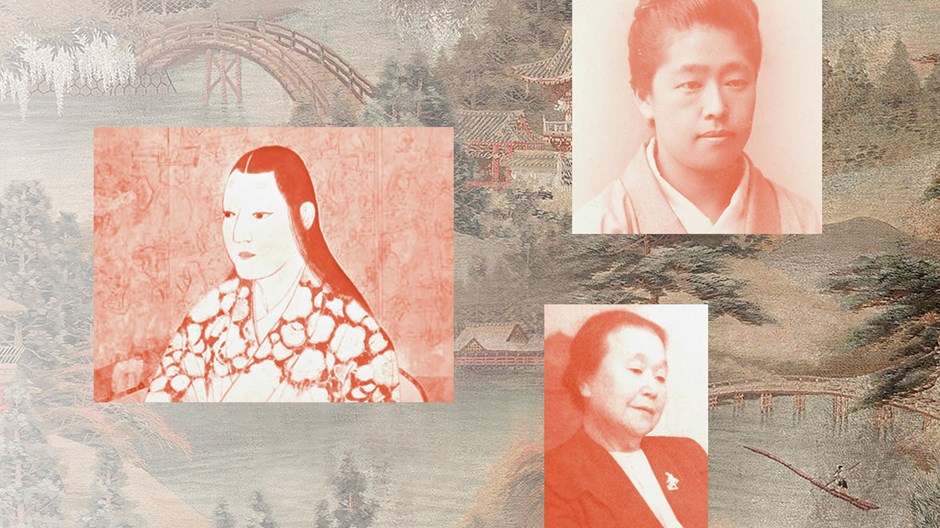 Image: Illustration by Mallory Rentsch / Source Images: WikiMedia Commons
Christianity arrived in Japan in 1549 through Jesuit missionaries and challenged the dominant Confucian view on the hierarchical position of women in society.
The Confucian instructional book Onna Daigaku (School of Women) instructed parents to raise their daughters to be submissive in order to marry into other families, where exercising too much independence would be impertinent. The most desirable qualities for women were obedience, chastity, compassion, and emotional balance. Wives were expected to revere their husbands as if they were deities and to never become jealous, as that would risk alienating their husbands.
The Christian faith that the Jesuits shared offered unprecedented opportunities for women to discover and embody new social roles and positions. The Protestants also represented this newfound reality as women comprised about two-thirds of the missionaries sent to Japan from 1859 to 1882, according to Japanese historian Rui Kohiyama.
"Christianity required women to make a personal decision about their religious choices and confess it publicly in a society where women's opinions mattered little," writes Haruko Nawata Ward, a church history professor at Columbia Theological Seminary, in her book Women Religious Leaders in Japan's Christian Century, 1549–1650.
"It required them to maintain a stronger loyalty to Christ than to their feudal lords, fathers, elder brothers, husbands and sons. It empowered women to take vows of celibacy, or choose their marriage partners from among Kirishitan men."
In the early 17th century, Christianity was banned. Believers were persecuted for just over two and a half centuries, with many practicing their faith in secret as Kakure Kirishitans, or "Hidden Christians." During this time, women played an essential role by passing on to their children what they had learned from their ancestors.
Women in Japan have contributed to Christianity's growth in the country for nearly five centuries, especially by promoting theological discussions and engaging in political, social, and cultural activism.
Here are three Japanese Christian women who were forerunners in evangelism, education reform, and preaching across the Tokugawa, Meiji, and Taishō eras, spanning from the 17th to the early 20th century.
The fearless evangelist: Gracia Tama Hosokawa
Gracia Tama Hosokawa was gifted in Japanese script and applied her talents toward contextualizing the Kirishitan faith, thereby making Christianity easier to understand and accept by the locals. She translated Christian texts from Europe into Japanese, including the catechism and various spiritual treatises.
Hosokawa was born in 1563 amid Japan's "Christian Century" (1549–1650), in which Christianity took root and spread across the country. In this time, women died as martyrs, some alone and some with their infants in their arms. They never abandoned their belief in Christ or their loyalty to the church.
Hosokawa's father, Mitsuhide Akechi, enjoyed a relatively strong financial position that enabled him to give all his children a good education. Hosokawa's education predominantly focused on Zen Buddhism according to theology student Anne Sander. This prepared her to later become one of Japan's most famous Kirishitan theologians during the Tokugawa period (1603–1868). She developed a lifelong love for intellectual discussions.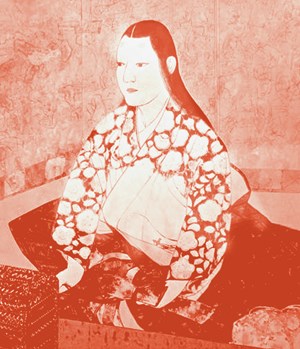 Image: WikiMedia Commons / Edits by CT
Hosokawa's first encounter with Christianity occurred through her husband, Tadaoki, amid a marital relationship full of tension. Tadaoki, a noble samurai with several wives, became acquainted with Ukon Takayama, a well-known Christian samurai in Japan who tried to evangelize him. The attempts to convert Tadaoki failed, but Hosokawa learned about Christianity from her husband's reports.
Despite Hosokawa's fascination with Christianity, she attended church only once in her life. Barred from leaving her husband's palace in Osaka, she managed to flee in secret and venture into a church on one occasion.
Although she immediately desired to be baptized upon hearing the sermon, doing so would have required her to reveal her identity. When the palace guards discovered Hosokawa's absence, they located her and brought her back to the palace, and Tadaoki forbade her to attend church.
Yet Hosokawa's single visit to church radically changed the atmosphere of Tadaoki's palace. Several of his wives and other women there—17 in total—converted to Christianity, Sander writes.
Hosokawa and these other women were generally isolated and left to themselves in the palace. They led a nearly monastic life there, praying together and discussing philosophy and Christian literature. Hosokawa's best friend, Ito Kiyohara, who was renamed Maria after being baptized, served as the intermediary between Hosokawa and Father Cespedes, a Jesuit priest in Osaka, relaying their questions and answers, writes Sander.
On her conversion to Christianity, Hosokawa told Father Cespedes that it happened "not by the persuasion of humans, but only by the grace and mercy of one and only almighty God, in whom I have found that even if the heavens changed into the earth and the trees and the plains ceased to be, I, by the confidence which I have in God, shall not be moved," notes Ward.
Hosokawa completed several written works and translations, including books on the catechism, although many of her Kirishitan writings and letters of inquiry to Father Cespedes have since been destroyed.
During a time of political unrest in the late 17th century, Tadaoki ordered Hosokawa's death to prevent her from being taken hostage and used as leverage. The other Christian women at the palace wanted to die with her as well, but Hosokawa prevented them from doing so.
"My faith will not change, no matter what kind of persecution there is," Hosokawa declared.
The tenacious reformer: Umeko Tsuda
Umeko Tsuda believed that all women in Japan should have equal access to higher education and that only education could help improve women's status in the country.
Tsuda was born in 1864 in Edo, or present-day Tokyo. Four years later, the collapse of the Tokugawa regime gave way to the Meiji period (1868–1912), when a new, young Japan sought to modernize its political, social, economic, cultural, and religious systems—in which Christian women came to play an important role in Japanese society.
In 1871, Tsuda arrived in San Francisco as part of a government program that sent Japanese students to study in the United States. She was seven years old.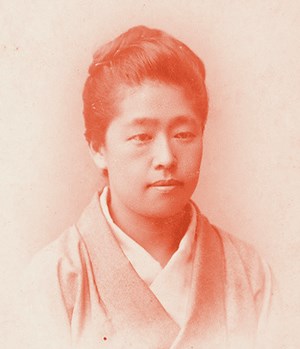 Image: WikiMedia Commons / Edits by CT
While in America, Tsuda lived with Charles Lanman, the secretary of the Japanese legation, and his wife, Adeline, both of whom were committed Episcopalians. Inspired by their faith, Tsuda also embraced Christianity and was baptized.
When she turned 18, Tsuda returned to Japan and worked as a children's tutor there. She soon returned to the United States to pursue an education at Bryn Mawr College, in a Philadelphia suburb, majoring in biology and education. During her second stay stateside, Tsuda became convinced that the only way to improve women's status in Japan was to give them the same opportunity to enter higher education as men.
"Oh, women have the hardest part of life to bear in more ways than one. … Poor, poor women, how I long to do something to better your position!" she wrote in a letter to Adeline.
Existing schools for Japanese girls and women aimed only to educate them to be submissive wives, sisters, and daughters at home, whereas education for boys and men was far more comprehensive. Tsuda soon established the American Scholarship for Japanese Women to provide financial aid to women studying in the United States who would return to their motherland and become leading forces in developing and improving women's education there. Some of them became influential political and educational leaders in Japan during and after the Meiji period.
Such inequality in educational opportunities was also why she founded Joshi Eigaku Juku, the Women's Institute for English Studies, in 1900. The Tokyo-based school afforded women equal opportunities to pursue higher education in the liberal arts. After World War II, the Women's Institute became Tsuda University, which is now one of the most prestigious institutes of higher education for women in Japan. Tsuda also became the first president of the Japanese branch of the World Young Women's Christian Association (YWCA) in 1905.
For all her accomplishments, Tsuda was not immune to experiencing seasons of discouragement. "There is a great work to be done, but the laborers are indeed few. God bless the cause, and bless and keep us all. I wonder if I can ever do any good. … It is tiresome work, and I am not used to it all yet, and I don't know how to work best for the Master's cause," she confessed in another letter to Adeline.
Nevertheless, Tsuda's legacy remains strong today. She was ranked one of the top 20 most prominent Japanese women in a 2019 survey by national magazine Tokyo Weekender, and her face will appear on the ¥5,000 bill starting in 2024.
As Tsuda wrote, "Somehow God seems to be opening the future [in] some way, and he has given me such a strange, wonderful, uncommon-place life, thus far, that it seems as if the future could not be merely useless."
The passionate preacher: Tamaki Kawado Uemura
Tamaki Kawado Uemura was one of the first Japanese women to become a pastor. She was instrumental in galvanizing the growth of the Christian church in the country.
Uemura's significant contributions occurred during the Taishō period (1912–1926), which was when Japan established a monarchy inspired by the British parliamentary system, a constitutional democracy with a two-party political structure. As a result, the country grew into a modern state similar to contemporary Western nations.
Uemura was the third daughter of one of Japan's famous early Protestant church leaders and theologians, Masahisa Uemura. In October 1930, Tamaki Uemura began to evangelize at her home in Tokyo. A year later, she founded the Kashiwagi Church in the same city.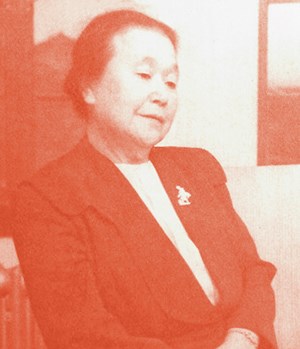 Image: WikiMedia Commons / Edits by CT
Uemura became Japan's first ordained woman pastor in the Japanese Christian Church in 1934. She also held appointments as the YWCA Japan's national director and vice president of the World YWCA.
Her influence also extended beyond Japan's shores. In April 1946, she was the first Japanese civilian to travel to the United States after World War II, bringing a message of peace from Japan to then president Harry S. Truman.
When Uemura returned to Japan, she had an audience with Emperor Shōwa and Empress Kōjun. There, she presented them with a gift from the women of the American Presbyterian church: an exquisitely bound Bible with a rich purple leather cover.
"[We hope that] the empress will find a real treasure in the Bible so that she can correctly interpret Christianity," Uemura said.
Empress Kōjun soon requested that Uemura hold Bible studies with her and her three daughters, 19-year-old princess Kazuko, 17-year-old Atsuko, and nine-year-old Takako. These sessions were held once a week for four years until 1951. The women would often sing Christian songs together, and Emperor Shōwa would listen in occasionally.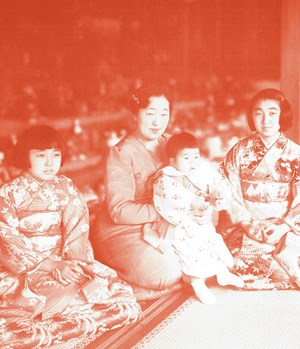 Image: WikiMedia Commons / Edits by CT
Outside of evangelizing to royalty, Uemura continued to invest in the spiritual health of Japanese Christians. She often preached powerful sermons with a prophetic emphasis on suffering and mourning with those who weep. She also rebuilt the Kashiwagi Church, which had burned down in 1947.
"I want to be a person who prays in [a] closed room and is captivated by the Word," she said in a sermon on Ephesians 2:1-10 at the church's 40th anniversary celebration. "But the church is the work of Christ. Building a church is a big task that has been given to us, so please pray that this church will be worthy of Christ's work."
"Mrs. Uemura has many calls from all over Japan, as well as from Korea, Formosa [Taiwan] and Manchuria [northeastern China], wherever Japanese Christians are scattered, and her visits cause spiritual awakening in a remarkable measure," wrote Christian activist Michi Kawai, Uemura's contemporary, in Japanese Women Speak: A Message from the Christian Women of Japan to the Christian Women of America.
"Her inheritance, her education and scholarship, and her embodiment of the Christian faith command the respect of men and women, Christian and non-Christian alike."
Adapted from Japanese Women and Christianity by Samuel Lee. Copyright © 2022. Used by permission of Samuel Lee. All rights reserved.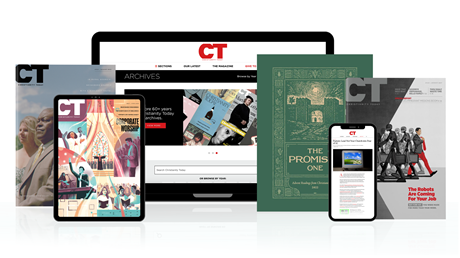 Subscribe to Christianity Today and get access to this article plus 65+ years of archives.
Home delivery of CT magazine
Complete access to articles on ChristianityToday.com
Over 120 years of magazine archives plus full access to all of CT's online archives
Subscribe Now
These 3 Japanese Christian Women Changed Their Country
These 3 Japanese Christian Women Changed Their Country