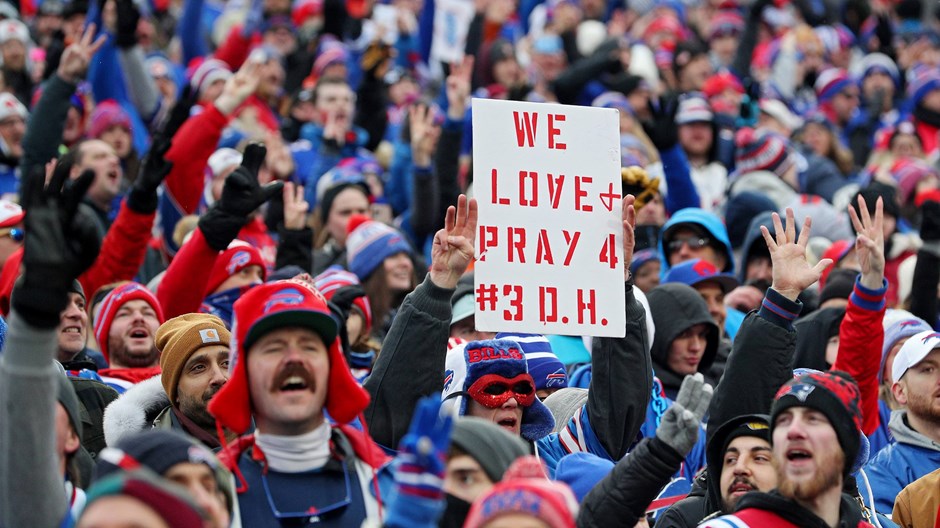 Image: Bryan M. Bennett / Getty Images
Football is filled with moments of prayer. As a historian who studies sports and Christianity, I've written before about the ways the practice in enmeshed in the sport; it's so common that it can be rightly understood as part of the fabric of the game.
Still, last week's public outpouring of prayer in support of Buffalo Bills safety Damar Hamlin stands out for its scale and scope. With Hamlin's life hanging in the balance, people throughout the NFL community and across social media turned to a higher power, desperately seeking comfort and hope. The intensity was so great that The New York Times and the Associated Press ran stories seeking to explain what was going on.
It was a remarkable moment for those of us who believe in a God who hears our prayers, and it was even more remarkable to learn that God seemed to be granting our requests. Reports last week told of recovery and healing for Hamlin, detailing notes that he wrote to a nurse ("Did we win?") a video chat with his team ("Love you boys"), and social media posts thanking his supporters ("The Love has been overwhelming.").
When former NFL player Sam Acho responded with a tweet—"God is so good. Prayer works."—the appropriate response for us should be "Amen."
At the same time, before the heightened emotion of the moment recedes and the NFL playoffs begin, it's worth pausing to reflect on what transpired. What lessons can we learn, what next steps should we take? As Christians, how do we make sense of all that has happened?
With a nod to Damar Hamlin's jersey number, three key points and possibilities stand out to me.
First, the prayers that seemed to blanket social media and the football world did not emerge from nowhere. They were not just a random and spontaneous reaction. Instead, the NFL's response was nurtured and shaped by decades of behind-the-scenes work from Christians who have built a community of support within the league.

It's a story that goes back to the 1950s with the founding of the Fellowship of Christian Athletes, and then expanded in the 1960s and 1970s with new evangelical sports ministries Athletes in Action and Pro Athletes Outreach. Thanks to their efforts, by the end of the 1970s, every NFL team had pregame chapel services and team chaplains, as well as cohorts of Christian players who participated in Bible studies and attended off-season Christian retreats together.
Of course, Christians were not alone in turning to God. People of all faiths offered prayers. "No matter race or religion everybody coming together in prayer!" Damar Hamlin tweeted.
For many in the NFL, however, the prayers came from Christian convictions. "The National Football League has a strong—and in a good way—evangelical culture," pastor and retired NFL player Derwin Gray told CT's The Bulletin podcast. "I don't mean all the political nonsense. I'm talking about the Good News that makes sense."
When ESPN analyst and former NFL quarterback Dan Orlovsky paused to pray during an NFL Live broadcast—"God, we come to you in these moments that we don't understand, that are hard because we believe that you're God and coming to you and praying to you has impact"—he was revealing a faith that had been nurtured during his time in the NFL.
If we view the prayers for Hamlin as nothing more than a sudden reaction to a crisis moment, we lose sight of the work that came before, the people and institutions who tended to the soil of the NFL for decades, building a culture of prayer that could be mobilized in a moment of need.
A second point to emphasize: God often answers our prayers through the work and actions of human beings.
In Hamlin's case, it was through the athletic trainer, Denny Kellington, who administered CPR, and the rest of the team's medical and athletic training staff, who mobilized to rush Hamlin to the hospital. Once there, it was through the doctors and nurses who drew on the latest health care advances to keep him safe and slowly guide his recovery.
Hearing reports of those heroic efforts, I couldn't help but think of a passage in Tish Harrison Warren's book Prayer in the Night: For Those Who Work or Watch or Weep. Warren describes her husband weeping as he read about modern advances in medicine and science that have saved millions of lives.
"He saw the work of God in and through people's work," Warren writes. "The Christian story dares us to believe that the work of prayer is not so far away from the gift of sewers, that hands lifted in prayer and the scientific commendation of hand-washing flow from a shared source."
Prayer does not stand in opposition to human effort, but it does orient us to another world. While it invites God to intervene in miraculous ways, it beckons us to see with the eyes of faith, to become attuned to the ways God is at work through the ordinary—yet extraordinary—human actions and activities that we often take for granted.
This notion of human work and participation leads us to a final point. While we rejoice in Hamlin's ongoing recovery, we should heed the words of Scripture that remind us that faith without works is dead (James 2:17). Immediately following the Lord's Prayer in Matthew 6, too, we are called to do something—to forgive other people—a reminder that our prayers and actions are bound together.
What if our prayers for Hamlin lead us to work for better long-term care for athletes?
Theologian and civil rights leader Howard Thurman makes a similar point. "The efficacy of the prayer," he wrote, "is often measured by the degree to which the individual is willing to become involved in actually working in the world to meet these needs."
Thurman had in mind the disconnect between a Christian who "may share in his prayer his concern for peace in the world" and yet be "unwilling to change his private attitude of antagonism or prejudice toward his fellows." He had in mind, in other words, the connection between individual formation and social transformation, between prayer and action.
For those of us who have prayed for Hamlin's recovery and healing, we ought to consider what work or change in perspective our prayers might call us to. In particular, we should sit in the tension of praying for a body to be healed while at the same time cheering on a violent sport that so often breaks bodies down.
It's true that Hamlin's particular injury was a rare occurrence. It was not the result of an especially hard hit, and it was not connected to the damaging effects of CTE (chronic traumatic encephalopathy), which receive most of the public attention and controversy. Yet the challenges in the road to recovery for Hamlin are faced by far too many players.
In the NFL, you must put in three years of service to receive a pension and five years to become eligible for the league's post-career health care plan. Hamlin is in his second year. So too, Hamlin's contract, like those of many players in the NFL, is not guaranteed. If he never plays a down again, Hamlin won't receive post-career financial support from a league that generates billions of dollars from the bodies of young men like him.
It is not just NFL league officials who tend to treat football players like they are expendable. Fans constantly face the temptation to view athletes as commodities to be consumed rather than human beings made in the image of God. It's an attitude that trickles down to the lower levels as well, reaching from college to high school and even into the youth football ranks.
For Christians who love football and the players who make the game happen, what if our prayers for Hamlin lead us to work for better long-term care for athletes?

Perhaps this means lobbying the NFL for guaranteed player contracts, more generous pension benefits and health care coverage, and other measures to protect players' futures and care for their whole bodies.

Perhaps this means advocating in our spheres of influence for rule and culture changes that make the sport safer without eliminating the physicality and risk that make football what it is. A key place to start would be at the youth level, where there's already growing interest in eliminating or drastically reducing tackling in football until the age of 13.
While we continue to pray for a full recovery, let's also pray that in the years to come, when people look back at this historic intersection of football and prayer, they'll be able to see not just a feel-good gesture of symbolic unity but also a movement of people bearing witness to a God who saves, heals, and restores.
The prayers that flowed after Damar Hamlin collapsed on a football field do not need to stop. And the work is just beginning.
Paul Emory Putz is assistant director of the Faith & Sports Institute at Baylor University.
Speaking Out is Christianity Today's guest opinion column and (unlike an editorial) does not necessarily represent the opinion of the publication.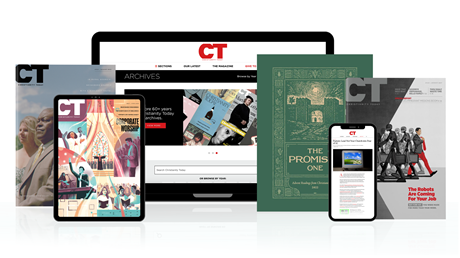 Annual & Monthly subscriptions available.
Print & Digital Issues of CT magazine
Complete access to every article on ChristianityToday.com
Unlimited access to 65+ years of CT's online archives
Member-only special issues
Subscribe
After Answered Prayers for Damar Hamlin, What's Next?
After Answered Prayers for Damar Hamlin, What's Next?