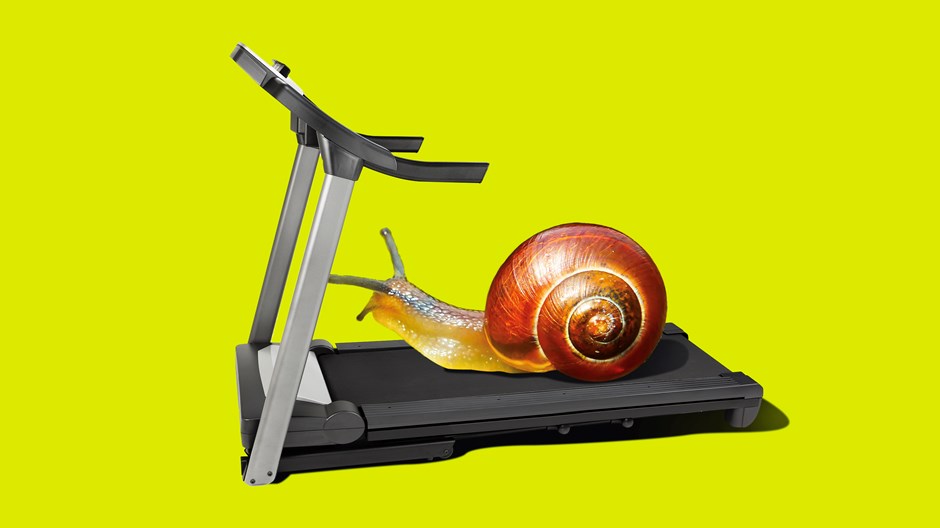 Image: Illustration by Mallory Rentsch / Source Images: Getty / Unsplash
I have met with but one or two persons in the course of my life
who understood the art of Walking, that is, of taking walks—
who had a genius, so to speak, for sauntering.
—Henry David Thoreau, "Walking"

The restless, distracted energy of our technological age has risen to a fever pitch. With each advancement, we are bound closer together into a collective fragmentation without intimacy.
The loneliness and relational divides that flow back to the beginning of recorded history are being amplified rather than silenced. We engage in everything from religious practices, mindfulness, yoga, and exercise to television, sex, food, drink, and drugs. We do all this to escape.
As Don DeLillo wrote in his brilliant and funny novel White Noise, "That's why people take vacations. Not to relax or find excitement or see new places. To escape the death that exists in routine things."
The forsaken God has entered into and dealt with this cosmic loneliness, yet often followers of the crucified King are just as lonely as the rest. What is missing?
There is a classical adage that might prove helpful: festina lente, which means to "make haste slowly." A crab and butterfly first symbolized this saying. Its meaning lies in the paradox that existence is not meant to be static or careless but defined by conscientious and careful movement.
As one who leans into life with a relatively free-spirited disposition, when I look at the crab-and-butterfly image, I find myself uneasy at the way the butterfly seems held back by the crab's clamp on her wings. But that tendency has led me to make many grievous errors throughout my 48 years of life. The crab is a necessary reminder that our movement must be anchored in thoughtfulness.
Walking is a beautiful metaphor used throughout Scripture to symbolize both movement and intimacy. It is a lovely reminder that the goal of the Christian life is not arriving at a destination but knowing God. This is the very heart of what it means to be a disciple.
Walking can be sustained for much greater distances than running because it is motion essentially without strife. It is progress that is truly conscientious of its surroundings. Our walk is not a lonely journey, isolated in pursuit of self-actualization.
For Christians, our place in this world is discovered in walking with God toward others. We are free in Christ, but we are not free from him or one another. We cannot embody the individualistic worldview that says, "I am best when I'm alone." Sadly, it is often Christian leaders who follow this path.
Solitude must never be separation. We cannot and must not escape the world or the people in it. False holiness drains of all meaning out of Christ's forsakenness. It fights against the very One who tore down the walls of separation by building new ones.
As we walk with Jesus, who is our beginning, our end, and our way through the in-between, let us be careful to think of our progress not as a hero's journey but as relational, intimate, and (due to our mixture) often clumsy. In other words, to walk with God is defined by progress that is most clearly seen by others and often barely perceptible to us.
If you are like me, you may find yourself thinking, I am not good company. What can I possibly have to offer Jesus? The answer, my friend, is simple: yourself. Christ doesn't choose to use sinners because they're strong, wise, or gifted—strength is a positive impediment—but because he's gracious and he seems to enjoy using the weak things of this world to confound, and even reach, the wise.
The butterfly has been used in the history of the church to symbolize resurrection, metamorphosis, and transformation by the Spirit's activity in our lives. But what of the crab? While I can find no use of the crab as a symbol in church history, I will say this: As the crab in the original festina lente emblem symbolized a grounding or foundation for healthy movement, so the cross of Christ must be the center and grounding of our lives.
If Jesus is the way and there is only one way to go, then there are a thousand ways to lose the way, fall from it, or even run from it—consider Abraham, Elijah, Jonah, and Peter. We will lose the way. But that is why Jesus came, why it is good news that the gospel is down-to-earth, and why it's not good to travel alone.
The Cross is our center, our equilibrium, and our compass. It is a constant reminder that if you've dug yourself into a hole, Jesus' love goes deeper still; if you've lost your way, he will leave the others to find you again and again; if you have fallen, that's the whole reason he came; and if you have run away, the Cross can lead you home.
Jesus was forsaken so that you could be found. He is with you, so arise and return to your Father. He loves you and longs to embrace you. We belong, and the Cross and our forsaken King are the proof.
So festina lente. Let us make haste.
Slowly.
Adapted from Stumbling Toward Eternity. Copyright © 2023 by Josh White. Published by Multnomah, an imprint of Penguin Random House LLC. All rights reserved. No part of this excerpt may be reproduced or reprinted without permission in writing from the publisher.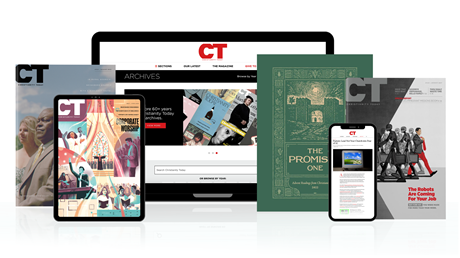 Annual & Monthly subscriptions available.
Print & Digital Issues of CT magazine
Complete access to every article on ChristianityToday.com
Unlimited access to 65+ years of CT's online archives
Member-only special issues
Subscribe
Making Haste Slowly in Our Walk With God
Making Haste Slowly in Our Walk With God