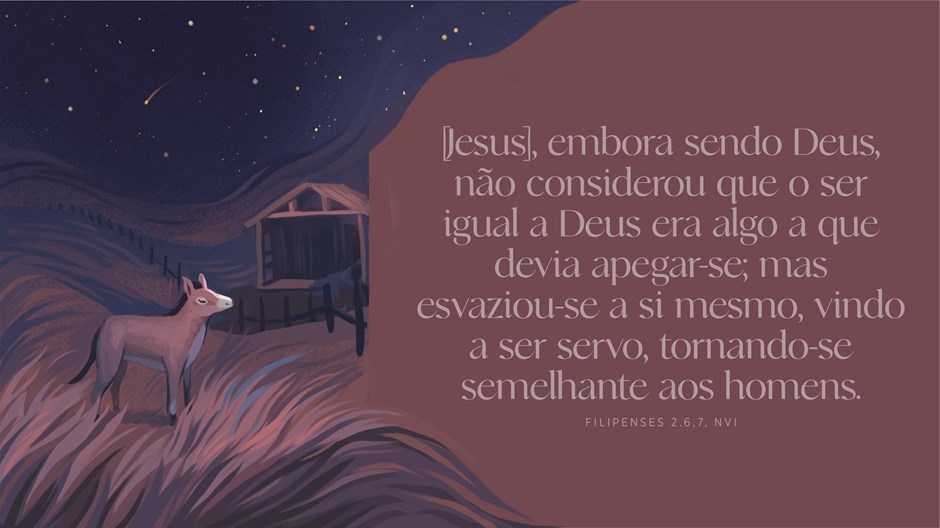 Clique Aqui e faça o download do nosso devocional diário "O Evangelho do Advento".
Leia Filipenses 2.5-11
Uma maneira comum de entender o belo hino de louvor a Jesus Cristo, em Filipenses 2.5-11, é observar que ele nos mostra um paradoxo totalmente incompreensível: O poderoso Filho de Deus, que, junto com seu Pai, trouxe a criação à existência, subsequentemente dignou-se a se tornar um humilde ser humano — o equivalente a um poderoso monarca ser reduzido a um besouro rastejante.
Essa maneira de ler Filipenses 2 enfatiza a incompatibilidade entre a glória do Filho — anterior à encarnação — e a humilhação que ele sofreu durante sua vida terrena. A palavrinha embora, presente na maioria das versões bíblicas, tem sido a pista vital para esta interpretação: "[Jesus], embora sendo Deus, não considerou que o ser igual a Deus era algo a que devia apegar-se; mas esvaziou-se a si mesmo, vindo a ser servo, tornando-se semelhante aos homens"(v. 6,7, ênfase acrescentada). Apesarde compartilhar da igualdade de Deus Pai, Jesus, o Filho, ainda assim escolheu abrir mão desse status por nós.
Certamente, essa é uma interpretação plausível das palavras de Paulo. Mas o texto no idioma original é ambíguo, e é possível traduzi-lo de forma diferente, deixando de fora o conector contrastivo embora. Paulo, com toda tranquilidade, pode ter sugerido algo sutilmente diferente como: porque tinha a forma de Deus, portanto, Jesus esvaziou-se a si mesmo.
Conforme a primeira maneira de ler o texto, existe algo fundamentalmente incomensurável entre a glória do Filho de Deus e seu esvaziamento. A glória do Filho de Deus é compreendida apesar do seu esvaziamento. E, obviamente, há muita verdade nessa maneira de interpretar as palavras de Paulo, o que ressalta para nós o custo que Deus se dispôs a pagar para se aproximar de nós.
Contudo, de acordo com a segunda maneira de ler o hino de Paulo, há algo misteriosamente congruente entre o esplendor eterno do Filho de Deus e sua autoabnegação voluntária na encarnação. Esta última revela ou explica do que o esplendor eterno do Filho de Deus realmente trata, e manifesta que o caráter de Deus é de um amor que se entrega "ao longo de todo o caminho", por assim dizer.
Em outras palavras, se quisermos entender o que realmente significa essa igualdade do Filho Jesus com Deus Pai — com o que ela se parece, quando traduzida na forma de uma vida humana — então, devemos olhar para aquele pequenino bebê no colo de Maria, para aquela figura desamparada na cruz do Calvário, e para aquele jardineiro de coração terno que traz palavras de paz a seus amigos, naquela primeira manhã de Páscoa. Ao viver, morrer e ressuscitar por nós, Jesus não apenas nos revela a verdadeira humanidade — ele nos mostra o que a divindade de Deus fundamentalmente significa.
Wesley Hill é pastor da Trinity Episcopal Cathedral, em Pittsburgh, Pensilvânia, e professor associado de Novo Testamento no Western Theological Seminary, em Holland, Michigan.
Reflita em Filipenses 2.5-11.
(Opção: também reflita em João 1.14.)
De que maneira a encarnação nos aponta para verdades profundas sobre o amor e a natureza de Deus? De que modo essas verdades são centrais para o evangelho? Como elas impactam sua vida diária? Ore e expresse sua resposta a Deus.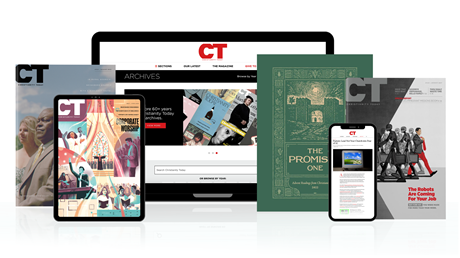 Subscribe to Christianity Today and get access to this article plus 65+ years of archives.
Home delivery of CT magazine
Complete access to articles on ChristianityToday.com
Over 120 years of magazine archives plus full access to all of CT's online archives
Subscribe Now
O que significa ser Deus
O que significa ser Deus